| The Current |
Comeback Kid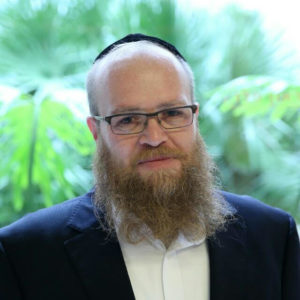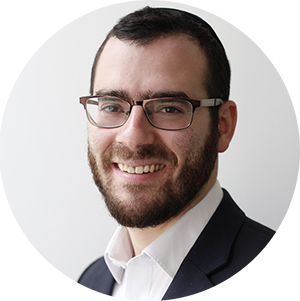 | June 8, 2021
Lacking Bibi's star quality, what does tech millionaire Naftali Bennett bring to one of the most demanding jobs on earth?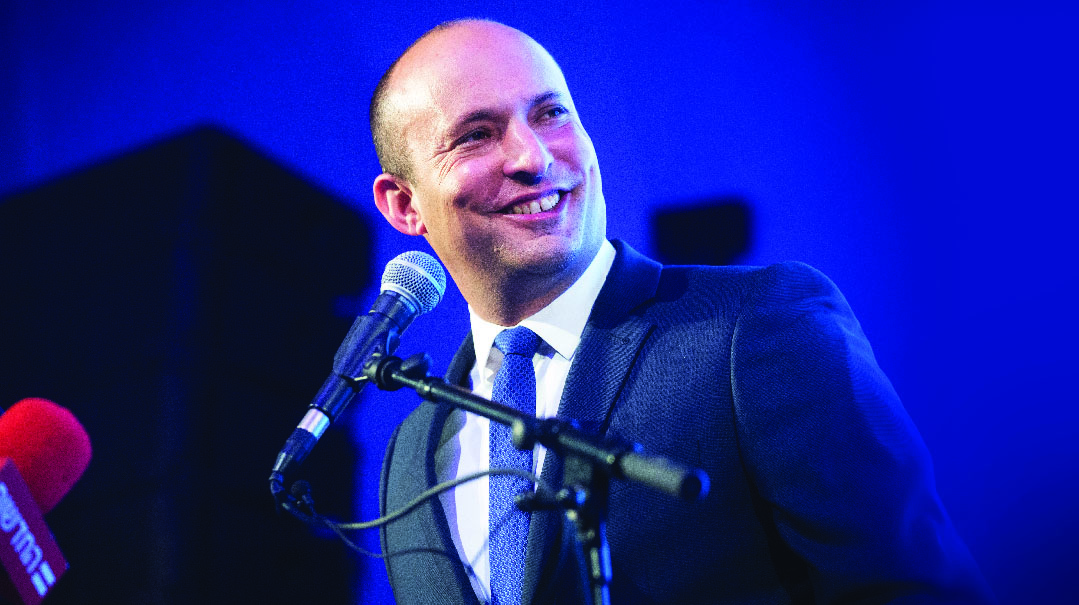 Photos: Flash90
With reporting by Omri Nahmias
It was a glorious Mediterranean afternoon at the Herzliya Conference, a high-level policy confab, in July 2019. Under azure skies and to the sound of private planes taking off from a nearby airstrip, hundreds of people walked around peering at each other's lanyards, sizing up whether they'd met someone worth knowing. Senior American think-tankers rubbed shoulders with former Israeli police chiefs; diplomats spoke with journalists; there was even a Greek admiral sparkling in his dress whites and gold braid.
As the afternoon wore on, A-list ministers like Likud's Yisrael Katz arrived with security details; left-wing politicians such as former foreign minister Tzipi Livni were greeted with a media scrum; and Mossad boss Yossi Cohen made the rounds like a superstar.
Then came Naftali Bennett. Billed as a "former education minister", the entrance of the right-wing leader, whose meteoric rise had marked him as future prime ministerial material, was a study in humility.
He made his way quickly to the podium through the hall unaccompanied. Chastened-sounding, he acknowledged his resounding political failure, having bolted his old Bayit Yehudi party and failed to enter the Knesset on a new slate. To hear him casting around for a cause was nothing short of painful. That afternoon, the phrase that most aptly captured Bennett's fall from grace was Dovid HaMelech's lament for Shaul: "Eich naflu giborim."
What a difference two years makes. Barring the ritual disclaimer that in Israeli politics nothing can be predicted, Bennett could well achieve the impossible next week. The man who was cast into the wilderness will eject Bibi Netanyahu from the prime minister's residence; with fewer parliamentary seats to his name than Degel HaTorah's Moshe Gafni, Naftali Bennett will represent Israel on the world stage.
It's an unmatched tale of political rags-to-riches, and it raises a simple question central to Israel's path ahead: who is Naftali Bennett?
Son of American olim, special-forces soldier, high-tech millionaire, right-wing meteor, fluent defender of Israel in the media — Bennett's resume is well-known. But less understood is what drives him. How could a senior right-wing leader abandon his natural base to cross party lines, and what does it mean for how he'll govern? What role has alter ego Ayelet Shaked played in his political ascent? And is the man who once revered Bibi and is touted as "Netanyahu Mk. II" really up to the task of taking the reins from one of the most gifted statesmen of the century?
In conversations on and off the record with people who've observed Bennett up close, the picture that emerges is of a man whose strength lies in clearheaded management, not inspired leadership; a machine politician with an immigrant's touching sense of patriotism; and a clean record even after years in public service.
But above all is his drive: "When Naftali wants something," said a former army subordinate, "he gets it."
Homecoming
The wave of euphoria that swept the Jewish world after Israel's victory in the Six Day War changed many people's perceptions of the country. It also gave Israel a candidate for prime minister.
Naftali Bennett was born in Haifa in March 1972 to Jim and Myrna, San Francisco natives who made aliyah shortly after the Six Day War. The Bennetts arrived to pick fruit on Kibbutz Dafna, but the charms of the kibbutz soon wore off. In 1968 they settled on Vitkin Street in Haifa, where Jim began a career working in PR for the Technion.
But the move to town wasn't the only thing that changed in those years. The Bennetts' secular status was about to change in a move that would dictate the course of young Naftali's own life, paving the way for Israel to have its first kippah-wearing prime minister. The youngest of three children (his brother Asher is a businessman and Dan is an accountant), when Naftali was just two, his father Jim was sent to Montreal to raise funds for the Technion. That's when the family began the process of chazarah b'teshuvah.
"We enrolled the kids in Jewish schools," Jim Bennett recalled. "We had to keep a kosher kitchen because the other Jewish kids would come over. We started with elementary things like lighting Shabbos candles and making Kiddush, and one thing led to another, until we started going to shul."
At a campaign stop in Kfar Chabad, Naftali Bennett once recounted how his family had returned to Judaism thanks to the Chabad preschool he attended in Canada.
Two years later, and not long after returning from their mission in Montreal, the family was once again sent abroad — this time to New York — by the aliyah department of the Jewish Agency. Settled in a Jewish community, the family continued their journey to observance.
After returning to Israel, Jim Bennett started his own business as a successful real estate entrepreneur, and sent his three sons to the co-ed Carmel elementary school, from where they continued in the Yavneh yeshivah high school. The Bennett family had a huge library, and like his parents, Naftali was something of a bookworm. But along with reading comics, there was something that presaged his later admiration for Bibi Netanyahu, who was to become his political mentor. The Letters of Yoni, by Entebbe hero and Bibi's older brother Yoni Netanyahu, inspired Naftali to join the IDF's elite commando unit, Sayeret Matkal. Bennett would later name his oldest son after the fallen hero.
Naftali's evolution into a protégé and future rival of Bibi came about in a home something like Netanyahu's own. The Bennetts of Haifa were ultra-political, and the issues of the day were discussed with passion. Jim and Myrna voted for Likud and other secular right-wing parties, instead of the National-Religious Party, known as the Mafdal. When he was 15, Bennett followed his parents in a further shift to the right, the third major transformation they had gone through after making aliyah and becoming religious.
Ariel Friedman, a childhood friend from Haifa, remembers that Bennett and his parents were active members of the protest movement against the Oslo Accords, voting for Hatichya, a far-right party that championed the Greater Israel vision until its collapse in 1992.
But politics aside, Naftali's friends noticed his leadership qualities early. "He was ambitious, and he could never settle for second place," recalls Friedman. "All the students followed him. If he said, 'now we're doing this,' we all did it. He never talked about being a politician; his dream was to be a soldier. So while none of us predicted his political leadership, we knew he had it in him."

Fighting Spirit
Already a committed right-winger in the dati mold, Bennett followed his hero Yoni Netanyahu into the Sayeret Matkal, or General Staff Reconnaissance Unit, when he reached draft age in August 1990. Bennett joined the unit's Giora squad, which became known as the "dossi" (religious) squad by the unit's troops.
Aside from Bennett, there were three other kippah wearers on the team, including Lieutenant Colonel Emanuel Moreno, who was killed in the Second Lebanon War during a Sayeret Matkal mission in Baalbek, shortly after the cease-fire went into effect, and was the highest-ranking Israeli casualty during the war.
Later, Bennett was transferred to another elite unit, Maglan, where he saw action on numerous occasions in Lebanon. By age 23, Bennet had become a company commander, and pressed to be allowed to carry out as many missions as possible over the northern border.
The square-jawed, hard-charging public view of Bennett is rooted in reality, as he demonstrated in active service. In an interview he once gave to Zman Haifa, a local newspaper, he described how a company mission during Operation Grapes of Wrath in 1996, which was supposed to include a two-day march, was shortened to one day on his order. Without consulting his superior officers, he set out with the 67 soldiers under his command, and when one private injured his leg, holding up the entire column, Bennett gave him a stark choice: head back to Israel or press on at the company's pace without complaining.
In the end, the troops reached the rendezvous by nightfall. The wounded soldier was evacuated by helicopter, and was found to have broken his leg, despite which he had continued the arduous trek through the mountains of south Lebanon. That was the kind of commander Naftali Bennett was.
Hardwiring Success
Whatever the religious Bennett made of his unit's motto "Fortune favors the bold," he took its aggressive philosophy with him into the high-tech world he entered next.
Studying for a law degree at the Hebrew University in Jerusalem, he joined a circle of Sayeret Matkal veterans in the city. The father of one member of the group, Ben Enosh, was a tech entrepreneur who encouraged the young men to launch their own startups. That was the origin of Bennett's Cyota software company, which specialized in information security for banks and financial institutions. Bennet and a number of friends registered the company in the United States and got to work.
The year the company was launched saw the 9/11 attacks, a stock market crash, and the collapse of the dot-com bubble. Cyota laid off two-thirds of its employees and teetered on the verge of bankruptcy.
"I lived in New York for four years," Bennett later described this period, "through much of which I didn't how we would get through the month. We lived in a student apartment, barely keeping our heads above water, but kept starting new ventures. But then we finally had an opening — we found some investors who promised that if we could raise $1 million, they would invest $2.5 million. We managed to raise $800,000, and then one of our members borrowed $200,000 from his grandmother."
The exit came in 2005. Cyota was bought by RSA for $145 million. Far from the astronomical sums that some in the field were making, but still an impressive amount. The lion's share of the money went to the company's shareholders, and Bennett went home with an estimated $3.5 million.
But instead of taking his windfall and becoming a serial entrepreneur, Bennett turned to politics. The trigger for his new direction was, by his own account, a disillusioning army experience.
After his discharge from the IDF in 1996, Bennet was assigned to reserve duty in an elite division. In 2006, just days after pulling off his multimillion-dollar exit, he rejoined his unit with the outbreak of the Second Lebanon War. But never one to accept orders unthinkingly, this time he struck off on his own.
"I was given command of a force meant to destroy rockets, and quickly realized that the plan wouldn't work," he recounted in an interview to Israel's Channel 11. "I spoke to the company commander, the battalion commander, and the brigade commander. In the end I realized I would have to speak with Prime Minister Olmert.
"I managed to get the phone number of Avi Dichter, a member of the security cabinet, and explained the problem to him. He replied, 'I may be in the cabinet, but I have no influence.' I told myself that I'm being sent on a mission with zero chances of success, and I realized that we have no leadership, we're in existential danger. And that's why I joined Netanyahu's office and entered political life."
The Bibi Years
The irony of Bibi's likely political fate — turfed out of office by Naftali Bennett and his alter ego Ayelet Shaked — is that the two were once among Bibi's closest loyalists.
"I've known them both since Naftali was Netanyahu's chief of staff and Ayelet was his secretary," says Yossi Elituv, editor of Mishpacha's Hebrew-language edition and a prominent political analyst.
"When Bibi was in the opposition before 2009, he had an office in a tower in Malcha, Jerusalem, and they went to work for him, taken by his charisma and right-wing views," says Elituv. "They were very different — Bennett was very thorough and professional, a classic manager in line with his background in business, and Shaked had a strong political sense and popular touch, joking with everyone and having all the party activists on speed-dial."
In an interview with Channel 12, Bennett recounted that it was Ayelet Shaked, employed in Netanyahu's office at the time, who first offered him the job and interviewed him for it. The ideologically driven right-winger from Tel Aviv was very different from the dati startup success story, but an unusual political partnership was born.
"We sat in a café in Ra'anana and she interviewed her future boss," he recalled. "Later she passed me on to Netanyahu, and he interviewed me several times before we got to work."
Bennett doesn't talk publicly about his time as Bibi's chief of staff, but it's clear that the relationship deteriorated drastically. In an interview with Channel 11, Bennett said: "I'll never talk about what happened inside the office. That's confidential. After a year and a half I'd had enough — I tendered my resignation on my own initiative and he accepted it. We finished on good terms, but later things went sour."
While Naftali Bennett is tight-lipped about what caused the historic split with his former mentor, it's clear that there were no ideological clashes; it was personal clashes with the Netanyahus that drove him and Shaked out.
"The Bennett-Shaked partnership that continues to this day originated in their mutual search for allies in Bibi's office," says Yossi Elituv. "But what Bibi didn't realize was that together, they saw themselves as the new Bibi."
Traditionally, Elituv explains, the right wing in Israel has produced two types of influencers: scholar-elites, such as Moshe Arens or Moshe Yaalon, who are disconnected from the Israeli street; and populists, politicians who build up strength by going to every activist's bar mitzvah, such as Yisrael Katz.
"Bennett and Shaked were made from different cloth," he says. "They combined both elements."
A breakdown in the relationship between the two sides was inevitable, and it came by way of the media. In 2011, high-profile journalist Raviv Drucker released the "Bibi Tours" investigative report, alleging that the Netanyahu family had misused public funds for travel expenses. The Netanyahus responded with a defamation lawsuit, and the case was settled out of court, but the Netanyahus had marked a new foe. The family believed Drucker's report was based on confidential information divulged by Naftali Bennett, despite the latter's denials.
Going Solo
Only a few years after he'd last seen combat, Naftali Bennett's trial of political fire came in the 2013 election campaign. In October 2012, Netanyahu and Avigdor Lieberman announced a joint run for their Likud and Yisrael Beiteinu parties and Bennett resigned from the Likud. He went on to win a decisive victory in the primaries for the leadership of the Jewish Home party, the descendant of the historic national-religious Mafdal.
At the height of the campaign, Israel embarked on Operation Pillar of Defense in Gaza. Netanyahu looked hesitant, while Bennett breathed fire. By the end of the operation, the right had found a new star: Naftali Bennett.
"We're here to lead, not to influence," Bennett said.
Netanyahu started worrying. The Likud began attacking Bennett, but the attacks only made him stronger. On election day, Bennett won 12 seats — a stunning turnaround for the failing national-religious party.
Another political neophyte at the time was Yair Lapid, who won 19 seats at the head of the new center-left Yesh Atid party. Thus was born the first Bennett-Lapid pact, which has now made a comeback.
"Bennett wasn't anti-chareidi," says Yossi Elituv. "It's just that both Lapid and Bennett were embargoed by Netanyahu, and their response was to create an alliance that prevented Netanyahu forming a government without them."
Be that as it may, the result was a government with one of the most anti-chareidi platforms in Israeli history. And while the government was feuding with chareidi society, it was also defined by a battle of attrition between Netanyahu and his one-time protégé Naftali Bennett. The latter sometimes came out on top, but was often left licking his wounds by Bibi's far-greater political wiles.
Military affairs provided the former special-forces officer one success. During Operation Protective Edge in Gaza in 2014, the cabinet had no clearly defined goal to defeat Hamas. Bennett, who was only the economy minister, talked endlessly of the threat posed by the terror tunnels from Gaza to Israel, and visited the border to be briefed by officers on the ground.
Bennett's obsession with the tunnels was initially mocked, but ultimately his position was adopted, and the tunnels were destroyed by the IDF in a lengthy ground operation. As a result, Hamas was deprived of its most important asset — the ability to infiltrate the yishuvim on the border and kidnap soldiers or civilians.
But what some see as Bennett's impulsive temperament hasn't always paid off. In 2014, negotiations were held between Israel and the PA, and one idea attributed to Netanyahu at the time was that in the event of a peace deal being signed, settlers living within the borders of the designated Palestinian state could live under PA sovereignty, instead of being evicted from their homes. It was a trial balloon, floated to test the public's reaction.
Naftali Bennett, then Jewish Home chair and economy minister, denounced the plan in the strongest terms, calling the idea "an ideological meltdown." Later he added: "Our children won't forgive a leader who gives away our land."
Netanyahu didn't appreciate Bennett's words, to say the least, and gave him a stark ultimatum: apologize or be fired.
Professing fealty to Netanyahu, Bennett was forced to back down. The episode came to typify the pair's rocky relationship and Bennett's insurgent campaign to demonstrate leadership in Bibi's own backyard.
"In everything that Bennett does, he's 70 percent of Netanyahu," says Yossi Elituv. "His public speaking, political sense, leadership, ability to gain backing from tycoons. Bibi is just the master, and Naftali has had to learn."
Facing off against Israel's political magician put paid to Bennett's chances in the 2015 elections. His Jewish Home party initially polled at nearly 20 seats, but Netanyahu's last-minute "gevald" campaign, as well as Mafdal veterans' discontent at Bennett's liberalization of the party, led his support to collapse over the course of the campaign. On Election Day he won just eight seats — losing a third of his support to Netanyahu.
Role Reversal
Fast-forward six years and four elections cycles, and the background for Bennett's stunning political move to set up another government with Lapid becomes clear.
With the outbreak of the coronavirus pandemic, Bennett demanded that authority over the Covid testing system be given to him as defense minister — and was turned down. His reputation as a driven manager was once again reflected in his performance at the height of the pandemic, when he moved into the Defense Ministry, sleeping there and working around the clock.
But despite the dark months between September and November, which saw thousands of deaths, it was Netanyahu who received the credit for ending the pandemic with Israel's uniquely successful vaccination drive. Bennett, who had spent the year touring hospitals and small businesses hurt by the coronavirus, found himself without a signature issue to run on as Israel emerged from the coronavirus without his help in the weeks leading up to the March 2021 vote.
Instead, Bennett returned to the old campaign of left versus right and demanded that Netanyahu sign a pledge not to sit with the Ra'am party in exchange for his own vow not to make Lapid prime minister. If the change government is sworn in, Bennett will effectively violate both his own pledge and the one he demanded from Bibi.
It's a stunning role-reversal, and both Bennett and Shaked have become hated figures on the Israeli right, reviled as crooks and thieves for "stealing" right-wing votes and transferring them to the left. Yossi Elituv dismisses some of that criticism as hot air.
"Bennett is very American in his way — he said he wasn't ruling out either side, and he didn't. Why are people surprised?"
Bennett's American origins explain, according to Elituv, what the chareidi community can expect from a Lapid-Bennett partnership. The question keeping chareidi leaders up at night is how badly both yeshivos and the country's religious status quo will be damaged this time around.
"Naftali Bennett's dati outlook stems from an emotional attachment to Israel, not the mesorati traditionalism that is normal in Israel," he says. "But at the same time, both Bennett and Lapid have learned their lesson not to go to war with the chareidim. If their government manages to pass legislation, there will be compromises on conversion and the draft law that the chareidi community can live with, and not much more."
For many in the chareidi leadership — and indeed across vast swathes of the national-religious right outraged by Bennett's leftward lurch — that assessment is far too sanguine. The Lapid-Bennett second act is nothing short of a betrayal of all that the former Jewish Home party leader stood for.
"When you cut away all the noise," says Yossi Elituv, "this strange left-right coalition won't be able to do anything, except perhaps get Israel back into the routine of government — passing budgets, getting ministries to work. We haven't had a normal government for almost three years. Naftali is a manager. He's able to get things done. Unlike Bibi, he's no visionary, intellectual, or charismatic leader. But maybe in the situation Israel finds itself today," he muses, "the country doesn't need a visionary. Maybe all it needs is a manager."
Whether or not the Lapid-Bennett leopard has indeed changed its spots, Naftali Bennett at a youthful 49 years old looks like a Sabra Comeback Kid, poised on the edge of power. It's a stunning turnaround for a man who always aimed high, but found himself at a nadir two years ago.
(Originally featured in Mishpacha, Issue 864)
Oops! We could not locate your form.
>