| Family Diary |
Close to Home: Chapter 9       
| August 23, 2022
Why should girls wait until they're tackling a new marriage, and possibly a new city and a new job, to learn how to cook?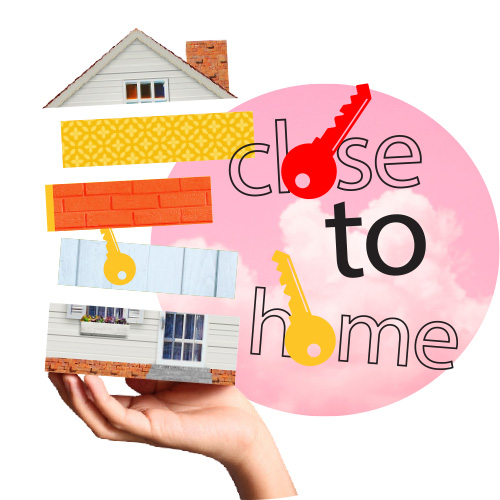 Nechama Norman with Batsheva Berman
B
ack when we were newlyweds, we moved to Eretz Yisrael. It's the most awesome location on earth, and I loved every minute there.
During the first few years of our marriage we were dealing with infertility. I had no teething baby or tantruming toddler to fill my days. I was far from family and friends, so there were very few simchahs to fill my evenings. I decided to use my many available hours to explore different interests.
I'd always enjoyed cooking, and living in Eretz Yisrael gave me the opportunity to attend a culinary school where I could actually taste the food I was creating. I trained as a pastry chef at the Jerusalem Culinary Institute in Mevaresset Tzion.
Once I got certified, I opened a small catering business. I was doing something I enjoyed, and the orders were coming in steadily, but I was spending most of my day alone in the kitchen. I missed being around people.
I decided I'd give cooking classes, combining my love of people with my love of cooking. I approached a few seminaries. Why should girls wait until they're tackling a new marriage, and possibly a new city and a new job, to learn how to cook?
Some seminaries rejected the idea, but one agreed to offer it as an extracurricular activity. I did a few classes there. Once I started, newlyweds heard about my classes, and some reached out.
"I never touched a chicken in my life," said one, "and my mother is across the ocean. Please help!"
"My mother-in-law is a gourmet cook," confessed another, "and she totally spoiled my husband. He keeps asking me for all these fancy dishes, and he brings home so many different vegetables. But in my house we just had chicken and potatoes. Our only vegetables were coleslaw and pickles. I'm lost."
So I started giving classes to married women. I had a large living room, and I'd give the classes demo style. Each woman had her own knife, cutting board, peeler, and ingredients. I'd show them what I was doing, and they'd follow me step by step, bringing the food home raw, ready to be made into a delicious supper.
I'd teach them how to make duck, lamb, osso buco — this was great for husbands who wanted upscale dishes; the ingredients are expensive, so you want to get it right the first time. I also gave classes that would cover basic, delicious suppers for people who wanted that. I included a lot of tips and tricks — how to make a big batch of fried onions and then incorporate them into various dishes so you can make a great supper in no time, how to best use produce in season, etc. My students became my friends, and we all enjoyed that time together.
When I first moved back to the US, I stayed in the food world, creating recipes for magazines, and even running the food section in a local paper. Then I moved into real estate, and it seemed that my professional connection with food was over.
But food never really leaves us… Even as a real estate agent, I find it making an appearance. First, in our conversation. Everyone has a warm memory or fond association with food, whatever their culture. If you're working as a religious Jew in New Jersey, you're walking in on a boatload of preconceived notions. But if you can get this woman talking about her bubby's babka, or get that man to describe the lentil stew that his mother made back in India, the barriers melt. Food is the great connector.
Often, my clients will take one look at me and say something like, "Omigosh, you're Jewish. We love potato kugel with sour cream."
I use that food connection to build the relationship. If one of my clients is sick, I'll drop off a container of chicken soup, a tray of kugel, or a homemade challah. They're iconic Jewish foods, and people have warm, cozy associations with them.
Sometimes clients try to give back. Barb Silverman was a neighbor from down the block who became my client when she put her house on the market. I mentioned one day that I wasn't feeling well. She was very solicitous and insisted on making chicken soup for me. I thanked her profusely, then gently explained that I couldn't eat her soup.
She wouldn't be swayed. She went to the grocery, bought Manischewitz chicken soup mix and Manischewitz matzah ball mix and left them by my door with a note: I'll be happy to come to your house and make it in your pot, in front of you. I was so touched by how far she went to help me feel better.
Another client, Hana Lee, had emigrated from Korea. I knew the Koreans had a cool method for cooking rice, and I asked her to show me how it was done. Thrilled to pass on her secrets, Hana showed me how they slowly steam the rice in a basket-like contraption that sits on top of a pot.
"I just remembered," she said, after she finished the demonstration, "I have a spare rice basket I rarely use. Let me give it to you." I thanked her warmly, but had to decline.
The next time I stopped in at Hana's house to drop something off, I brought a challah with me. She accepted it gratefully, then led me into the kitchen. There was a steaming bowl of her special sticky rice on the table, prepared especially for me. I felt so bad when I had to turn it down.
Kashrus education is an occasional part of the job. When I went to see Lydia Wilson's house, I noticed she had two sinks. If you're not frum and you have two sinks, that means you spend a lot of time cooking.
"Looks like you're a foodie," I said.
"You bet," Lydia answered.
I told her I'd been a recipe developer.
"That's so amazing!" she gushed. "Would you share your recipes with me?"
I directed her to kosher.com. Then, curious, I asked her why she wanted kosher recipes.
"Well, I work with a lot of Jews," she told me, "and whenever we have company events, there's always food. Some of these employees prefer kosher, so I make sure to use only kosher recipes, so they can also enjoy my food."
I had to let her know that creating kosher food requires far more than a rabbi's blessing on the food.
While food is a great conversation starter, it's also offers a memorable way to celebrate the big milestone of selling your home. After I close on a house with a client, I offer to do a food demo at their housewarming parties, since this is an expertise of mine. I ran two large multicultural challah bakes, and they made me realize that people really enjoy this sort of thing.
It can take months between closing and moving in. Some people will push off a move for months because the paint colors don't match exactly. And then the moldings are too thick. So they remove the moldings, repaint, and put up new moldings.
But once all that is done, and they move in and throw a housewarming party, they call me. I demo how to make challah, and everyone loves it. It offers me a way to get in front of potential customers, and my client enjoys the free entertainment — and the fragrance of baking bread that soon fills their home.
Turns out the way to everyone's heart is through their stomach…
to be continued…
(Originally featured in Family First, Issue 807)
Oops! We could not locate your form.
>