| Family Diary |
Close to Home: Chapter 5     
| July 26, 2022
   

You may think you know everything about your spouse. But when you go house-shopping together, there are bound to be differences and surprises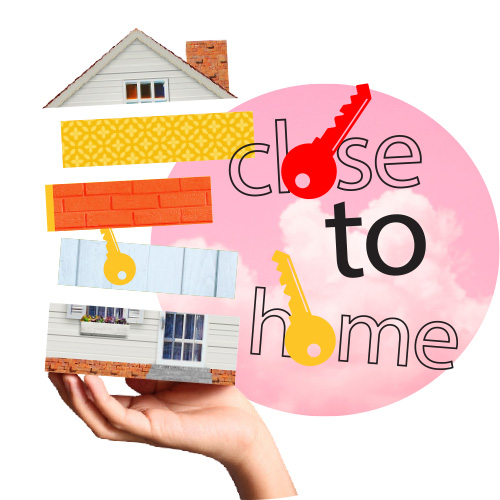 Nechama Norman with Batsheva Berman
AS
s soon as I begin working with a couple, I set up a three-way chat. This helps avoid the dreaded, "What do you mean we're supposed to be seeing a house at two? She never gave me the message."
When I met Yanky and Shaindy Soloff, a couple in their sixties, I did the same. Then I got a message from Shaindy: Those two houses you mentioned yesterday sound interesting. Can I come see them?
Sure, I replied. Let's just move this to the group chat.
There's a reason I contacted you directly.
Okaayyy.
I left Shaindy a voice note, letting her know that I realize buying a house is stressful, and if she wants to speak to me privately, she should feel free to do so. She called an hour later and the story emerged.
She and her husband had just sold their home, which was prime real estate in Brooklyn, so they could move near their kids in Lakewood. Their house had brought in a lot of money. But now that they had this windfall, after decades of scrimping, they couldn't agree on how to spend it.
Yanky was wondering if they should just buy something small, and invest the rest, so they could have a comfortable retirement. Shaindy was tired of living in a cramped home; she wanted a roomy place in Lakewood.
That's why Shaindy wanted to see some of the bigger homes on her own. I was willing to follow her suggestion, but I knew there might be a rocky road ahead.
You may be married for 35 years. You may think you know everything about your spouse. But when you go house-shopping together, there are bound to be differences and surprises. And it's up to the real estate agent to try to smooth things over.
When I met Akiva and Miri Weinberg, I knew our house hunting would take a while. Akiva was extremely organized and detail-oriented. Before we looked at a home, he'd check it out on Zillow, research the neighbors, and familiarize himself with the zoning.
He had a million questions: Were the windows double glazed? Was the attic insulated? What was the slope of the driveway?
When we'd visit the house, the barrage would continue: Was that wall structural or could it be taken down? When had the water pipes been installed? Could additional outlets be put into the kitchen? He always had a measuring tape in his pocket and spent a great deal of time measuring rooms, ceiling height, even the depth of the stairs.
Miri was his polar opposite. A petite blonde, she was laid-back and perpetually positive, falling in love with every house I showed them.
"Look at that breakfast nook!" she'd exclaim. "I can just picture the kids doing projects there while I cook." Or, "What a stunning dining room! I love the molding, it's so elegant." Or, "Wow, did you see that backyard? We could host half the neighborhood."
Akiva tended to ignore or dismiss her comments, but that didn't seem to put a damper on her enthusiasm. In each house, he'd bring up a stream of concerns, and she'd comment on every charming element.
Soon, though, Akiva started getting annoyed at his wife's approach.
"Not every house is amaaaazing," he told her in the third home we looked at. "Try to see the potential flaws so we can make an intelligent decision."
By the seventh home, he'd become openly critical. "This is our hard-earned money," he groused. "Don't you care how we spend it? Don't you want to get the best deal possible?"
At that point, I couldn't take it anymore. I stopped in my tracks, right there on the upstairs landing, and turned to him.
"You're a lucky man," I told him. "You focus on every small detail. You want everything to be perfect. But your wife is able to see the good everywhere.
"She trusts you. She knows that you're asking the right questions, and that you'll find a good home for the family. And what's most important to her is that you should be happy. Whatever home you choose, she'll find what to love, and she'll be happy. Which is a wonderful place for you to be in."
Akiva said nothing, just turned to examine the linen closet. But that night, he called to thank me.
"You gave me a fresh perspective," he said. "You should be giving shalom bayis classes."
House hunting went much more smoothly after that. And a month later, Akiva found a house that met his many demands — and Miri found a dozen reasons to love it.
Sometimes the "fights" couples have are beautiful.
Both Dovid and Naomi Stern were excited to see the large, wood-paneled study in the home I was showing them.
"This is perfect!" said Naomi. "Finally, you'll have a place for all your seforim where you can learn in peace."
"I'm not taking this room," Dovid immediately replied, "I'm never home. You work from the house. This would be the perfect home office for you!"
"I can work anywhere," she said. "The stairs are hard for you. You need this room."
This was the same couple who also disagreed about a bathtub in the master bathroom. Naomi said it wasn't necessary; there are many other things to prioritize when buying a house, and this isn't one of them.
Dovid disagreed. "This will make my wife happy and let her relax after a long day, so it's very important."
They found a house with a bathtub for her and a study for him. But they enjoyed it together for less than a year before Dovid died suddenly in a terrible car accident. I went to the shivah house, and spoke with Naomi  about how important it had been to her husband that she be happy. Her eyes filled with tears, then she smiled.
"He set me up in this house," she said, looking around. "We couldn't have known that this would be the last year of his life, but before he went, he made sure I was settled and comfortable."
to be continued…
Keyed In
Make a list of all the things that are musts in your new home (a basement, a master bathroom, a cul-de-sac), then make a list of dreams (pool, a white kitchen, a study). Use this list to guide you and keep you in line. When you see the house with a stunning white kitchen on a main road with no basement, remind yourself of your priorities.
(Originally featured in Family First, Issue 803)
Oops! We could not locate your form.
>