| Family Diary |
Close to Home: Chapter 20     
| November 15, 2022
"This makes so much sense," we told her. "You have the money. You'll be able to settle down. You won't regret this"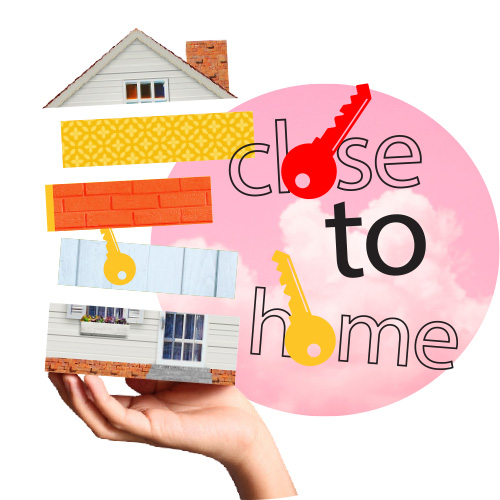 MY
best friend is a social worker, and I often tell her that she and I have nearly identical jobs: We both hear everyone's problems. The only difference is that she has HIPAA laws governing her confidentiality, while I don't — although obviously, I'm very discreet.
Real estate agents get to know a great deal about their clients' lives — selling or purchasing a home is laden with emotion.
The details can be small. I was showing Raizy Wagner a house on a Thursday afternoon, and she told me how stressed and overwhelmed she was.
"My in-laws are coming for Shabbos," she told me, "and I'm also hosting my husband's three brothers. I really want it to be a nice Shabbos, but I'm the most boring cook on the planet. My kids are happy with potato kugel and duck sauce chicken, and that's what I make every single week."
I went to culinary school, and had a recipe column in several magazines — this was right up my alley. So, as we explored the bedrooms and discussed the paneling in the basement, I also helped her create an elegant Shabbos menu.
Then there are far bigger concerns. Yonason and Shevy Weiss* were looking to buy a house. Since their combined income was low, they were applying for a grant through a government assistance program. They qualified, but the amount of assistance was based upon family size. They only had three children, and the difference in assistance between three children and four was enormous.
Shevy and I were friendly, and I knew that she had struggled with fertility for years. Each of the children she did have had come with a lot of tefillah and effort.
"I'm already chalashing for a baby," she confided in me as she finalized the sale, "and now I have yet another reason why it would be incredible."
"I'll put in a good word," I told her, and I kept her in my tefillos.
Ten months later, the Weisses had a boy. When I dropped off a baby gift, she told me that shortly after our conversation she found out that she'd be having a baby. In addition to being ecstatic about the upcoming simchah, she was also able to qualify for the higher grant.
When people experience a terrible loss, they sometimes feel they have to move; there are ghosts in the house, and it's too painful to have to face them each day. Others feel they need a fresh start.
Mazal Shukrun had just gotten divorced, and she was looking for a new house. She was afraid to live in an isolated home; she wanted to be in a townhouse so there would be other people around.
She'd found a rental that was the right size for her and her children, but was paying a fortune in rent, and realized it made sense to buy. I found her a home, and she went under contract. But then she got cold feet.
"Am I crazy?" she asked me. "Why am I buying a house? I'm not even married, and there's so much going on in my life. A house is a liability. How can I take on anything more? This is so irresponsible."
I knew that deep down she wanted to make this purchase, it was just hard to take such a big step alone. My husband works together with me, and he and I gave her a lot of support, both emotional and technical.
"This makes so much sense," we told her. "You have the money. You'll be able to settle down. You won't regret this."
She took a deep breath and finalized the sale.
A few years later, she called to tell me that she'd just gotten engaged. At the wedding, she gave me a huge hug.
"It's the biggest brachah that I own that house," she told me. "Having a place of our own helped me and my kids feel secure and grounded. And now it went up so much in value, so we have that too. You guys held my hand and guided me and dealt with all my freak-out attacks. I'll always be indebted to you."
Real estate agents know a lot of people in many industries, and this allows us to make a variety of "shidduchim."
Meshulam and Rivky Eisin were moving to Lakewood from Eretz Yisrael, and asked me to find them a house. He was South African and she was Belgian; neither had any American connections.
I was able to help them buy a house, but it went further. My husband heard of a job he thought Meshulam would enjoy and was able to make that connection. I helped Rivky find a job in her field, and also brought her up to speed about the playgroup possibilities in her area.
Then there was Rabbi Hollander. Our community was looking for a rav and invited Rabbi Hollander to do a probah in our community — he'd spend Shabbos here and give several derashos in shul so the community could see if he'd be a good fit for them.
We had the pleasure of hosting the Hollanders for a seudah that Shabbos and our families really connected. The shul ultimately chose a different rav, but we stayed in touch.
I'm often in the know when new communities are looking to hire a rav, so over the next two years, I recommended Rabbi Hollander for several different positions. None of them panned out.
Then, one day, a friend of mine told me that they'd just hired a rav for their community. I hadn't even known that shul was looking for a rav. I asked her who it was — and was thrilled to hear that it was Rabbi Hollander.
A week later I got a call from the rav himself. "You've been so helpful all these years trying to help me find a rabbinic position," he said, "now can you help me find a house?"
"Sure thing," I said.
It was a tough job because there was a very small geographical area that could work for the Hollanders — they needed to be close to the shul, and there were few homes for sale in that area. I knocked on the door of every house in the right radius from the shul, and baruch Hashem, I eventually found them a house they loved.
Things come full circle. Recently someone contacted me and told me he was looking to buy a home and wanted to use me as an agent. The name was unfamiliar, and I asked how he'd gotten my number.
"My rav highly recommended you," he said. "I guess you know him? Name is Rabbi Hollander…"
to be continued…
Nechama "Nicky" Norman is a licensed real estate agent servicing greater Lakewood, New Jersey. She focuses on residential property and loves to educate people about buying and selling by hosting seller events.
Keyed In
In most businesses, relationships are key. Keep in touch with clients, even long after their purchase. This can range from a quick text saying hello to making time for a coffee date to attending their simchahs.
(Originally featured in Family First, Issue 818)
Oops! We could not locate your form.
>