| Family Diary |
Close to Home: Chapter 11     
| September 6, 2022
     "You're using another agent?" I blurted. I was her cousin, wouldn't she at least give me a chance?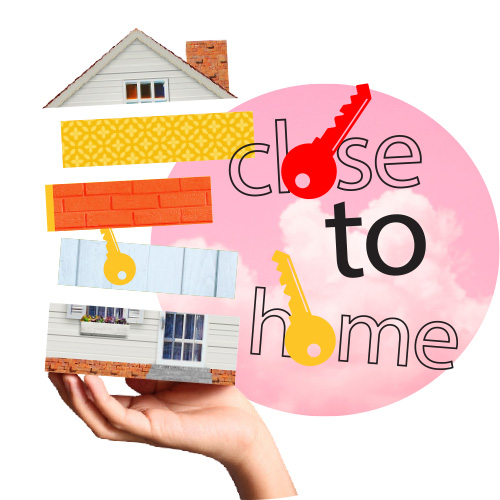 Nechama Norman with Batsheva Berman
One of the nicest compliments I ever got was from my cousin Fraidy.* She lived in Seattle, but had property in Lakewood, and after the prices skyrocketed, she wanted to sell. She called and offered me the listing.
I worked hard, showing the property to many potential buyers, and, Baruch Hashem, I was able to get her a good price.
After the closing she told me, "Honestly, I used you just because you were family, but I was blown away by your professionalism. It was amazing to work with you."
I was gratified that I'd earned her trust. And touched that she'd used me, even though she didn't know if I was any good, simply because I was family.
Things went very differently with my cousin Esther. She and her husband, Chaim, moved to my area a few years ago. She started off renting, but soon wanted to buy. She called me many times over the next few weeks, asking lots of question about the different neighborhoods, sharing her deliberations, picking my brain about what elements to look for when house hunting.
So I was taken aback when, during one of our conversations, she said, "Danny Goldberg took me to see three different houses today, and now I'm so confused."
"You're using another agent?" I blurted. I was her cousin, wouldn't she at least give me a chance?
There was a brief, uncomfortable silence. Then Esther said, "Look, Chaim wanted to use this guy he knew. And I care more about him than I do about you."
I flinched. Yes, of course a husband comes first, but the callous way in which she told me so was painful.
She bought through Danny Goldberg a few weeks later. I found out when she called for my recommendation for a cabinet guy and a carpenter.
During that same conversation, she confided, "Chaim was so not into this whole house buying thing. He told me to look at all them alone and said he'll come take a peek when I see something I want to buy. Even when I finally settled on one home, he literally walked through the house in five minutes."
"Interesting that he was invested in using a particular agent," I couldn't keep myself from saying.
"Ummmm, to be honest, that didn't have anything to do with Chaim," Esther admitted. "I just blamed it on him. Look, I knew you were new in the field and was scared to use someone without experience."
I was stung. She had an entirely legitimate concern; why not just be up front about it? She could have said, "Hey, I'm sure you're great, but I'm anxious about this massive purchase, and I need to use someone with more experience, so I'm going with Danny Goldberg. Thanks so much for all your help."
I wouldn't have loved hearing that, but I would have understood — and it would have spared me the hurt she unwittingly inflicted.
To mish or not mish is a dilemma many people have.
Some people think it's obvious — of course you use family. Others thinks it's obvious — family and business don't mix. And there's a lot of gray in between.
There are those who don't want a close relative around when they're making the biggest purchase of their lives. They may not be comfortable discussing finances so openly with a family member.
Or it may be emotional. When you're buying a house, you're often in an overwhelmed, vulnerable place and not always on your best behavior, and some people aren't comfortable with having a good friend or relative see them in that light.
"I've known this person since I was ten years old," they may say, "It's too uncomfortable for me to have her know the kishkes of my life."
Things can also get sticky around money. Some people believe that "we're family, so of course you'll give me a discount." Others believe that, "as your relative, I want you to get what you deserve; please charge me whatever you'd charge anyone else."
Each real estate agent needs to decide if and when she'll give a discount (and even once you offer it, some people will utilize it and others won't).
One way to help out family without actually using them is to ask them for a referral. Real estate agents across the globe are connected. We often know agents in other states and even in other countries. If your cousin Adina refers you to me, and I end up selling your house, I'll pay Adina a referral fee. So it's win-win all around.
Some people simply don't know the protocol. A close friend was house hunting. She saw something that looked like a good match on Zillow and clicked on the listing to get more information. Before she knew what had happened, she had an appointment with an agent.
She had wanted to use me, but didn't realize that even if she saw a home on Zillow she didn't need to use that agent; she could have told me about it and I'd take her to the house. Not knowing that, she ended up buying with an agent she hadn't wanted to use.
Sometimes, there are second chances. After five years in Lakewood, Esther's husband Chaim got an excellent job on the West Coast. She immediately called me.
"Hey, Nechama, we're putting our house on the market," she told me. "And you're the agent I want to sell it."
to be continued…
Nechama "Nicky" Norman is a licensed real estate agent servicing greater Lakewood, New Jersey. She focuses on residential property and loves to educate people about buying and selling by hosting seller events.
Keyed In
Selling a home is a business transaction. Hire the person you think will do the most professional job possible. And that may not be your relative. But if you don't use your relative, a short text or quick call letting them know you won't be using them is appropriate and appreciated. Many industries are close-knit — don't let them find out that you went elsewhere from a colleague.
(Originally featured in Family First, Issue 809)
Oops! We could not locate your form.
>