| In the Numbers |
Circle of Light
| November 23, 2021
I pray that my lecht succeed in creating that magic I knew, bonding a fifth generation's hearts to our own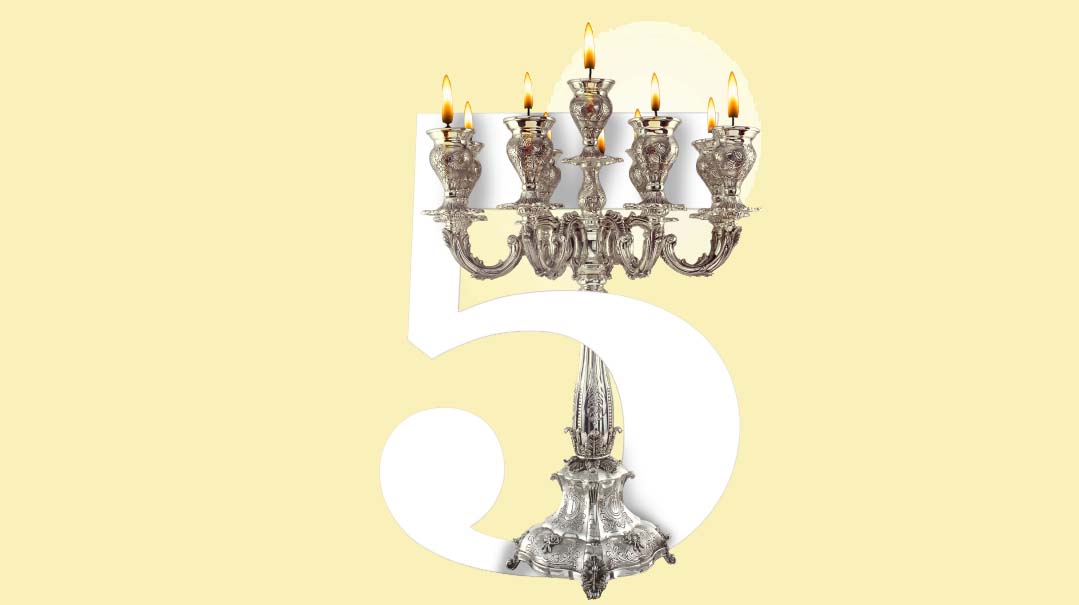 In my Oma's hometown in Czechoslovakia, she was an anomaly: one of the only women who could read "Ivreh" [Lashon Kodesh]. Her father, considered a very forward-thinking man, hired a tutor for his girls, and Oma could read Ivreh as well as the Yiddish in her Tzenah Urenah.
In the veiber shul of the shtetl, there was an older woman who served as the "zuggerin," which meant she said the tefillos aloud for everyone to repeat. She also gave instructions like "Du shteit men" (here we stand), "Du sitzt men" (here we sit), and "Du vient men" (here we cry).
With precious little understanding of the exact meaning of the tefillos, the women's hearts understood the momentousness of what they were saying, and they cried.
My grandmother held on to that simple devotion and purity throughout her life. As a girl, I saw my grandmother cry over her lecht. I saw her do mitzvos carefully, full-heartedly. In one of the most predictable moments of the year, which sent shivers down my spine, she'd say the brachos over the "Yom HaKudesh" (Yom Kippur) candles, the circle of shining lights, and unfailingly, there followed a wave of emotion — hot, pure tears.
When I was a small girl, after my mother bentshed licht at home, we'd go out into the dark Friday night, walk around the corner, and climb four flights of stairs to my grandmother's apartment, entering a circle of peace in the serene glow of the lecht.
The candles shone from two, five-branched silver leichters, one of which my Oma had inherited from her own mother. Oma and Savta wore white lace aprons, reflecting the starched white table-top atop which sat the special techinah buch of Yiddish prayers that they lovingly said on Friday nights.
First, we each gave and received Savta's Gut Shabbos kiss. Then we advanced to her mother, Oma, silver-shaiteled and regal in her chair. I would twirl in my Shabbos dress and Oma would offer her compliments: "shoin a kallah moid'l!"
Then the adults would sit and talk, and I would play with Savta's porcelain ornaments, listening to the gentle waves of English, flecked with Yiddish proverbs that switched to Hungarian when I wasn't supposed to understand.
It was a chain, and I knew I was a link.
Mothers and daughters, lecht tzinden, davening, love.
I'm not a child of the shtetl. I've been privileged to receive a thirteen-year Bais Yaakov education from the best of the best. I can read Ivreh, understand Chumash and Tanach, and I ostensibly passed the seminary entrance exam by translating a piece of Ramban, which my Savta and Oma could not do. I've had a magnificent world of knowledge open to me. But still, I don't think we were ever taught in school the simple secret of the zuggerin in the shtetl — here we cry.
Oma passed on. Savta spent every Shabbos with us. I married and lit my own lecht, and Savta called me over to tell me not to hurry, but cover my face and ask the Eibeshter for whatever I need. "When do we tzind lecht?" was Friday's refrain in Savta's older age, even when her aide had to trim the candles and prepare holders for them. Then Savta would tzind those lecht with exactitude, as if switching on the lights for an entire castle. She waved her hands, covered her face and davened from the techinah buch slowly and fervently, before a soft smile broke out and everyone received their Gut Shabbos kiss.
When my own girls were born, I knew five links of that shining chain. I had sat around the candles on hundreds of Friday nights with my Oma, my Savta, and my mother, and now, I sit with my daughters. I light, and I pray that my lecht succeed in creating that magic I knew, bonding a fifth generation's hearts to our own.
Some wonderful women of generations past held on to Yiddishkeit with their minds. But along with the silver of the leichters themselves, my mother and grandmothers have bequeathed me the attachment of the heart. Sitting in the gentle circle of light, I try to hold on to that legacy. Du veint men, here we cry.
Riki Goldstein is a Mishpacha columnist and author who savors the strength and richness of real-life stories. She is also a memoir writer who creates family heirloom books.
(Originally featured in Mishpacha, Issue 887)
Oops! We could not locate your form.
>