| The Beat |
Cholent Meets Ethnic Diversity | February 17, 2021
Some 3,680 residents walked away with a bowl of cholent in one arm and a slight ache in the other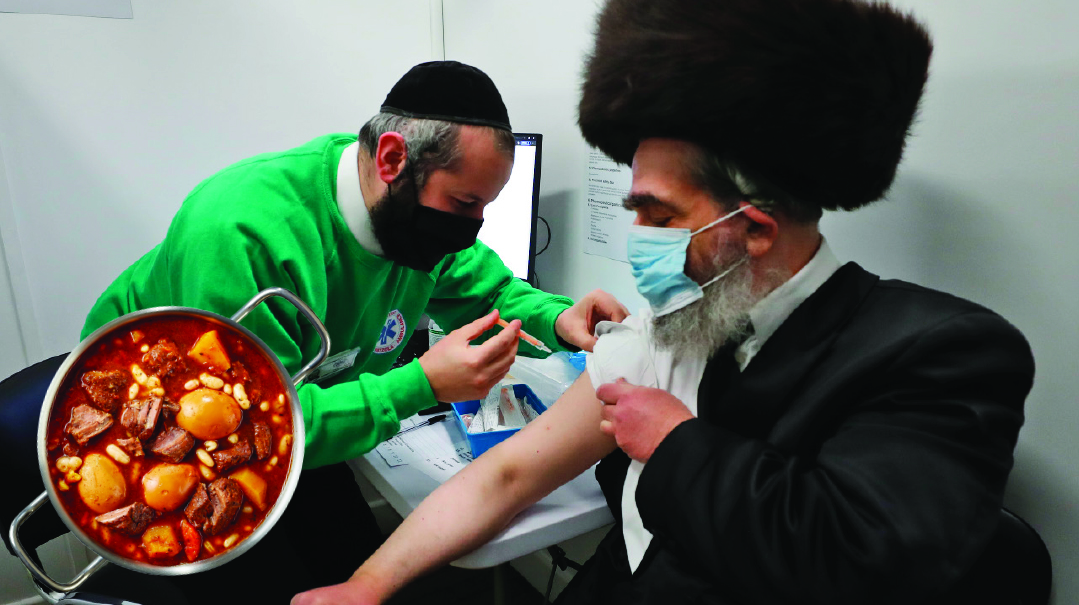 The Backstory 
Within 48 hours of each other, Bnei Brak and London's Stamford Hill community, both in the center of recent media storms, finally found the recipe for positive headlines.
It began last Thursday night in Bnei Brak. Faced with falling vaccination numbers, the municipality cooked up a tasty incentive that — probably for the first time — had Israel's medical community praising the wonders of kishke.
"Operation Cholent," which saw free Shabbos lunch fare being distributed to residents who received the vaccine, was declared a success. Some 3,680 residents walked away with a bowl of cholent in one arm and a slight ache in the other.
Until then the number of vaccinated residents stood at just 37,000 out of a total population of nearly a quarter-million. But the culinary incentive means that Bnei Brak has now surpassed the national average of vaccinations for those under 60, with an inoculation rate of 38%. Meanwhile a drop in infections has shifted the city from the red to the orange category.
Bnei Brak mayor Rabbi Avraham Rubinstein tells Mishpacha: "We woke up on Friday morning to encouraging news. Our efforts to combat the virus and encourage the public to vaccinate have led to a striking drop in infections. We'll continue fighting this virus and defeat it together."
Early this week, figures were released showing that ICUs across the country currently have more young than elderly patients. In Wolfson Hospital in Holon, all the patients are under 60, with an average age of 44. In Sheba Tel Hashomer, 90% of patients are under 60, with an average age of 50. Similarly, in Jerusalem's Hadassah Hospital, half the patients are under 60, and the average age is 60. The same goes for Ichilov in Tel Aviv — half are under 60 and the average age is 53.
According to experts, these figures are a reflection of the vaccination drive, as over 80% of the elderly have already received the second dose of the vaccine.
The question of why young people aren't showing up at vaccination centers is therefore critical. Some officials — among them Health Ministry director-general Hezi Levy — believe that apart from a small group of anti-vaxxers and COVID-19 skeptics, most people are hesitating because they don't have enough information about the vaccines and want to wait and see how things play out. According to Levy, they need experts to answer their questions and calm their fears. He also believes that the government can drive up vaccination rates by offering incentives for those who have been inoculated.
With all eyes on Bnei Brak's successful cholent-fueled vaccination drive, the only thing some are wondering is: how many more people would come if roast beef were served too?
Meanwhile, in London's Stamford Hill community, a Motzaei Shabbos vaccine drive made international headlines for non-culinary reasons. That was just as well, as over 100 of those who turned up required ethnic food very different from cholent.
As Vaccine Minister Nadhim Zahawi observed, Hatzola volunteers vaccinated nearly 300 people, including about 200 members of the various local chassidic communities, with the balance coming from the ethnically mixed black and Muslim local communities.
In Stamford Hill's version of a "get out the jab" drive, prominent local rabbanim, including Bobov dayan Rav Benzion Blum and Rav Yosef Padwa of the Kedassia, set an example.
"The fact that Hatzola members were themselves vaccinated helped overcome some of the local hesitation to take part," said one organizer.
According to the AP, Vaccine Minister Nadhim Zahawi saw the program as something that could be a model to be used elsewhere.
"Having them do this here is really a great lesson to see how we can replicate some of this," he said. "So we will take this as a great model of faith groups working with the local government and, of course, the National Health Service."
The high profile of the event comes off the back of recent unwelcome media focus, after a large wedding was broken up by police enforcing a strict national lockdown, leaving community spokesmen on the defensive. The north London community also made headlines when a report by the London School of Hygiene and Tropical Medicine found that 64% of community members had COVID-19 antibodies — one of the highest rates found anywhere in the world.
"After weeks of negative coverage, the positive headlines were a breath of fresh air for the community, which has felt under pressure," said the Stamford Hill community source.
From Bnei Brak to London, vaccines, PR, and cholent have proven a potent COVID cocktail.
—Eliezer Shulman
It's History
After a year of pandemic, we are all a lot wiser on many topics that were previously the province of infectious disease specialists. Terms such as the "R rate" are part of everyday conversation, and vaccines and lockdowns are discussed the way we used to talk about the weather.
On which subject, one thing that British readers are now aware of is the Great Frost of 1709. That event — an extremely harsh winter that saw the Thames freeze over in London and become a giant ice rink — was revived from history by headline writers looking to illustrate just how bad Britain's economic performance was in 2020.
According to a Bank of England report, the country's GDP shrank by almost 10% under the repeated lockdowns and government bailouts. That's double the hit taken in the Great Recession of 2008, and apparently the worst since 1709. The extreme weather conditions that year destroyed England's economy, then dominated by agriculture. National productivity plummeted by 13%, and many lives were lost.
With coronavirus's lost year of education a hot topic, at least in the history department, Britons haven't lost out. But for frustrated residents of the UK, who spent some of the last year banned from normal leisure activities, the drawings of the Great Frost elicit some envy.
At least the old-timers got to go skating.
—Gedalia Guttentag
$15
Senate Majority Leader Chuck Schumer announced last week that Democrats will seek to raise the federal minimum wage to $15 an hour as part of the economic aid package for the coronavirus. That means the move will be debated over the coming days as Congress approves the huge aid package for the American economy.
Currently, the federal minimum wage is $7.25, but the state minimum wage is even lower. In Alabama, for instance, there's no minimum wage at all. In Georgia, it's $5.15 per hour, as in Wyoming.
Raising the minimum wage to $15 an hour is an old promise of Bernie Sanders, Elizabeth Warren, and the progressive wing of the Democratic Party. But despite the political temptation to pass what will undoubtedly be a popular measure, it's unclear if a Senate majority will be found for it. Sen. Joe Manchin (D-WV) has already signaled that he opposes doubling the minimum wage. Will Republicans help the bill pass, or will this remain just another unfulfilled campaign promise?
—Omri Nahmias
(Originally featured in Mishpacha, Issue 849)
Oops! We could not locate your form.
>