| Cooks Compete |
Carrot Muffins
| October 5, 2021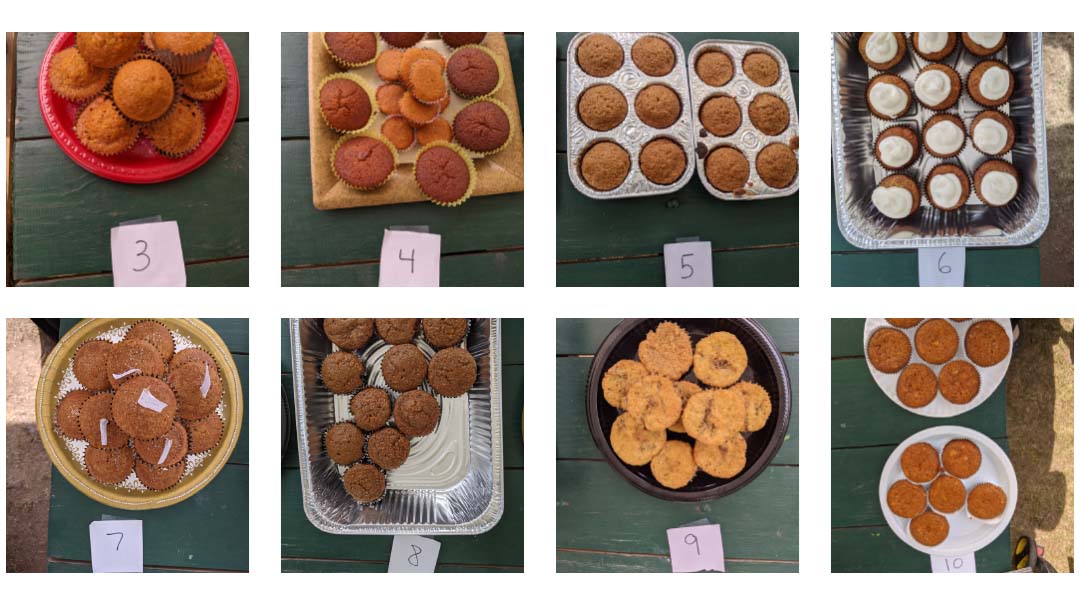 For some people they're a side dish, and for others they're a snack or even dessert. Regardless of where on your menu you place them, carrot muffins are an ageless crowd-pleaser. Everyone claims theirs is the best, so here are the recipes that have made their mark!
Delightful Carrot Muffins
Submitted by G. Grunfeld, Boro Park
The kitchen and I have been BFF for as long as I can remember. Trying new recipes was and still is my hobby. After a full day of work, I will head to the kitchen, instead of falling into bed.
This recipe is easy to make and so appreciated! It can be a snack or side dish for a weekday supper or a Yom Tov meal. Try it, the feedback will come!
YIELDS 32–34 MUFFINS
3 eggs
2 cups sugar
2¼ cups oil
3 cups flour
1 cup flaked coconut
2½ tsp baking soda
1 tsp salt
2½ tsp cinnamon
2 cups shredded carrots
1 Tbsp vanilla extract
1 11-oz (310-g) can mandarin oranges with juice
Preheat oven to 350°F (175°C).
In a large mixing bowl, mix together eggs, sugar, and oil. Add remaining ingredients and mix until combined.
Fill muffin cups three-quarters of the way full. Bake for 35–45 minutes, and enjoy!
Note: I usually skip the frosting, but here's the recipe for it: Combine 1 container pareve cream cheese, 1 box confectioners' sugar, and 1 tsp vanilla extract. Spread on the cooled muffins. Stick a candied pecan on top.
Family-Friendly Carrot Muffins
Submitted by Malky Green, Far Rockaway
I've been making these muffins ever since my daughter was little, as she loved carrots and I thought it was a good way to get the kids to eat vegetables. Now that my children are all married, I don't make them too often, but my older daughter makes them for her kids all the time, and they're a big hit in her house too!
YIELDS 18 REGULAR MUFFINS OR 36 MINI MUFFINS
4 eggs
1 cup oil
1 cup sugar
1 cup brown sugar
2 cups flour
2 tsp baking powder
1 tsp baking soda
2 tsp cinnamon
4 4-oz (110-g) baby food jars carrots (any brand)
Preheat oven to 350°F (175°C). Line muffin pans with paper liners.
Using an electric mixer, combine the eggs and oil. Add all dry ingredients and mix together. Add the carrots and mix again.
Fill muffin cups almost to the top and bake for 30 minutes for regular muffins, or 15–18 minutes for mini muffins.
Simply Sweet Carrot Muffins
Submitted by Rachel Naiman,Staten Island
I enjoy cooking and baking and love to try new recipes. This recipe was given to me by my sister-in-law Toby. There's nothing like a good piece of cake that can be counted as a (vegetable) side dish!
YIELDS 1 DOZEN
2 cups flour
2 cups sugar
2 tsp cinnamon
1½ tsp baking powder
¾ tsp baking soda
¾ tsp salt
1 cup oil
4 eggs
2 carrots, grated
2 baby food jars carrots
1 tsp vanilla
Preheat oven to 350°F (175°C).
Mix dry ingredients in a large bowl and then add the wet ones, along with the carrots. Spoon into a greased muffin tin and bake for approximately 35 minutes. Enjoy!
Special thanks to Sun Circle bungalow colony for hosting this tasting party!
(Originally featured in Family Table, Issue 762)
Oops! We could not locate your form.
>