| The Current |
Car Crunch  
| July 27, 2021
What's putting the brakes on America's auto industry?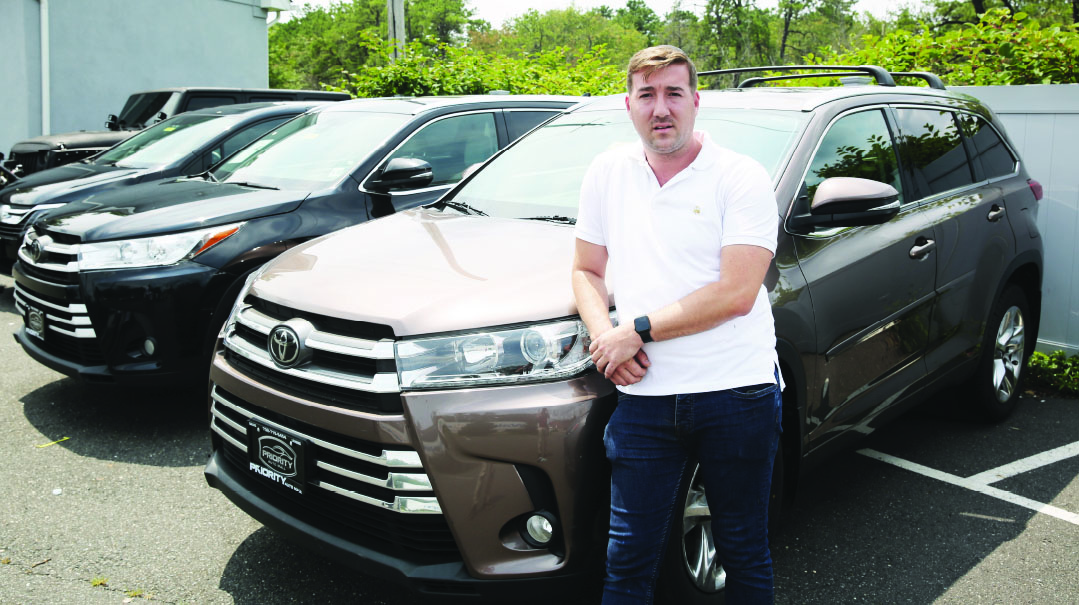 Photos: Itzik Roytman
Set back from Lakewood's bustling, traffic-laden Route 9 is the soft-blue stucco headquarters of Priority Auto Mall. Just a year and a half ago, its parking lot was packed, featuring row after row of Camrys and minivans, complemented by some token Highlanders and a Lexus or two thrown in for good measure. On this balmy summer day, though, just a dozen or so cars are on the lot.
Moshe Kramer is Priority's owner, and he steps out of the sleek glass doors to survey his lot.
"Anyone buying now is putting down a deposit before the car even hits my lot," he says. "That's what kind of demand we're dealing with."
Proving his point, when we step inside the shop, we find a sweet young couple recently blessed with their third baby sitting at a desk cluttered with piles of paperwork and old license plates, working out the financing agreement to purchase their first minivan. In more normal times, they would have first perused a variety of vans on the lot, taken two or three vehicles of their liking for a test drive before deciding on one to buy. Now, the husband is putting down a deposit without even seeing the vehicle.
The scene in Priority Auto Mall is currently playing itself out in hundreds of used car dealerships across the country.
In a year when Covid shocks have mangled global supply chains, it's the car shortage that has become a national story. From new to used and rentals, Americans are experiencing unprecedented difficulty in obtaining that most basic necessity — a set of wheels.
According to the data and analytics team at Black Book, almost 3.5 million new cars were available for the retail consumer in May 2020. In July 2021, that number barely surpassed one million. And that shortage is only magnified by a growing need. Nationally, demand for vehicles is 8 percent higher than it was pre-pandemic, and in the frum community, experts speculate it's even higher. The combination of an empty inventory and a roaring demand sent car prices soaring to a whopping 45 percent increase, according to a US government report published this month.
Chips Are Down
Moshe doesn't remember supply ever being this low in all his time in the used car industry — which is significant, considering he grew up in a home where car auctions, pricing, and the differences between the Touring and the EX-L editions were standard supper-table conversation. His father owns Mr. Minivans, a popular Brooklyn-based auto dealer, and before going out on his own and establishing Priority Auto Mall, Moshe developed a reputation as an honest, hardworking car dealer who enjoyed a solid rapport with his customers.
"There are a variety of factors causing the decline in supply," he tells us.
First, there is a dearth of micro-chips — those tiny, silicon-coated computer chips that power every appliance in modern life, from home thermostats to Bluetooth speakers. A new car can have thousands of micro-chips, powering everything from the windows and entertainment system to the backup camera and seatbelt sensor reminding unfastened passengers to buckle up with an annoying chirp.
"There are thousands of cars sitting in Detroit, simply waiting for those micro-chips to arrive so they can finally be rolled off the assembly line and into service," says Moshe.
What caused the auto micro-chip shortage? A fire that temporarily shut down one of Japan's biggest auto micro-chip factories contributed, but the biggest factor was Covid: As social-distancing regulations and strict stay-at-home orders shut down auto assembly lines — predicated on employees working hand in hand —the chip manufacturers had to look for other buyers.
Luckily for them, there were plenty. The same pandemic precautions that shut down Detroit's assembly lines also sent employees around the globe scurrying out of their corporate headquarters and into makeshift offices in bedrooms, basements, and breakfast nooks. Suddenly, these at-home workers and students needed laptops, PCs, and tablets; the New York City Department of Education alone purchased 350,000 tablets. The micro-chip manufacturers were only too happy to supply the electronics makers with their products. When car manufacturing operations resumed, auto makers were left hungry for chips.
With new cars all but unobtainable, customers started turning to used car dealers, sending demand sky-high. According to Forbes, overall demand for cars is 8 percent higher than it was two years ago, pre-pandemic. From his vantage point, Moshe sees three other factors that have driven demand for that elusive 2019 Camry XLE even higher. The first two are part of a national story.
"The pandemic made people nervous to take public transportation," he says, "so suddenly the industry had to swallow a whole population of folks who were never in the market for a car."
Uncle Sam's generous stimulus helped, too. "The government checks arrived just at the time these people were entering the market for a car, giving them the ability to throw in a few extra grand."
The third factor driving demand, Moshe says, is somewhat unique to the frum community: mass flight from Brooklyn's urban density to expansive suburban areas in New Jersey. In Boro Park, where supermarkets are within walking distance and parking spots are rare, families were able to get by without owning a car, instead using their feet and Bugaboos (Boro Park's official stroller, according to informal data) to get around.
Being trapped in small upper-floor apartments during lockdowns, however, proved to be too harrowing for many. In Lakewood and surrounding environs, due to the sheer space between housing enclaves, shopping plazas, and schools, a car or two is a necessary for a family to maintain a normal schedule — adding yet another segment to the market of eager car-seekers.
"I've had people come to me who were purchasing their first car at 40 years old," Moshe tells us.
The low supply, coupled with the surge in demand, has led to cars being sold at prices unimaginable just two years ago. Moshe sums up the dilemma with the straightforward confidence of a salesman selling an Odyssey to a hesitant buyer: "It's basic supply and demand economics," he says with a wave of his hand.
We're joined by Priority's manager, Eli "Szmidty" Szmidt, a popular fellow around Lakewood who keeps his chevreh updated through a stream of WhatsApp posts. His jovial personality belies a strong financial acumen.
Szmidty tells us about a sale he made last year. "I sold a woman a great car — a 2018 Toyota Camry with all the bells and whistles. We were able to get it to her, all said and done, for fourteen and a half grand."
This was in February 2020. Just one month ago, she got into an accident, and went to collect from insurance. "They gave her $20,500 for the car that she bought for just over $14,000 only a year ago," he says in disbelief.
And this, despite her putting 20,000 additional miles on the vehicle in the interim. Although she turned a cool profit, she remains carless — because the insurance payment isn't enough to buy her a new ride.
This past year had Moshe, Szmidty, and the Priority team finding creative ways to meet the needs of desperate customers.
"We're not going to give away our trade secrets here," Szmidty says with an impish grin, "but this past year forced us to pivot and come up with ways of getting our hands on cars and then getting them over to our customers."
Hot Wheels
Just two miles — and a sluggish ten-minute drive — down the road from Priority Auto Mall is a small brick hut emblazoned with the logo of Ariz Car Rental Company. Conveniently located right off Madison Avenue between Aisle 9 and the Gourmet Glatt plaza — and most importantly, a hop, skip and a jump from Beis Medrash Govoha — the clientele on a given morning gives a snapshot of Lakewood activities.
A harried rebbi arrives in search of a cargo van for a yeshivah Shabbos in the Catskills he is arranging for his shiur, "to give them chizuk." Next, a smiling, budding talmid chacham requests a highway-worthy minivan to help haul his family to Brooklyn for a niece's wedding. In midafternoon, a line of freshly shaved, eager bochurim stand in line, nervously fingering their pressed suits before being handed the keys to the latest model Camry and heading out to Deal's Ocean Pointe lounge, the most popular dating site in Lakewood's vicinity.
The car shortage affects business here, says Dave Franken, the efficient, inconspicuous manager at Ariz who prides himself on getting customers into their desired rentals in 60 seconds or less. We're seated in his air conditioned office, where a stack of forms sits on the table — and a seforim shrank stands behind us, attesting to the company's hallowed location and clientele.
"Many people are trying to wait it out, hoping the market will stabilize itself again sooner rather than later," says Dave. "In the meantime, they're coming to us for rentals and keeping them for two, three months."
Dave used to be able to promise callers that he'd have a car for them the next day, but now there are no bookings in advance.
"We can't do reservations any longer because we don't know when renters will bring back their cars," he explains. "People come in saying they need a car for a few days until they figure out what to do about buying a car. Then when the rental is up, they call us back to extend, and again a week later it's the same story."
With so many long-term rentals, the price is going up on his shrinking fleet, Dave says. "We're still trying to stay in range of the average family, but with prices on cleaning supplies, service, repairs, and parts skyrocketing, all the while car auctions runing on low inventories with insanely high prices, it's a challenge."
Ariz maintains its own garage to stay on top of its cars, keeping them clean and in shape, and costs have been rising there as well.
"Oil went up as much as 30 percent, and parts such as brake pads for commercial vehicles are impossible to find," Dave says.
And with apologies to President Biden, who responded to a reporter's inquiry that enhanced unemployment checks "of course" do not disincentivize workers from returning to the labor market, Dave says the reality is that he and his suppliers can't find workers, because would-be job seekers are happier collecting generous unemployment subsidies.
High-End Hardship
What about the luxury vehicle market? Do petty things like supply and demand affect affluent Range Rover and Lexus drivers as well? "Of course," says Mr. Moshe Azatchi of Brookville Auto Group, a leasing company that, among its varied customer base, services a cadre of successful businessmen and their wives who are willing to spend what it takes to maintain their drive (and status).
"For customers who don't necessarily need a specific model and color, I'll shop around, go out of my usual network, and try to get something in the category they're looking for, even if it's not exactly what they had in mind," he says. "For my clients who only want a specific luxury car, it's become an arduous process, to the point where you have to fill out an application asking the dealer to hold a car for you when they get it in — which can take up to a month sometimes."
Mr. Azatchi remembers a client who insisted on a certain high-end Porsche. Mr. Azatchi scoured the country for it, finding a grand total of three such Porsches available in the entire United States. He contacted one of the dealers, who agreed to sell it to him — at cost price. The dealer explained he didn't believe it was "morally correct" to profit off the pandemic.
Mr. Azatchi was amused, and said he was confident his client would happily agree with their morals and pay only cost price for the luxury vehicle. The dealer then explained that since he could have asked for a higher price, but didn't, he would require the buyer purchase a custom-made Porsche watch. (According to the manufacturer's website, the watch, "a custom high-performance Porsche Design Chronotimer Series 1, manufactured in its very own watchmaking factory in Switzerland — in line with Porsche production principles and the quality typical of Porsche," could run a glassy-eyed buyer well north of $5,000.)
"Go figure," says Mr. Azatchi with an easy laugh.
Even with all the road bumps, the East Coast is still better off than other parts of the country. "A commercial client of mine needed a fleet for a business they bought out in California," Mr. Azatchi remembers, "and it was cheaper for us to buy them here and pay a company to ship them out, rather than spend the kind of money they were asking for the cars over there."
Is there hope for the average customer? Dave, the no-frills manager back at Ariz, thinks so.
"The factories will start getting chips back, workers will return, and things will stabilize," he says.
Does he have a timetable? Will it take six months? A year?
He shrugs, but says there is one thing he is confident of: "For Lakewood's wannabe motorists, there is going to be a light at the end of the tunnel."
(Originally featured in Mishpacha, Issue 871)
Oops! We could not locate your form.
>