| Cooks Compete |
Brownies
| February 21, 2023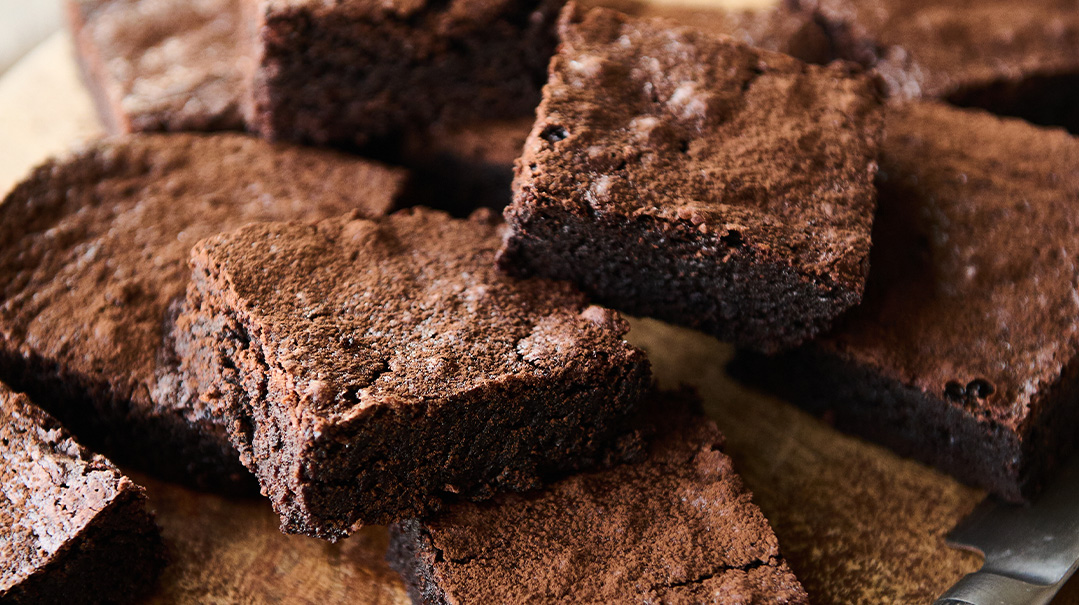 Is there anything easier to make than a 9x13 of chocolaty brownies? It's a simple formula: fat, sugar, binding agent, and chocolate content. And yet texture, flavor, and density vary so widely across the spectrum. Some like their brownies cake-like and crusted, while others enjoy it dense and oozing with chocolate.
We did the taste-testing for you and came up with three winners, but we totally understand if you need to test all three recipes yourself to make the best, most-informed decision. There's no harm in being thorough.
Chocolate Chip Brownies
Submitted by Rochel Snyder, Toronto, Ontario
These unbelievable brownies were delivered to me by my friend Leah after one of my children was born. They're amazing, but the secret ingredient was the love that came along with them!
YIELDS 1 9X13-INCH PAN
1 cup (2 sticks) margarine
¾ cup Dutch cocoa powder
2 cups sugar
4 eggs
2 tsp vanilla extract
1 cup flour
½ tsp salt
½ cup chocolate chips
1 cup chopped walnuts
Preheat oven to 350°F (175°C).
Mix all ingredients together and pour into a 9x13-inch (23x33-cm) baking pan.
Bake for 45–50 minutes. Do not overbake! You want the full gooey chewy experience!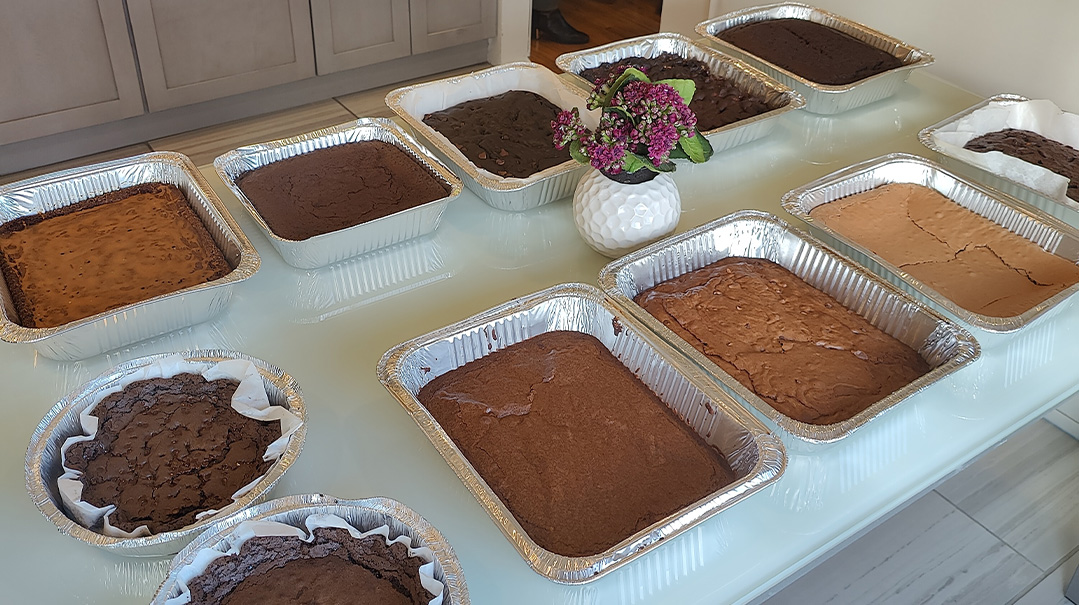 Fudgy Brownies
Submitted by H.P., Golders Green, London
This recipe was actually submitted by my 14-year-old daughter, who is the official baker in our household! She got the recipe from a friend, who used to bring trays of it to school, to the delight of their class… Now it's our family favorite, and disappears as soon as it comes out of the oven!
YIELDS 1 9X13-INCH PAN
4 eggs
⅔ cup oil
⅔ cup cocoa powder
1 tsp baking powder
2 cups sugar
1 cup flour
1 Tbsp vanilla sugar
¼ cup water
1 Tbsp coffee granules, dissolved in a tiny bit of hot water
Preheat oven to 350°F (175°C).
Mix all the ingredients together until smooth and lump free. Bake for about 45 minutes (start checking for readiness a few minutes earlier). The middle should still be a little fudgy.
Best Easy Brownies
Submitted by B.Z., Monsey, New York
I got this recipe many years ago from my sister-in-law, and it's still one of our favorites. It's so quick and foolproof, a child can make it easily! These brownies are great on their own, but the coffee drizzle makes them even better!
YIELDS 1 9X13-INCH PAN
1 cup flour
⅔ cup cocoa
1 tsp baking powder
4 eggs
⅔ cup oil
2 cups sugar
1 Tbsp vanilla
Coffee Drizzle (Optional)
½ tsp oil
⅓ cup confectioners' sugar
1 tsp coffee granules, dissolved in 2 tsp hot water
Preheat oven to 350°F (175°C).
Mix dry ingredients. Add the rest of the ingredients and mix well. Pour into a greased 9×13-inch (23×33-cm) baking pan. Bake for 30–45 minutes.
Once the brownies cool, mix the ingredients for the coffee drizzle and drizzle on top.
Special thanks to Nshei of K'hal Lev Avos in North Woodmere for hosting this tasting party.
(Originally featured in Family Table, Issue 832)
Oops! We could not locate your form.
>