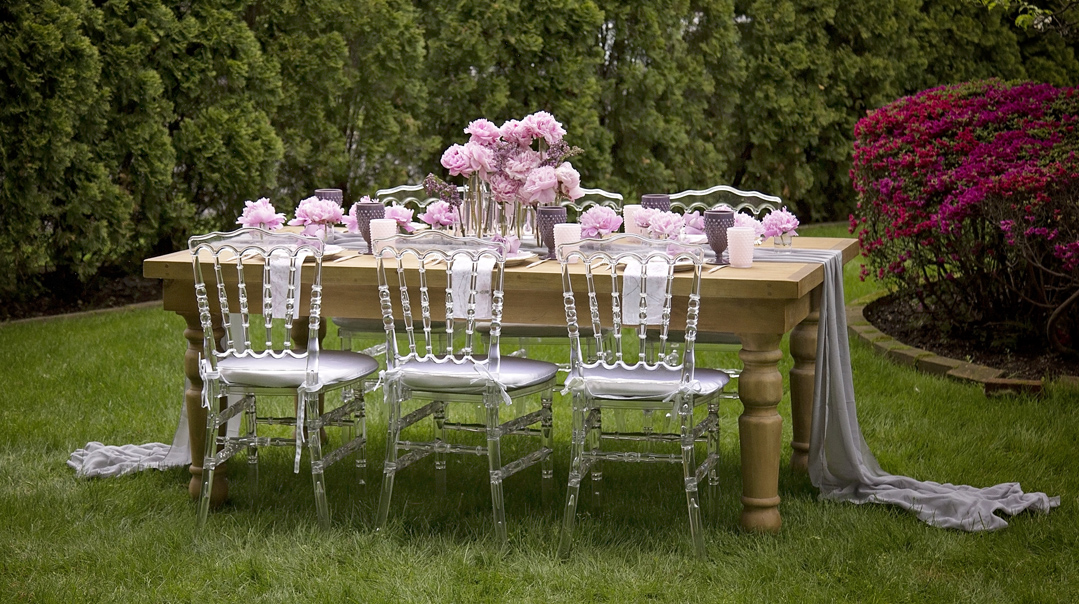 Photography By Baila Rochel Leiner
Styling and design began as a hobby, and over the past two years, quickly grew into an event planning and design business. I enjoy creating looks that reflect effortless elegance andstyle, for both tablescapes and parties. My designs are achievable, clean, and a true reflection of my style as a designer. When I began brainstorming for this shoot, I wanted the table to evoke the true essence of spring and the atmosphere of Shavuos. As I began sourcing my tabletop pieces, I developed my color palette: pale pink, soft white, lavender, and gold.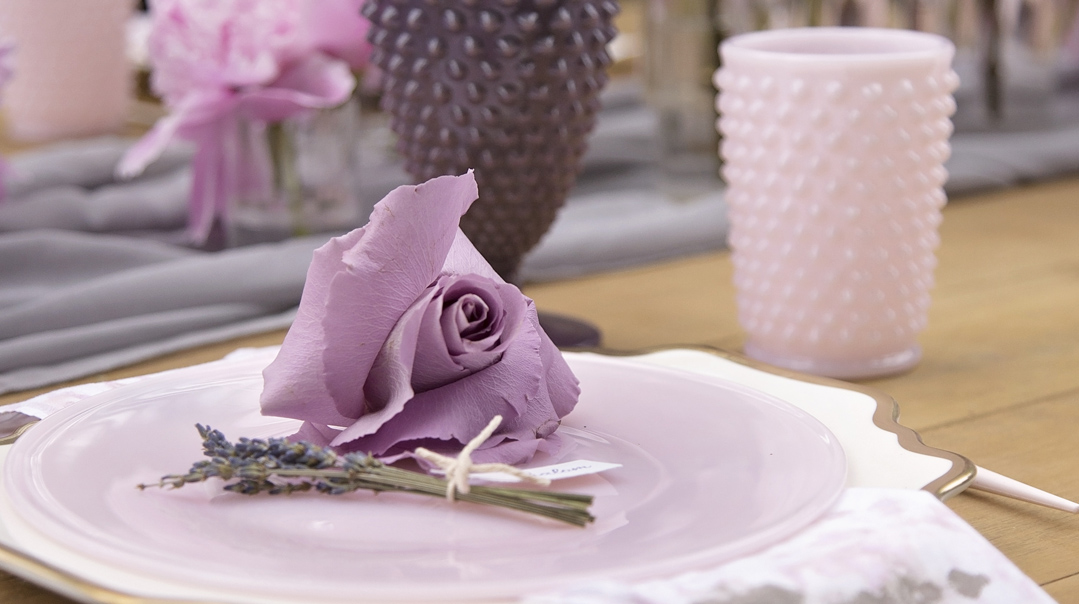 COLORS, CLEARS, AND FLORALS
I decided to contrast these feminine shades with a rustic wood farm table. To maintain a delicate look, I paired the table with Lucite chairs and clean white cushions. I always recommend that my clients invest in a quality set of Lucite chairs for entertaining because they add such sophistication to the table. For an eye-catching centerpiece, I featured vases of staggered heights to provide visual interest. I placed bud vases on either side to extend the arrangement across the table. Vases like these are versatile, perfect for at-home flower arranging, and can beautifully complement any decor. The florals anchor a flowy, gray chiffon exaggerated runner. The exaggerated runner is a trend that I love for spring and summer outdoor events. It creates such a powerful impact, and runners like these are budget-friendly, beautiful, and easy to find on Amazon and similar sites.
I picked a disposable flatware option because the color was a perfect match with my salad plate choice, and let's be honest, we all love having one less item to wash during a busy Yom Tov meal! For glassware, I chose strong color contrasts. The eggplant colored goblet was a perfect addition to provide visual interest, and the pink water glass just pulls it all together. I love to mix and match dinnerware. Continuing with the theme, I chose a white dinner plate with elegant gold edging, and contrasted it with a light pink salad plate. When mixing place settings, I always recommend using a neutral, more basic plate on the bottom, and dressing it up with a more decorative salad plate. To get the most out of the look, I placed a watercolor style cloth napkin between the two plates.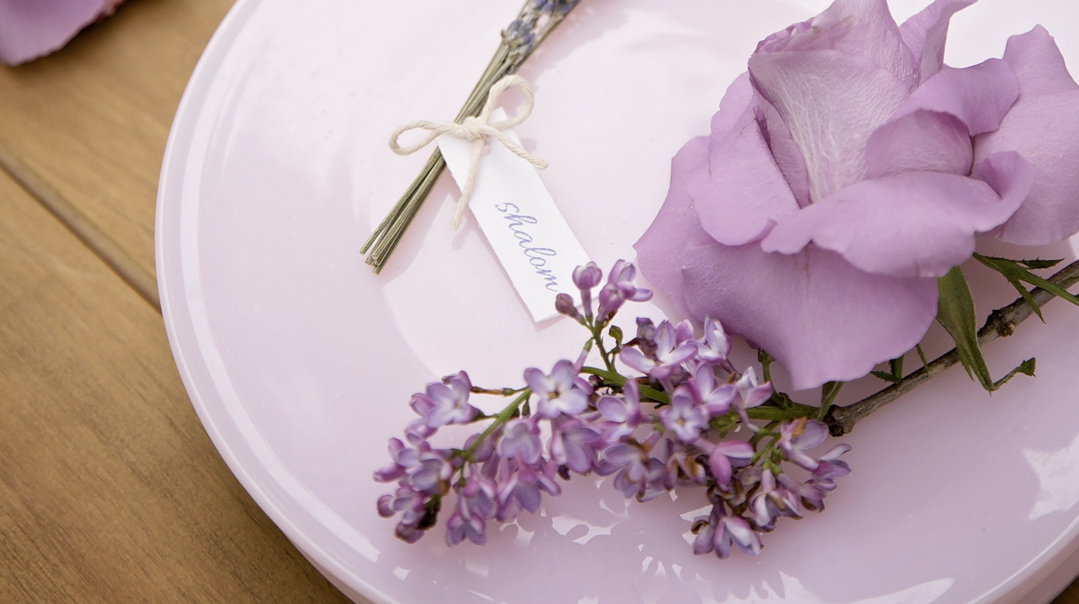 CONTRAST & MATCH

On the plate, I placed a lavender colored rose that was gently opened up, fanning out the petals. To do so yourself, fan out one petal at a time, starting with the outermost first. This requires patience, but the effect is totally worth the time! Next to the rose, I used a dried lavender place card that I designed in conjunction with Stamp Studio. These place cards can easily be recreated at home by tying bunches of dried lavender with string or ribbon. Name tags can be hand-drawn or printed, then hole-punched and attached.
CREDITS
Florals from Willow & Rose
Farm table and Lucite chairs from Rentastic Party & Event Rental
Centerpiece and bud vases from Tassels Home Decor
Gray runner from Amazon
Tabletop items from Dish It Out, New York (Godinger pitcher, Cebo Decor bone china dinner plates, Mosser Glass salad plates and glassware, Sophistiplate flatware)
Napkins from ABC Carpet & Home
Place cards from Stamp Studio
(Originally featured in FamilyTable, Issue 645)