| Magazine Feature |
Boomtown Hits a Bump
| March 15, 2022
Lakewood's supercharged business boom hits a worker shortage bump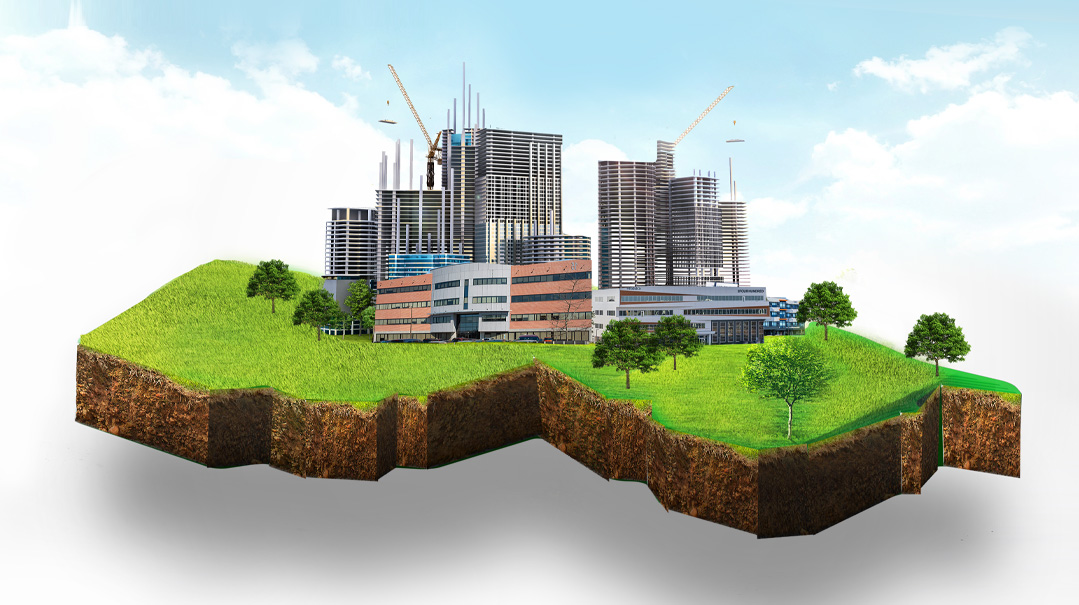 Photos: AVI Grass Photography
When Mark Chopp first started to market the idea of constructing an office building in Lakewood ten years ago,
people thought he was trying to sell them the Brooklyn bridge.
The investors he approached for funding turned him down. Working in Lakewood meant low-key jobs or commuting to Manhattan. No one believed that an office building could be filled with local businesses.
The area that Chopp had in mind was equally unpromising: best known for hosting a minor league baseball stadium and otherwise home to acres of pine trees.
A decade on, that woodland has mushroomed — like a plant on steroids — into a full-blown corporate office park. Lining Boulevard of the Americas today is one glass-and-steel building after the next, complete with trendy lobbies, lounge chairs, and soft music.
It's a stretch to compare these buildings to Manhattan's corporate headquarters, but only because the space here is that much more contemporary and expansive.
Mark Chopp's building boom — he's completed 500,000 square feet of office space in recent years — is, at one level, a story of a business vision come true.
But take a look at Tower Two's lobby screen, and the rise of the corporate park points to a much bigger story.
The nursing home conglomerates, health care billing offices, real estate investment firms, Amazon businesses, and IT companies are evidence of the unlikely emergence of America's once-quiet yeshivah town as an economic powerhouse.
The vast number of ancillary businesses in these prestige quarters speaks of the financial success coursing through the town, which has become a Klondike on the Jersey Shore.
"Lakewood went from a non-market to a micro-market to a small market in just a few years," says Chopp.
But that sizzling development and the seemingly endless business opportunities have now collided with the reality of a growing worker shortage. Lakewood has become an employee's market, and wages have climbed steeply in recent years.
"Four years ago, for a man leaving yeshivah and looking for his first job, starting salaries were around $35,000 to $40,000," says Yoel Tolwinski, director of job placement at PCS, a division of Agudath Israel of America. "Today, a man straight out of kollel is making $50,000 — and some are getting closer to $60,000, depending on the industry."
In a town overflowing with avreichim and business professionals, there are as yet no economists. Data on jobs added, market activity, and consumer confidence aren't reported.
Instead, the post-Minchah conversations in the corporate conference rooms and impromptu business networking events over Bagel Nosh coffee in the lobbies of some of the newest office towers are the places to take the economic pulse.
There's a sense that even as the next quarter-million square feet of class A office space goes up in Lakewood, and after a decade of sustained expansion, there are questions about how the city will navigate the hiring crunch.
Avi Klugmann is one of those Lakewood natives whose career trajectory explains what's happened in his hometown.
We meet in his company's brand-new, all-glass conference room whose curved windows flood the space with natural light.
At his previous job, Avi worked as an asset manager overseeing real estate assets for a publicly traded firm based in Brooklyn, New York. The energetic Klugmann would drive in four times a week, sleeping over once a week to save himself a fifth commute of an hour and a half each way.
Three years ago, an opportunity opened up with YM Ventures, a growing Lakewood-based finance company that arranges funding capital for small- to medium-sized businesses, and he jumped at it.
Initially, the company was housed in a small building near Lakewood's yeshivah neighborhood, the individual offices separated by a makeshift mechitzah. The scuff marks in the carpet-lined conference room were covered over with business-motivation signs.
The company had grown from humble beginning in 2014. It closed that year after funding companies with some $18 million; by last year, that figure had grown to north of $200 million.
The new clients and sources of funding necessitated the recruitment of some 20 additional employees, and took YM Ventures to Lakewood's corporate park.
That evolution makes the company a window into the story of Lakewood's growth.
On your standard map, hardly anything stands out about Lakewood, New Jersey, a small municipality along the Jersey Shore whose awkward positioning makes it hard to pinpoint exactly if it's part of Central or South Jersey. Yet fueled by Beth Medrash Govoha, the yeshivah that makes up the core of this city, it has emerged as one of the fastest-growing townships in the state.
Data from the 2020 US Census showed Lakewood at over 135,000 residents — a population increase of over 40 percent since the previous census in 2010, and the township earned its spot as the youngest city in the Garden State, with a median age of just 21 years.
Even those official figures don't convey the scale of Lakewood's explosive population growth, which has radiated out from the original core to adjacent townlets.
According to estimates, close to 7,000 children from neighboring Jackson, Toms River, and Manchester will attend any one of Lakewood's over 130 yeshivos and Bais Yaakov schools next year
The most noticeable manifestation of the boom — one that local media have picked up on — are the housing complexes cropping-up around town, and the plethora of mosdos opening each year to serve the burgeoning frum population.
Yet somewhere along the way, the local economy too has undergone a transformation. Initially attracted by the lure of lower wages, generous tax incentives, and a supply of skilled workers, businesses started flocking to Lakewood, and boom time began.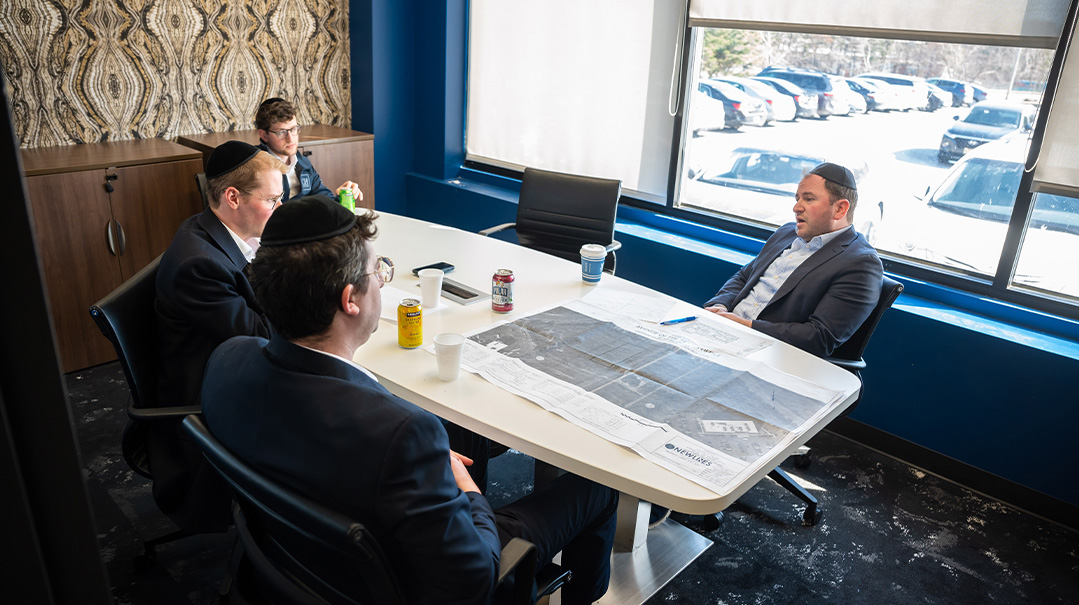 Who would have imagined yeshivish Lakewood would become the corporate center of the future? (L to R) Commercial real estate agent Ezzy Katz, Mishpacha's reporter, property manager Avery Braun, and Lakewood developer Mark Chopp bring the bottom line to the table
An unintended casualty of the migration from New York City's corporate world to Lakewood has been the famous "Kollel Bus," an ingenious concept that turned the daily commute into a seder of limud haTorah. The lack of passengers has forced the bus to halt its daily route, said Shmeely Kirscher, a Lakewood resident and now lonely commuter who works as a diamond dealer on Manhattan's 47th Street.
In parallel with the businesses moving in from New York, Lakewood started to produce its own entrepreneurs. Young, fresh-out-of-kollel businessmen built successful companies, resulting in a thriving local economy.
Steven Reinman, the director of Lakewood's Department of Economic Development, estimated that in 2018, about 13,000 people were employed in Lakewood's designated Urban Enterprise Zone (UEZ), a state initiative that works in collaboration with local townships to encourage economic development.
Today, that number has grown to more than 17,000 people, employed in about 2,000 businesses. Actual numbers are likely far higher, as the UEZ covers only 25 percent of Lakewood.
Organic growth that comes when a location reaches a tipping point to emerge as an economic center, is the third leg of Lakewood's financial success.
"I was showing around a potential client who couldn't get over the business networking here," says Mark Chopp of his building's tenants. "Every floor we went to, he told me he felt like he was at ECAP and ECORE" — the latter two a reference to major networking events for the health care and real estate industries.
"Once the business landscape started picking up," he continues "companies here needed, and were able to afford, high-level salaries, and we saw people leaving corporate America to assume positions with local companies."
Chopp remembers a friend of his who left a senior post at one of the "Big Four" accounting firms to become the CFO at a Lakewood-based company. Another left a prominent investment house when a Lakewood company's assets ballooned to the point that they needed an executive whose experience included that level of experience.
The arrival of corporate-level opportunities on Lakewood's doorstep has been complemented by another factor. According to Ezzy Katz, a popular commercial real estate agent, working in Lakewood's familiar environment is a strong draw.
"People want to be in Lakewood. They like the culture here. They like having cholent in the offices on Thursday afternoons. They enjoy the heimish neighbors they can talk business with, and they want to be able to chap a minyan for Minchah without leaving their buildings."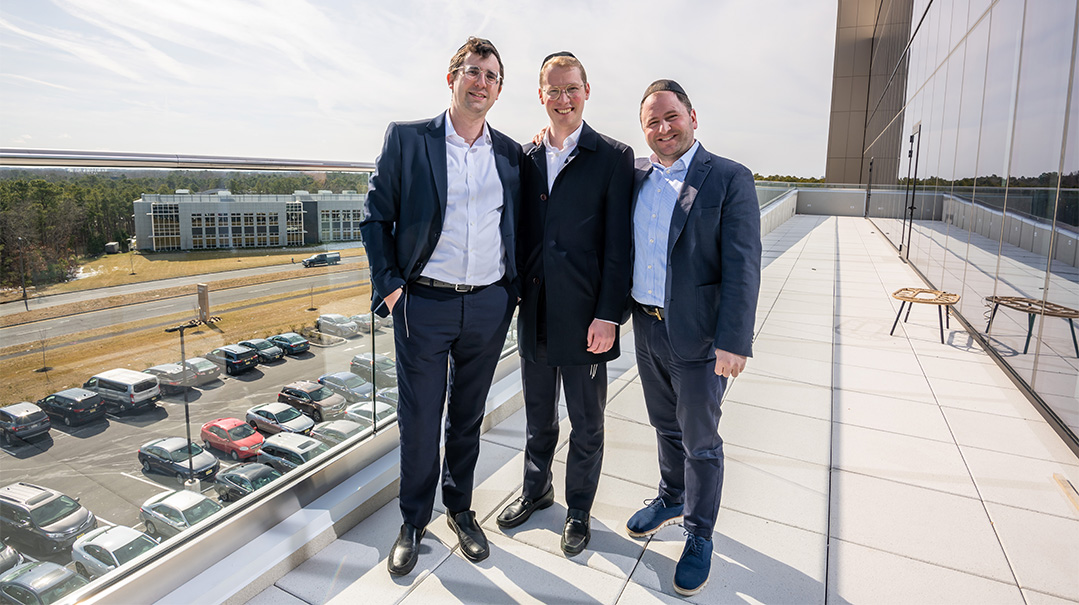 "They like the culture here. They like having cholent in the offices on Thursday afternoons. They enjoy the heimish neighbors they can talk business with, and they want to be able to chap a minyan for Minchah without leaving their buildings." Who wouldn't want to work in Lakewood?
Scan a "Jobs Available" listing in one of Lakewood's local publications, and you can see straight away that the booming job market is a win for employees.
Some firms are getting creative, running advertisements that offer prospective workers to "Learn More About Our Company" at recruiting events held in ice cream parlors and coffee shops around town. The perks on offer, such as more flexible hours and of course higher wages, have all become the norm.
At the bottom of Lakewood's wage liftoff, says Racheli Eisen of IZN Recruiting, is a simple reality: There aren't enough workers to fill openings.
"The number of graduates and newlyweds who moved to Lakewood used to be on par with the rate at which businesses were expanding," she explains. "Now, with all the companies flocking to Lakewood coupled with young men opening up their own successful businesses, it's putting a strain on the market."
Mrs. Eisen remembers that when she first opened up her recruiting agency six years ago, it took time for clients to realize the value of working through a recruiter. Back then, she averaged 25 job openings at any given time.
That's no longer the case. "I have over 200 positions that I could fill today," she says, "and that's with turning clients down."
Daniel Magid, director of purchasing and ancillary services at Agora Service Group, an operations expense management company in the long-term care industry, is one of IZN's clients. "When I was looking to hire three years ago, I put out the word that we were seeking and within a few days, I had a number of qualified résumés on my desk from various people, one of which we hired.
"Three years later, I'm looking to fill positions that have opened up and exhausted all my available resources to no avail."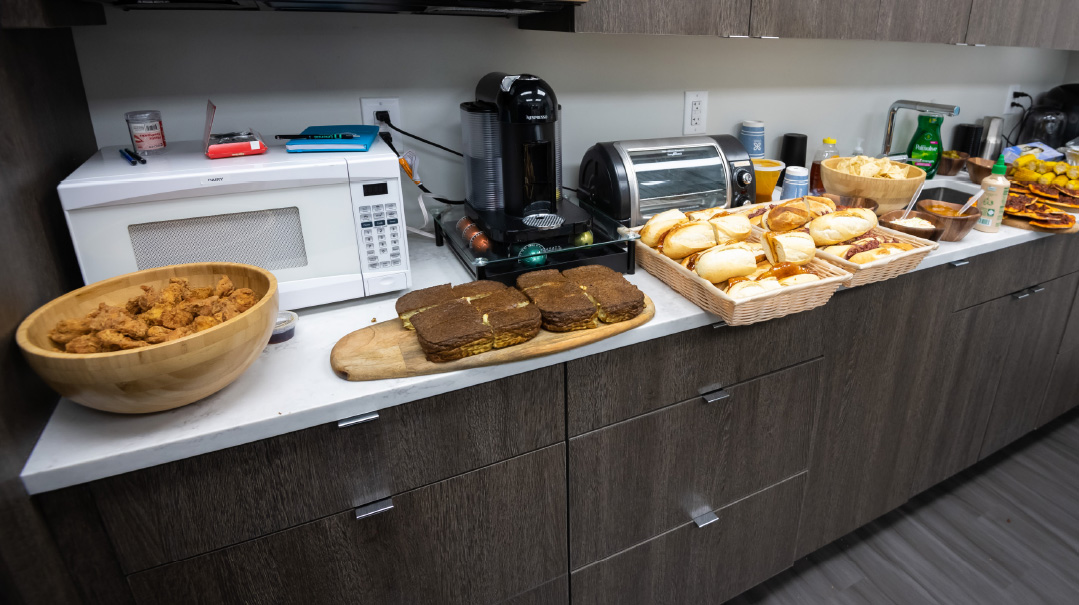 With employers struggling to find workers, good food in the office is always a practical incentive
The story of salary increases driven by a worker shortage is not unique to Lakewood, says Zacharia Waxler, CPA, a co-managing partner at Roth and Co. According to national estimates, wages increased at an average at 4.7 percent, with the lowest earners seeing the biggest upsurge.
"The most obvious cause would appear to be the galloping inflation," he says. "Inflation is up nationally by 7 percent. In our community, it's even higher. Our costs have gone up by about 20 percent. And yes, the rising costs are leading workers to demand salary increases to keep up with basic living costs."
Yet inflation alone wouldn't cause the wages to see where they are, he says. "Obviously if it were a weak job market, it wouldn't necessarily translate into companies accommodating, but that's not the case today. The more direct cause that is driving up wages is that there simply are not enough workers."
Despite a better-than-expected economic comeback from Covid, with companies largely back up and running, the number of people looking for work hasn't kept pace with the demand.
According to government data, the economy advanced to a 6.9 percent annual GDP rate in the fourth quarter of 2021. Yet simultaneously (and paradoxically) an astounding average 3.9 million people left their jobs each month last year — the highest number of resignations ever recorded since the Bureau of Labor Statistics began tracking this data two decades ago.
Economists have dubbed the mass workforce exodus the "Great Resignation," and are struggling to pinpoint exactly why workers are no longer willing to put in the hours at work. At first, the enhanced unemployment checks from the government were the culprit, and then concerns surrounding the omicron variant took the blame.
Yet even when Uncle Sam stopped sending generous checks, and post-omicron, desks remain empty and workers still haven't returned to their jobs. One theory posits that workers took advantage of the economic stimulus payments to finally leave the rigid corporate environment, and try their hand at starting their own businesses.
Supporting data points to filings made available by the IRS, which showed that applications for federal tax identification numbers for new businesses increased by 56 percent during the first ten months of 2021. Though it is still too early to tell if these start-ups can achieve stability, one thing is clear: The workers who left during Covid are not reentering the workforce. Indeed, numbers culled from an online job site showed over 10.8 million job openings in January 2022.
A current Department of Labor report shows a total of 6.5 million unemployed people. When combined, those numbers represent two positions for every one person seeking work, a number unseen in decades.
"I have clients in every industry," says Mr. Wexler, "and across the board, they are struggling to find workers."
While the national story is one of workers leaving the workforce, and in Lakewood, it's largely one of available workers unable to keep up with the pace of its accelerating economy, the essential problem remains the same: There aren't enough workers.
The view from one COO's corner office in 15 America Avenue highlights the threat of the worker crunch better than any statistics.
The office overlooks some 50 workspaces — each furnished with three 27-inch flatscreens and an enticing executive leather chair.
Yet just a dozen or so are actually occupied. "Employers are struggling to find workers, and are making less money as a result," the COO explains the scene.
That feeling is widespread among employers, says the Agudah's Yoel Tolwinski. "I was speaking to a real estate owner who wanted to take on an additional property that he saw great potential in, but couldn't afford a manager at today's rates, so he ended up going down himself to manage it."
The crunch is certainly a boon for employees, who are seeing higher wages and greater flexibility from employers.
For female employees, bosses are more open to being flexible with their hours. "Companies that in the past would have never done anything less than nine-to-five are now offering the same nine-to-three-thirty options," said Yoel Tolwinski. "A lot of women want to be home earlier with their kids, so companies are allowing employees to cut back on their day hours and put in an hour at night by logging in remotely.
"Some companies whose offices were open on Chol Hamoed are now open to working with their employees to allow them to take off."
Some employers have gone much further. Future Care, a company we visited whose Lakewood branch occupies a full floor in Chopp's Tower Four, have rewritten their entire ownership structure in a bid to attract more workers.
"Essentially, we changed the company from a single ownership structure to one in which employees each have a share in the company" said Sam Stern of Future Care. "It's an ownership arrangement known as an ESOP [Employee Stock Ownership Plan] where employees become co-owners of the company. Under this structure, employees own actual shares of the company in addition to whatever salaries they are getting. The number of shares they own is set by IRS regulations based on their level of compensation, and when an employee retires, the company is required to buy back the shares from them at fair market value.
Stern made the move as a way of motivating workers by giving them a share in the company's success.
"Our company is continuing to grow, and I thought to myself: What can I possibly offer more than just a bigger dollar amount to employees? I did some research and saw that many companies outside of our community have changed to an ESOP structure as a way to benefit workers, so that besides taking their salaries, employees are building equity in the company. The company's success becomes their success, and after being with a place for 20 years, they should be able to walk out with a piece of that."
Michael Bauman is the CEO of LTC Consulting Services, a health care management and billing company that is one of Lakewood's largest employers — and a prime target for talent scouts.
"As a large, established business, LTC provides great training that makes their employees more valuable. Naturally, we are a big target for other employers looking to hire talent," says Mr. Bauman. "How do we survive the onslaught of offers that our employees are getting? Obviously, we have to make sure that our salaries are strong, but it is a lot deeper than that. When employees work for an established company that has a culture of really caring about each individual — not just in a strong employee market — the glitz of the grass being greener on the other side is a lot less enticing."
"Start-ups may have a certain enchantment," he continues, "but they often lack a work-life balance and job stability and room for growth. An established company has different opportunities, and can make small and positive adjustments and when a position opens up that is paying more, they are more likely to promote an existing employee."
Still, the opulent offices, salary increases, and the frenetic race to secure top talent make it a dizzying market for even established companies to operate in at the moment.
Those gold-rush conditions are worrying business owners across the town, who know that the wage spiral and worker shortage threaten Lakewood's breakneck growth.
In one of the buildings we visited, the white-shirted CEO of a frum financial-technology company took a break after Minchah to share his viewpoint.
Despite the trappings of Silicon Valley-style success — an office expanse complete with minimalist furniture, concrete floor, and a ping-pong table — he's worried about the town's overheating economy.
"Look, now it's an employee's market, but eventually things have to stabilize, and the pendulum will swing back to a healthy balance of job openings and people looking for work. Everyone is happy to take home a bigger paycheck, but how much longer will companies be able to sustain these kinds of expenses while keeping their operations afloat?
"I don't know this will all end," he says, throwing up his hands in a gesture of resignation, "I guess we'll have to wait and see."
(Originally featured in Mishpacha, Issue 903)
Oops! We could not locate your form.
>