Despite reports of kindness to Jews during the Holocaust, he he died an ignoble pariah, linked forever to his brother's infamy. What was the truth about Albert Goering, the anti-Nazi brother of Hitler's second-in-command?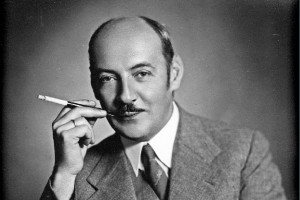 A
ugsburg Transit Jail 1945. He sits in his cell preparing his defense. The newly victorious Allies have made their first haul of Nazi war criminals. His brother perhaps the prize catch of the bunch is incarcerated a few cells down. That brother is Hermann Goering: Reichsmarschall commander of the Luftwaffe instigator of the first concentration camps. Second in command to Hitler Hermann Goering established one of the deadliest reigns of terror history has ever witnessed.
Albert Hermann's younger brother is accused of complicity with the Nazi regime by association. Albert painstakingly rewrites a list of 34 prominent people he has saved from the Nazi war machine. With German exactitude he places the names in alphabetical order adding addresses professions and assistance given. He gives the list a title: Menschen denen ich bei eigener Gefahr (dreimal Gestapo-Haftbehele!) Leben oder Existenz rettete—People whose lives I saved at my own peril (three Gestapo arrest warrants). He hands his defense to his jailors.
At his interrogation he tells Major Paul Kubala of the US Seventh Army that he eschewed the royal lifestyle of the Nazi elite and with the Nazi takeover in 1933 went into self-imposed exile inAustria. He tells of how he saved old Jewish women in the street set up syndicates to smuggle money across borders aided Jewish refugees. His story however is not believed and Kubala writes in his interrogation report on September 19 1945: "The results of the interrogation ... constitutes as clever a piece of rationalization and white wash... as ever seen. Albert Goering's lack of subtlety is matched only by the bulk of his obese brother."
No one even bothered to look at the list of the 34.
Two years later in 1947 Hermann Goering was sentenced to death at the Nuremberg Trials but cheated the hangman's noose the night before his scheduled execution with a smuggled cyanide pill. Albert was eventually released from prison but the infamous family name haunted him until he died broken and penniless in 1966.
A Tale of Two Brothers
When William Hastings Burke, an Australian economics student, stumbled upon the untold story of Hermann Goering's younger brother Albert, he was intrigued. The brothers were clearly different: Hermann's solid build and blue eyes bore little relation to Albert's slight frame and brown eyes. As children, Hermann spent his time reenacting battles from the Boer War; Albert practiced on the piano and daydreamed. Nurture is not nature, true, but how could two brothers brought up in the same home have gone in two such different directions? While Hermann briefly became Hitler's successor, Albert saved tens if not hundreds of people from torture, servitude, and death.
Burke, 22, put a PhD program and a budding finance career on hold and instead spent the next three years traversing the globe on a journey to discover the secret about Albert Goering, a mystery that had haunted him from the time he first heard about archmurderer Hermann Goering's younger brother.
"I had so many questions," Burke reflects in an interview with Mishpacha. "How could two brothers behave in such opposite ways? There were so many complexities to the story. And there was the injustice — Albert died penniless. He was a pariah. And his story was largely untold. I was young and idealistic, and Albert's story needed perpetuating. I thought I'd give it a go." Burke turned his back on his professional future and instead traveled from country to country, continent to continent, reconstructing Albert Goering's list of the 34 Jews he saved. His experiences are documented in his 2009 book Thirty-Four (Wolfgeist Limited), a gripping account of the untold story of Albert Goering.
Burke's first port of call was the National Archives in Washington DC. There he found the list of the 34 — Albert's Goering's enumeration of the prominent people he had saved — to be used in his defense.
"I had heard about it and seen a glimpse of it on the 1998 documentary The Real Albert Goering, but it was something else to actually have it in my own hands — a document filled with the ink of Albert Goering's own pen," Burke recalls. "In some ways, it was my first contact with Albert. Sitting in that reading room, my mind wandered off to Albert as he drafted the list. What was he thinking at the time? What did he feel like to be penned in with his Nazi enemies and tarred with the same brush as his brother? Why didn't his interrogators believe him or investigate one name on this list of prominent and thus easily contactable citizens?"
The list became Burke's compass. He used it to navigate through the meanderings of history and reconstruct the life and heroism of Albert Goering. With the list of the 34 in hand, Burke's way forward was clear: to track down the people on that list, hear their stories, and usher Albert Goering out of the dark shadow cast by his elder brother.
 On German Soil
List in hand, Burke flew to Germany, where he found a shared apartment and a day job. Lubricating his rusty German with the help of his roommates, he wrote letters to anyone who might have known Albert. The responses were depressingly similar: I regret to inform you that we have very limited information regarding Albert.
Not willing to accept the death throes of his investigation, Burke traveled into the landscape of the Goering brothers' childhood— Mauterndorf, Austria—where a fairy-tale castle was the luxurious summer home of the Goerings, a prominent if scandal-ridden family with a strong and proud history of military service.
Burke arrived to find tight-lipped Germans and locked doors. "We were warned that no one in the town, or the world for that matter, knew anything about Albert," Burke said. Tired, hungry, and disheartened, Burke was ready to make the long journey back to his base in Freiburg, when a chance meeting in the local cafe yielded surprising and fruitful results. A local resident, Herr Hohensinn, proved to be the son of one of the 34 who credit their lives to Albert Goering. Burke was encouraged: "My chance meeting with Herr Hohensinn was like an omen, a confirmation of my endeavors. It sounds crazy, but at times it felt as though Albert was plotting my journey for me by ghosting me and placing clues before me."
Herr Hohensinn recalled how his family took in a pair of sisters near the beginning of the war. The sisters were evacuated from the Rhineland, under the rubric of the Nazi's Kinderlandverschickung (KLV) program, whereby city families vulnerable to air raids sent their children to stay with families in the countryside.
The girls were high-spirited, and when Hermann Goering, traveling in an open-air Mercedes with a large entourage, visited his family in the town, the girls launched a mischievous water attack with a brimming bucket of water. The Reichsmarschall was drenched.
Officers swarmed the house, only to discover that the culprits were two trembling girls. Hermann laughed off the incident, but the local Nazis did not forgive the Hohensinn family. When Hohensinn's father failed to join the Nazi party, he received a nocturnal visitor. "They throw a stone on the window, then you have to go see what is happening, and that is how my father was taken," Hohensinn told Burke.
Hohensinn's father was taken to Dachau, whereupon his mother ran to Albert and Hermann's older sister for help, thinking she could use her Nazi connections to free him. The task of rescuing the man was delegated to Albert, and four months later, terrified and traumatized, the man was released. His name appears on Albert's list of the 34, as a hapless victim Albert Goering snatched from Nazi jaws.
Hohensinn spent an evening reminiscing, and the next day, when Burke returned to his Freiburg base, he did so with renewed determination.
 A Favor for Hermann
One of Burke's most important points of call in his research was the South Carolina home of Jacques Benbassat. "He was a key source," Burke explains. "Jacques was one of the few surviving witnesses who had known Albert Goering intimately and extensively, both as a child and as an adult after the war." Given his unusual family name, Jacques was quite easy to trace. His contact details were online, where he advertised a translation service.
Jacques Benbassat's South Carolina home was eons away from the easy elegance of Vienna, the bohemian cafes of Budapest, or the beer halls of Berlin. And yet it was there that Burke learned more about both Albert the man and Albert the hero. Jacques's stepfather was number four on the list of the 34. He was also a lifelong friend and confidant of Albert. "Albert was a common fixture at the Benbassat household, where he always stole the limelight by serenading them with a musical performance or sharing a tale," Burke writes in his book, Thirty-Four. Benbassat proved to be a rich source of information.
In an exquisite piece of irony, Benbassat tells Burke, one of Albert's first rescues was a personal favor for his Nazi brother. The Reichsmarschall's wife rubbed shoulders with the upper echelons of German society, including actress Henny Porten. Henny was married to a Jew — and was thus demoted to the status of untermensch (subhuman), facing imprisonment and worse. Hermann's wife begged him to save her friend, and Hermann, unable to publicly compromise Nazi principles, called on Albert for help. Albert, who in 1933 had become a self-imposed exile from the country of his birth, was living in free Austria at the time. Pulling a few strings, Albert arranged a film contract for Henny in Vienna. Not only was a life saved; the incident proved to be an epiphany — Albert realized that his Nazi brother could be the ticket to saving innocent people. He also learned that rules could be broken.
Perhaps, though, Burke theorizes in his book, Albert's outrage at the Nazis' crimes against humanity did not explode into action until 1938, when Germany marched into Austria. The Anschluss spread the Nazi rule of terror across the border. Jews and political dissidents were caught and sent to concentration camps. Assets were seized, bank accounts frozen, and the borders were sealed. Horrified, Albert became openly rebellious.
As Albert later told his Nuremberg interrogator, upon seeing Jewish women forced to scrub the sidewalks, he laid his jacket to the side, knelt down, and took over the job. One look at his identity papers silenced the SS officers who accosted him. In another incident, Albert saw a mob gathered on 19 Roenloweng. He pushed through the crowd only to see an old woman humiliated by a sign the Nazis had hung around her neck: "I am a Jewish sow." Horrified, Albert ripped off the sign and led her away. Secret police pounced and Albert was thrown into jail. His stay there was quickly aborted: a single mention of his name was his ticket to freedom.
Albert's name game had begun.
 It's All in the Name
Albert soon realized that he possessed the greatest weapon he could use against the Nazi regime: his name. Mere mention of the name Goering stuck fear into the hearts of storm troopers, commandants, and almost the entire hierarchy of Nazi leaders. The Reichsmarschall was then at the dizzying height of his success; Hitler had named Hermann Goering as his second in command and even Heinrich Himmler, the architect of the Final Solution, bowed to Goering's authority.
In his book, Burke marvels: "The calls [for Albert's help] came day and night, and the danger only heightened with each intervention. Albert's resolve, however, remained ever steadfast." Number 18 on Albert's list was a Jewish doctor named Dr. Medvey who escaped Vienna with a passport and exit visa supplied by Albert. After Burke's book was first published in the UK, Dr. Medvey's son Cornelius contacted him to share the rest of his father's story. With that visa, Dr. Medvey landed in Cologne en route to London, where SS officers stripped and searched him. But Dr. Medvey was well-armed. He carried a letter from Albert:
This is my good friend Dr. Medvey. If anything should happen to him, the perpetrator will be responsible to my brother, the Reichsmarschall.
Albert Goering
The letter — and the name — did its job. Dr. Medvey arrived safely in London. Unfortunately, he destroyed the letter Albert had given him: after all, it was not a wise move for an "enemy alien" to have a letter from a Goering in his possession.
Meanwhile, the Austrian film studio where Albert worked was forced to churn out Nazi propaganda; unwilling to be complicit in their work, Albert relocated to unoccupied Rome, where he became the director of Tobis-Sascha film studios. There, he met resistance worker Dr. Ladislao Kovacs — a Jew who had moved to Rome after hearing that he would never practice medicine in Germany. Albert's work became more organized. Although he received a huge salary of 25,000 lire a month, he kept only the minimum for his own expenses. The remainder he handed over the resistance movement. In Kovacs' own words, Albert "requested him to utilize it for the assistance of Jews and other refugees from Nazi tyranny."
Unsophisticated philanthropy segued into a Swiss bank account, used to finance refugees' escapes — including passports and travel papers — via Lisbon, Portugal. Although the bank account was doubtless more efficient, Burke points out that it further compromised Albert's personal safety: "For Albert, it was the first step in a paper trail that would lead back to him and his activities."
When Rome eventually fell to the Nazis, Albert faced a chilling choice: to further outrun his Fatherland and thus ensure his personal safety, or to step back into the Nazi shadow, in the hope of augmenting his rescue efforts.
Albert chose to move to occupied Prague. There, he accepted a job as an export director at Škoda Works, which produced vehicles and munitions. Škoda's huge factories were a hotbed of resistance, and former employees told Burke how Albert happily turned a blind eye to the many orders for arms that were ignored, delayed, or sabotaged. Jorge Sobota, the son of Albert's secretary in Škoda Works, told Burke, "When an SS or Gestapo officer came into his office and raised his hand in the Nazi salute, Albert would simply stretch out his hand and wait for a regular handshake." A simple act of defiance, perhaps, but one that could lead to death. When five Škoda managers were accused by their Nazi overseers of spying, Albert appealed to Hermann to release them from jail. Hermann complied.
It was around this time that Albert began writing letters, ordering the release of people he knew, signing off simply as Goering. Number six on his list of 34 is Joseph Charvat, a Jewish doctor who one day found himself on a train to Dachau. Charvat had treated Albert's wife and when he heard of Charvat's deportation, Albert seized a pen and a piece of Goering family stationery, complete with the family crest, and scribbled an order for Charvat's release. The commandants obeyed immediately; in fact, there were two people with the name Charvat incarcerated at the time; fearful of making a mistake, the commandant freed both of them.
Despite his prodigious rescue efforts, as the war progressed, Albert was filled with more and more anxiety and self-doubt. Had he done enough to save and help the victims? Could he have done more? In Thirty-Four, Elsa Moravek de Wagner (the Moraveks were number 20 on the list of the 34) describes one occasion when Albert fell apart: "He became very emotional while talking about the suffering of the prisoners, children in particular. With tears in his eyes, he would talk about the horrible ordeal of the victims of the concentration camps."
Spurred on by pain and fury, Albert hatched his boldest plan yet. Theresienstadt was located a mere 36 miles (60 kilometers) away from Škoda Works. Thus, Albert reasoned, it wouldn't be far-fetched for him to come looking for a labor detachment. According to Jacques Benbassat, the stepson of Albert's best friend, the plan was successfully executed: "He [came to the commandant of the camp and] said, 'I am Albert Goering, Škoda Works. I need workers.' He filled up ... trucks with these workers. The head of the concentration camp agreed because it was Albert Goering. He took them into the woods and let them out. And in that way, he probably saved quite a few lives!"
 Gestapo Warrants
As Albert's audacious behavior caught up with him, Burke's research became easier, as both the Nazis and Allies painstakingly documented their dealings with him. In 1944, a Gestapo arrest warrant was issued. It was quashed by Hermann. Four months later, a death warrant was issued, demanding Albert's execution on sight. Hermann, who by this time was in the Nazi doghouse himself, was unable to help — he advised his brother to move to Salzburg and lie low.
When the Americans liberated Austria, instead of being commended for his heroic work, Albert was arrested. He was eventually taken to Nuremberg, where the Allies' first haul of Nazi monsters were incarcerated, awaiting trial. Initially, Albert felt confident about his position. Indeed, the Nuremberg Trials documentation read: "Albert Goering claims that his life was nothing but one continual battle with the Gestapo. It seemed that the Reichsmarschall had nothing else to do except extricate his brother from scrapes where he protected old Jewish women, refused to give the Heil Hitler, and made politely disparaging remarks about the party."
His reports and protests were disregarded, and, if only for his name, he was consigned to a lengthy prison sentence and possibly death.
Trapped in a small cell, suffering from undiagnosed kidney disease, Albert's future looked bleak. But in another twist of history, a new interrogator, Major Victor Parker, was assigned to the case. He read through Albert's defense carefully, studying the list of the 34. And there, listed as number 15, was the name of his uncle, composer Franz Lehar. In the case of Franz Lehar, Albert had traveled to Berlin to intervene with Goebbels to save him and his wife. Parker noted in his report:
After the occupation of Austria subject [sic] used his influence on his brother and helped various people, which he mentioned on enclosed chart. Most of those people could be reached very easily if needed as witnesses. The above-mentioned story is believed to be the truth because this interrogator knows personally that Subject had helped Franz Lehar who is the uncle of this interrogator. Subject's release is recommended.
The trial, however, was not yet over. Released from Nuremberg, Albert was extradited to Czechoslovakia, where he was held in the same jail that imprisoned his Nazi enemies. On November 6, 1946, Albert was once again defending himself in court. This time, Albert's old colleagues from Škoda Works came to his aid, testifying in his favor.
The final conclusive evidence was provided by the Gestapo itself. After the liberation of Prague, a former SS officer led the Americans to a series of tunnels just outside the village of Stechovice, Bohemia. There, under a mass of concrete and steel, the Americans discovered the state archives of the Third Reich — aisle after aisle of confidential files. Albert's Gestapo case file, documenting Albert's "crimes," was among the mass of paper history. Once these documents were introduced into the case, Albert Goering was finally acquitted.
Albert left Prague in borrowed clothing, fake documents, and with a handful of sugar cubes in lieu of money. He returned to Austria, where he was unable to gain employment because of his now ignoble name (which for the rest of the life he refused to shed). He became estranged from his wife and only daughter, whom he never saw again, and sank into a life of alcoholism and depression. He spent the rest of his days in poverty, surviving on the gifts given to him by the people he saved. He died in 1966 and was buried in the Goering family plot in Munich, yet today that grave is unmarked. There is a rental fee for graves in Germany, to be paid every 25 to 50 years, and since the rent on the plot was not paid, the gravestones were carted away.
Fractured Fraternity
To come to terms with the story of Albert and Hermann is to grapple with the uneasy and often ambivalent fraternity of light and dark, good and evil. The Goerings' relationship was anything but simple. Languishing in his Nuremberg cell, Hermann told American psychiatrist Leon Goldensohn his thoughts on the differences between Albert and himself: "He was always the antithesis of myself. He was not politically or militarily interested; I was. He was quiet, reclusive; I like crowds and company. He was melancholic and pessimistic, and I am an optimist. But he's not a bad fellow, Albert." In fact, when the imprisoned Hermann and Albert met outside in the exercise yard, they embraced.
And yet, Albert violently opposed his brother's involvement in the Nazi party; from 1923, the brothers did not speak for 12 years. Hermann later explained: "We never spoke to each other because of Albert's attitude toward the party. Neither of us was angry at the other. It was a separation due to the situation."
Burke has spent years reflecting on the two brothers, their characters and motivations, and in his book Thirty-Four, he offers some thoughts on the uneasy relationship between Hermann and Albert, good and evil. Ultimately, though, he believes that Albert's heroism was borne from an instinctive revulsion for cruelty. And in this spirit, Burke offers Albert his final acknowledgement in his book: "To Albert, for reinforcing my faith in mankind."
Those who have learned of Albert's heroism tend to compare him to Oskar Schindler, who once said: "When you know people, you have to behave toward them like human beings." Yet Albert did not know those elderly Jewish women he saved on the Austrian streets. Says Burke, "Hermann loved Germany, but Albert loved humanity."
As a moral postscript to his investigation, William Hastings Burke submitted an application to Yad Vashem, asking that Albert be acknowledged as one of the Righteous Among the Nations. Despite the evidence in Thirty-Four, and despite Burke's interviews with survivors, recorded in the BBC documentary Goering's Last Secret, the request has so far been denied. When Mishpacha contacted Yad Vashem, staff there acknowledged, "There are indications that Albert Goering had a positive attitude to Jews."
One can't help but wonder if the Goering name is haunting him still.
(Originally featured in Mishpacha Issue 437)