| True Account |
Best Friend Forever
| September 18, 2019
"Those boys just understand each other," I heard my mother telling my father once. "It's not a typical friendship, it's a whole different animal"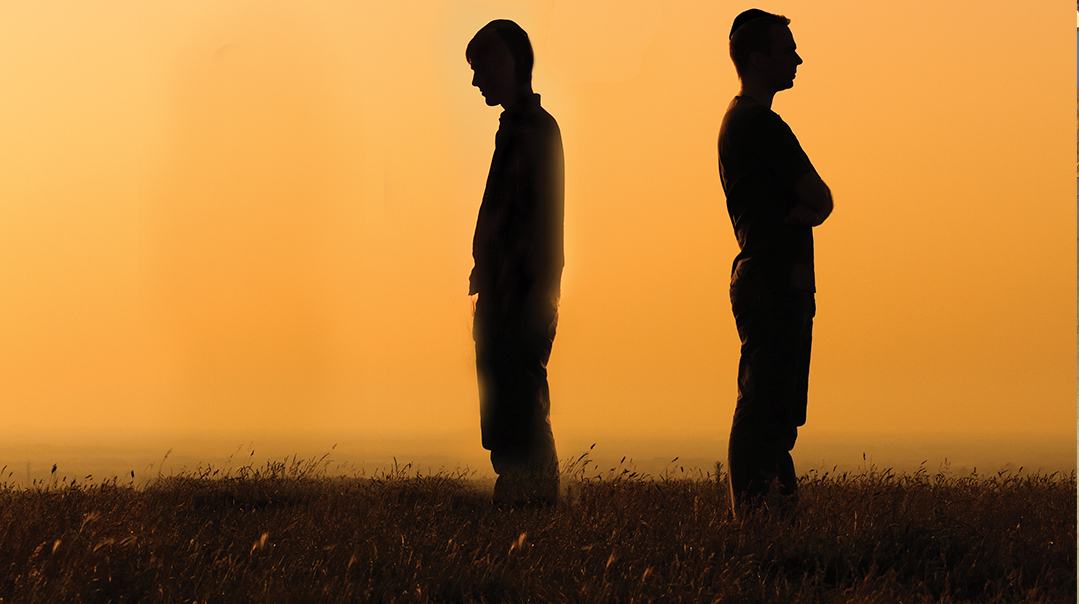 Yechiel and I hit it off as soon as Rabbi Frank sat us next to each other in ninth grade. We studied for our chemistry regents together, went to camp together, walked home from yeshivah together.
Yechiel was the pampered youngest of his family and I was the third of ten. He lived in a big, beautiful house while I shared a basement room with two other brothers. But when we played a good game of basketball, the differences melted away.
Our mothers didn't have much to do with each other, but after every PTA, Mommy would send me regards from Mrs. Grossman, and Yechiel would hear some cute story my mother had repeated to his mother while they waited together.
"Those boys just understand each other," I heard my mother telling my father once, when Yechiel knocked at our door. "It's not a typical friendship, it's a whole different animal."

One winter evening in 11th grade, we were walking home from yeshivah together in the dark Brooklyn streets. We stopped at the corner where I usually made a left turn, and I started to walk.

"Wait, stay here a second," Yechiel said. "I need to tell you something."
This wasn't like Yechiel — he never made formal declarations.
I looked at this face, but his eyes flitted wildly — up, down, left, right, no eye contact.
"So my father, he was feeling tired a lot lately." Now his eyes were fixed on a crack in the sidewalk. "The doctor wasn't so nervous, but then he did some blood tests. Anyway, he's sick. Like, for real sick. Soon everyone's going to know, so I wanted you to know first."
What do you say when your best friend tells you his father's mortally ill?
"I appreciate that," I managed. "Is there anything…I mean, like, maybe Tehillim…would you want…"
Yechiel shrugged his shoulders, kept his eyes down. "Yeah, that would be good, I guess. Menachem Nachum ben Chava."
I still remember that crack in the sidewalk.

We always started out Shabbos afternoons at Yechiel's house — he had an empty bedroom, it was a good place to chazzer or study or schmooze. As the afternoon went on, sometimes we'd switch to my house, or walk around the neighborhood a little.
That Shabbos, when I made my way to his room, the house felt weird. Two of his married sisters were there, and the house was filled with the sound of kids playing, but with Mr. Grossman away, it had a quiet undertone, a certain seriousness that you could almost touch.
I wasn't sure if I should ask about his father. My mother had gotten the report from a niece who was friendly with one of Yechiel's sister's sister-in-law: he was at Sloan-Kettering, it was stage four, the doctors didn't offer much hope, Mrs. Grossman had basically moved into the hospital room, the kids were taking turns spending Shabbos there so she could be home a little. But Yechiel avoided the subject entirely.
"Should we review the Gemara again?" he asked.
Sure we could. Whatever he wanted.
Over the next few months, Yechiel showed an occasional crack in his armor. When a huge snowstorm left his mother stranded in the hospital, he asked me to sleep over at his house so he wouldn't be alone. When his mother had spent far too many days away from the kitchen, the freezer was empty, and no one remembered that a hungry teenager might want supper when he got home from yeshivah, he asked me to join him for late-night burgers and shawarma. When we made our Purim plans, for just a second his eyes went frantic and wild.
"How am I supposed to get excited about a costume right now?" he hissed in my ear.
But then he swallowed hard and smiled even harder and let Cohen and Fromowitz battle out the merits of tuxedoes versus British soldiers and no one would have even guessed that the tall boy with the curly dark hair had a care in his life.
As the months went on, Yechiel seemed to need me more and more. I slept over at his empty house at least once a week, sometimes twice. Every Motzaei Shabbos, after his mother packed up and drove to Manhattan, we used to go out for ice cream together.
"I hate that empty house," he told me. "Just get me out of there, that's the best thing you can do."
One Monday afternoon, Yechiel got called out of class. The menahel was waiting for him in the hall. They spoke in hushed voices. The math teacher talked even louder. We realized things couldn't be good. I dialed his house that night at least ten times, then kept hanging up before the phone could actually ring.
The next evening, my mother asked me to help her fold some towels in her room, the only quiet place in our house.
"Shloimy, you know Yechiel's father is really sick," she said as she matched up the edges of a big blue bath towel.
"Sure I know, we all do."
"Right, so all these months, the doctors were trying different ways to help him, different strong medications," she said, focusing on the towels. "But now… now they don't really have so many options left."
"What does that mean?"
"It means," she put down the towel and looked at me with clear, honest eyes. "It means that the cancer spread all over Mr. Grossman's body, and at this point there isn't anything they can do to fight it. So they're giving him whatever he needs to be comfortable, not to feel the pain, and the whole family is going to stay there with him until it's time for his neshamah to leave."
I traced my finger along the lace edge on a forest-green hand towel and gulped.
"And it means that your friend is going to be in a very tough place," she said. "And that's probably going to affect you too. He might need you a lot."
"He already needs me a lot," I said. "He needs me to come over every Shabbos and distract him, to sleep over, to study with him, to go out for ice cream with him. He's always asking me for things."
"Right, I know, and it's great that you're there for him. I'm sure you're going to come through for him again this time."
I nodded.
"So can you put the towels away please? This pile is for the kitchen, this one is for the blue bathroom."
Mr. Grossman hung on for another day. The levayah was the most horrible thing I remember from my high school experience. Yechiel's married sisters were sobbing so loudly they were literally shaking, and his grandmother came close to collapsing before the levayah even started.
Yechiel was quiet, though. He had one married brother who kept an arm around his shoulder the whole time, but those shoulders were very still.
The next evening, I got a frantic phone call.
"Shloimy, can you come?" It was Yechiel. "Come, come fast. There's so many people here, all these men from shul, and guys from the bungalow colony, and some big rav…Just come as fast as you can, 'kay?"
I told my mother Yechiel needed me and ran. His shoulders sank in relief when I walked into the room. "My friend is here," he told his older brother. "I'll take him to the basement, okay?"
The older brother nodded. Yechiel led me down to the basement. He pulled a pillow off the couch onto the floor, jammed it against the wall, and sat down. He motioned toward the couch and I sat down. So awkward.
"So what's happening in yeshivah, how was that crazy test?"
Even more awkward.
I'm sure you're going to come through for him again this time, I heard my mother's words. This was what he needed from me, this is what I would do.
"Nuts," I heard myself say. "I don't know what the rebbi wants from us, he must think we're in beis medrash already."
For the rest of the shivah, I was basically on duty. My parents and rebbeim pretended not to notice, and they let me spend hours and hours at the Grossman house. I can still describe every inch of that basement — the beige couches, the brown carpet, the flower prints on the walls — where Yechiel hid out so he wouldn't have to face the crowds. I have no idea what we talked about, though. It was so mindless, so inane, that I couldn't even remember it the next day. But that's what he wanted, and I was there for him.
Yechiel spent Pesach with his married sisters, but the day after Pesach, when we were still figuring out where we'd hidden the milchig silverware, he was on the phone.
"Wanna come for pizza?" he asked.
Mommy said yes, of course. "His house probably feels so empty," she said.
And yes, it was true, his house did feel empty, and Pesach must have been hard, but honestly, I'd had pizza the night before after we finished putting away the Pesach dishes, and my older brothers had talked about a baseball game in the park. But I was a good friend, wasn't I?
Yechiel needed me a lot over the next few years. He wasn't really a nebach, at least not in front of the other guys, but in some very real ways he was vulnerable and then he leaned on me, hard, for support.
We continued on in the beis medrash program of our yeshivah — his mother couldn't deal with the thought of sending him out-of-town. I wouldn't have minded a change. Dorm life sounded great. But my parents kept repeating that there was really no reason for it, when the beis medrash was such a solid program.
I knew when Yechiel had yahrtzeit — I'd have to go with him to some out-of-the-way shul where he insisted on davening, instead of in yeshivah with the guys. I knew that he'd ask me for help building his succah and that every now and then, when his mother couldn't pull herself together enough to host the marrieds for Shabbos, he'd ask me to "stop by after shul for Kiddush" and somehow finagle me into staying for the whole lonely meal.
But when things were sunnier, Yechiel wasn't only on the receiving end. He was fun, he was smart, he was the type of guy you enjoy learning with and then playing basketball with, the friend who understood my silences just as well as my conversation.
Yechiel and I landed in Eretz Yisrael at the beginning of an Elul zeman and found ourselves in different dirahs a few blocks apart. Of course, for that first Shabbos, Yechiel came with me to my cousin on Sorotzkin.
The next week, on Thursday night, I confirmed that he'd be coming along to the Friday night meal at my other cousin in Ezras Torah.
"Nah, don't think so," he said. "I'm going with Kaufman, he has a married sister on Minchas Yitzchak, much closer."
"No problem," I said. And really it was no problem. I could take Moskowitz along with me instead.
I was surprised that Yechiel didn't need any meals over Succos — during the summer, we had planned to get ourselves invited to Davidson's parents' table in the hotel succah — but he seemed to be getting pretty tight with Kaufman, so I didn't interfere. Once the zeman started again, I figured, he would remember his old friend.
The zeman started, but Yechiel seemed to forget that I had ever been a presence in his life. I asked him if he'd want to learn together with me night seder, but he shrugged and stared at a crack in a tile and mumbled something about being busy.
Look, I'm not a shy person. I found other friends, other chavrusas. But when I spoke to my mother, and she asked how Yechiel was managing, and all I could say was, "Seems fine, not sure, I don't have so much to do with him—"
Then it hit me that I really didn't have much to do with him. And it felt like a slap.
Over Pesach bein hazmanim, my parents asked me a few times where Yechiel was, how come he hadn't stopped by, was I planning on getting together with him. After enough shrugs, they got the message and stopped asking.
But I wondered too. Where was Yechiel? How had he mentioned to erase so much of his routine from his mind? Who was joining him at the bowling alley, and who would schmooze in the ice cream store with him until the janitor started sweeping beneath our feet? But he wasn't calling me, so I definitely wasn't calling him.
On Erev Rosh Chodesh Iyar, when I saw his mother hugging him hard at the airport as we headed back for another zeman, he locked eyes with me for a second.
"I can't believe I'm doing this to her again," he said.
I knew it wasn't the type of thing he could say to Kaufman.
It must have been two years later when I called my mother to let her know I'd be coming into Brooklyn from BMG.
"I have a chasunah in Williamsburg, I think I'll stop by the house first, can you take some cookies out of the freezer?"
"Sure, Shloimy, it would be great to see you," she said. "Whose chasunah?"
"Yechiel Grossman."
"Yechiel's getting married tonight? That means — you weren't at his aufruf?"
Hearing the shock and dismay, the betrayal, refracted through my mother's voice managed to do something to me that even the wedding invitation hadn't. How could this guy who'd almost had me sit shivah with him grown so utterly distant?
"I don't know, Ma," I said honestly. "I guess I haven't really been in his chevrah for a while."
"But you were so close!" I could hear the pain, the bewilderment. "You were everything to him. You were there for him when no one else was!"
I pulled a tie out of my closet and dropped it into a bag along with a fresh shirt.
"You're right, Ma," I admitted. "I was. But… things change. Friends change. He's moved on, I guess."
That night I danced around Yechiel just like any other casual friend. I wished him all the best, a life of happiness and joy and brachah. He deserved it just as much, if not more, than any of us.
Then he picked me out of the circle and wrapped me in a hug, and we danced together, just the two of us, for a bit. The music was loud, which was good, because I really had nothing to say. But I hope he felt my good wishes for him.
Half a year later, Yechiel stopped in at my wedding. He was in a rush, had to hurry back to Lakewood, shanah rishonah and all that. It was fine, I was ensconced by my family and circles upon circles of friends. I had a life ahead of me, bright and golden and unmarred by shriveled friendships.
Tova and I decided to start our life together in Eretz Yisrael. Every now and then, when we flew into the States for Yom Tov, and I happened to be at my parents while Yechiel was spending Yom Tov with his mother, we met at shul, introduced our kids, and smiled in the manner of stranger-friends who know some of the most basic things about each other but really don't know much at all.
A few years down the line, our landlord told us he wanted to raise our rent.
"Would you be interested in selling us the apartment instead?" I offered. It took a month of negotiations, but to our delight and disbelief, we settled on a price, found a mortgage broker, and closed on an apartment in Yerushalayim. It was a dream come true.
Every now and then, I'd go back to America for a simchah and meet old friends and neighbors who joked about their friend who became an Israeli with a Borsalino logo stitched onto his hat band. But it was just banter. Underneath was that steady acceptance of people who knew where you came from, who knew you in the most basic of ways. People like Yechiel had once been.
Living in Eretz Yisrael, you get the oddest reminders of how old you are. One night, the phone rang.
"Hi, my name is Menachem Grossman, my father said he's an old friend of yours."
"Grossman? From where?"
"From Brooklyn, he said he went to high school and beis medrash with you."
Oh! That Grossman! When did Yechiel get that old, to have a son learning in Eretz Yisrael? (When did I get that old, to host him?)
"Of course I remember your father. Yechiel, right? So can we have you for a meal maybe? We'd love to meet you, and your friends too."
Menachem was a sweet boy who seemed to enjoy our Shabbos meals. He came at least once a month, and during our conversations, he gave us little glimpses into the life my friend had built in America. A beautiful family, an open home, a soft spot for Yidden who'd hit on hard times. I was proud to say that he'd once been my close friend.
I hoped he would say the same of me.
That winter, Yechiel and his wife came to visit. Yechiel wanted to take me out to eat, but I told him it wouldn't really fit my schedule. I didn't want to tell him that it no longer fit our relationship. No problem, he said, he'd stop by on Shabbos afternoon to say hello.
After all these years, all I'd built and become, my insides still twisted as I led Yechiel the successful businessman to the fraying couch in my little dining room. Our friendship had never been about social or financial standing. But the disparity felt so stark. Back then, there had always been something I could give him, something he needed from me. What could I offer this polished man now?
"How are you? How's it going?" I asked.
"We're doing great," he said. And he really was. He shared a picture of a fulfilling life, a happy life, that balance of ruchniyus and gashmiyus that we all aim for. Our conversation flowed — camp memories, rebbi jokes, shared references. Then he looked at his watch, thanked me for hosting his son, shook my hand, and left.
And that was all. Our book was closed. We were long-ago friends who were now friendly acquaintances, nothing more and nothing less.
But as he walked out the door, tailored suit and straight shoulders, I realized I was still giving my old friend something. That during all those years of rejection and distance, I'd been giving him something he needed.
Because as much as Yechiel had needed me back when he was vulnerable, that's how badly he needed to stay away from me when he began to carve out his new self. To be strong, to be independent, to be healed, he couldn't keep bumping into this flesh-and-blood reminder of how needy he once had been.
By staying away, by giving him the chance to recreate his own self-image, I was being the best friend that he really needed.
(Originally featured in Mishpacha, Issue 778)
>