| Profiles |
Because We've Been There Too | June 5, 2019
After losing their son to cancer, Chaim and Miri Ehrental have spent the last three decades making sure no other parent faces the challenge alone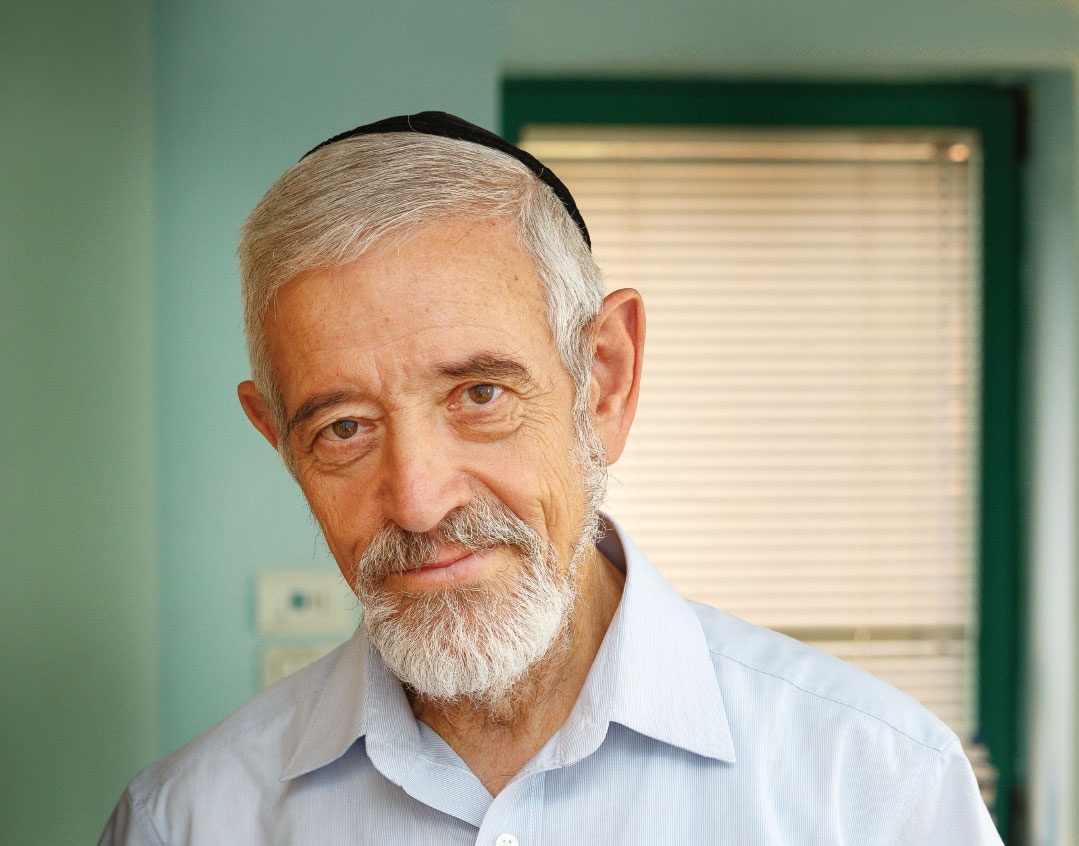 Photo: Elchanan Kotler
A
cadre of news reporters surrounds Miri Ehrental, their live mics jutting under the waning Jerusalem sun, while family, friends, and volunteers stand by her side. Noise. Lots of noise. But standing over her son's grave, all the cacophony washes away with her tears. "This prize is really for you, Menachem," she says. "All our work is in your zechus." The cameramen hit pause — there's not a dry eye in the crowd.
Visiting the cemetery had not been on the Ehrentals' agenda that day. But that changed when Chaim Ehrental answered the phone and found the Minister of Education's secretary on the line. The voice was businesslike and to the point: "Minister Naftali Bennett wants you here this morning." Shifting his weight, Chaim replied: "I don't know… we have a meeting scheduled in Jerusalem, and then another at Rambam hospital, up in Haifa." After checking with his wife, Miri, he added: "We can come through Tel Aviv on our way back, if you like. Around 6 p.m.…"
"Mah pitom!" The secretary was emphatic. "You must come in. With your wife. 11 a.m. — the minister is expecting you!".
The Ehrentals canceled their Haifa meeting and dutifully drove to Tel Aviv, thinking that perhaps they were finally being granted a bureaucratic license they had applied for earlier that year. In their wildest dreams, however, they couldn't have imagined the gargantuan media hug that was to engulf them as they stepped through the Ministry's revolving doors. Once there, Minister Bennet informed the Ehrentals that they were to receive the Israel Prize for the care they gave kids with cancer and their families at Zichron Menachem — an organization they established in 1990 near their home in Jerusalem's Bayit Vegan neighborhood, following the death of their son who battled cancer for most of the 14 years of his young life.
Cancer doesn't play favorites, and the award touched the hearts of Israelis in every sector of society — chareidi, dati-leumi, traditional, secular, and even Muslim. "The Ehrentals are Am Yisrael's angels of giving," Minister Bennett announced. "Out of the grief that they experienced in losing their oldest son, Menachem a"h, they created light — an organization of chesed and giving that benefits tens of thousands of Israel's parents and children".
Since Zichron Menachem's inception, the Ehrentals have helped over 47,700 cancer sufferers and their families. Now, sitting across from Chaim and Miri Ehrental on the stone veranda of Zichron Menachem's House of Dreams — the day center designed for the kids and their families — I listen as they reflect on the events of that day in their typically candid, matter-of-fact way. "We were extremely touched," says Chaim. Miri agrees. "Incredibly."
"But, the first thing I said to Minister Bennett," Chaim stresses, "is that this prize is not ours alone. It goes to all the thousands of volunteers who work alongside us. We could never do what we do without them."
Chaim points to a picture from many years back of Sherut Leumi girls standing shoulder to shoulder. When he and Miri arrived home late at night after the award and its ensuing flurry of activity, they found the picture attached to a huge bouquet of flowers outside their door. The note read "From the Zamzamiyot of 1998." Zamzam is the affectionate acronym of the organization's name and is the title volunteers bear with pride. "Can you imagine?" Chaim shakes his head, incredulous. "They kept up with each other for over 20 years…. And now they send us flowers."
(Excerpted from Mishpacha, Issue 763)
Oops! We could not locate your form.
>