| Baby Steps |
Baby Steps: Part 5 of 10
| May 25, 2021
Oh, and in case you were wondering — yes, I did sell that sheitel, and I didn't miss it for a minute
December 2016 
"I'll just process your payment, then we'll be done, and I'll bring the keys," said the salesman from across his polished wood desk. "I think this is the fastest and easiest sale I've ever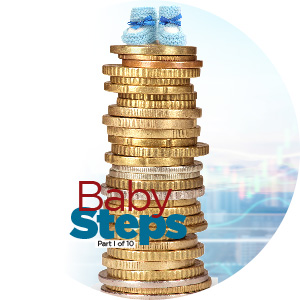 made," he added as he rose from his chair and headed to a back room in the dealership.
Nat and I broke into matching grins. It had been a fast sale.
"What are we going to name this one?" I asked.
"Hmm. Maxwell's going to be a tough act to follow," he mused, "Let's think about it for a bit before we name this one."
"Maxwell" was the 23-year-old Nissan that my husband had been driving until a few days ago. Maxwell had a long history in our family, being driven by my husband, then his two younger siblings, and then me as I got my own driver's license. Maxwell had been in the family for 340,000 miles — at least, that's what the odometer read before it broke for good.
Over the summer, it became obvious that Maxwell was getting close to driving his last mile, so we reviewed Dave Ramsey's advice about buying cars and started preparing for the purchase. We decided on a firm price limit, then started saving money each month toward paying cash for a new (used) car. A friend tipped us off that car rental companies often sell their "older" cars at bargain prices — and "older" could be only a couple of years old with great service records. Once we were close to hitting our savings goal, we (miraculously) sold Maxwell, then headed to a rental company's dealership for a new set of wheels.
"That's fair," I replied. "Today has been…" I trailed off as I thought.
"Fun?" offered Nat.
"Yeah, fun," I said, surprised. "I never thought I'd say that about buying a car."
"Well, I think it's different when you're using cash."
I nodded. "It's simpler. This is so different from when we bought Lola," I noted. Lola was the Corolla that I drove — the car we had taken a loan for and, thankfully, paid off by now.
"Right, I remember," said Nat, smiling, "No shady backroom this time, huh?"
I cringed at the memory of how we agonized over how much money we could spend for Lola's down payment and whether we could afford the monthly fees. Then, just when we thought we were done with the buying process, we had been rushed into a room with a high-pressure salesman — the "shady backroom" — who sweet-talked us into buying a costly extended warranty. We had driven away feeling browbeaten, exhausted, and unsure of our decisions.
Today, though, we strode into the dealership with confidence and a firm cash budget, which we immediately informed the salesman of. We had picked out three cars that were well within our price range by checking the dealership's website. After three test-drives, we chose the car we liked best, a blue Hyundai Accent, and kindly but firmly rebuffed the salesman's offer of any warranties by simply stating that it wasn't in our budget. To his credit, the salesman was respectful of our decision, and soon we were writing a check to buy our new(ish) car outright.
Deal done.
Click-clack went the salesman's shoes on the floor, and soon he was back in his office, handing us the title and keys. We took the items and got up to leave.
"Happy New Year, you two," he said as we walked to the door. "And enjoy the end of winter break," he added to me. I was teaching full-time now, and the new semester would start in a few days.
We thanked the salesman and drove off: me in Lola and Nat in his new car. When we got home, we debated for a bit before deciding to name our new addition Pierre. I was excited by the car but felt a twinge of sadness. This was not the type of addition I had been hoping our family would have.
"Hopefully, we'll be picking out baby names soon, too," I said.
"Amen," Nat said, "But we've come really far since last year. We're almost out of debt!"
My husband, the eternal optimist, was right, as was my rav from high school. As we worked toward our goal of eliminating our debt, Hashem had been guiding our journey in many ways. I was now bringing in a full-time salary and tutoring on the side for extra money. Meanwhile, Nat's boss had noticed that it had been two years since he'd been given a raise, and gave him one. Overnight, our income had increased. Our budget, however, stayed the same — I had gotten good at making $10 of personal spending last a whole month — and every extra dollar we made was put toward paying off our last debt: Nat's student loan from Columbia.
Oh, and in case you were wondering — yes, I did sell that sheitel, and I didn't miss it for a minute.
We were on track to be done with our non-mortgage debt in less than six months, and we couldn't wait for the day to come. Then, we'd be on to Baby Step 3, saving three to six months of expenses in an emergency fund. Still, I would have been overjoyed to have to put off the rest of our debt payoff in order to save for a newborn.
Ping! My phone beeped, interrupting my thoughts, and I glanced at the screen. It was our shul's office manager.
Hosting this Shabbos? I've got a guy coming into town for a work conference.
It was Thursday, and I had been planning a simple, guest-free Shabbos to relax before going back to the classroom. I pulled up our budget spreadsheet and saw that our food budget was nearly at zero — it was the last few days of the month, after all. I moved to text back a quick "No," but I paused.
I bet we can stick to our budget and still host, I thought. We'll just have to get a little more creative.
I walked to the kitchen, opening the pantry door and taking stock of what was on the shelves.
Hmm… rice, barley, nuts, dried beans, and lentils…
Closing the pantry, I moved over to the freezer and peeked inside. We were out of cholent meat, but I spied ground turkey and a container of tomato sauce made with veggies from my school's garden. That was another small brachah — in addition to teaching classes, I mentored the school's gardening club, growing vegetables that often made their way to our table cost-free.
I closed the freezer, a menu forming in my mind as I opened the fridge and found mushrooms, carrots, and celery. I smiled as I texted the office manager a joyful "Yes!"
That Shabbos evening, we feasted on saucy meatballs and rice pilaf, and on Shabbos day, a hearty mushroom-barley soup with beans warmed us from the wintery cold. I found joy in being able to make an entire Shabbos from what we had on hand while sticking to our budget.
Five months later, we made our last debt payment and became officially debt-free.
to be continued…
(Originally featured in Mishpacha, Issue 862)
Oops! We could not locate your form.
>