| Cooks Compete |
Apple Crisp
| September 20, 2022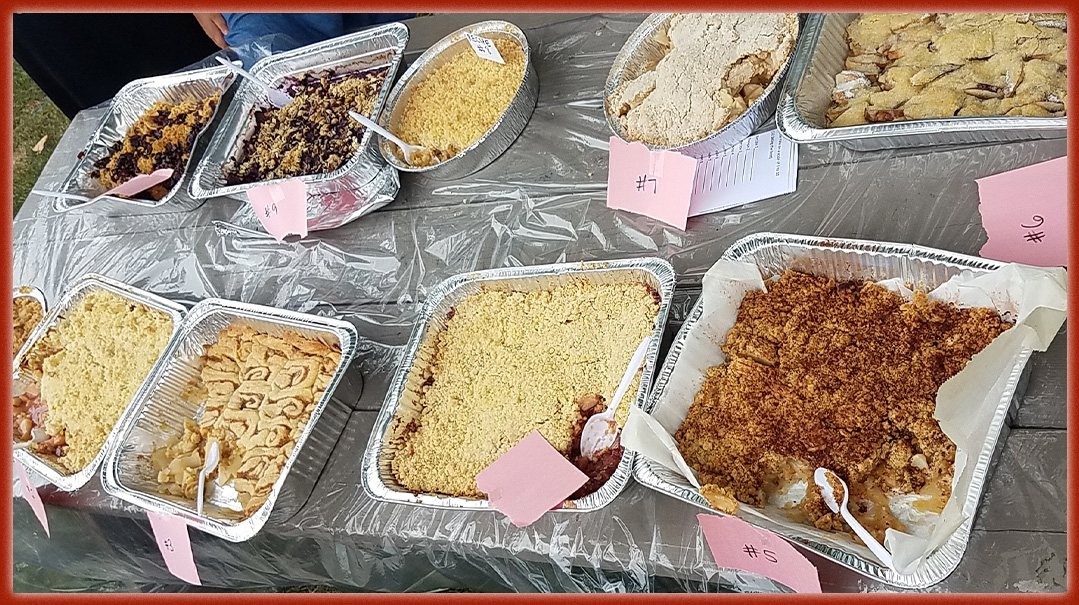 There's a reason real estate agents bake apples and cinnamon when they want to make a sale. There's just nothing quite as warm and homey as a freshly baked apple crisp straight from the oven. And while it's a Rosh Hashanah no-brainer, we would argue that some foods are so delicious they transcend seasonality. Enjoy our top picks, and even though no one needs to tell you to add a scoop of ice cream to level up, it's always nice to have a reminder!
Mrs. Ungar's Apple Crisp
Submitted by Shira Pollak
Bayswater, NY
When I first tasted this apple crisp at my friend Sara Ungar's house, I knew I had to get the recipe. (Thank you, Mrs. Ungar!) I've been making it ever since, and it's always a big hit. Try it and you'll see why!
4–8 apples, peeled and sliced
lemon juice
cinnamon
Topping
½ cup brown sugar
½ cup sugar
½ cup oil
1 cup flour
Preheat oven to 350°F (175°C).
Toss apples in lemon juice and cinnamon. Place in a pan (it bakes better in a Pyrex than in a 9x13, but a 9x13 is fine too).
Mix all topping ingredients together and crumble over the apples. (Sometimes I double the topping recipe if it doesn't look like enough for the amount of apples I cut up.)
Place in oven and bake until apples look soft and topping is golden brown.
Cinnamon Roll Apple Crisp
Submitted by Malkie Milstein
Brooklyn, NY
Apple crisp used to be something we made for Shabbos if we were in the mood. But when a neighbor gave me this recipe a couple years back, it practically became its own course every Shabbos. Yes, it's that good!
Filling
6 Granny Smith apples, sliced
sugar
lemon juice
Dough
2 cups flour
¾ cup sugar
2 tsp baking powder
½ tsp salt
½ cup margarine
⅔ cup pareve whipping cream
2 tsp vanilla sugar
¾ cup brown sugar
cinnamon, to taste
Preheat oven to 350°F (175°C).
Combine all ingredients for the dough except for the brown sugar and cinnamon. Roll out dough into a rectangle shape. Mix brown sugar with cinnamon and sprinkle over the dough. Roll it up jelly-roll style, then freeze for about 1 hour.
Meanwhile, arrange the sliced apples in an oven-to-table dish. Sprinkle with sugar and lemon juice.
Cut the frozen dough into slices and layer on top of apples in the pan.
Bake for 40 minutes, or until the top is golden.
Deep-Dish Apple Crisp
Submitted by Rochel Schur
Lakewood, NJ
I received this recipe from my aunt before Rosh Hashanah a few years ago. I was so excited to try it, since all my previous apple crisp recipes had contained oats, and I was ready for a change. This has been my go-to recipe ever since. Sometimes I double the crumbs and freeze them for extra convenience. Enjoy!
8 apples, peeled and diced
½ cup sugar
2 Tbsp lemon juice
1 tsp cinnamon
cherry pie filling (optional, but definitely recommended)
Crumbs
3 cups flour
1½ cups sugar
1 tsp vanilla extract
¾ cup oil
1 tsp baking powder
1 egg
pinch salt
Preheat oven to 350°F (175°C).
Mix the apples with sugar, lemon juice, and cinnamon. Arrange in a 9-inch (23-cm) round pan or a Pyrex dish. Add cherry pie filling, if desired.
Combine all the crumb ingredients and mix into a crumble. Arrange over the apples and pie filling in the pan.
Bake for 40 minutes or until crumbs are golden.
Special thanks to the ladies of Camp Morris for hosting this tasting party.
(Originally featured in Family Table, Issue 811)
Oops! We could not locate your form.
>