| The Current |
America Isn't Working
| November 30, 2021
Is the Covid labor crunch here to stay?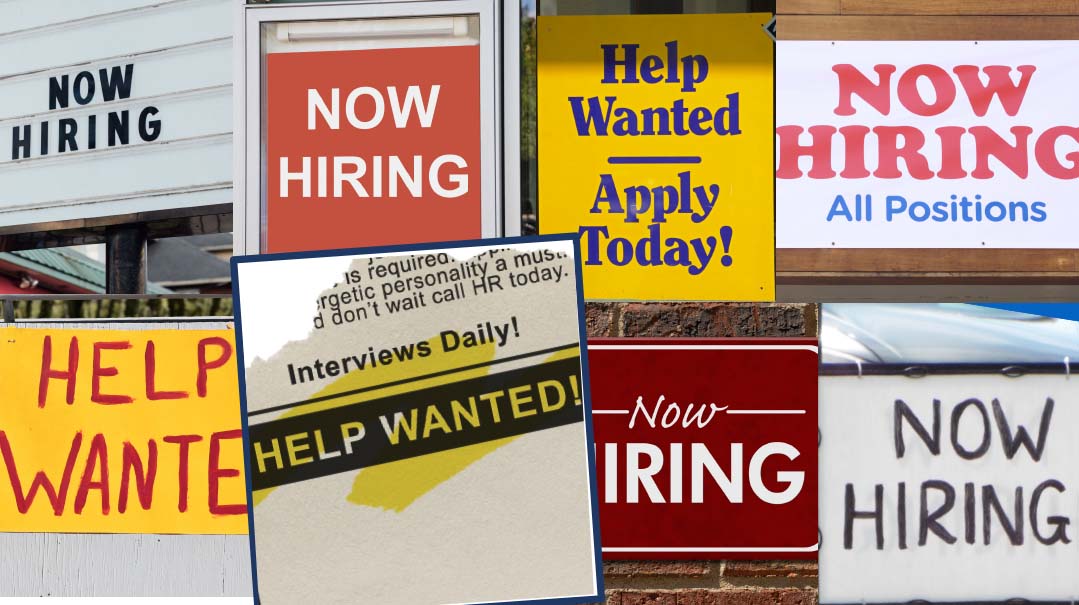 A year after her business suffered a near-death experience under Covid lockdown, Shula Ellul of the Kosher Pastry Oven bakery in Kemp Mill, Maryland, has discovered what vast numbers of business owners across America are learning: Demand there is aplenty, but workers are in short supply.
Since opening the bakery and café 17 years ago, the Elluls — a husband-and-wife team — never experienced difficulty in hiring staff. "Whenever I advertised for a new dishwasher, I could get 30 résumés in the first day," Shula tells Mishpacha. "But it recently took me four months to find a dishwasher. I can't find bakers or cooks. People don't want to work. I put ads everywhere, including HR companies, but nothing works."
During the peak of Covid, she and her husband lived from savings and didn't take a salary in order to keep most of their workers in place. But with custom back to normal, workload certainly isn't.
"I work for two people," she says. "My husband works for three people, and we work 10 or 12 hours a day. We have no other choice. If the dishwasher doesn't show up, we do the dishes. If the cleaning people don't show up, we clean the floor. This is what we do. We didn't do it before."
And Shula is clear about the source of her problems: It's the federal government.
"If I get money from the government, $4,000 a month, why should I work?" she asks rhetorically, referring to several recent rounds of stimulus approved under the Trump and Biden administrations.
The travails at Kosher Pastry Oven are a snapshot of a national picture — one that's worrying a White House already beset by bad economic news.
According to an October survey by the National Federation of Independent Business, 49 percent of business owners reported job openings that could not be filled. The National Association of Business Economics (NABE) found that 47 percent of its Business Conditions Survey participants reported a shortage of skilled workers in the third quarter.
If the national worker shortage is a fact, it's less clear if the government handouts are enough to explain the sudden crunch. Not all industries are created equal, as well: It's those lower down the pay scale who seem to be worst hit.
Even more uncertain is what lies over the horizon. After surviving the pandemic year, small business owners across the country are desperate for the answer to Shula Ellul's question: "Now that the benefits are over, why don't people come back to work?"
No Show
You don't have to go far along the Kemp Mill Center, a strip mall in this Silver Spring suburb with a strong Orthodox presence, to hear the same story. It's a Wednesday afternoon, and in between serving customers at his supermarket, Shalom Kosher, Larry Dekelbaum admits that he's also found hiring tough going.
"If you put out an advertisement, nobody really shows up for the interview," he says. "If I have five interviews, one or two people show up."
Dekelbaum shares his macroeconomic take. The worker shortage, he says, contributes to a wider supply-chain issue. "All these companies out there don't have labor, so they can't produce stuff, and it's happening with every company. Every company is out of certain things. Prices are going up because of inflation. But prices are also going up because, from what I see, if a company is trying to sell merchandise, and they can't sell what they need to sell, and they don't have the capacity to produce what they need to produce, then they're not making any money. So the price has to go up so they can still cover all their costs of doing business."
Next door to Shalom Kosher is the only kosher Chinese restaurant in the DMV area, as the Greater Washington sprawl is known — Holy Chow, owned by Ami Schreiber.
His labor issues started at the beginning of the pandemic, because the restaurant's Chinese staff caused fear of contagion. "There was a lot of fear about Covid, and our head chef, plus one of our sous chefs, gave me notice because of just how bad it was, and they were just scared to come in. So it was a lot of negotiating to get them to stay."
At the other end of the pandemic, staffing problems have returned, but for different reasons. "Getting employees has been difficult, but it's more the not-so-glamorous positions, like cleaning, dishwashing and prepping and stuff like that," he says.
The main difficulty, says Schreiber is that as a small business owner, he can't compete in a tight labor market with big employers such as Amazon, who can offer $15 and sometimes $20 an hour as a starting wage.
"I can't offer what Whole Foods or Target provide, health care and stuff like that," he says. "Our expenses have probably gone up $20,000 a month from what they were before Covid."
But the clout of the big companies is only a factor because there are not enough workers to go around. And that, says Holy Chow's boss, is partly down to government handouts.
"It's not worth it necessarily for the money," he says, "if workers can stay home and receive benefits from the government, then that might be their preference, regardless of how much I might offer them."
Quitting It
The phenomenon of workers failing to find jobs after long Covid layoffs is so widespread that it's been named the "Great Resignation," known more colloquially as the "Big Quit."
But how much of it is actually down to government freebies, and how much to other factors?
Robert Nakosteen, professor emeritus at the Isenberg School of Management, University of Massachusetts–Amherst, is an expert on labor force participation.
"This is not normal," he told Mishpacha. "Generally, when the economy turns up after a recession, the size of the labor force increases, because folks who have been sitting on the sidelines decide that their chances of finding a job have improved, and they start looking.
"There are a number of reasons for this shortage. Some older workers have decided not to return to work, but instead to retire early. Some workers in two-worker households are not going back to work, perhaps because they are looking after children, perhaps because they are looking for other work that is more to their liking, and perhaps because they are concerned with the health risks of returning to work."
Despite the historically large sums of money that the federal government put into citizens' accounts throughout the pandemic, Nakosteen is reluctant to apportion too much blame on that factor.
"Research I have seen suggests that the impact of increased government benefits is small," he says.
That may sound counterintuitive — why work when you can live off the government, after all? — but Nakosteen isn't alone.
Thomas Jungbauer, assistant professor of strategy and business economics at the Johnson School of Management at Cornell University, agrees that there are larger forces at work than government largesse.
"Irrespective of the pandemic, this is a well-known argument that has some truth to it," he says of the effect of government programs. "Historic data, however, has shown that small government benefits typically do not affect significant masses of people in their decisions whether to work or not. Therefore, while certainly applicable to some, I'd doubt that government subsidies are a driving factor of the shortage."
The current labor shortage, in Jungbauer's view, is driven by the direct and indirect effects of the pandemic. Firms laid off workers, and these workers are slow to return for myriad reasons — from health to searching for better conditions — even if the economy is gaining speed.
"Many employees have chosen to retire early or take career breaks," he says, "and it takes particular effort and higher salaries to entice even some of those to return. The possibility of finding better pay or the ability of working remotely also entice job seekers to search longer, and those industries that feature close contacts with coworkers and clients are particularly hurt."
Worker's Paradise
If an administration official wants to explore how the worker crunch — and the White House's own policies — are affecting businesses across the country, they don't need to head north to Kemp Hill, though.
Located just over a mile away from Pennsylvania Avenue, Char Bar — a kosher eatery that's the unofficial meeting place for the Jewish Who's Who in Washington — has Mishpacha mileage.
The restaurant and its owner, Michael Chelst, were the subject of a 2018 profile, when Char Bar hosted figures like Jason Greenblatt and David Friedman during the Trump administration. The restaurant's trashing during last year's riots was also featured in these pages. Like his colleagues down in Maryland, Chelst's business has suffered from the labor shortage, so he's been forced to reinvent the restaurant's service model.
"It's like you had to beg workers to come in for an interview," he says. "So we've been struggling — we've actually been juggling kitchen and service staff. Depending upon what's going on, we pull them out of extra servers, or we bring them back into the kitchen, and then I will help serving."
Chelst says that one reason for the shortage is people who are leaving the profession. "They were out of work, so they went ahead and got jobs in construction, and the industry lost people to other forms of labor."
But it's not just switching industries; some have left the workforce permanently. "They've been home so much, but they couldn't do much, so they've gotten accustomed to living with less," he analyzes. "If you're struggling and you couldn't afford your apartment, so you moved in with Mom and Dad, and now you're not paying rent, so you are not as motivated to go out there and jump-start yourself as quickly."
Short-staffed as he is, Chelst's costs have inevitably risen as workers gain the upper hand. "We are paying considerably more than before. Every single staff member in my restaurant earns at least 10 percent more than they were getting before."
Chelst estimated that in the future, restaurants will become more efficient and will find ways to have smaller labor force, or design their menus to be less labor intensive. "For example, we're talking about switching to a system for customers pay at the table with the credit card readers, as opposed to us bringing it back and forth, as a way to reduce the amount of time and labor for our waitresses."
Higher wages, says Holy Chow's Ami Schreiber, are just one part of a tough economic picture. "Food costs have been insane. Chicken for us went up in the last eight months, probably 30 percent, which is crazy. And I mean, everything — the containers, bags, fortune cookies, chopsticks… all this stuff has just gone through the roof."
Adaptation is the only way to keep a business afloat in these circumstances, "We added shawarma and falafel in a separate kitchen a couple of months ago, and something like that requires one or two people to run the whole thing. And the profit margins are much higher."
Prolonged Pain
Amid all the uncertainty about the exact triggers for the current labor shortage, all agree about the prognosis: This won't end quickly.
"It's very hard to estimate what will happen due to the lack of comparable events," says Cornell's Thomas Jungbauer. "Current estimates agree that there will be still significant effects beyond 2022, and some of the effects may be permanent.
"Raising salaries will slowly entice more workers to return, and will likely lead to a new equilibrium outcome in the labor market. In a sense, the pandemic strengthens the bargaining position of workers in certain industries."
Robert Nakosteen agrees that the aftershocks of the Big Quit may have triggered a long-term rebalancing of power in favor of workers. "The most interesting thing to look for long term is whether the balance of power between workers and employers, which for the first time in decades seems to favor workers, will remain that way."
But whether it's restaurants substituting card-readers for service staff, as Char Bar is looking to do, or doing away with kitchen workers in favor of new lines — Holy Chow's strategy — 2021's great worker shortage is set to shake up American businesses.
"What you will see is businesses trying to adapt to the labor shortage by altering how they operate," says Nakosteen. "In many cases, this will mean using technology to reduce how many workers they need. Other business will shrink, some will shut down."
(Originally featured in Mishpacha, Issue 888)
Oops! We could not locate your form.
>