A Trump Tide Lifts All Ships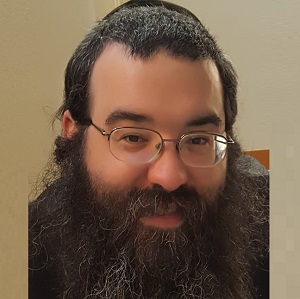 | November 11, 2020
New York's red wave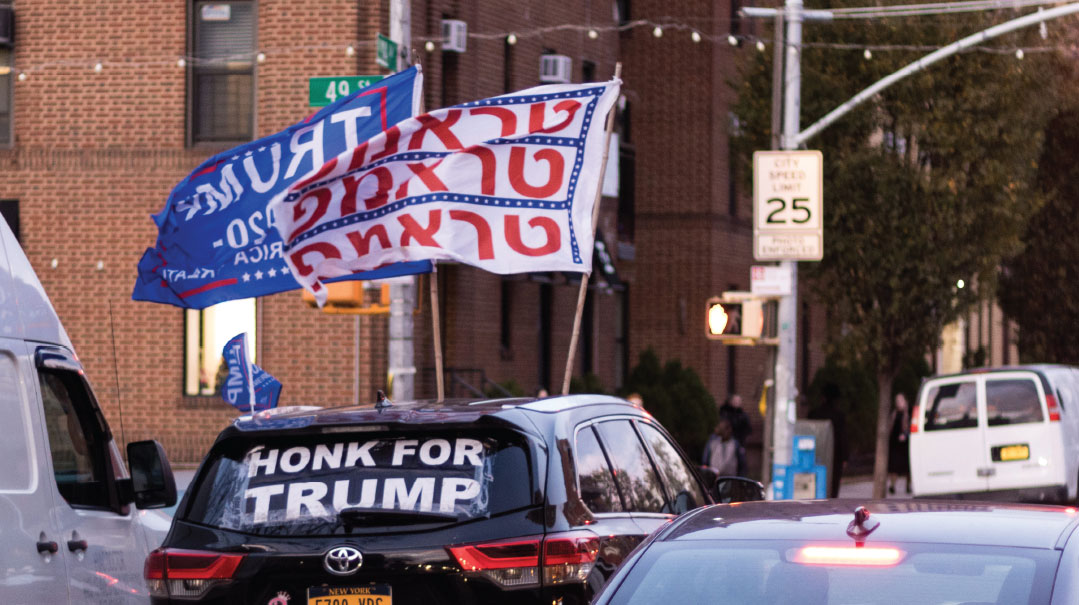 Photos: Kuvien Images
Voter turnout in the frum areas of Brooklyn and Monsey — driven by calls to vote for President Trump, in gratitude — scratched the ceilings of the record books.
Although Trump did not win, his coattails were long. The droves of Orthodox voters sent some longtime community foes into early retirement, and knocked off an incumbent congressman. Democratic hopes of reaching a 42-seat supermajority in the state senate — enough to override Governor Andrew Cuomo's veto and cement a permanent blue majority when the new district maps are drawn — were dashed.
The extraordinary numbers —New Square and Kiryas Joel gave Trump a hair away from 100 percent — could not have come at a better time for New York City's Jews. Boro Park recorded an impressive 82 percent vote for the president, or close to 24,000 votes, with 17 percent, or fewer than 5,000, for Joe Biden. Kaser, the Vizhnitzer village in Rockland, went for Trump by a 1,408 to four, while Monsey was 5,562 to 144 in Trump's favor.
The results will be studied closely by the people queuing up to run for mayor next year. While frum Jews tend to vote Republican, most are registered Democrats, making them a sought-after prize in what is expected to be a close election.
"If we do a good job," one askan told me, "the Orthodox community can be a force to be reckoned with on the city's political stage next year."
Benefits for the community have been immediate. Boro Park and most of Midwood, for the past month placed by Cuomo in a punishing Covid "red zone" that closed schools and businesses, saw those restrictions abruptly lifted on Friday. Askanim in Monsey say that agencies are now much more willing to listen to their concerns.
Jaffee Gets Pink Slipped
Assemblywoman Ellen Jaffee, a Rockland Democrat who was one of the frum community's greatest foes in Albany, was among those submerged in the Orthodox Trump tide. A 15-year veteran, Jaffee sponsored virtually every bill that targeted the community, from requiring private schools to provide an onerous number of hours for secular studies, to denying funds to mosdos for security. Asked five years ago if votes for her opponent were legitimate, she responded, "It's questionable."
Mike Lawler, a former director the state's Republican Party, swamped Jaffee in a landslide no one saw coming. He got close to 9,000 votes, compared to about 1,500 for Jaffee.
"Askanim in Monsey were so elated," said Aron Wieder, a member of Rockland's legislature who helped lead the battle to preserve the yeshivah system in the face of attacks by Jaffee and Naftuli Moster's Yaffed group.
"She has been extremely antagonistic toward the frum community, and not only in Rockland County," Wieder added. "She has been one of the most ardent supporters of Nicolas Moster. She brought him into Albany, she brought him into the Assembly to meet with elected officials, with people on the education committee. She has been his biggest enabler."
There have been several attempts to marshall the forces to vote her out, but she proved skilled at rousing her own base, matching the frum community's turnout. Askanim once even employed a stealth approach, operating underground until the weekend before the election, when they erupted with signs, loudspeakers, and mailings. But she retaliated with her own "gevald" campaign, marshalling her supporters against an Orthodox community that she warned was encroaching on their rights.
Askanim have appeared resigned to her staying power, until now. Two factors were working in their favor. One was the deluge of frum Jews voting for Trump. The other was an issue that galvanized voters of all stripes, statewide, to vote Republican. The Democrats passed a law a year ago that removed judges' discretion in granting cash bail — making it much easier for repeat offenders to get out of jail. Tabloids have had a field day with the law, reporting on perpetrators arrested and released in the course of committing multiple crimes.
Lawler was already hammering Jaffee for the bail law — and then found himself in an unusual alliance of 6,000 Orthodox Jews and families of law enforcement, which make up about 30 percent of the district.
Lawler raised a significant amount of money and actively courted the frum vote, but his chances for victory were discounted, since everyone assumed, based on poll numbers, that a Democratic blue wave was in the offing. That perception was bolstered by the June Democratic primary, when the party's socialist wing managed to nominate Mondaire Jones to replace the retiring Congresswoman Nita Lowey.
Those assumptions led to Jaffee letting her guard down. The frum community chose not to run its usual blitz campaign, so Jaffee also relaxed her efforts at galvanizing her voter base. Her reliable ally, the teacher's union, did not bus in volunteers to knock on doors and man phone banks on her behalf, as they had in the past.
The outcome shocked the local political establishment and delighted the frum community.
"We tried to vote her out of office many, many times, and at some point you kind of give up," Wieder said. "People were very skeptical. But in the end, Mike Lawler gave her a real shellacking."
Democratic Congressman Defeated in Staten Island
First-term Representative Max Rose, one of the few moderate Democrats in Congress, has no one but himself to blame for his defeat. He was elected in a swing district encompassing conservative Staten Island and a wedge of liberal Brooklyn that switched hands nearly every election in the past 15 years, between three Republicans and three Democrats. But Rose's decision to vote for President Trump's impeachment sent his chances of reelection tanking.
Rose had good relationships with Brooklyn askanim, several of whom worked hard to help him. The askanim described Rose, a military veteran, as a solid ally who spoke out against anti-Semitism in his party and confronted its leftist tendencies.
"I support flipping the House to Republican control, but not at Max Rose's expense," one askan told me. "Let them find a different race to focus on. There are not too many Max Roses around."
But Assemblywoman Nicole Malliotakis, a Republican, hammered Rose for his impeachment vote and emerged on election night with a 50,000-vote lead, a tally all but insurmountable for her opponent, even with mail-in ballots.
"I like him, I really do," one askan told me. "But I can't help someone who doesn't help himself."
Another Democrat turned out by frum votes is State Senator Andrew Gounardes, a leftist Democrat who defeated longtime Flatbush Republican lawmaker Marty Golden two years ago. Democrats hoping to ride the expected blue wave to a permanent majority instead found themselves flailing in a red wave, and here the beneficiary was Republican Vito Bruno, who campaigned heavily for the Orthodox vote. As of press time, Bruno is 6,000 votes ahead, and Gounardes needs to win 74 percent of the nearly 13,000 absentee ballots to win.
On Long Island — a longtime Republican redoubt that saw a Democratic sweep two years ago — three state senate Democrats lost reelection, slammed over the party's leftward tilt on law and order.
The blame game has already begun in Democratic parlors, with Governor Andrew Cuomo blaming Mayor Bill de Blasio for the losses. "They ran de Blasio's picture all over the state," the governor told an interviewer, referring to Republican ad makers. "[They said,] they'll turn New York state into New York City, looting and crime and homelessness, law and order."
While in past elections de Blasio was the GOP bogeyman, in this election Republicans actually painted Cuomo as the main villain, with mailers warning that he has made the state less safe.
Red Zone Leads Red Wave
Boro Park always feels different on election day, but last Tuesday was one for the history books. Cars bearing loudspeakers always circle the neighborhood urging people to vote, but this time they named a specific candidate: "Vote for Trump! We must show him our hakaras hatov!"
New York state hasn't voted Republican in 36 years, and didn't depart from that habit this year either. But Trump's support has eclipsed that of other victorious Republican presidential candidates. About 42 percent — again, not including mail-ins — voted for Trump, the most since George H.W. Bush in 1988. This is impressive, considering the lengths Cuomo and de Blasio have gone to demean Trump personally — de Blasio painting Black Lives Matter in front of Trump Tower, and Cuomo sending the president off with a "Good riddance. It's not like [he] paid taxes here anyway."
The coattails of Trump's support even carried over into Jerry Nadler's Congressional race. For the first time, Nadler lost in the Brooklyn portion of his district, though the 70 percent that's in Manhattan carried him to triumph. His Republican opponent, Cathy Bernstein, denounced the state's attempted interference into yeshivos and Nadler's support for defunding police.
Stores along 13th and 16th avenues sold a variety of Trump-themed items, bakeries sold cupcakes and cookies topped with Trump's smiling image, and 13th Avenue, the nerve center of the densest Orthodox Jewish neighborhood in America was adorned with Make America Great Again banners and streamers.
A yungerman passing overheard someone explaining to me why he was backing Trump "even though Biden is going to win New York anyway."
"It's hakaras hatov — that's all," said the yungerman, whose name I wasn't able to get, shrugging his shoulders. "We have to show our hakaras hatov to the president."
A Dem Friend Upstate
The Catskills event, at least outwardly, resembled dozens of other political events that this group of seasoned askanim has hosted over the years. Attendees milled around the candidate — State Senator Jan Metzger, in this case — making small talk and showing her around. It was clear that they were endorsing her for reelection, her first since winning in this Republican district two years ago.
But there was one crucial difference — Metzger is a Democrat, and this year she had a credible Republican opponent. This was a tidal change from the longtime modus operandi of years ago, when askanus in New York state was focused on "keeping Dean Skelos Happy," in reference to the longtime Republican state senate majority leader.
But with the chamber transferring to Democratic control two years ago, the band of veteran community activists gradually decided that they could either stick by friends, or get things done — in other words, what they started their careers for.
"In my field," one askan who is heavily involved in the Metzger race told me, "making points and keeping scores and grudges is not a way to get things done. Getting things done is by actually working with people who have the power. So if you have a candidate who is 100 percent with you on the issues, but he's going to be in the minority and not have any influence, I'd rather take a candidate who's with me on just 70 percent of our issues, but he has an influence on that 70 percent. And Jan Metzger is with us on much more than 70 percent."
Mike Martucci, the Republican in the race to represent a slice of Sullivan County that includes South Fallsburg, on the other hand, "checks all the boxes, but after all, he will be in the minority. He won't be able to pass any legislation or get anything done. He'll be a voice in the desert."
With mail-in still being counted, Metzger trails Martucci, but the askan I spoke to is confident she will pull through.
The askan, whose assessment was confirmed to me by several others involved, said the immediate benefits to the community could be significant. Sen. Mike Gianaris, the Senate deputy majority leader who essentially controls the chamber, has reached out to him and others and personally asked for their support for Metzger. For a community that two years ago risked being shut out of Albany's power structure when Democrats took over for the first time in four decades — with two short intervals — the race was too good to pass up on.
"We have a lot of issues going on in our community," said the askan, who asked not to be named. "The only way to survive is to actually have the ear of people who are on power. You could agree with the Republicans on every issue, but I see them on the most hectic days of the session, such as when the budget has to pass, and everyone else is running around, while they're sitting there doing crossword puzzles."
The majority of askanim and leaders of the Yeshiva of South Fallsburg backed Metzger. Part of that effort includes signing up some 2,000 voters who own summer houses upstate. Some Jews in the real estate industry are backing Martucci, upset at the laws passed by Democrats last year. But askanim push back on that, noting that Metzger's big issues are the environment and campaign finance reform, not issues that the community particularly cares about.
In exchange, they said, the community is getting a friend embedded in the Democratic leadership.
"Not all 63 senators are equal," the askan said. "For some, it's a waste of them even getting into the car and driving to Albany. You need friends who can do things."
(Originally featured in Mishpacha, Issue 835)
Oops! We could not locate your form.
>