| A Stone's Throw |
A Stone's Throw: Chapter 7 | May 16, 2018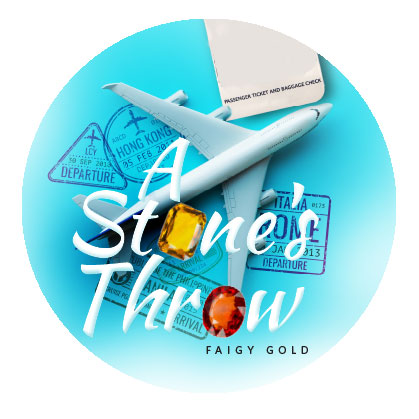 H
ashem's Messengers come in all shapes and sizes. They don't actually wear a shirt or cap emblazoned with the GM (G-d's Messenger) logo. But they appear when you need them.
I don't fly business class, not even premium economy. Just plain ol' boring economy. The upgrade is not usually much of a temptation, flying on short-haul flights from Israel. Firstly, the difference (in fare) doesn't justify the distance (relatively short). Secondly, being my father's daughter, I am blessed with the ability to sit anywhere and be asleep before takeoff.
I will however admit to a certain twinge, when boarding the Tel Aviv–Zurich early morning flight. Usually, one hasn't gotten any sort of sleep, having to be at the airport at some indecent hour like 3 a.m. And I'm usually frantically finishing one more load of laundry to ensure that I don't get any phone calls along the lines of "I don't have a white shirt for the siyum!"
So yes, as I blearily file through that sleek business class section and I see that lie-flat bed and fat down pillow… well, maybe what I feel is a bit stronger than a twinge. Maybe it's like a contraction in late labor. But I usually manage to walk through business class without any epidural, and fall asleep sitting up within minutes.
There I was, at the end of the winter, boarding Swiss #253 from Tel Aviv to Zurich. A young gate agent was scanning the boarding passes; he sported two earrings in one ear, and a stud in his eyebrow. Even in uniform, he looked like a cool dude.
As I passed, I nodded hello and even ventured a "Chodesh tov." He looked at me, and suddenly held up his hand. The whole line stopped. He took my boarding pass and disappeared. I felt myself turning red. Was I on the Interpol list? Was there a restraining order against me (maybe someone heard me shrieking at my 16-year-old and reported me)? I saw Mr. Cool Agent busy at the computer, a second later the printer spit out a paper. He handed it to me with a flourish (giving me a glimpse of his arm tattoo), smiled and said, "Mi'shenichnas Adar marbim b'simchah."
I looked down at the new boarding pass. Instead of 26K, the allocated seat was 8A. Bewildered, I looked up.
"It's Adar, right?" he said. "To make you happy, we gave you an upgrade to business class."
Tired as I was, I barely slept on that flight. I was having too good a time playing with the seat controls (upper back massage, lower back massage), spreading out my laptop, siddur, and enjoying my salad and bagel without spilling or bothering anybody else.
I love the unexpected; the upgrade was a treat, but the surprise was the shaliach.
(Excerpted from Family First, Issue 592)
Oops! We could not locate your form.
>