| EndNote |
A Niggun for Comfort and Courage
| April 22, 2020
Songs that help Hatzolah volunteers realign to a place of calm in the storm — and give an infusion of courage to keep going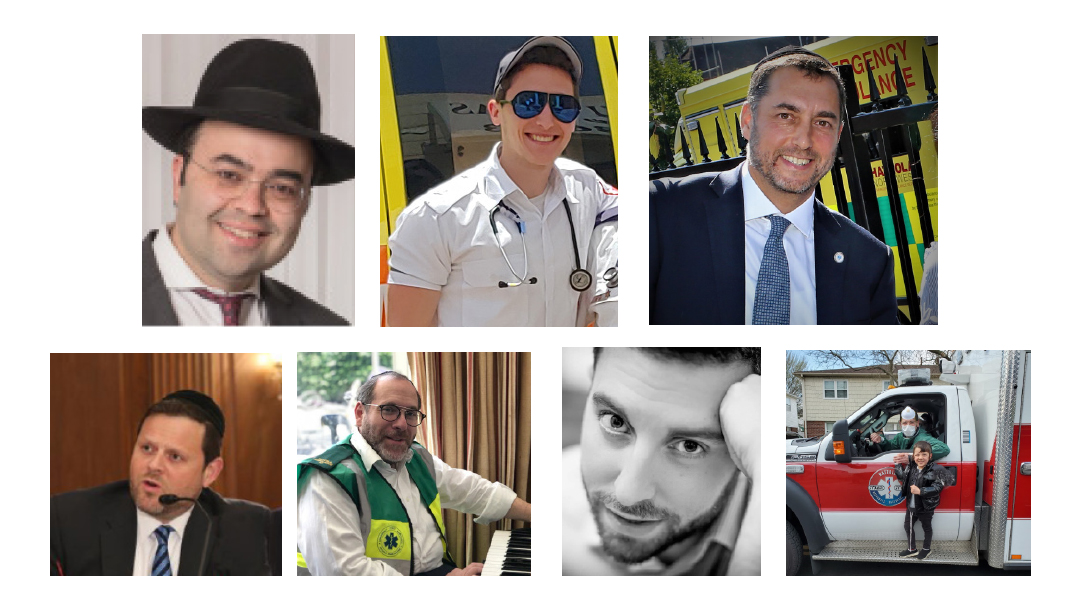 A

s the coronavirus pandemic continues to affect every corner of the Jewish world, flooding the lines of Hatzolah dispatchers, these past weeks have shown Hatzolah volunteers' 24/7 fortitude and devotion in a crisis that has upended our collective sense of security. As these heroes return from those wrenching calls and try to retain a level of balance and stability in their own homes, is there a song or niggun that helps them realign to a place of calm in the storm — and gives an infusion of courage to keep going?

We Need It More Than Ever
This is a pretty loaded question — it depends on what has transpired the last hour on my Hatzolah calls. That said, the song that brings me to tears each time I play it is Baruch Levine's "AVINU MALKEINU, SHELACH REFUAH SHELEIMAH" from his album Hashkifah. It is just heart-wrenching to see firsthand how many cholim there are, and we need this tefillah more than ever. When I'm not actively taking calls, the niggun that keeps running through my head is "Ani maamin b'emunah sheleimah bevias haMashiach." That's the bottom line.
Yitz Rabinowitz, Hatzolah Waterbury

Always Giving Thanks
I'm both a Hatzolah member and a nurse at Maimonides Hospital in Brooklyn, which is on the front line of this pandemic. One song which has been a huge source of chizuk for me during this time is "THANK YOU HASHEM," by Joey Newcomb.
Yehuda Lachman, Hatzolah New York

Heal My Heart
If I were to go with one standout song it would be Ishay Ribo's "HALEV SHELI." I find the chorus in particular — "Verak Ata yachol lahafoch mispedi lemachol… Only You can turn my lament into dancing… Only You know how to reach my heart, to heal my pain…" — to be overflowing with emunah and chizuk.
Yona Baumann, Hatzolah Montreal

Until the Day Comes
I'd never focused on this song before, but the other day as I was running, Shwekey's "A PERFECT WORLD" came up on my Shuffle playlist and the words seemed very apt for the current climate. The song talks about people around us in pain and suffering, longing for the day when it all goes away, hoping and praying for a perfect world where worries and fears are erased and the world is a happier place. Yes, there will be a time when we'll be in a better place, all tzaros will be over, and Klal Yisrael will live in a perfect world. Corona has brought with it fear, anxiety and uncertainty, with people genuinely afraid for their lives and the lives of those close to them. These are hugely trying times, but our dispatchers and volunteers have stepped up to the mark in an amazing way.
Shloimie Richman, Hatzolah Northwest London (Golders Green)

Our Promise
"SOMEDAY," MBD's vintage classic, has provided me with incredible chizuk during some very dark times. The words, which we've been singing for years, are particularly meaningful to me at this time: We learn every day and we daven/ We ask Hashem please bring those old times back / We all know that You're listening/ Of course we know it's true / For I've received the promise and so have you / That Hashem will lead us out of this galus / It won't be too much longer, you know why / And then together we're all going to daven/ Together we're all going to sing/ We're going to praise and thank You Hashem for everything
Chaskel Bennett, Hatzolah Flatbush

Because of Your Great Mercy
Beri Weber's "RIBON KOL H'OLAMIM" is a very powerful song and tefillah for me at this time. "Lo al tzidkoseinu anachnu mapilim… ki al rachamecha harabbim — Master of All Worlds, we don't plead with You on our own merits, but because of Your great mercy…"
Tzvi Shapiro, Hatzolah Lakewood

Focus on What We Have
It's important to keep our minds focused on positivity. One of the many songs that helps get me through the difficult times is a song thanking Hashem for what we have, a single by Yoely Weiss called "SHEHANESHAMA BEKIRBI." I find myself humming it in middle of calls and on the way back from the hospital. Singing this niggun to myself has helped me focus on what I'm grateful for amidst all of the suffering of Klal Yisrael.
Boruch Stein, Hatzolah Far Rockaway

Father's Watching
Which song could be better than Avraham Fried and Ari Hill's "ABBA"? Our Father in Heaven is watching over us, and that's a great feeling.
Zaki Heller, Magen David Adom spokesperson

Wherever We Are
Several years ago, I heard a song which has stayed with me to this day and still gives me encouragement. The song, a tribute to Hatzolah, is "ALWAYS ON CALL," by Yossi Green. Nice music, and it really reflects the reality of a Hatzolah member. All the time, wherever they are, they're on call for the needs of our people.
Eliezer Dovid Mandl, Hatzolah Vienna

Heal Your People
I would pick Baruch Levine's beautiful and heartfelt "AVINU MALKEINU, SHELACH REFUAH SHELEIMAH" — "refuas hanefesh, refuas haguf, lecholei amecha..." He sang it together with Yaakov Shwekey ten years ago at Shwekey's famous Caesarea concert, and when Shwekey sang it in his recent "corona concert," it pulled at my heart.
Yehuda Issler, Hatzolah Manchester

Nothing Besides Him
Chesed was the essence of my father a"h, a devoted early Hatzolah member, so Hatzolah is in my genes. At the beginning of the corona pandemic, people were both worried and confused. In addition to so many people being unwell, there was the fear of the unknown. What keeps me going is my constant contemplation of the words "Ein od milvado." And regarding a niggun, these days I'm tuned into the "ANI MAAMIN" from the deportation trains.
M.D. Weissmandl, Hatzolah Boro Park

Past the Pain
Music is what follows every Hatzolah call. Sometimes, when it's been a particularly difficult call, I listen to something soulful — MBD's Yiddish Collection is a great starting point. At other times, I need contemporary music, something fast and upbeat which helps me move past the pain.
Yitzchok Grosskopf, Hatzolah North London (Stamford Hill) and Edgware
(Originally featured in Mishpacha, Issue 807)
Oops! We could not locate your form.
>