| True Account |
A Miracle for Eliana | October 10, 2019
Eliana Cohen's mother relives her race against the clock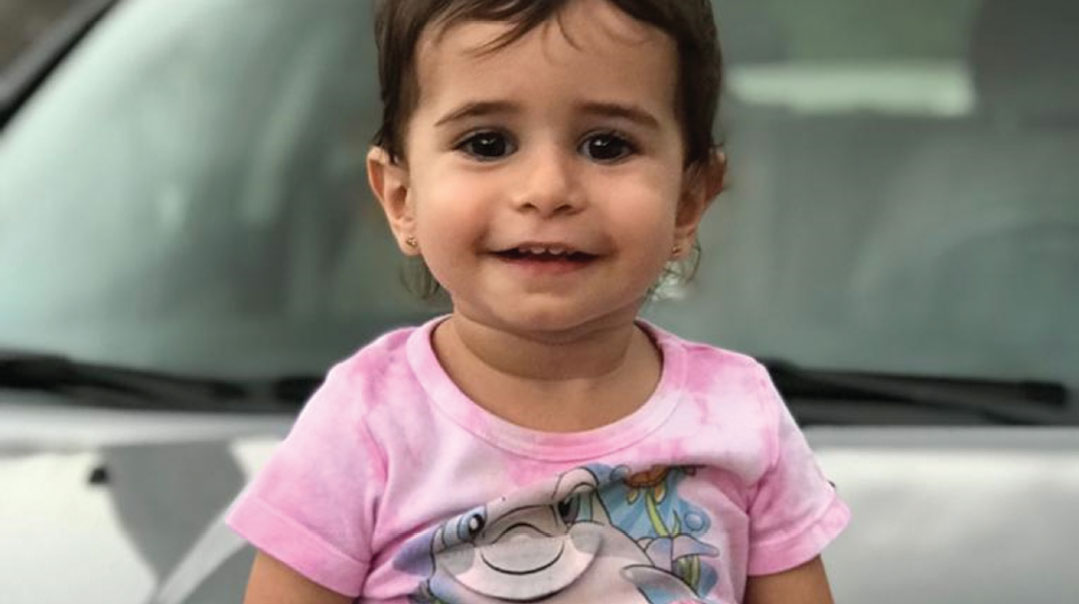 As told to Yael Schuster by Shani Cohen | Photos: Family archives
Aventura, Florida
Thursday, February 15, 2018
I
t's bedtime — the sweetest time of day. I bundle Eliana into her pink and red doggie pajamas, kiss her on the forehead, and lay her down in her crib. The room is bathed in a warm cappuccino-colored glow, and as I sing Shema, her huge brown eyes lock onto mine. My heart swells as I gaze at my firstborn.
I turn on her mobile and tiptoe out of the room, knowing she'll be asleep within minutes. That's my Eliana: easy by day, even easier by night — a bundle of sweetness that just keeps getting sweeter.

Tuesday, June 26, 2018
I just came home from the pediatrician with 11-month-old Eliana. Again. Frankly, I'm not quite sure what to think. What started three months ago as a niggling concern is now an insistent drumbeat of "something isn't right."

Our daughter was born on July 20, 2017, seemingly perfect. After a 36-hour marathon labor followed by an emergency C-section, Ariel and I chose the name Eliana (G-d answered); it perfectly reflected our feelings of relief and gratitude toward Hashem.
And perfect she was, for the first eight months of her life. Eliana reached the appropriate milestones of crawling, sitting herself up, and bearing weight on her legs. The only difficulty we encountered has been her refusal to nurse since birth, and I've been pumping around the clock to give her the best nutrition possible.
At eight months, I noticed something odd: Instead of moving her legs independently, Eliana began using her hands to reposition her legs. Her crawling seemed sluggish, her legs felt jelly-like, and she stopped bearing weight on them.
"I'm not concerned, Shani, give it time," the pediatrician told me then.
It's a few months later, and Eliana hasn't improved at all. My worry has grown, and visits to the doctor are now an almost weekly occurrence.
"Dr. Weiss, is it possible she's not getting enough nutrition?" I asked at one visit.
"Maybe Eliana fell without my knowing it, and she has an injury that's preventing her from progressing?" I suggested hopefully the following week.
His answer is always the same. "She's fine, we'll just keep an eye on it."
I want to believe him, but I know Eliana wasn't born this way and when I press that point, Dr. Weiss has no way to explain the change.
As I put an exhausted Eliana in for her nap after today's trip to the doctor, I feel so frustrated by the unanswered questions. The only thing I know for sure is that my motherly intuition is screaming in my ear: Something's wrong.

Tuesday, October 23, 2018
We finally have a diagnosis.
I made Dr. Weiss crazy until he sent us to Dr. Stevenson, a neurologist, who said that everything seems fine neurologically but we should start physical and occupational therapy. The PT, Olga, believes that Eliana's delays are due to hypotonia, or low muscle tone, and that with intensive therapy she'll make good progress. It will be a long, laborious haul, and my upcoming actuarial tests will have to be put on hold. Private therapy costs a fortune, and with Ariel in kollel and my being home with Eliana I have no idea where we'll find the funds, but somehow Hashem will see us through this.

Monday, February 18, 2019
Even at this young age, we sense that Eliana has a lofty neshamah. Her favorite activities are pretending to light Shabbos candles and going to shul to kiss the Torah. She's gentle, loves animals, and enjoys singing and bouncing to music. But when I try to encourage her to move, she looks at me with a tear in her eye and says, "Ima, kasheh li — it's hard for me." Why is her body lagging so far behind her soul?
(Excerpted from Mishpacha, Issue 781)
>