| True Account |
A Miracle for Eliana | October 10, 2019
Eliana Cohen's mother relives her race against the clock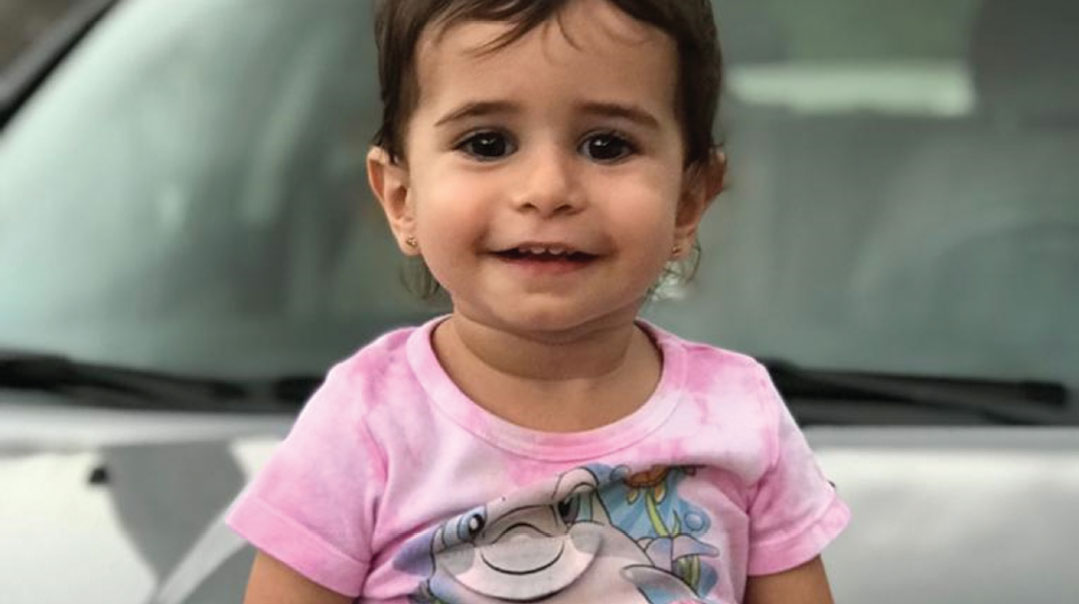 As told to Yael Schuster by Shani Cohen | Photos: Family archives
Aventura, Florida
Thursday, February 15, 2018
I
t's bedtime — the sweetest time of day. I bundle Eliana into her pink and red doggie pajamas, kiss her on the forehead, and lay her down in her crib. The room is bathed in a warm cappuccino-colored glow, and as I sing Shema, her huge brown eyes lock onto mine. My heart swells as I gaze at my firstborn.
I turn on her mobile and tiptoe out of the room, knowing she'll be asleep within minutes. That's my Eliana: easy by day, even easier by night — a bundle of sweetness that just keeps getting sweeter.

Tuesday, June 26, 2018
I just came home from the pediatrician with 11-month-old Eliana. Again. Frankly, I'm not quite sure what to think. What started three months ago as a niggling concern is now an insistent drumbeat of "something isn't right."
Our daughter was born on July 20, 2017, seemingly perfect. After a 36-hour marathon labor followed by an emergency C-section, Ariel and I chose the name Eliana (G-d answered); it perfectly reflected our feelings of relief and gratitude toward Hashem.

And perfect she was, for the first eight months of her life. Eliana reached the appropriate milestones of crawling, sitting herself up, and bearing weight on her legs. The only difficulty we encountered has been her refusal to nurse since birth, and I've been pumping around the clock to give her the best nutrition possible.
At eight months, I noticed something odd: Instead of moving her legs independently, Eliana began using her hands to reposition her legs. Her crawling seemed sluggish, her legs felt jelly-like, and she stopped bearing weight on them.
"I'm not concerned, Shani, give it time," the pediatrician told me then.
It's a few months later, and Eliana hasn't improved at all. My worry has grown, and visits to the doctor are now an almost weekly occurrence.
"Dr. Weiss, is it possible she's not getting enough nutrition?" I asked at one visit.
"Maybe Eliana fell without my knowing it, and she has an injury that's preventing her from progressing?" I suggested hopefully the following week.
His answer is always the same. "She's fine, we'll just keep an eye on it."
I want to believe him, but I know Eliana wasn't born this way and when I press that point, Dr. Weiss has no way to explain the change.
As I put an exhausted Eliana in for her nap after today's trip to the doctor, I feel so frustrated by the unanswered questions. The only thing I know for sure is that my motherly intuition is screaming in my ear: Something's wrong.

Tuesday, October 23, 2018
We finally have a diagnosis.
I made Dr. Weiss crazy until he sent us to Dr. Stevenson, a neurologist, who said that everything seems fine neurologically but we should start physical and occupational therapy. The PT, Olga, believes that Eliana's delays are due to hypotonia, or low muscle tone, and that with intensive therapy she'll make good progress. It will be a long, laborious haul, and my upcoming actuarial tests will have to be put on hold. Private therapy costs a fortune, and with Ariel in kollel and my being home with Eliana I have no idea where we'll find the funds, but somehow Hashem will see us through this.

Monday, February 18, 2019
Even at this young age, we sense that Eliana has a lofty neshamah. Her favorite activities are pretending to light Shabbos candles and going to shul to kiss the Torah. She's gentle, loves animals, and enjoys singing and bouncing to music. But when I try to encourage her to move, she looks at me with a tear in her eye and says, "Ima, kasheh li — it's hard for me." Why is her body lagging so far behind her soul?
Wednesday, March 20, 2019
It's bedtime again, but bedtime's no longer the sweetest time of day. We started our routine an hour ago: pajamas, kiss, Shema — but then all the peace is gone, because Eliana won't let me leave the room. I've been lying with Eliana in her toddler bed for close to an hour, and I'm awash with pity: for myself, and mostly for my sweet, struggling baby. Eliana can no longer roll from side to side, so she has no ability to reposition herself in bed. Stuck in whatever position I leave her in, she's become terrified of being left alone and unable to move. As soon as she looks uncomfortable, I change her position, staying with her until she is asleep. Last night, I was awakened three times by my daughter's fragile cry, "Guys, move me!" It would be cute if it weren't so sad.
Ariel and I have done everything possible to make bedtime pleasant: She has pajamas with pictures of her favorite things, like animals and ice cream. We bought her pink linen, her favorite color, and filled her bed with the dolls she loves. Yet all the dolls in the world are no match for her terror. I recall the five-minute bedtime routine of a year ago and marvel at my naivete, at how easy it is to take things for granted, at how much has changed.
Wednesday, April 24, 2019, Chol Hamoed Pesach
Today I realized for the first time just how much I've changed over these months. Obedient, docile Shani walked into the neurologist's office yesterday, and without letting him get in a word, took command of the situation.
"Dr. Stevenson, Eliana is 21 months," I said firmly. "She's been getting intensive therapy for six months, but she hasn't progressed at all and has even regressed a bit. I want an MRI of her brain and spine, and I also want a spinal tap."
We had gone to multiple doctors the past few months, and were fed up with hearing the mantra "babies develop at different rates, give it time." When we'd counter with the fact that her development had been normal for the first eight months, we'd get a glossed-over response or a clueless shrug. To be fair, Eliana is extremely precocious — by 13 months she was speaking full sentences in Hebrew (my parents and in-laws are Israeli and she hears a lot of Hebrew around the house), and at first glance she doesn't present as a child with a global problem. But to me it has become undeniable, and with the help of Olga, our PT, I did my research and came prepared to fight like a mother lioness for my helpless cub.
Eliana has developed an aversion to doctors' offices, and as I delivered my spiel, we had to work hard to distract her from focusing on the oldish, balding, bespectacled doctor with the Armenian accent. The minute Eliana glimpsed the exam room, though, she became frantic and we had to hold her down as she squirmed and fought while the doctor examined her. It's become a familiar routine.
Dr. Stevenson agreed to start with a spinal MRI. I don't know what to daven for — a normal MRI? A small problem that can perhaps be repaired surgically? I'm only 23, Ariel's 27, and we know very little about these things, but no one's taken the time to fill us in on what the possibilities are.
Back in the car, I put on the song "Hands in the Air" by Shloime Gertner — Eliana's current favorite. She shrieked with joy at the first notes and bounced in her car seat, waving her hands in the air.
I'm trying my best to remain positive, so I can be the best mommy I can to the daughter I love more than anything in the world.
Monday, June 3, 2019
Baruch Hashem, the MRI came back totally clean. Last week Dr. Stevenson sent us for bloodwork to rule out all kinds of things I'd rather know nothing about.
As we wait for the results, my emotions swing erratically. Some moments I feel engulfed in despair, other times I feel calmed by the certainty that it's all in Hashem's Hands. I call the doctor's office each day to find out results as they trickle in.
As of this moment, we've ruled out everything except for a rare genetic disease called spinal muscular atrophy, or SMA. Does the fact that everything else has been ruled out mean it's likely she has SMA? I pray to G-d not, based on the little I read about it.
Friday, June 7, 2019, Erev Shavuos
It's moments before Yom Tov. I'm about to light candles and I haven't yet had a moment to think, but I know that the shocking turn of events will soon hit me hard.
I was cooking in my mother's house this morning. At 10:30 a.m. my phone rang. I glanced at the caller ID and my heart started to race.
"Eliana is missing the SMN1 gene," Dr. Stevenson said without preamble.
"What does that mean?" I could barely breath.
"Eliana has SMA."
By now I knew this was a progressive neurological disease that affects the motor nerves in the spinal cord that control muscles, eventually leading to muscle wasting and paralysis.
My brain exploded in a million different directions, the fragments hitting the doctor in the form of a disjointed barrage of questions.
"Will she walk? Will she die? Will she be able to go to regular school?"
Very shaken himself by the diagnosis, the doctor patiently did his best to answer my questions. Doctors and therapists populate Eliana's little world, and she often comes to appointments dressed as a doctor, clutching a doctor's kit. On one such visit Dr. Stevenson asked not-yet-two-year-old Eliana what she wants to be when she grows up, and she replied, "Dr. Stevenson." At that moment she wended her way into his heart, and now on the phone, I sensed that his heart was bleeding along with mine.
Dr. Stevenson made clear that there is an effective treatment available, and he'd put me in the best hands possible. Meanwhile, he instructed me to not waste a minute; in order to qualify for treatment Eliana had to be enrolled in various SMA associations, and the insurance company needed to be informed as well. I spent the entire day on the phone, without time to think, which I guess is helpful in breaking me in to this new reality.
Back in my mother's kitchen, some dishes were burnt and burnt again — we had to make them three times, a telling demonstration of our collective states of mind.
I'm terrified to go into Yom Tov — the phone calls will stop, the cooking will be done, and I'll finally have time to think.
Monday, June 10, 2019, Motzaei Shavuos
I still don't know much about SMA. I have an appointment tomorrow with the neurologist, and in 24 hours from now I'll be much more informed, which is both frightening and calming.
I'm slowly coming to grips with the fact that my life will never be normal. All Shavuos night, while my husband and father were learning in shul, my mother sat on my bed and cried with me, as I stared at the air vent and tried to process the situation. It's so extreme that it didn't feel real.
The entire Yom Tov, my mind spun round and round: Will Eliana get married? Will she be in a wheelchair? Will she have a social life? Questions and more questions, spinning and spinning. But I went to shul with such a good poker face that no one suspected a thing. I'm not yet ready to share the diagnosis with anyone.
At first it was painful for me to look at Eliana, my heart breaking over the uphill battle my baby has to face. Putting up a wall is easier than dealing head-on with my emotions. But I'm starting to realize that she's the same Eliana before and after the diagnosis. Nothing about her has changed, so neither should my feelings toward her. This thought is comforting to me.
By the time Yom Tov ended, I resolved to spend all my energy fighting for Eliana instead of indulging in self-pity; for now, I must put my heart in a bag.
Tuesday, June 11, 2019
As I waited to see the doctor this morning, I reviewed the little I knew about SMA. There are four types, with type 1 being the most severe, and type 4, adult-onset SMA, the least. Babies with type 1 are born with extreme weakness and don't usually live beyond two years, while those with type 4 can have a fairly good quality of life. Those with type 2, like Eliana, typically live into adulthood but their quality of life is severely compromised; without treatment, we were told, Eliana would be in a wheelchair with a feeding tube within a few years.
"But there is a treatment, Mr. and Mrs. Cohen," Dr. Stevenson told us. "The drug Spinraza is the current standard of care for patients with SMA."
I nodded. I already knew that Spinraza, approved by the FDA in 2016, is administered by injection into the spine every four months throughout a patient's life. In healthy people, the SMN1 gene produces a protein that is critical to the function of motor nerves. A backup gene, SMN2, also produces a small amount of that protein. Those with SMA are missing the SMN1 gene, and Spinraza works by stimulating the SMN2 gene to over-produce the protein to compensate for the missing gene.
While very effective in preserving nerve and muscle function and thereby increasing quality of life, it's a difficult, lifelong treatment, requiring an open port in the patient's back, anesthesia, and risk of other complications. Unpalatable as it is, I assumed this would be Eliana's journey.
Now Dr. Stevenson was smiling. "On May 24, exactly two weeks before Eliana was diagnosed, the FDA approved a new gene therapy called Zolgensma. [Zolgensma is only the second gene therapy ever approved by the FDA. The first one was approved in 2017 for a recurrent form of leukemia.]
"I'll make this simple: Zolgensma is a virus whose DNA has been replaced with an artificial copy of the SMN1 gene. You know that viruses spread easily, and that they penetrate our cells, right? So the idea behind gene therapy is, why not use the properties of a virus to get the missing protein directly into the cells?
"Now apply that idea to Zolgensma, and here's how it works," Dr. Stevenson explained. "An intravenous injection introduces the virus into the body's motor neurons, the nerve cells. The artificial SMN1 gene then settles in the cell's nucleus and functions just like the missing gene, producing the protein that allows nerves and muscles to function normally. By replacing the missing gene, this treatment addresses the root cause of the disease, and only needs to be administered once. In trials, babies with SMA who've received Zolgensma at birth haven't developed symptoms of the disease."
I felt a whisper of real hope.
"We have to verify through bloodwork if Eliana is a candidate for Zolgensma," Dr. Stevenson continued intently. "If she is, this is the best opportunity you can possibly give her, and I believe it will do wonders. But we have some big hurdles to overcome: FDA approves the treatment up until midnight of a child's second birthday, not a minute later. That's only five and a half weeks away. And it comes with a price tag of over $2.1 million."
While it's an astronomical price for a one-time dose of anything, the doctor explained that it's considered to be economically preferable to Spinraza, which over the course of a lifetime costs millions more.
The odds of finding this kind of money seem somewhere between remote and impossible. Even so, I'm in a mentally crouched position: The minute we find out that Eliana's a candidate, I'm ready to pounce.
Monday, June 17, 2019
Still no answer on the bloodwork. Reality is hitting hard, and a thousand depressing thoughts run through my mind on a continuous loop. Needing guidance, we met last night with a community rav and his wife with whom we feel close.
"Rabbi, we need to shake the Heavens. What kabbalah do you suggest we take on?" my husband asked.
The rabbi closed his eyes for a few moments, deep in thought.
"Concentrate on every word of Modim each time you say Shemoneh Esreh," he advised.
This morning my heroic mother, after 24 years of marriage, accepted upon herself to cover her hair. Knowing it was a moment fraught with spiritual potential, she cried to Hashem, "I'm doing something that is as hard for me as Kri'as Yam Suf. Please perform a miracle for us like Kri'as Yam Suf."
A month before Eliana's diagnosis, my mother had come with me to buy a fall, and we noticed a fall with complex highlights that matched my mother's hair exactly. I convinced her to buy it, and for some reason inexplicable at the time, she did; her kabbalah now is that much easier. G-d is winking at us from Above: Your offerings are precious to Me.
Tuesday, June 18, 2019
It's a go!
We met with a new neurologist today who specializes in SMA, and he told us the wonderful news that Eliana qualifies for Zolgensma.
I am on fire. We have just 32 days to somehow make this happen, but with the help of Hashem I'm confident we'll get there. First order of business is to try to convince the insurance company to cover the treatment — it's so new that no protocol exists for it.
Zolgensma was approved a mere 14 days before Eliana's diagnosis, it's clear that Hashem prepared the refuah before our makkah. But something else occurs to me as well. Zolgensma had been in trials for years. If the approval process had taken even a few weeks longer — which could have happened for any number of reasons — Eliana would most likely have started Spinraza, disqualifying her from Zolgensma. I feel Hashem holding me tight.
Which leads me to another thought, another hug from Hashem. For so many months we felt adrift, frustrated by our inability to find the answers we sought. If Hashem had put it into the pediatrician's mind to do neurological testing even a month earlier… or if I didn't have to wait months to get our second appointment with the neurologist… or if I didn't have to wait a full month for the MRI… Eliana would have started Spinraza before Zolgensma was approved.
On the flip side, if any of the above were delayed just one more month, Eliana would have been two and ineligible for Zolgensma.
We are in the tiny window of time where this could possibly work out.
I continue to connect dots. Because of the very difficult birth I experienced with Eliana, I felt extra determined to feed her only mother's milk, despite her refusal to nurse (which turns out to be due to SMA). In my mind, I didn't want to fail her twice. I even managed to pump while in the hospital having my gall bladder removed when she was five months old. Mother's milk is gold for SMA babies, since it boosts their immune system, slowing the course of the disease. Thank You, Hashem, for that difficult birth.
I feel buoyed by these miracles. If Hashem has orchestrated all of this for us, surely He'll see us through to the finish line.
Friday, June 28, 2019
We're running a marathon, but on a hamster wheel. Our insurance refuses to pay for Zolgensma, and we spend endless hours on hold with the insurance company as we try to appeal the denial. Under the command of our Director of Operations, our close family friend Devorah, we reach out to people with connections to see if they can help. We consult with the lawyer we hired. We try to find a trial we can join. We e-mail the White House. We do whatever we can think of. Time is not on our side.
Imagine the torture of having a cure dangled in front of you that will soon be withdrawn, but your hands are tied down. I cycle between bitachon and despair, bitachon and despair, always trying to claw back to that feeling of reliance on Hashem. It is the rock-solid support of both sides of our family that infuses us with the strength to endure.
One thing gives me chizuk. We have a team of devoted rabbis who have been guiding us every step of the way, and we don't make a move without their approval. Whatever the outcome, I know we'll have done our best to conduct ourselves according to Hashem's Will.
Wednesday, July 3, 2019
We just got back from Orlando. There's a world-renowned SMA expert there, and patients from all over the world wait many months to see him. My mother worked her charm on his secretary and we got an appointment within days, yet another miracle.
This sensitive Jewish doctor has perfected a technique for approaching children. Sitting on his stool at eye level with Eliana, who was on my lap, he very slowly glided toward her, talking gently to her as he approached. For the first time, Eliana didn't even whimper, and when he took out his reflex hammer, she extended her knee. "Yesh li kazeh, I have one like it!" she said, and opened her doctor's kit to show him.
"Zolgensma would be amazing for Eliana — she can gain tremendously from it. Keep doing whatever it takes to get it for her," he told us.
I feel more energized than I have in days.
Wednesday, July 10, 2019
With only a week and a half until Eliana's birthday and our insurance appeal dragging on as if we have all the time in the world, we're starting to feel desperate. And on top of everything, Eliana is barely crawling anymore — she's clearly regressing, and it's terrifying to see. We've been living in a virtual Yom Kippur for over a month, with Eliana's fate hanging in the balance. We can't take much more of this.
Thursday, July 11, 2019
Our appeal has been denied. Seems like we've reached the end of the road. I'm doing my best to not fall apart.
Friday morning, July 12, 2019
Other than my immediate family, my close friend Rachel is virtually the only one I told about Eliana's diagnosis. When I told her that the insurance refused to cover Zolgensma, she turned into a raging warrior.
"Shani, we have nine days, we are going to make this happen. Let's try to raise the money through The Chesed Fund."
Putting our painful story out there goes so against our private nature. But we've done massive hishtadlus over the past few weeks, and so far we've been banging our heads against a wall. Uncomfortable as it is to go public, maybe this is what's required of us?
We consulted with our rabbinic team, and the message we got was loud and clear: Any step we take that can improve the quality of Eliana's life is a mitzvah.
Goodbye, privacy — the campaign is set to launch tomorrow night, Motzaei Shabbos, with a goal of $2.2 million(the cost of the drug and ancillary expenses). Jews all over the world will turn on their screens and see my sweet baby's face, hear her tragic story. We can only daven that their hearts will take notice as well.
Sunday night, July 14, 2019
The campaign leaked on Friday. Apparently G-d knows we need the extra day.
The supportive calls, voice mails, and texts began rolling in like a giant wave. When I checked my phone right after Shabbos, I couldn't believe my eyes: $400,000 pledged. I was even more astounded to wake up this morning and see $1.3 million pledged — more than halfway to our goal. There is no nation on earth like the Jewish People!
Our doctor heard about the campaign and started working on the logistics of getting the drug, so that it can be shipped the minute we reach our goal. If the drug is still in transit on her birthday, it will be too late.
A relative called right before Shabbos and urged me to make a video to attach to the campaign. Last night, a guy from Micdrop Theater came to prep me: stand straight, enunciate, record, and critique your performance. I didn't practice any of his suggestions.
This morning I walked onto a stage and told Eliana's story for the first time. Without notes, it came pouring out in a cathartic flow. "I am standing on this stage for my daughter Eliana," I said tentatively. I looked out at the audience and saw my mother, my sister, Eliana on my husband's lap… it hurt me so much to see the pained look on my parents' faces. My heart, hidden in a bag the past month as I focused on the fight, finally took center stage, and I cried for the first time since Shavuos.
"My daughter had five weeks before she would turn two," I said into the video camera. "Now she has five days."
We had reached out earlier to Rav Chaim Kanievsky, asking if we should change Eliana's name, and today we received our answer. Starting tomorrow, Eliana will be called Chana. This isn't easy for me, as I feel so connected to the name we chose for her. But look how Hashem is carrying Eliana through this confusing transition. She has a favorite book about a girl called Chanala, and she won't go to sleep without it. When Eliana puts on her Shabbos dress, or gets her diaper changed, she says, "Just like Chanala!" Her new name is one that's familiar and beloved by her.
As the video spread like wildfire, messages of hope and strength poured in from around the world. Donations in dollars, euros, and shekels lit up the campaign screen. Parents in the SMA community expressed astonishment at the Jewish community's compassion and generosity toward a total stranger. One woman shared that she also tried to raise the money, but only managed to collect $40,000.
Today, as we approached zero hour, Jewish South Florida mobilized like never before. People gathered in shuls to say Selichos. Others put their plans aside to work the phones, recruiting donations from everyone they know. Kids working as counselors donated their entire earnings to the campaign. Men who haven't been in a shul since their bar mitzvahs came to daven for Eliana. Women did hafrashas challah b'tzibbur; both relatives and strangers took on taharas hamishpachah. Fighting parties made peace with each other. Secular Israelis sent pictures of themselves davening at kivrei tzaddikim.
Tonight, young children as well as adults are up way past their bedtimes — tonight, all eyes are trained on the campaign screen as the numbers rise by the hour.
For an entire month, all our private efforts landed us in front of the same locked door. Now, with the involvement of the entire community, that door is finally cracking open. I am overwhelmed with the feeling that Hashem is right here with my little family, filling us with new hope.
As I put Eliana to sleep a few hours ago, business as usual, it was hard to believe that my calm, oblivious daughter is the epicenter of a worldwide storm.
Monday, July 15, 2019
I was so busy this morning making arrangements with the doctor and the hospital — even if we got the money together, we were still in a logistical race to get the drug on time — that I couldn't spare a moment to watch the campaign. At 10:55 a.m., my phone began pinging like crazy as people sent me pictures of the campaign page:
$2,201,180.06
donated by 23,279 people in 4 days
I don't have time to celebrate, as the clock is ticking and we need to be ready to roll. And truthfully, I'm in self-protection mode, unable to fully rejoice until the drug is actually inside Chana. What if it gets lost en route?
Even so, this campaign has been the most powerful, moving, and inspiring experience of our lives. When Klal Yisrael comes together, the sea splits before our eyes. "In math," I had said during the video filming, "everything is about the numbers. But I believe in miracles." Our miracle had trumped the odds.
Friday, July 19, 2019
This morning, exactly 30 days from when my mother started covering her hair, exactly 8 years to the day that my husband accepted upon himself a life of Torah u'mitzvos, and just one day before her second birthday, life-nourishing Zolgensma flowed through Chana's veins and into the nuclei of the motor neurons in her spinal cord.
Per the doctor's advice, during the past three weeks we had kept Chana in isolation and sanitized anything she'd touch, so that if by some miracle we raised the money, she'd be in good health and able to get the drug immediately. The timing was so tight that she could miss the deadline due to having a cold. We explained to her that she couldn't go to shul, or out to play, because she had to be healthy in order to receive a special medicine that will help her move better. So when the time came to get that special medicine, she was mentally prepared.
It was a simple one-hour IV procedure, and as the syringe drew near, my mother, husband, and I said Tehillim through tears. After running at full steam for five weeks, the battle is finally over, and the heavy stone on my chest has rolled off.
The doctors have been careful to tell us that we've given Chana the absolute best opportunity that exists for her, but there is no way to predict just how far she'll get. She'll need lots of therapy and exercises to maximize her gains. Even so, we are floating on a cloud of euphoria.
Thursday, August 8, 2019
Just three weeks post Zolgensma, and we already see improvement! Chana's voice is stronger, her crawling is improved, and she can even crawl uphill, a skill that eluded her before no matter what I bribed her with. Most exciting of all, she is beginning to stand.
The kiddush Hashem our story generated has reached the unlikeliest corners. We've gotten gifts from strangers moved by the campaign — one woman from Arizona sent Chana a jump rope for her birthday; she apparently listened carefully when I said I'm dreaming for Chana to jump rope one day. The SMA community is blown away by the caring of the Jewish People. I used to cringe when my husband would tell the doctor, "I have a rich Father" (Hashem); this same doctor's vocabulary has evolved to include new phrases like "by the grace of G-d" and "I'm praying for you." And a relative who once proudly claimed to disbelieve in both G-d and humanity said to us, "How can I not believe?"
We understand that Chana's journey will be long, and she will have to work excruciatingly hard. But our gratitude to Hashem is boundless for the cascade of miracles He arranged so that Chana's potential is so much greater than that she had been born with. And we are endlessly grateful to the Jewish People, G-d's merciful, openhanded, eager messengers who helped bring His plan to fruition.
Wednesday, September 4, 2019
"Chana, time for bed," I called out earlier this evening.
"Come, let's go!" she answered, and crawled off to her room with quick, confident movements. I arranged the dolls on her bed, I read her the Chana book, and then, with tears in my eyes, watched as she settled herself into a comfortable position.
I still sit with Chana until she is asleep. Not because she's afraid — those days are over — but because I want to savor the great blessing of her, and to empty my heart in prayer for her bright and promising future.
Postscript:
Rabbi Yosef Galimidi, rabbi of the Safra Synagogue in Aventura:
While the Cohens and the rest of the Jewish world were rejoicing once the campaign reached the magic number, there was a critical glitch of which the Cohens themselves were not aware. While anyone can open an account with TheChesedFund.com and start receiving pledges immediately, the money can't be withdrawn until the credit card processing company used by the fundraising website investigates the legitimacy of the account holder. This typically takes seven to ten days. The Cohens' campaign opened on Friday, July 12. True, they gathered the necessary pledges, but there was simply not enough time for the investigation to clear and the drug to be ordered, shipped, and received by July 20th, Chana's birthday.
When this became evident, a "malach" stepped forward and saved the day by underwriting the cost of the drug. The Cohens immediately sent a letter to all donors offering to refund donations. Any unreturned donations, they explained, would be put into a fund managed by a group of rabbanim, used toward ongoing therapy for Chana as well as toward the urgent medical needs of other seriously ill children.
Once again, the caring of the Jewish People shone, as donors thoughtfully requested their funds go toward "a shadow for Eliana in school," "pizza for Eliana," "whatever the family needs."
Just days after the campaign, multiple insurance companies have set their policy to cover the cost of Zolgensma. It is undoubtedly due to the enormous response to TheChesedFund.com campaign that many other SMA children will now have the best shot at a normal life.
(Originally featured in Mishpacha, Issue 781)
Oops! We could not locate your form.
>