| Yosef Chaim's Adventures |
A Hot Idea | July 3, 2019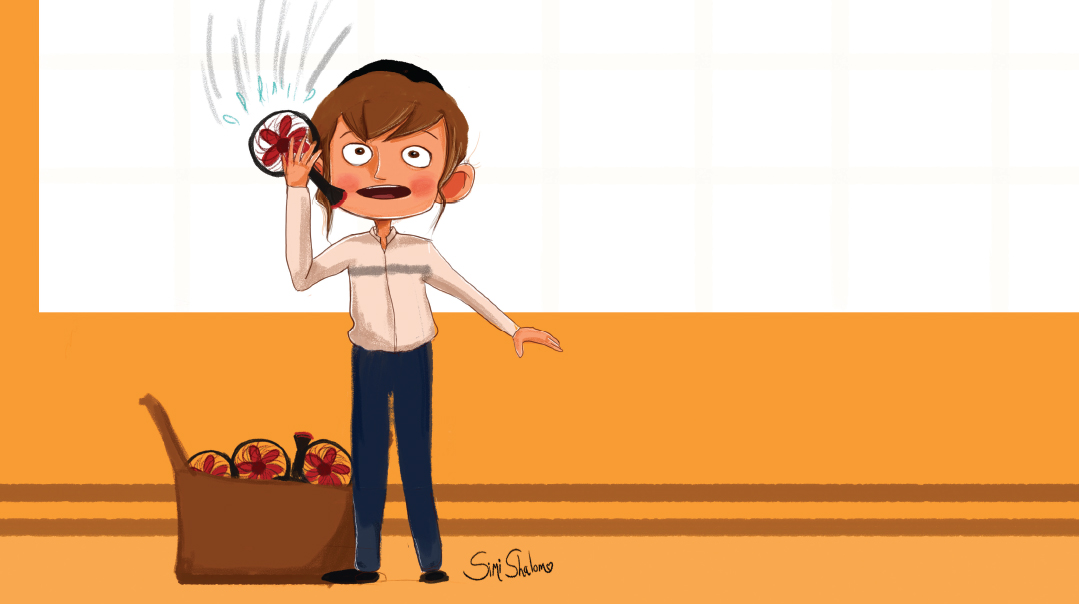 oof!" I burst out. "I can't stand it! It's too hot to even think!"
I had forgotten, in my suffering, that we were in the kitah in the middle of a Gemara shiur. Rav Rachamim paused in his explanation of the sugya and gave me a hard stare.
"I'm sorry, Yosef Chaim," he said in that dangerously polite voice that we all dread. "I didn't quite catch what you said. Did you have something to add to my explanation of the sugya?"
"Umm, no, kavod Harav, sorry. But I just can't concentrate — the air conditioner in here barely works and we're dying of heat!"
The rav took off his glasses, placed them on the table, and sighed.
"I know, Yosef Chaim. It's hard for me too, trying to teach in this heat. The air conditioner is old and doesn't have the power to cool down the classroom, and the Talmud Torah doesn't have the money to buy a new one. So we'll just have to manage…"
"Don't worry!" Yochai, who sits next to me, whispered, "At least we can cool down on the way home with an ice cream!"
"Not me!" I whispered back gloomily. "I spent all my allowance, not a shekel left!"
What a life! I thought to myself miserably. Too hot to think, and no money for ice-cream!
But I cheered up when I got home. Dod David, my uncle from Bnei Brak, had come to visit, and he was always fun.
"So, bochurchik," he grinned at me, pulling over a big cardboard carton. "Want to see what I brought for you guys this time?
That's one of the fun things about Dod David. He has a shop in Bnei Brak selling all kinds of cool toys and gadgets and every time he visits he brings us whatever gadget is the latest craze down there.
"I thought this might be just what you guys need now, in this heat," he said, pulling a strange colorful plastic thing out of the carton. "Everyone has them in Bnei Brak!"
"What is it?" asked my brother Yaakov Yisrael, as we crowded around.
"Just watch!" Dod David smiled. He went into the kitchen. We heard the faucet running, and Dod David reappeared. He flipped a switch on the gadget and handed it to me.
I almost jumped out of my skin. It was a water fan! The fan part spun around and cooled you down, and at the same time it shpritzed you with water when you pressed the button. "Wow!" I burst out. "This is the best! And it's just what I need for Talmud Torah!"
Then I had one of my ideas. All my ideas are good, but this was especially good. It was an idea that would solve my two problems in one shot — the heat in the kitah and my lack of cash.
"Dod David, would you send me a carton of these fans? I want to sell them in school."
Dod David laughed and ruffled my hair. He's one of the few people who actually usually likes my ideas.
"Could be done, bochurchik, could be done."
(Excerpted from Mishpacha Jr., Issue 767)
Oops! We could not locate your form.
>