| The Beat |
A Friend of Britain's Jews Falls to Terror | October 19, 2021
Sir David's killing has rattled the town, and its reverberations have been felt throughout the political system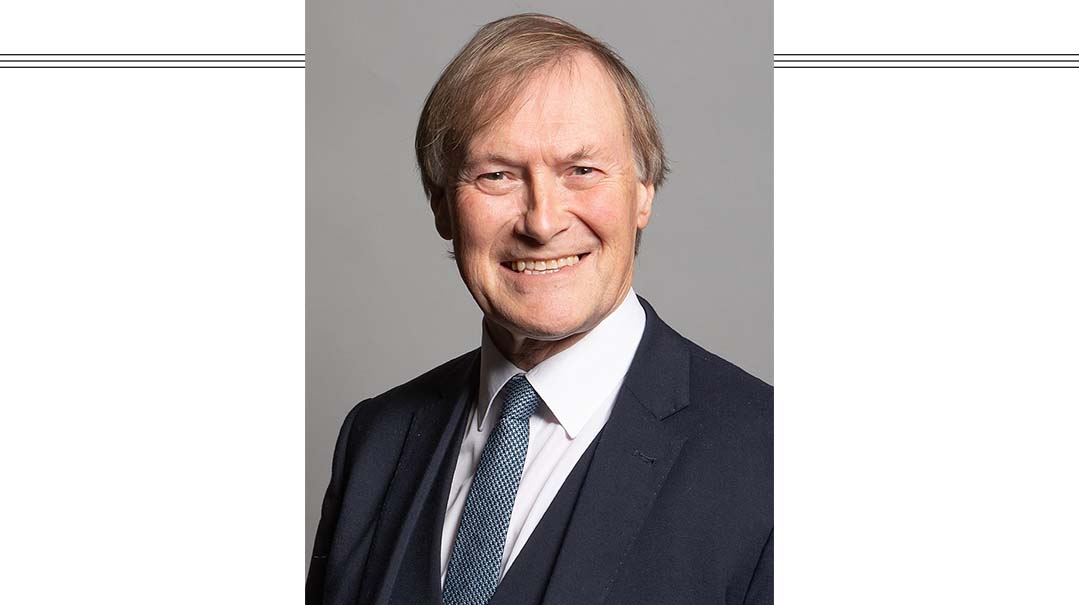 Islamic terror returned to Britain last week for the first time in over a year with the killing of Sir David Amess, one of the country's longest-serving politicians, and a good friend of the Jewish community.
The Conservative backbencher — who began his term as a Thatcherite MP in 1983 — was murdered by Ali Harbi Ali, a British citizen of Somali roots who had made an appointment to see him at his constituency office in Leigh, east of London.
Ali traveled 50 miles from his home in north London last Friday, waited calmly in line for his turn, and stabbed the 69-year-old Amess. He then waited by the body for police to come.
The killing shocked Britain, with many noting that the "lone-wolf" style that Ali used is essentially unstoppable. But the reaction across Britain's Jewish spectrum was a sign of Amess's friendship for both Israel and the Jewish community.
"David was a true man of faith who showed great love for all religions," said Lord Stuart Polak, of the Conservative Friends of Israel. "He loved visiting Israel and specifically Jerusalem."
Fairmindedness about Israel — not a given even on the right of British politics — found expression in Amess's attack on the BBC for bias. But closer to home, Polak noted the slain MP's long-term campaign to establish a memorial for Swedish Holocaust rescuer Raoul Wallenberg. "The statue that was erected in Marble Arch is a lasting legacy to David's humanity," says Polak.
Although Amess wasn't one of the small number of British politicians with large Jewish constituencies, the veteran MP developed strong links with a burgeoning chassidic community who recently became his neighbors.
Over the last few years, Westcliff, part of Southend-on-Sea, the coastal town where Amess lived, has become home to a growing number of families from the Belz and Skver communities. Already home to a fading Orthodox shul affiliated with the United Synagogue, the new influx has made its mark in the town. What began as a handful of families looking to escape sky-high house prices in London's Stamford Hill has become 50 families spread across town, with shuls and schools to match.
"David lived just one road over from me," says Shlomo Fink, one of the community pioneers. "He was very welcoming and helpful to us on everything we needed, from individuals who had issues with the local council, to getting our eiruv approved."
"Just an example of his attitude," continues Fink, "was recently, on Motzaei Shabbos of Chol Hamoed Succos, when I — together with a group of yungeleit in shtreimels — went past his home to visit. He came out to us with some friends, and said to them, 'I admire these people, they're good people and bring so much to our community.' "
Sir David's killing has rattled the town, and its reverberations have been felt throughout the political system. Police are now considering protection for MPs at constituency meetings. Home Secretary Priti Patel is considering new measures to combat online radicalization, including banning anonymity on Internet forums.
"My family pays a big price for my work in politics," the murdered politician said a few years ago on a haunting video that has emerged. But whether for his pro-Israel views or because he was such an accessible MP, a staunch friend of the Jewish community has now paid the ultimate price.
— Gedalia Guttentag
Hypersonic, beyond the hype
Having lost the title of world's largest economy to China, is America losing the military race too?
The Financial Times broke the story this week that the Communist giant shocked US officials by testing a hypersonic missile in August.
"We have no idea how they did this," unnamed US sources told the paper of the test, in which a glide vehicle launched into low space orbit circled the earth before falling two dozen miles wide of its target.
Hypersonic weapons, which fly at more than five times the speed of sound, are part of a global race between the US, Russia, and others. Their tremendous speed, together with maneuverability, is thought to make them impervious to current missile defenses.
China's rapid strides in the field will sound an ever-louder alarm bell in Washington, where the country's belligerence has both parties fearful. If the US is secretly making progress on its own hypersonic weapons, expect news of a test launch to make it to the media. If nothing's in the works, the US mainland will be a target, more than anytime since the Cold War.
Let them eat cheese!
Hypocrisy runs like a thick coal seam through the environmental posturing of many a modern celebrity. But a recent comment by heir to the throne and long-time environment campaigner Prince Charles was on another level for something else: an extraordinary marriage of royal privilege and climate activism.
In the lead-up to the UN Cop26 climate conference, which Britain hosts in Glasgow next month, the prince revealed to the BBC that his vintage sports car was actually converted to run on wine and cheese, no less.
"My Aston Martin, which I've had for 51 years, runs on, can you believe this, surplus English white wine and whey from the cheese process," he declared.
For supporters of the monarchy, Charles's ownership of sports cars powered with the runoff from boutique vineyards is par for the course. Royals, after all, are expected to be royal. The heir to the throne was also an environmental campaigner before it was fashionable. Nevertheless, it was a sign of the pass that being green gets you from media outlets, that the Guardian didn't pick up on the "let them eat cheese" flavor of Charles's comments.
Instead, a headline writer commented merely that "Charles's 'quaint' solution to decarbonize his Aston Martin is not scalable, experts say."
26 Years
The passage of time since Yitzchak Rabin's assassination has seen the fall of his Oslo plan, the near-eclipse of the left, and its surprise return to influence under Naftali Bennett. But one thing hasn't changed: the yearly state memorial, which took place this week, is still an opportunity for Rabin's grandson, Yonatan Ben-Artzi, to attack Bibi for what he sees as his role in the pre-assassination incitement.
Here's a prediction: As long as Netanyahu remains a political player, the left will milk Rabin's memory for all its worth in anti-Bibi value.
(Originally featured in Mishpacha, Issue 882)
Oops! We could not locate your form.
>