| A Few Minutes With |
A Few Minutes with New York Rep. Lee Zeldin
| December 21, 2021
"Voters are really upset with one-party rule"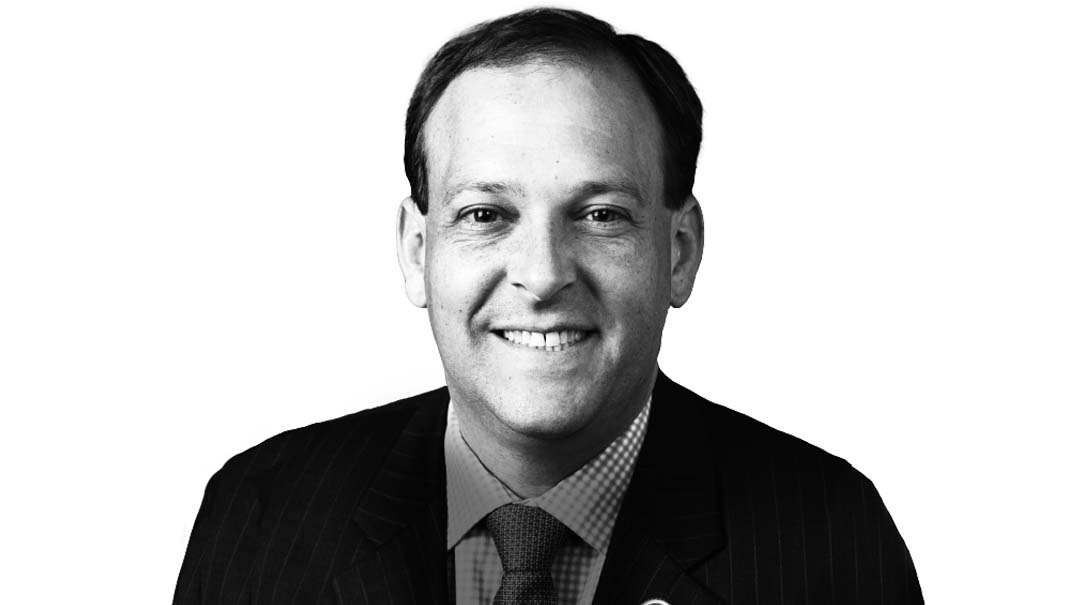 Congressman Lee Zeldin is a Jewish Republican representing New York's First District in eastern Long Island. He was first elected to the House of Representatives in 2014, after serving active duty in the US Army, including a tour in Iraq in 2006. According to his biography, Zeldin also became the youngest lawyer ever admitted to the New York bar, at the age of 23.
During his time in Congress, Zeldin has sponsored many bills related to Israel. Most recently, he led 200 House Republicans calling on President Biden not to open a US consulate for Palestinians in Jerusalem. Zeldin also sent the president a letter last week urging him to include Israel in the US State Department's visa waiver program. One of two Jewish GOP congressmen, Zeldin is also considered a vocal critic of the BDS movement. Last year, he announced a bid for the New York governorship.
Let's start with Iran: Secretary of State Blinken is saying there are other options for dealing with Iran. In your opinion, what should these options be?
The Biden administration inherited the maximum-pressure campaign strategy that was working. But there is a desire among people in the administration to put together the Iran nuclear deal again.
Fortunately, there are others in the administration who understand that this is not a feasible goal. And the question is which voice ends up winning in that debate, behind the scenes, internally.
But I believe the strategy that was in place was working, and there are a lot of positive lessons to learn from that. The United States has multiple instruments of national power, and we were using all of them. We have to approach Iran from a position of strength, not weakness. They don't respect weakness. They only respect strength.
I'm somebody who wants the military option on the table — not because I want to use it, but because I don't want to use it. The economic sanctions were crippling the regime, and it was just a matter of time before our leverage was going to naturally have a compounding effect, because of the desperate position this regime was in. So as far as advocating what the United States should do, there are a whole lot of very positive, correct lessons to learn from what was going right for the last few years under the last administration.
You said that the previous administration's strategy was working. Critics would argue it didn't work, because now Iran is a matter of weeks from getting a bomb. Why was this strategy the most successful one?
Since the beginning of this year, the US government has been tripping over itself to reenter the nuclear deal. And that's why, over the course of 2021, Iran's hand has been getting strengthened and the US's hand has been getting weakened.
On top of that, you had other foreign policy blunders — like what we witnessed in Afghanistan, with that debacle of a withdrawal; the president traveling overseas and apologizing for our country, and fast-tracking approval for Russia's Nord Stream 2 natural gas pipeline to Europe; blindsiding the French with the nuclear sub deal in Australia; and canceling the Keystone oil pipeline project, which upset the Canadians. And that list goes on.
All these foreign policy blunders have all weakened our hand, and Iran over the course of this year has been able to press forward without any pushback, without any effective response from the US government. In the middle of the Afghanistan withdrawal, we were reading headlines of Iran increasing uranium enrichment, North Korea test-firing more missiles. So an important context in analyzing your point of where we are today in December 2021 is that our position has weakened massively over the course of this year, due to the Biden administration's foreign policy.
You are leading the call not to reopen the US consulate for Palestinians in Jerusalem — which was open during both Democratic and Republican administrations alike. Why do you think this shouldn't be done under any circumstances?
It's US law, under the Jerusalem Embassy Act, that Jerusalem is the capital of Israel and should remain undivided. We have an embassy now in Jerusalem. We don't need a separate consulate. Previously our embassy was not located in Jerusalem, as it is now.
The Palestinian Authority has made it clear that the reason they want this consulate to be opened is for the purpose of dividing Jerusalem. They've stated that out loud. You don't have the approval of the host nation — Israel doesn't want it. You also don't have a receiving nation for the consulate, because there is no country of Palestine. The Palestinian Authority and the PLO aren't entities in charge of a nation. And then on top of it all are their activities to incite violence. United States taxpayer dollars should not be spent in any way that is supporting an entity that is inciting violence and financially rewarding terror.
Additionally, there's the siting of the consulate — they're looking at putting it in western Jerusalem, which makes even less sense. However, the Palestinian Authority would be even more thrilled with that proposal, since their reason for advocating for this is to divide Jerusalem.
So for those many stated reasons and others, the United States should not go forward with this. I sent a letter that over 200 House Republicans signed on opposing the move. Legislation was introduced that had over 100 House Republicans signed on as co-sponsors. There's support as well in the Senate, and from talking to colleagues on the other side of the aisle, I know that there's Democratic support for this position as well.
Our readers in New York are really worried about anti-Semitism. What do you think could be done differently to combat it?
Any time you see an act of anti-Semitism, it needs to be identified, confronted, and crushed. If you're silent about it, it ends up elevating, empowering, embracing that anti-Semitism. We've seen it in the streets in and around New York City. We've seen it inside of the education system, kids being targeted with blatant anti-Semitism in the name of the BDS movement. We've seen it in the halls of Congress, and with others who have influence on and access to members of Congress, people who might not be politicians themselves but are very active in the system. So that's a key first step.
I believe that the BDS movement is one that we can take stronger action against in New York state. Unilever and Ben and Jerry's present an example of a situation where the BDS movement was being pushed. In 2016, an executive order was signed in New York that mandated that entities advancing BDS should be listed statewide, and that the state should also suspend doing any business with those entities. [Listing Unilever and Ben and Jerry's] is still not a decision that New York has reached. I believe that we should be more consistently and actively following through with that executive order, and that Unilever and Ben and Jerry's should already be on the list, with the state having decided that they will suspend doing any further business with them.
I believe that there's legislation that Congress can pass that would give states and local governments additional tools to combat the BDS movement. I also believe that we should be better at leveraging taxpayer dollars to ensure that BDS and anti-Semitism are rooted out.
Crime is rising in New York — what do you think the solution is, and how would you govern differently from Cuomo in that regard?
We should support law enforcement more, not less. We should repeal the cashless bail law. We should enact a law enforcement bill of rights and recognize the inherent right to self-defense for law enforcement. Make sure they have all the tools and resources they need to do their jobs.
We shouldn't be releasing people early from prison who belong behind bars. We shouldn't be closing prisons prematurely based on political calculation. And if crimes are committed, you investigate and you prosecute the people who owe a debt to society. That's how you determine what should be the prison population.
There's a push to defund the police further. We've seen some local governments actually follow through with this effort. For example, last year, New York City took over a billion dollars from the NYPD budget.
Reversing these actions is among the many ideas I have that I believe would strengthen public safety in the state. There's a desire and a need to be supporting law enforcement more, not less.
What do you see as your path to victory in the New York governor's race? Is it the Glenn Youngkin path, or something different?
I started 19 months before the election, to the day, on April 8. We started early. We have been campaigning hard. I have campaigned in all 62 counties at least twice. Some counties I've been to at least 12 or 15 times, so we're working hard. We're bringing in the endorsements, we're raising the funds. The polling been has been great. The team has great chemistry there and they're working hard.
The issues are on our side as it relates to public safety and education, the economy, freedom, and more. And we're just going to keep on working hard and taking nothing for granted, straight through to Election Day, November 8, 2022. This is the first time in my lifetime that we're going into a midterm election with one-party Democrat rule in D.C., Albany, and New York City, all at the same exact time. That's never happened as long as I've been alive.
The pendulum is not just swinging, it's actually already swung. We're seeing a massive movement of the political earth underneath us, and voters are really upset with one-party rule at every level and with all of the multiple crises that are now piling up.
(Originally featured in Mishpacha, Issue 891)
Oops! We could not locate your form.
>