| A Few Minutes With |
A Few Minutes with Moyshe Silk
| June 15, 2021
Can $250 billion tech splurge maintain US edge over China?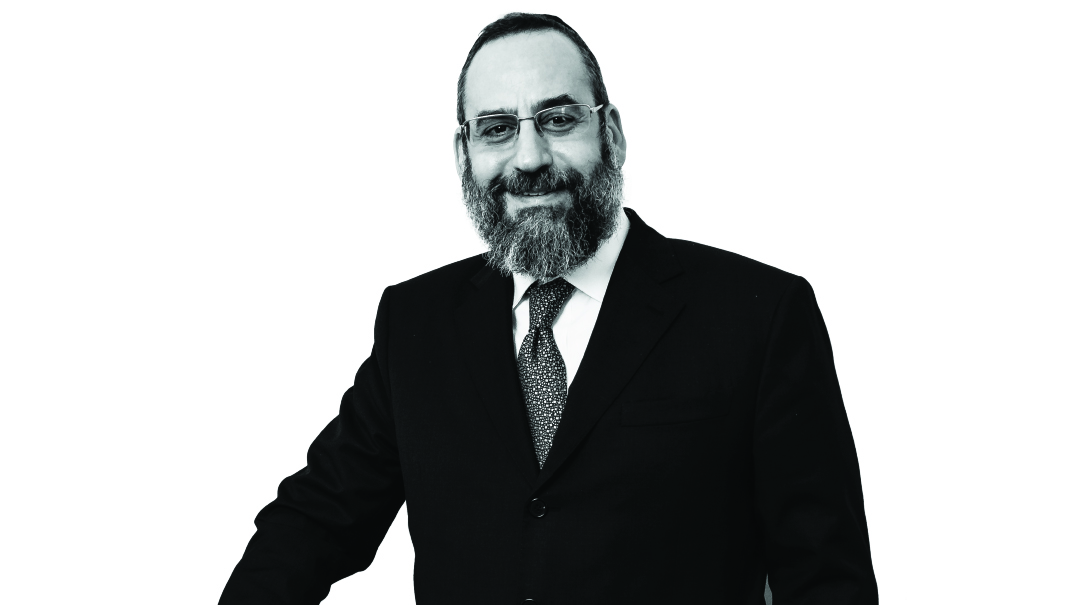 In 2017 Mitchell (Moyshe) Silk became the first chassidic Jew appointed to a senior administration position when President Trump named him deputy assistant secretary of international affairs at the US Treasury Department (as featured in our article "Along the Silk Road," Issue 715). An expert on China, Silk went on to be promoted to the position of assistant secretary for international markets. He was a member of the Treasury Department's senior negotiating team in trade talks with China, and designed and implemented a signature finance initiative leveraging US government infrastructure to help foreign partners attract private investment.
Silk is well positioned to comment on the United States Innovation and Competition Act of 2021, which passed the Senate last week and goes next to the House of Representatives. The Senate vote marked a rare moment of agreement between Republicans and Democrats in Washington. Both parties have begun to realize that China poses a real challenge to the US when it comes to new technology, research and development, 5G, and cybersecurity. There is a growing fear the US could fall behind its number one competitor.
The Senate bill allocates $250 billion to try to tackle the challenge. The funding would include:
$52 billion to subsidize semiconductor manufacturing; it is hoped this will address the global shortage of chips, which is disrupting crucial portions of America's supply chain. Some $10 billion of this is designated for research and development.
$29 billion for the "Endless Frontier" program, which creates a new directorate of technology and innovation within the National Science Foundation to conduct research on artificial intelligence, robotics, and biotech.
$9.57 billion over the next five years for university technology centers and innovation institutes to conduct multidisciplinary, collaborative research relevant to the key technology focus areas.
$1.5 billion over five years "to counter the malign influence of the Chinese Communist Party globally." There are an additional several billion dollars aimed to enhance cooperation between the US and countries in the Indo-Pacific.
Another section of the bill, titled "Build America, Buy America," imposes a requirement that all federal infrastructure programs must purchase iron and steel products and construction materials that are 100 percent made in the US.
But will all this be enough for America to regain its edge over its chief adversary? That's a question for our expert.
Why did Congress decide to pass this bill? How important is the broad bipartisan support for this bill?
The Senate passed the US Innovation and Competition Act in a vote of 68-32 last week. The voting is significant because it shows bipartisan support for the Act, but not as overwhelming support as the sponsors of the Act had anticipated. The Act has wide appeal because it is both focused on three critical areas highly important to both sides of the aisle — US competitiveness, national security, and economic growth — and it contemplates many other disparate programs not related to these core legislative goals but politically attractive to a multitude of discrete constituencies.
Will this bill be passed quickly by the House and signed into law by the president?
Like the [Biden administration's] infrastructure bill, the Act is broad in scope and therefore has a little bit of everything for everyone. Importantly, the Act now will move through the House legislative process. The House mark-up has only just begun and will need to run its course. This translates into time before the bill can be settled, if at all. In addition, the House mark-ups will most certainly impact on the content of the legislation. Some have even indicated that this bill may wrap the proposals in the Act together with those set out in the earlier infrastructure proposal. And so, significant issues of process, timing, and substance are still up in the air.
How does this bill address the challenges that China poses for the US?
The Act picks up on a number of China issues that were a focus of the previous administration, including creating a level playing field in cross-border trade and investment, especially in support of industrial policy, intellectual property theft and forced technology transfer, as well as human rights issues. The Act is heavy on subsidies and grants — to the tune of more than $200 billion — to foster and promote innovation, growth, and competitiveness in key industrial sectors such as artificial intelligence and machine learning, semiconductors. The Act also proposes applying the US sanctions regime to infractions of Intellectual property theft and forced technology transfer, as well as findings of human rights abuses such as forced labor and forced sterilization.
What would you say are the most important features of the bill?
Innovation is a key driver that has fueled our great country's economic growth since its inception. The security and sanctity of our intellectual property and supply chains, particularly relating to semiconductors, are areas of utmost importance to continued US growth, competitiveness, and stability, and therefore highly worthy of legislative focus. In addition, the Act also contemplates significant funding ($375 million) to the US pursuit of quality infrastructure investment globally through programming that I designed to unleash value and realize growth in energy and infrastructure through private capital means.
Do you think this bill will improve America's competitiveness?
A great challenge for the policy maker and legislator is to design and size a legislative fix that delivers a solution in a manner that supports the legislative goals in the manner contemplated. The Act expands government's role in key sectors in a very considerable way, and directs significant and important industrial policy programs involving more than $200 billion. Economists will debate the efficacy of subsidies in spurring economic growth and will most certainly point out the consequential effect of heavy government spending on inflation.
Putting that debate aside, however, the Act contemplates a very considerable bureaucracy with manpower and expertise that would be capable of implementing funding programs in the manner and timing contemplated by the Act.
A bureaucracy will spur innovation? Is that a realistic goal?
A legion of highly skilled bureaucrats will not emerge overnight. In addition, the legislation must provide guidance on the parameters, processes, and procedures for implementation of any programs that emerge in final legislation, along with corresponding infrastructure. The programs will require an appropriate degree of oversight and accountability, and generate results that provide a basis for providing a demonstrable return on investment. That all takes time and resources.
The Act is a very broad appropriations bill with a limited number of focused goals and a multitude of ancillary provisions with seeming no relation to the core issues of competitiveness and national security. It will be interesting to see whether, if passed, the Act stifles or supports innovation.
(Originally featured in Mishpacha, Issue 865)
Oops! We could not locate your form.
>