| Magazine Feature |
A Cut Above 
| September 14, 2021
   

 A non-Jewish millionaire in rural England is dictating the yeshivah dress code from Lakewood to Gateshead to Israel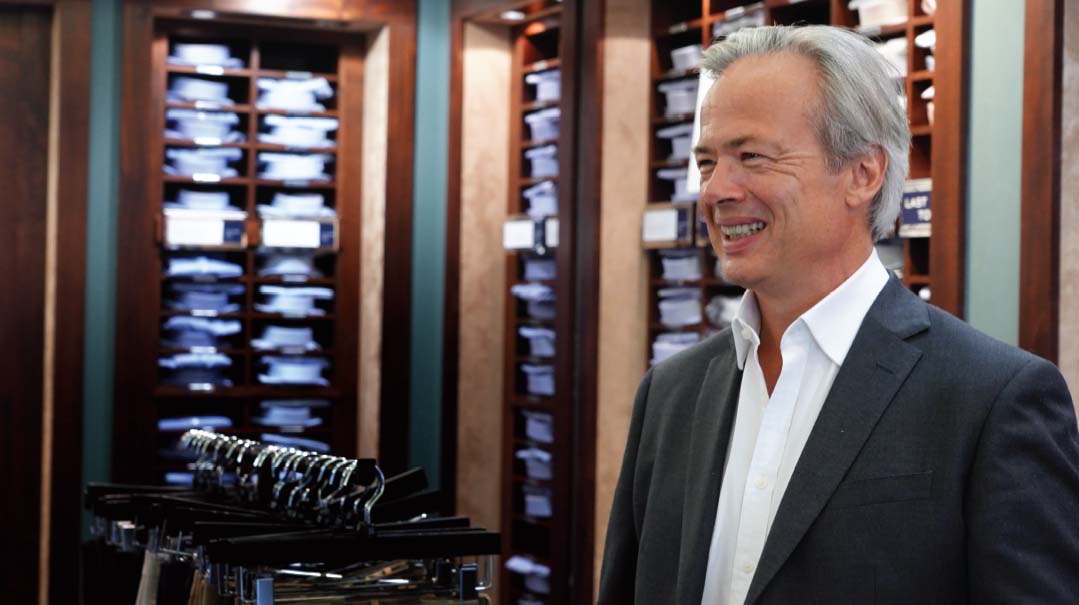 Photos: Mendel Photography
Once upon a simple yeshivah world, the Brits shopped at Marks and Spencer, the Americans favored Brooks Brothers, and the Israelis wore Bagir.
But that was the age of simplicity. Any contemporary bochur will tell you that a white shirt is much more complicated than it looks. There are so many variables: the fit (regular, tailored, slim, and super slim); the collar (cutaway, classic, semi-cutaway); the weave (Oxford, twill, poplin); and the cuff (button cuffs or French). It's a sugya all its own.
A brochure produced recently for a Gateshead Yeshiva fundraising event shows a series of images of the beis medrash going back to the 1950s. The photos show a world where wearing a tie was the norm, suit styles were markedly different from today's, and yarmulkes featured gold edging (gasp).
But among all the variation there's one constant — the iconic uniform of the "yeshivishe velt": white shirt and dark trousers.
With the white shirt such a ubiquitous feature of the yeshivah world, you wouldn't expect a non-Jewish millionaire living in rural England to be dictating the yeshivah dress code from Lakewood to Gateshead to Israel. But that's whose men's fashion brand is regarded across the yeshivah world as the mark of a well-dressed bochur. We went to meet the man behind the brand — Nick Wheeler, founder of Charles Tyrwhitt, the accidental fashion king of the yeshivah world.
A Very British Brand
Not far from Buckingham Palace and the halls of political power on Whitehall and Downing Street, Charles Tyrwhitt's flagship store sits on Jermyn Street in London's West End. Situated in one of the global epicenters of luxury clothing, this is the beating heart of the Charles Tyrwhitt chain, selling thousands of shirts and suits every month online and in stores spread across the UK, France, and the United States.
In the store, a suave City of London aura fills the air. Enthusiastic sales reps usher customers into a veritable shirt paradise where specimens of every size, color, and weave lie perfectly folded on shelves and display tables. In an oak-paneled room nearby, an impeccably dressed businessman gets measured for his next sartorial fling, while a smattering of Japanese tourists toting sophisticated Nikons and Canons inquire about prices of the selection of ties.
Behind this epic clothing success story sits its founder, millionaire British businessman Mr. Nick Charles Tyrwhitt Wheeler.

Tailcoats in the Classroom
In Britain, the English public school system is as iconic as the Tower of London. The term "public school" is a complete misnomer — these are actually exclusive private institutions charging a pretty penny to educate the cream of British society. Having educated a disproportionate number of people who have reached fame and acclaim in politics, the arts, and academia, these are schools set aside for the elite, reserved only for those who can afford it. Graduates of the system, especially those who reach public office, are often labeled as snooty and out of touch with society.
Standing unchallenged at the pinnacle of this elite school system is Eton College, founded in the 15th century by King Henry VI. It was the school of choice for Prince William, heir to the British throne, and his younger brother Harry, as well as over 20 of the 55 British prime ministers to date. Most recent examples are Prime Minister Boris Johnson and his predecessor David Cameron, both of whom were contemporaries of Nick Wheeler at Eton (see sidebar). Students are expected to dress the part: tailcoats and dress shirts are the uniform, even today. Nick Wheeler was admitted into this rarefied world back in 1978.
"It was all quite formal and traditional," says Nick, reflecting on his years spent there. "In addition to the tailcoats, the older boys wore stiff collars and white bowties and the younger boys, a smaller tie.
"Another thing about Eton," continues Nick, "is that you meet a very diverse group of people, some of them extremely bright, and of course the eccentric type too. But most importantly for me was that Eton taught us independence, self-belief, and to do your own thing. Don't worry about what other people say, decide for yourself what you want to do. And that leads to some very independently minded people."
These two factors — emphasis on formal dress, and the pursuit of independence — combined to spur Nick on to pursue his own goals.
The Best Shirt in the World
Nick's first foray into the business world happened while still in school. "I always wanted to own my own business," says Nick, "and I opened a photography business followed by a business selling Christmas trees."
A schoolboy running a business? "Eton encourages independence, and they don't close doors on opportunity," says Nick. "They didn't stand in my way."
After Eton, Nick ended up at Bristol University, studying geography. Finding the course of study not too taxing, he was left with time on his hands. Building on a fascination with men's shirts, kindled by a New and Lingwood store he often passed on Eton's High Street, Nick purchased fabric from a mill in Lancashire and brought it to a shirt factory in Essex, where he oversaw production of a batch of shirts according his strict specifications. Thus, in 1986, the Charles Tyrwhitt brand was born.
"My ambition was, and remains, to make the best shirt in the world and sell it at a good price. Whether in terms of fabric, weave, fit or comfort — I wanted to make that shirt, and make it available to everyone at a price they could afford."
Nick named the brand for an ancestor whose last name he carries, one Sir Hercules Tyrwhitt, sensing that the name's old English feel would add luster and prestige to the quality British brand he was trying to create (and would ring better than his own last name, Wheeler).
Acknowledging the difficulty in pronouncing the ancient English name, the company regularly reminds customers that "Tyrwhitt rhymes with spirit." When the company launched its website, they bought every single URL similar to the difficult-to-spell name.
"When we started out, I manufactured each shirt at around £22 [$30], and retailed them at around £28," says Nick. Remarkably, 34 years on, the price per shirt remains basically the same. "Obviously, I had to move production out to the Far East to stay profitable, but we oversee every stage of the process with no middlemen. It's a Charles Tyrwhitt product from beginning to end and you can see that reflected in the quality. You get high quality and unbeatable workmanship at a smashing price."
White Shirts Galore
Nick flicks through the aforementioned Gateshead Yeshiva brochure with a bemused expression on his face.
"It's really quite remarkable, isn't it," he comments, echoes of his proper Eton accent filtering through. "Everyone's wearing white shirts!"
Nick had no idea of the yeshivah community's demand for white shirts until he opened a store on Madison Avenue in Manhattan. "A fellow would come in, swipe our entire stock of white shirts, then come back a few months later and do it all over again! We were more than happy, but it left us wondering. What did this chap want with our white shirts!?"
Eventually they found out about Lakewood, with its substantial yeshivah community and their proclivity for white shirts.
"We were floored by the demand," says Nick. "Our sales figures started to show that our white, non-iron, cutaway collar, twill shirt was fast becoming our most popular product — and in no small measure due to the sheer number of them being sold in Lakewood. Today it is by far our most popular product."
The website lists the shirt as a "Tyrwhitt icon."
Eventually, the firm entered into a wholesale agreement with a Lakewood native, the proprietor of the N.E. Crane clothing store. Today he's their biggest wholesale client, and in an email subsequent to our interview, Nick confirms that annual sales equal "tens of thousands of shirts" each year. The only other wholesale customer that the company works with is one in Israel, a new partnership that Nick says is "going well."
The sales figures at Tyrwhitt's Brent Cross store, located within walking distance of London's frum community of Golders Green, is further proof of the shirt's popularity with the yeshivish crowd. Opened less than ten years ago, the store sells the highest number of Charles Tyrwhitt white shirts in the UK.
Nick now understands that the white shirt is the badge of identity for yeshivaleit, anchoring them to the spiritual base that helped mold them and determine their moral compass and life ideals.
And although the company took a hit during the pandemic, shirt sales have remained strong — not least in the Lakewood stronghold. Nick reflects: "We've had to adapt, of course we have. I get it that home working means less demand for formal clothes, and we saw that reflected in our sales. We also saw solid competitors such as T.M. Lewin fold during the pandemic. And we have responded with a greater range of casual wear. But shirt sales still remain very robust."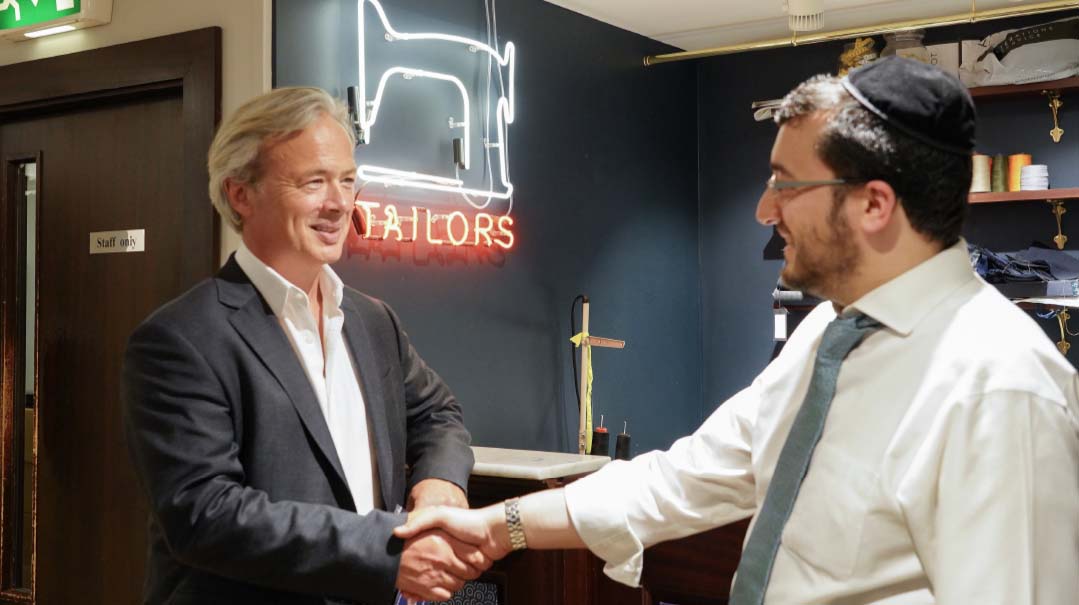 Not Just the Money
What is it about the Charles Tyrwhitt shirt that makes it stand out?
"When I started out, it was more about the dream than the money," says Nick. "I really, genuinely wanted to make that product that everyone would love to wear." Here the clothing king throws out a business tip: "When anyone starts a company, it can't just be about the money. If it's just about the money, you won't be successful. You have to concentrate on learning absolutely everything you possibly can about your area of business. I became an expert on the different fabrics, the stitching, finishing, trim, and above all, the fit and the shape. And that's what makes us stand out from our competitors."
Nick is happy to pose for the photographer as he gets himself measured on the shop floor. There are two basic measurements: the neck and the sleeve length. Starting at the middle of the back of the neck, the assistant carefully threads the tape measure across to the shoulder and down the outside of the arm to the elbow, ending at the wrist. Here Nick is eager to make a point about the distinctiveness of his brand.
"Go to Marks and Spencer," Nick challenges, referring to the great British retail mainstay. "They're our biggest competitor. But pick up a 16-inch shirt and you'll have a choice of one alternative sleeve length, only in the most popular sizes. By contrast, a Tyrwhitt shirt comes in 270 variations — from color to collar to sleeve length to whether you add a pocket. They just don't have the variety that we can offer. We live and breathe shirts. That's always been our focus, even as we've started to do suits and casual wear. I challenge anyone to produce a better shirt than we do, for a similar price."
Then there are the famous voucher codes (special discount codes used in online shopping).
"Look," says Nick, a wide smile spreading across his face, "I know that the call center takes lots of calls from Lakewood. People are looking to get the best deals all the time. Who doesn't like a good deal? But the way we entice customers is with the introductory deals, and although I'd love to, we can't offer everyone the introductory price all of the time. That just wouldn't work. But I really appreciate the loyalty and I'd like to think we reciprocate by not compromising on quality and providing excellent customer service. Wear it, wash it, tear it, spill ketchup on it — do what you like. If you really don't like the shirt, we'll take it back."
Any message to all those thousands of Charles Tyrwhitt adherents out there?
Nick smiles. "You can never go wrong with a white, twill, non-iron shirt from Charles Tyrwhitt. You will always look smarter, feel smarter, and hopefully be a little smarter than your contemporaries. Unless, of course, they are wearing the same shirt! I am hugely grateful to the thousands of young Jewish men out there for helping me to make my dream, of creating a truly special shirt company, a reality."  —
Friends in high places
Nick's opportunity to rub shoulders with those destined for top jobs took on quite a literal sense at Eton. "Boris Johnson was one year above me and actually we were both in the starting 15 line-up for rugby," reminisces Nick. "We were quite a formidable pair on the front line, Boris and I."
While in the political sphere Boris has often been lampooned by the press for being too light on detail, Nick is quick to refute that claim. "Of course Boris was always the entertainer in school, as he is today too, but academically he was known to be a brilliant pupil with a really good grasp of topics. When you're in government — or any business for that matter — you have to delegate, you can't get involved in everything, and I think Boris does that extremely well."
Nick's own ability to delegate and trust staff was evident when I toured the shop floor with him. Affable and friendly, he chats with customers to get a feel for their fashion preferences. "He regularly swings by to chat to staff and customers," said Owen, manager of the Jermyn Street store, "and everyone is always genuinely happy to see him."
The Most Famous UK Post Code
Jermyn Street, location of Charles Tyrwhitt's flagship store, has a unique history. Its development was authorized by none other than King Charles II and it was built by Henry Jermyn, Earl of St. Albans. Over the years, Jermyn Street has played host to a number of distinguished residents, including Sir Isaac Newton and 19th-century Prime Minister William Gladstone, and has evolved today into a commercial district with a worldwide reputation for high quality British artistry and craftsmanship.
But Jermyn Street has an even greater claim to fame: It sits within the SW1 postcode, a commonality it shares with Buckingham Palace. In a part of London where location matters, Nick Wheeler has extended the prestige and stature of his neighbors to his business.
Lakewood's King of the White Twill Shirt
Although the Lakewood connection was mentioned numerous times during our interview, Nick didn't offer up the identity of Lakewood wholesaler. And unfailingly polite Englishman that I am, I didn't probe. But sleuths at Mishpacha quickly homed in on Lakewood's purveyor of Charles Tyrwhitt shirts.
Mr. "N.E. Crane" (he prefers to hide behind his business name) was happy to share his take on the product's universal qappeal. "When people see a quality product, they want it," he said. "Bochurim get into it, they talk about it, and all their friends want the same."
He wholeheartedly agrees that the white, twill, non-iron shirt is the number one best — seller. "It's solid white but the fabric has a design incorporated into it; that weave makes people feel they're wearing something more choshuve than just a plain white shirt. And it's truly a great quality shirt. Long lasting, great fit. And if you can avoid ironing a shirt, that's a plus too!"
Most popular sizes? "The bochurim are the ones who are most into it, so 14-and-a-half and 15-inch are the most popular sizes. Sure, many yungeleit wear them too, but the tenth grade bochurim and upwards really want to be seen wearing a Charles Tyrwhitt shirt. I even have 12-year-old boys calling me up asking for them!"
Mr. N.E. Crane runs a store all year round in Lakewood (operating late hours to accommodate insomniac bochurim), and before Pesach he opened a temporary store in Flatbush.
"It's busy season all year round, with the obvious spikes before Yom Tov. There's also extra demand before yeshivos start the new zeman in Elul, and also during the year when yeshivos have an 'off Shabbos.'"
Although he has worked with the British company for a number of years, he still hasn't had the opportunity to meet Nick in person. "One thing I'll tell you, he has some very smart and competent workers over there. They all understand what needs to be done and make doing business very easy. I look forward to meeting Nick one day too and sharing my enthusiasm for his fantastic shirts."
(Originally featured in Mishpacha, Issue 878)
Oops! We could not locate your form.
>