| This Way That Way |
Zucchini
| August 10, 2021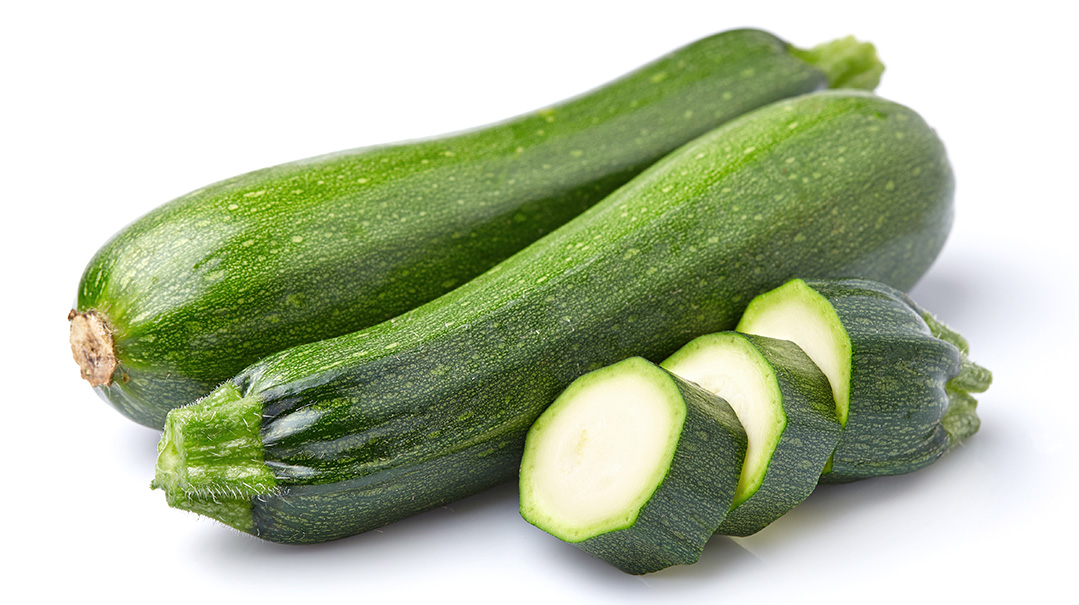 Zucchini, whose name originates from the Italian word for "squash," has seen a resurgence in popularity in the past few years. Popping up as a pasta alternative, a summery twist on conventional salad, or steamed, cooked, or baked, zucchini is mild in flavor, taking on the taste of the seasonings it's paired with. Here are a few of our favorite ways to serve it.
Oodles of Zoodles
Singular Details
In Italian, one zucchini is called a "zucchina."
Nutrient Density
A zucchini has more potassium than a banana.
Sizeable Matters
The most flavorful zucchini are small, and the darker the skin, the richer the nutrients
Roasted Celery Root and Zucchini
Recipe by Chaia Frishman
I normally use celery root in soup. How different can it be roasted? Very, is the answer. The caramelization of these veggies is outstanding. The veggies are bland on their own, so don't be shy with salt.
SERVES 6
2 Tbsp oil
3 Tbsp red wine vinegar
2 cups cubed celery root
2 cups cubed zucchini
salt, to taste
pepper, to taste
pistachios, crushed, for garnish
Preheat oven to 375°F (190°C).
In a large bowl, mix oil and vinegar. Toss with cubed vegetables. Spread vegetables onto a metal baking sheet with low sides. (You'll probably have excess oil, but add it to the pan or it might steam your veggies.) Add salt liberally and sprinkle with pepper. Roast for 20 minutes, then raise the temperature to 450°F (230°C), and roast for another 10 minutes.
Summer Zucchini Salad
Recipe by Rivki Rabinowitz
If you know me a little, you'll know one of my goals is using basic produce in unconventional ways. I love the way the zucchini carries the weight of this salad, and how the fresh herbs make it feel extra-thoughtful. Give it a shot all year round and you'll have that summertime feel for all seasons.
SERVES 4-6
3 zucchinis, julienned into zoodles
3 baby cucumbers, sliced into rounds
1 bunch fresh parsley, chopped
½ bunch fresh cilantro, chopped
2 Tbsp toasted sesame seeds or hemp hearts, for topping (optional)
Dijon Dressing
drizzle of oil
¼ cup fresh lemon juice (juice of about 1½–2 lemons)
2 tsp Dijon mustard
1–2 tsp maple syrup
salt, to taste
Combine salad ingredients in a bowl. Mix dressing ingredients separately. This should make more than you'll need — you only need a little dressing to spruce up the salad. Add dressing to the salad and top with toasted sesame seeds or hemp hearts, if desired.
Grilled Pesto Parmesan Zucchini
Recipe by Rivky Kleiman
A fabulous way to have your veggies and enjoy them too!
SERVES 6
4 large zucchinis
2 Tbsp olive oil
½ tsp salt
½ tsp pepper
¼ cup prepared pesto
½ tsp lemon zest
¼ cup grated Parmesan cheese
2 Tbsp fresh-flat parsley, chopped, for garnish
Preheat oven to broil. Trim, rinse, and slice zucchini lengthwise into ½-inch (1-cm) slices and lay on two baking sheets lined with parchment paper. Combine olive oil, salt, and pepper in a cup. Brush both sides of the zucchini with the olive oil mixture. Mix together pesto and lemon zest in a second cup and set aside.
Broil zucchini on the top rack of your oven for 4–5 minutes. Remove the pan from the oven, turn over the zucchini slices, and brush with the pesto mixture, then sprinkle with Parmesan. Broil for another 4–5 minutes until zucchini is tender. Garnish with chopped parsley, if desired.
(Originally featured in Family Table, Issue 755)
Oops! We could not locate your form.
>