| Cooks Compete |
Yerushalmi Kugel
| December 21, 2021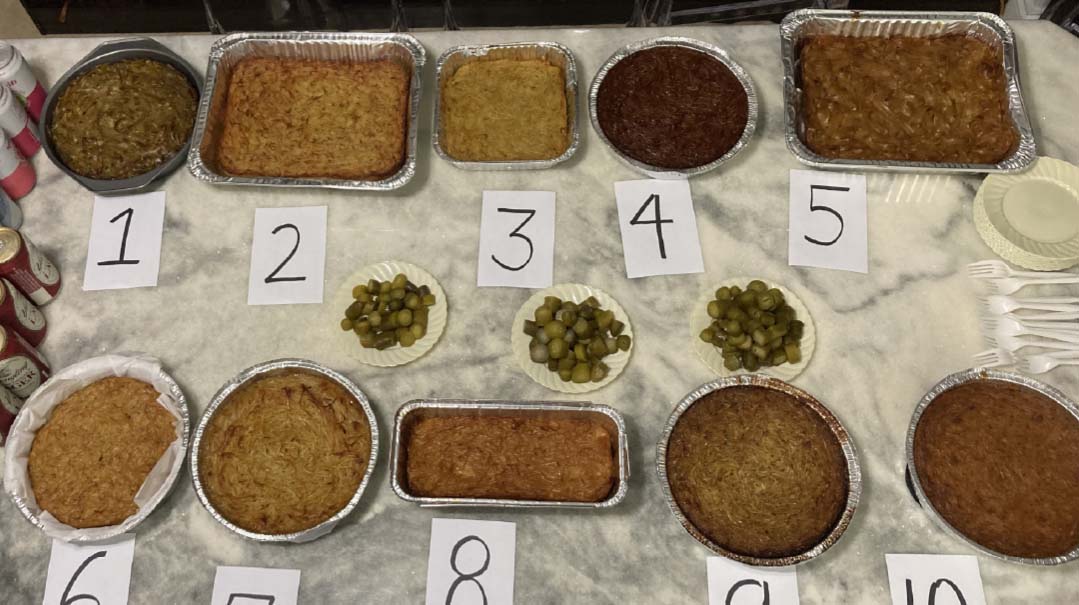 You might have thought you were intimidated to make it, but no one's too intimidated to eat it. Sweet, savory, crispy, and peppery, Yerushalmi kugel is one of those Shabbos-table classics that has earned its place of honor in regular rotation. The good news is, we've narrowed down the best of the best recipes, so you can make your own with confidence.
Authentic Yerushalmi Kugel
Submitted by Atara Weinstein, Bayit Vegan
My mother comes from a Yerushalmi family, and the first time I had "real" kugel was when I visited her sisters, my aunts, when I was in seminary. When I started making my own, my aunt told me to go to the shuk and buy the most antique-looking, unimpressive pot I could find and use that for keeping the kugel on the plata overnight — it would work much better than any high-end kitchen equipment.
Guess what? She was right! Just like Yerushalmim themselves: unassuming on the outside; spicy, sweet, and full of delicious contrasts once you lift the lid.
YIELDS 1 MEDIUM POT
1 pkg thin noodles
1 cup + 3 Tbsp sugar
½ cup oil
3 eggs
1 Tbsp salt, plus more for salting the pasta water
1–2 tsp freshly ground black pepper
Boil noodles in salted water until very soft.
Meanwhile, in a small pot over a medium-low flame, melt 1 cup sugar with the oil, stirring every few minutes. (Don't worry if it clumps; the clumps will melt.) When the sugar is golden brown, turn off the flame. Be careful not to touch the mixture, since the sugar will keep cooking in the hot oil.
Drain the noodles. Carefully pour the caramelized sugar into the noodles and mix well. Once slightly cooled, add eggs, salt, and black pepper to your taste — if you like it spicier, use 2 teaspoons.
Pour the mixture into a medium-sized pot lined with parchment paper. Cover loosely and cook over medium-low flame for about half an hour. Transfer the covered pot to a hot plate and leave it there overnight. Turn the pot over, slice, and enjoy with a pickle on the side!
Note: If your hot plate or blech is very hot, put the pot on a folded piece of foil or a low pan so the kugel doesn't burn. It can also be baked at 350°F (175°C) for an hour, but the results won't be quite the same.
Tried-and-True Yerushalmi Kugel
Submitted by Y. Lefkowitz, Brooklyn, NY
I got this recipe from my shvigger, and I've been making it for 25 years, ka"h, and counting. The best thing, besides the taste, is that the lukshen doesn't need to be cooked separately! I've given this recipe to numerous friends and relatives, and it's always a hit.
YIELDS 3 9X13-INCH PANS
3½ cups sugar, divided
14 cups water
2 tsp salt, plus more to taste
3 pkgs medium noodles
1 dozen eggs
2 cups oil
1 tsp white pepper
1 Tbsp cinnamon (do not omit!)
In a large pot over medium heat, brown 1.5 cups sugar. Remove from heat and stir in water, 2 tsp salt, and another cup of sugar. Bring the mixture to a boil, then add the noodles and cover the pot. Remove from heat. Leave it to sit for 1 hour.
In a separate bowl, combine the eggs, oil, remaining cup of sugar, salt to taste, white pepper, and cinnamon. Add the mixture to the lukshen.
Pour into three 9×13-inch (23×33-cm) baking pans. Bake at 350°F (175°C) for 1/2 hour uncovered and then 1.5 hours covered.
Freezes beautifully!
Henna's Faux Yerushalmi Kugel
Submitted by Chani Moskowitz, Far Rockaway, NY
My sister Henna (aka Miriam) shared this recipe with our family many years ago, and we all (and all the friends, family, and guests we've ever served it to) agree it's the best… Maybe even better than the real thing?
YIELDS 1 LARGE LOAF PAN
⅓ cup oil
1 bag fine egg noodles, cooked according to pkg directions
3 eggs
2 cups dark brown sugar
2 tsp salt
1 heaping tsp pepper (the more pepper, the better)
Preheat oven to 350°F (175°C).
Pour oil into a large loaf pan and heat in the oven while the noodles cook.
Drain the noodles and return to the pot. Stir in the eggs, sugar, salt, pepper, and hot oil.
Pour the mixture into the hot pan, then return the pan to the oven and cook for at least 1 hour (I prefer closer to 1.5 hours for a super crispy top).
Note: I make this in a large loaf pan, but it also works in a round pan or a Bundt pan.
(Originally featured in Family Table, Issue 773)
Oops! We could not locate your form.
>