| Yardsticks |
Yardsticks: Chapter 36 | February 12, 2020
For a moment, my stomach twisted as I observed those flowers — a blatant violation of takanos law
Mina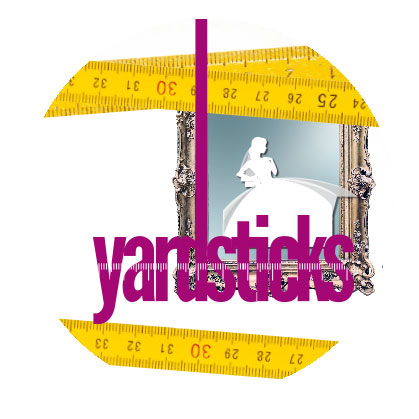 Engagements are like roller coaster rides. You rock and tumble and gasp for breath as you frantically whiz through hoops, and suddenly, it's the kabbalas panim. You grind to a halt, dizzy, disoriented, panting, and you can't believe it, you simply can't believe you made it.
Kabbalas panims always fascinated me. The charged air, close family swishing around the still empty ballroom in satins and lace, the band tuning up, the photographer frantically trying to finish his portrait queue, the heady scent of pepper steak and chicken lo mein tickling the nose.
Now, at my own daughter's kabbalas panim, there was the same music and aromas, but the electric current was amplified, and I was overtaken by nerves. I barely managed to smile as I greeted my guests. Shevy — kallah — wedding. Reality wouldn't register.
My gaze settled on the stage where Shevy sat. She looked radiant, my daughter, beautiful and happy and glowing, surrounded by a breathtaking display of fresh white roses and neat greenery.
For a moment, my stomach twisted as I observed those flowers — a blatant violation of takanos law — but no, I wouldn't think about the flowers now, nor about the five-piece band or the elaborate smorgasbord. Not tonight, not at Shevy's wedding. Now was the time to simply enjoy the simchah.
Noticing Tova approach, I tore my eyes away from my daughter. A middle-aged woman in an overly hair-sprayed sheitel walked alongside my mechuteneste.
"Mina!" Tova said, smiling. "My sister, Zehava. From Ramat Beit Shemesh."
Her sister took my hand and shook it vigorously, wishing me the warmest brachos. She didn't resemble Tova, but their smiles were identically alive; smiles that rose straight from the heart, like there was nothing in the world but the happiness they were experiencing right now. I couldn't help envying them, wishing my simchah could feel as pure.
And then something clicked in my brain. Sister, Eretz Yisrael — brother-in-law, treatment. Shabbos, hotel, vacation.
My fingers went slack. "Really nice to meet you," I said, gently pulling my hand out of her grasp. "We should only share simchahs."
My sister Fraidy came over and rescued me, grabbing me in a hug and squealing how gorgeous Shevy looked and cajoling her suddenly shy kids to tell me mazel tov. After that I was swept up in the action of the wedding. Badeken — oy, all that confetti on Shevy's veil! Chuppah­ — shivers… was it the cold, or nerves? — and then pictures and more pictures. When the meal started, I slipped into my role as hostess, walking between the tables, making sure everyone was comfortably seated.
"Mina, you must sit down for a few minutes," my sister Gila ordered when I stopped at the table where my sisters sat. She patted the chair next to her. "You need to eat something, it's a long night ahead, and you won't get another chance to eat. I remember coming home starved from Menachem's wedding."
I begrudgingly consented and sat down. Glancing at the plate in front of me, my stomach tightened. Sea bass. True, we'd allowed the Engels to plan the menu as they pleased, but sea bass!
(Excerpted from Family First, Issue 680)
Oops! We could not locate your form.
>