| Jr. Feature |
Yards and Yards of Bargains | April 1, 2020
Don't underestimate the value of shopping at yard sales — it might be a very worthwhile venture!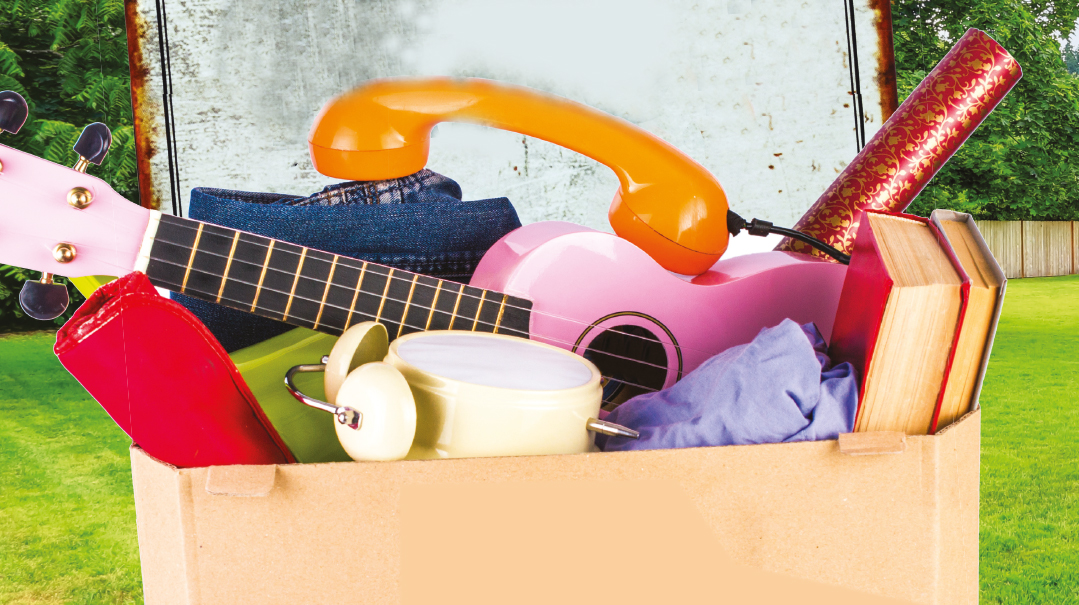 What does a yard sale, a garage sale, a tag sale, a rummage sale, and a sidewalk sale have in common? Everything! They are actually different names for the same thing. All across America, different names are used for an event where people sell their old items. And you can find some really cool stuff at some of these sales, whatever you may call them. As they say, one man's trash is another man's treasure
Humble Beginnings
Yard sales actually started in the shipyard. Just like today, years ago people and companies shipped goods across the ocean from one country to another. It was after the ship docked and the products were unloaded that the problems began. While almost all the goods were claimed by their owners, there was always some merchandise that was damaged, or whose owner never showed up to claim it at all. What were the ship owners supposed to do with all that stuff? Sell it, of course. This random assortment of items was laid out, and people could come try their luck and see what they could find. Of course, since it wasn't in anyone's yard, it could hardly be called a yard sale. Instead, they called it a "rummage sale."
Okay, so they sold some random stuff in a dockyard. How did we get from there to the classic American yard sale? It would take two more steps and some help from historical events to get where we are today.
Rummage sales popped up in residential neighborhoods in the form of charity drives. Did your school or neighborhood ever host a toy drive and then sell the toys they collected to make money for tzedakah? That's exactly the next step yard sales took. People in a neighborhood would donate their old things, and a charity would sell them to raise money. Women even did this during the Civil War to raise money for the army. With time, people began selling old household items on their own. They weren't just raising money for charity, now they were making money for themselves — just like people do today!
When the Great Depression hit America, people needed lots of things, but no one had the money to buy them. Buying used items was the only way many people could afford basic necessities. At these sales, people sold clothing, housing goods, and even shoes. Used shoes are better than no shoes, don't you think?
Decluttering Deal
As business developed, it became cheaper to make new things. In the 1960s, people started buying new items all the time. What should they do with all the old things that were cluttering up their attics or taking over their garages? Sell them, of course!

Today, yard sales are a combination of practicality (people have too much stuff) and nostalgia (yard sales give people a warm and fuzzy feeling). And of course, there are people who love visiting yard sales just for the fun of it. It can be thrilling to hunt through a pile of junk, and find a valuable item at a huge discount. Even some wealthy people make a hobby of checking out what they can find at a yard sale.
Yard Sales Gone Global
The idea of a yard sale began in America. But that doesn't mean that it stayed there. People from England may call their yard sale a "car boot sale" and sell items out of the trunk of their car (boot is the British English word for trunk), and in Canada, Australia, and New Zealand you'll hear about "garage sales." In Argentina they call it a "Feria Americana Venta de Garage" (American Fair Garage Sale), giving Americans credit even in the name. No matter where you are and what you call it, though, it's all the same thing. A yard sale is a yard sale, and you can come across one anywhere in the world.
Famous Yard Sales
Yard sales are a tradition all across America. Wherever you go, you can find handwritten cardboard signs, or paper notices pointing buyers to the home of the person making the yard sale. While most yard sales are single events by families trying to get rid of some household clutter, in some places they have turned into much bigger traditions.
The World's Longest Yard Sale winds its way through the six states of Kentucky, Tennessee, Georgia, Alabama, Ohio, and Michigan, and extends over a whopping 690 miles (1,110 km). It is a string of dozens and dozens of yard sales for all that distance.
The Garage Sale Trail was started to encourage people to sell their used items instead of throwing them out. This yard sale shows just how far the idea of a yard sale has spread — it takes place all the way in Australia! With 126 yard sales happening at the same time, the Garage Sale Trail has even won a few awards.
The Yard Crawl is an event that turns US Route 11 into one long, continuous yard sale. It has taken place on the same day in August, over the same 50-mile stretch of road, for the past nine years. I wonder what the traffic looks like that day!
Yard Sale Hobbyists
Across America, and even the world over, people buy and sell things at yard sales. Now that you know about them, look out for signs in your neighborhood.
Mishpacha spoke to Batsheva K., in Monsey, NY, about the yard sales in her area.
Junior: Hi, Batsheva! Are yard sales advertised often in Monsey?
Batsheva K: I see yard sales, garage sales, and moving sales advertised all the time. They usually take place in the spring and summer because that is when people are busy spring cleaning and want to declutter their houses. People also tend to move in the summer, before the school year, so moving sales are also more common in the summer.
MJ: How do yard sales work?
BK: Usually I see signs announcing the yard sale posted on trees and poles all over the neighborhood. When you get to the person's house, their garage is open, and tables are set up in the garage and in the driveway. If the people are selling bigger things, like furniture, you can go inside the house to look at those items.
MJ: What sort of items are generally for sale?
BK: A lot of people sell toys and baby products that their children have outgrown. You'll find things like board games, baseball bats and mitts, and outdoor play toys. Sometimes people will sell used clothing as well.
MJ: Why do you like to go to yard sales?
BK: Yard sales are a really fun activity. When I'm driving and pass a yard sale, it's exciting to get out of my car and check out what they're selling. I might browse for five or ten minutes and find nothing, or I might find a really good deal. It's a thrill to find a great deal! Even thrift stores aren't as cheap as yard sales. I once bought a few toys for my kids, and the sellers threw in a bunch of free toys as well. Anything that doesn't get bought is usually donated to charities or thrift stores a few days later.
MJ: What was the best thing you ever found?
BK: Over the years, I have found some great puzzles for a dollar, but the best buy I ever got was a bunch of puppets. Someone was selling a whole box of puppets for a dollar each, while at the store they go for forty dollars for five puppets. I got a number of puppets, and my kids have a great time making puppet shows now.
MJ: Are all yard sales basically the same?
BK: For the most part, yes, the only difference is the items they sell. I do have someone in my neighborhood who goes to yard sales and buys toys. Then she holds her own toy sale in her house every week. In that way, her yard sales are a little different.
MJ: Do you have any tips for someone going to a yard sale?
BK: Before you go, create a budget of how much you want to spend. Sometimes you get caught up in the good deals, and you can spend more than you want to. Also, if you have something specific that you're looking for, it pays to get to the yard sale early. Everything is sold on a first come, first served basis so you want to be there first.
MJ: It sounds like you think yard sale hunting is a good hobby.
BK: I really enjoy it! Try going to one; you might enjoy it too.
Great Deals
Usually, when you go to a yard sale, you plan to come home with a used item that you would have had to pay a lot more for had you bought it new. In that way, you're saving money. Sometimes, though, people buy things for a couple of dollars and then find out later that the item is worth much, much more. The people below thought they were buying something interesting, and ended up with way more than they bargained for (literally):
        Rick Norsigian was hunting through the items at a yard sale when he came across a few boxes full of glass negatives. Before digital photography, cameras took pictures on film and the image was saved on what was called a negative. You would bring the negatives to a place where they would develop the photos using the negatives. These glass negatives looked interesting to Rick, and he bought them for $45. When he showed them to experts, he found out that the negatives were really pictures taken by Ansel Adams, a famous photographer known as the father of US photography. They were valued at $200,000,000!
        Imagine looking through a bunch of things sold at a yard sale, and finding a sketch that looks interesting. Well, one man did just that, and purchased the sketch for $5. Imagine his surprise when it turned out to be a drawing by the famous artist Andy Warhol and worth $2,000,000!
        One man decided to purchase a bicycle at a yard sale. Think about how much your old bike is worth. Not that much, right? Well, after he bought it, the man found out that this bike originally belonged to Floyd Landis, a famous cyclist who won the Tour de France. The custom-made bike had fallen off a truck, and ended up at the side of the road. It was worth $8,000 dollars!
        Imagine what your history teacher would say if you told her you had an original copy of the Declaration of Independence. Well, if you were this unidentified owner, you wouldn't have to imagine. He found the copy hidden in a picture frame behind an old picture he purchased at a yard sale. You wouldn't have to imagine the $800,000 you would earn selling it, either!
        A woman found a cute pendant at a garage sale and bought it for a couple of dollars. She must have been very surprised when it turned out to be real gold, encrusted with real diamonds!
Don't underestimate the value of shopping at yard sales — it might be a very worthwhile venture!
(Originally featured in Mishpacha Jr., Issue 805)
Oops! We could not locate your form.
>