| This Way That Way |
Wraps
| June 1, 2021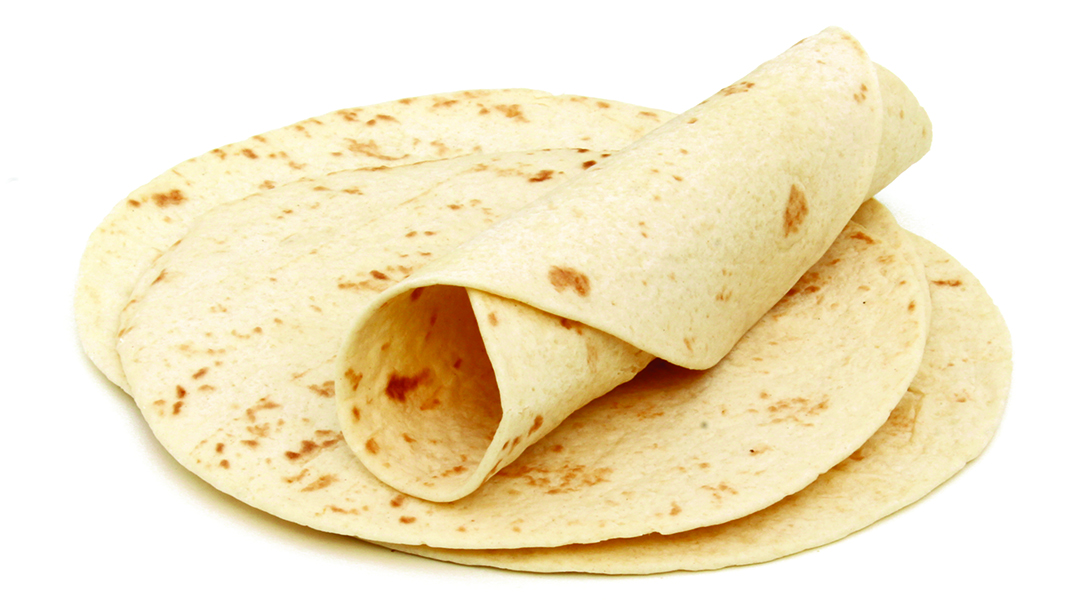 Versatile, practical, and quite frankly, delicious — they're a lot more than just something to hold your protein in. We're seeing quesadillas, we're seeing desserts, and we're even seeing wrap-focused trends! Here are some versions that have caught our eye.
That's a Wrap
The origins of the sandwich dates back to ancient times, but it was the Earl of Sandwich, John Montagu, who popularized the handheld food in the late 18th century.
But the wrap? That reportedly didn't come around until 1982, when it was invented by Bobby Valentine of baseball.
Valentine, current manager of the Boston Red Sox, is also remembered for his clever skills in the kitchen when he served the first sandwich wrap at his restaurant in Stamford, Connecticut.
Quick and Easy Quesadillas
Recipe by Estee Kafra
This is a favorite in our house… I sometimes add some sautéed peppers and spinach, but other times I leave it just plain with sauce and cheese.
SERVES 1–2
2 wraps
pizza sauce
shredded cheddar and mozzarella cheese mix
sautéed veggies (optional)
sour cream, guacamole, and hot sauce, for serving
Place one wrap on a hot pan or Betty Crocker pizza maker. Flip after 5 seconds.
Add pizza sauce and shredded cheddar and mozzarella mix. Add sautéed veggies if using. Cover with a second wrap and press down lightly with the lid of a large pot. Leave until the bottom turns a bit crispy and it's ready to be flipped.
Bake on the other side until crispy and cut into triangles.
Serve with sour cream, homemade guacamole, and hot sauce if desired.
Curried Smoked Turkey Salad Wraps
Recipe by Chanie Apfelbaum
I'm a big fan of curried chicken salad, so I upped the ante here by incorporating ready-made smoked turkey leg. The smokiness is a great counter to the sweetness in this dish.
SERVES 4
1 smoked turkey drumstick, skinned, deboned, and chopped
1 cup thinly sliced iceberg lettuce
⅔ cup diced Fuji apple (about ½ an apple)
¼ cup celery, finely diced
3 Tbsp dried cranberries
2 Tbsp toasted slivered almonds
3 Tbsp mayonnaise
1 tsp Dijon mustard
1 tsp honey
1 tsp lemon juice
¼ tsp curry powder
kosher salt, to taste
2 whole wheat wraps
In a medium-sized mixing bowl, combine the turkey, lettuce, apple, celery, dried cranberries, and almonds. In a small bowl, whisk the mayonnaise, mustard, honey, lemon juice, curry powder, and salt. Pour the dressing over the salad ingredients and stir to combine. Divide the salad between the two wraps and fold to close. Slice each wrap in half to serve.
Mexican-Style Quesadillas
Recipe by Naomi Nachman
This makes a great breakfast or lunch idea. We had it often during quarantine. Cooking it in butter makes it extra delicious!
SERVES AS MANY AS NECESSARY
butter
1 pkg flour or corn tortillas
1 jar salsa
1 can black beans, rinsed and drained
1 pkg shredded mozzarella cheese
Heat a skillet over medium heat and melt some butter. Place a tortilla in the skillet and spread salsa to cover the whole surface. Add some black beans, then cover with cheese. Place another tortilla on top to make a sandwich. Cook for a few minutes until the bottom is brown, then flip with a large spatula and brown on the second side.
Remove from pan. Allow to cool slightly and cut into pizza wedges. Repeat with remaining tortillas.
(Originally featured in Family Table, Issue 745)
Oops! We could not locate your form.
>