| This Way That Way |
Wonton Wrappers
| November 23, 2021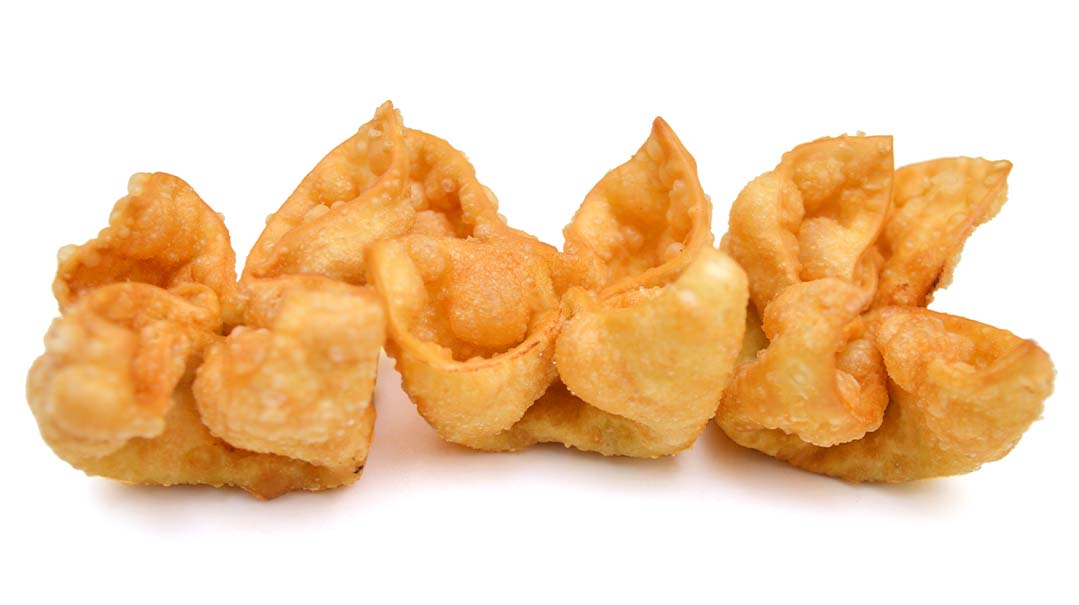 Far beyond little beggar's bags filled with sautéed cabbage, today's wontons appear in many different fresh and current preparations. Here are some recipes that showcase this handy food item in unique yet totally accessible ways.
Winning Wontons
Defined
Wonton means "swallowing clouds" in Chinese — but the word comes from Cantonese, not Mandarin.
Introduced
Wontons are believed to have been introduced to the West by early Chinatown settlers from the city of Guangzhou in southern China.
Prepared
In Shanghai, the wrapping is flour-based and thicker and whiter than it is in Guangzhou. In China, white is a color associated with death, which is why so few Chinese foods are white.
Salmon Wontons with Teriyaki Dipping Sauce
Recipe by Esther Ottensoser
Wontons have come a long way since they left the soup! Move aside chicken and beef wontons… How about trying salmon?
SERVES 12
24 ¾-inch (2-cm) salmon cubes
sesame teriyaki sauce
24 wonton wrappers
canola oil, for frying
Marinate salmon cubes in teriyaki sauce for an hour or two. Place a salmon cube in the center of each wonton wrapper. Bring two opposite corners to the center and then bring in the other two corners to form an envelope.
Heat the oil in a large pot and fry each wonton for 2–3 minutes on each side.
To serve: Plate the wontons in small, rectangular, three-compartment plastic dishes. Place two wontons in either side of the rectangular dish and fill the center with more sesame teriyaki sauce. Place the dish on the upper part of a square plate. Fill the remaining part of the plate with salad of your choice.
Note: For best results, do not freeze the wontons after frying.
Easy Fried Cannoli Shells
Recipe by Miriam (Pascal) Cohen
Reprinted from overtimecook.com
These easy shells are made from just wonton wrappers, but they make a great sweet or savory presentation to take your food to the next level!
YIELDS 45–50 SHELLS
canola oil, for frying
45–50 wonton wrappers
Heat about 2–3 inches (5–7.5 cm) of oil in a deep frying pan over medium heat.
Wrap a wonton wrapper tightly around a cannoli form. Dip your finger in water and rub along the edges. Press well to seal. (If the wrapper isn't tight enough or the seam isn't sealed well enough, the shell will open while frying.) Repeat with all remaining cannoli forms.
Before frying, test that the oil is hot enough: Place a small piece of wonton wrapper in the oil. If it rises immediately, it's ready for frying.
Fry 3–4 cannoli at a time, depending on the size of your frying pan. Don't overcrowd the pan. Fry the cannoli for about 2–4 minutes until golden brown. Remove from pan and place on paper towel to drain, then set aside to cool. When cool enough to handle, gently remove the cannoli from the forms. Repeat with the remaining wrappers.
Once fully cool, fill with your choice of sweet or fillings, such as mousse or ice cream (serve drizzled with chocolate or sprinkled with powdered sugar), or savory fillings, such as pulled beef, guacamole, or roasted veggies (serve with a dish of your favorite dipping sauce).
Plan Ahead: You can store the shells in an airtight container for a day or two, or freeze for later use. Fill shortly before serving.
Pulled Beef with Crispy Wonton Crackers
Recipe by Faigy Grossmann
Pulled beef is always a win no matter how you serve it, but the crispy wontons crackers really make it irresistible.
SERVES 12–15
1 pkg square wontons
oil, for frying
your favorite pulled beef recipe
toppings: guacamole, spicy mayo, pickled onions, etc.
Cut wontons in half on the diagonal to form triangles. Fill a large frying pan with 1 inch (2.5 cm) of oil.
Quick-fry the wontons until golden brown. Remove from pan and drain on paper towels.
Serve either on a large platter or as individual servings. Pile a mound of meat in the center of your crisped wontons and top with your choice of toppings.
(Originally featured in Family Table, Issue 769)
Oops! We could not locate your form.
>