| The Current |
Who By Fire | June 28, 2022
An entire shattered community is grieving for a family whose entire life was a constant kiddush Hashem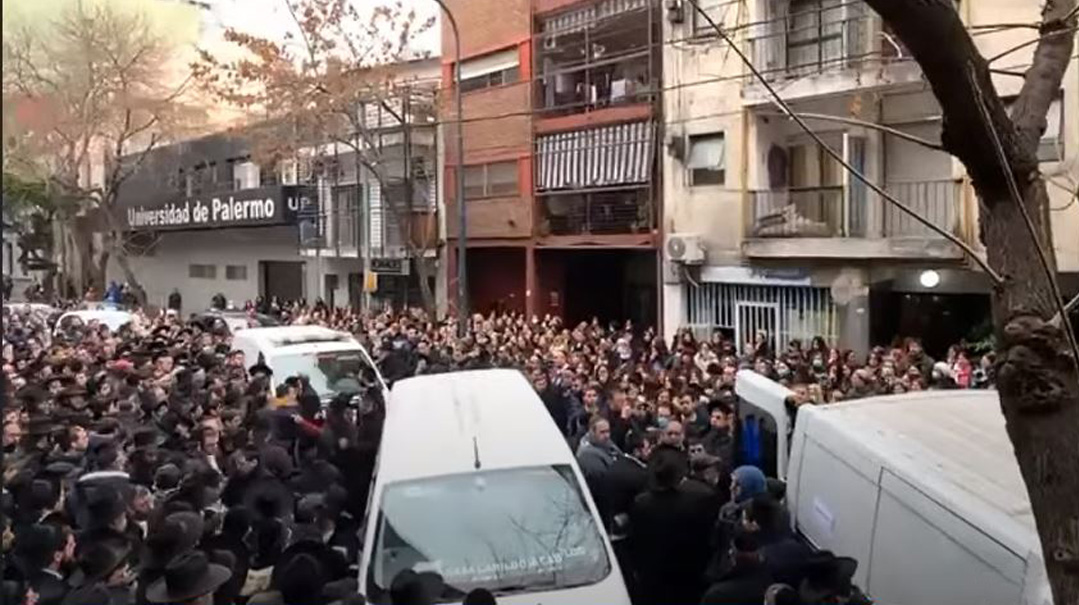 "I
can't believe this horrible tragedy happened to those kids. They were so pure, so refined, so polite! I would tell their father, 'How were you able to raise so many kids in such a pure way? I only have three and I don't know what to do with them!' "
It wasn't a member of the Argentine Jewish community who said this, regarding the tragic deaths of five members of the Chabbas family consumed by fire last week in Buenos Aires, but the doorman of the building where they lived. And it expressed the sentiments of an entire shattered community, grieving for a family whose entire life was a constant kiddush Hashem.
While the grief and sorrow affected everyone who heard the news and saw the clips of the raging blaze, it hit the Orthodox community in particular — and not only because of the shock and suddenness of it all, but also because the story of the Chabbas family intertwines with local Jewry as a whole.
Rabbi Yitzchak Chabbas, for whom Jews around the world are davening (Yitzchak Reuven ben Camila for a refuah sheleimah), was born in the Barracas district in Buenos Aires. His wife, Sofía Karina a"h, was from Flores, another area with a large frum community. But they established their home in what is considered the main Jewish area in Buenos Aires, the Once neighborhood (although today their original neighborhoods have grown into centers of religious life as well).
"They got married and bought a very small apartment. The debts grew and, while their oldest children were still young, they went to Panama," Miriam (Chabbas) Sasson, a sister of Reb Yitzchak, tells Mishpacha.
In Panama, Reb Yitzchak was a teacher in one of the local Jewish schools and also worked in kiruv.
"He was very successful in Panama," says his sister. "But he always told me: 'Chinuch for my children is worth more than any amount of money.' And so, when the kids got a little older, he decided it was time to move back to Buenos Aires."
After the family returned to Argentina's capital city, they reestablished themselves in Once, where they became close to Rav Shmuel Aryeh Levin — a talmid muvhak of Rav Elazar Menachem Man Shach ztz"l and known internationally for his kashrus certification.
Rabbi Chabbas sent all of his children to Rav Levin's mosdos, all of which fall under the umbrella of the kehillah Eijal HaTorá (the Chofetz Chaim yeshivah for boys and a Bais Yaakov for girls). While Reb Yitzchak was struggling with parnassah, Sofía was devoting her life to her home and their 12 children.
"She lived for her children — they were her entire life," says Miriam Sasson. "I used to tell her, 'Let's go out a bit, take a vacation,' but she always said that she preferred to stay home with her children."
That same familial love and devotion was transmitted to her children, as was evidenced on that brutal Thursday last week, when a fire broke out in their seventh-floor apartment around 6 a.m., probably from the battery of an electric scooter that exploded. Some of the children managed to escape and had made it to the ground below (three are married and no longer living at home); three others ran to an outdoor porch, but because it was enclosed by grates, they couldn't escape before the fire caught up with them.
"Their 17-year-old daughter Camila was already out of the building, but she ran back in, to try to save her brothers and sister. Sofia, too, was able to make it out, but she stayed to save her kids," says Miriam, whose pain of the losses are shadowed by the pain of seeing her relatives turned into dry statistics instead of the true heroes they were.
Her brother, too, ran back into the blaze to save his family, but was overcome by smoke and flames.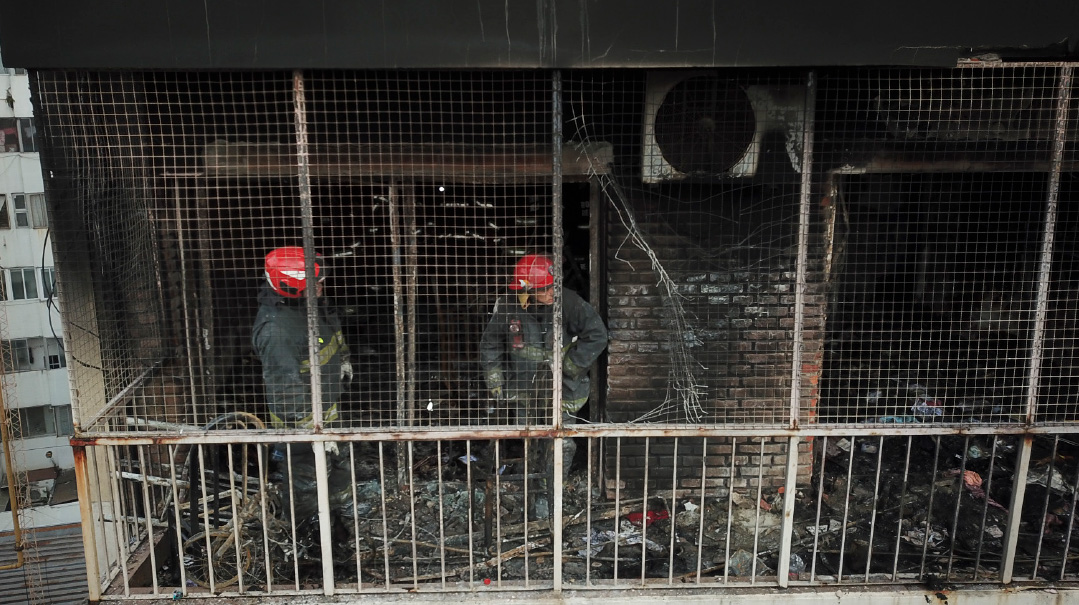 "Look at the kind of children my brother and his wife raised — kids who were willing to give up their own life just to save their siblings," relates Miriam, who says that she hasn't stopped crying since last Thursday. "They were all tzaddikim. All of their children raised according to the ways of the Torah — the three who are already married and the nine who were still had at home. They never complained about anything, and they were always smiling. And my sister-in-law, she always had this peace radiating from her. It was contagious."
The niftarim are Sofía Karina Kabudi Chabbas (50), Camila Chabbas (17), Esther Shira Chabbas (9), Miriam Orly Chabbas (8), and Rafit Chabbas (3). Over 25 people were hospitalized.
The only hesped at the multiple funeral was given by Rav Dov Levin, who expressed a universal wish: "Just like the entire Argentine people is united today in sorrow, may it be the Creator's will that we will soon all be united in joy." Kein yehi ratzon.
(Originally featured in Mishpacha, Issue 917)
Oops! We could not locate your form.
>