| True Account |
Where You Need to Be | July 19, 2022
Hashem has a time for everything, and also a place for everything. Including us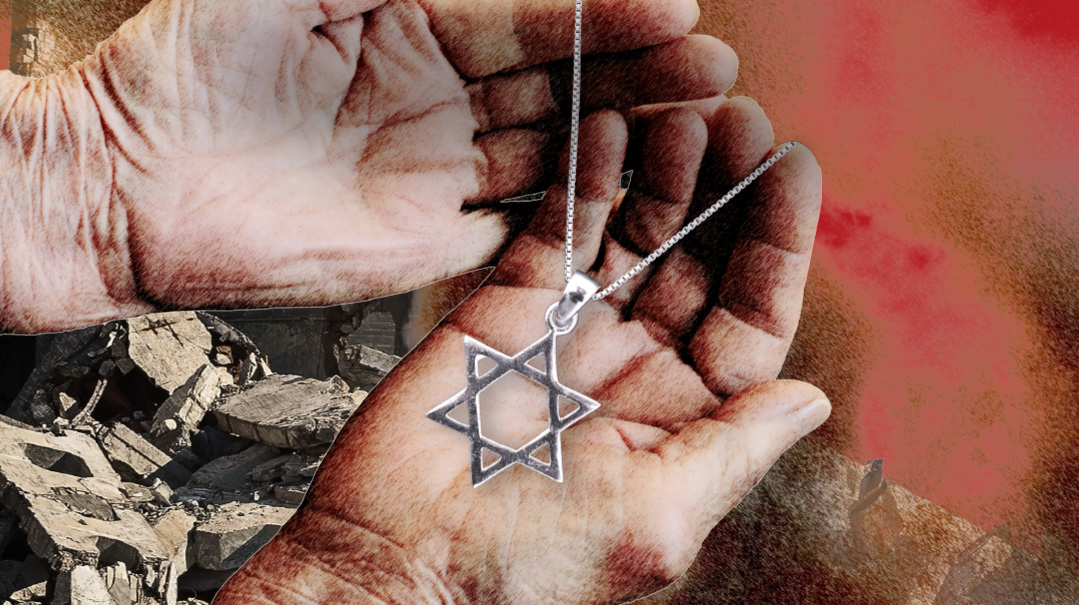 As told to Rivka Streicher by Rivkah Gurewitz
The old woman stepped off the bus that they'd spent a week on, fleeing Ukraine. She caught sight of my husband, his rabbinic look hard to miss. "Ich bin oich a Yid," she cried, and from beneath her knitted sweater she pulled out a necklace. A Magen David. She was in safe territory now, and we would help her.
Back in 1998, we were newlyweds, just starting out, when we got a call about the need for a couple to go on shlichus in Offenbach, Germany. At the time a shul had been built there by the small Jewish community, but there was no rav and rebbetzin to lead it. We had no idea what to expect — we'd never heard of Offenbach, an industrial town not far from Frankfurt — and we weren't keen on going to Germany altogether. My grandmother, who had spent time in the DP camps in Germany after the war, was distraught at the idea of her grandchildren going to live in that place of bloodshed. But after a lot of contemplation, we responded to the need. We thought we'd come for a year, help get the shul and community on its feet, and then look for a more conventional shlichus in North America.
It was the end of the '90s, decades after the Holocaust, but this was the first time since that dark period that there was a rav in the city, so we were still picking up the broken pieces from that time. There were Yidden but almost no Yiddishkeit. We started with rudimentary education and then made it practical, from tefillin to mikveh to Yizkor (which the old people still remembered).
In that first year, we made connections with so many people. There were the Holocaust survivors, and there were also the children and young people who had been born in Germany. It was a challenging first year. We wanted to leave and head back to the States. But we'd set up so much and were in over our heads. How could we go? The people needed us — we couldn't just up and leave. So we pushed ourselves for a second year. The connection to our people only became stronger. The Holocaust survivors needed us in their last years. The youth needed us. We couldn't go. We pushed through a third year and a fourth, and for more than ten years we kept thinking, it's only a matter of time, we're going to go back soon. At some point, our mindset shifted. We realized we were here to stay.
Community dynamics changed through the years; first it was the Holocaust survivors, then it was the Israeli ex-pats, then Romanian and Russian Jews. Now it's the refugees from Ukraine. We do whatever needs doing on the ground, for whoever shows up.
Shortly after war broke out in Ukraine, refugees started arriving in Germany. We heard that there were buses of refugees arriving at local hotels and my husband, I, and some other volunteers went out to the hotels to see if we could find Jews who needed help. My husband and the volunteers speak Russian, so they were able to communicate with the refugees. I know just a few scarce words, so I communicated with my hands, with gestures, and with Google Translate.
But meeting and helping these refugees went way beyond language. This was humanitarian work on the most basic level. Seeing people coming off those buses with just the shirts on their backs, looking into the despair written on their faces, their dulled eyes, was wrenching. They'd lost everything. Their homes, their possessions, their work, their status. They'd narrowly escaped with their lives. When I think about them, in their deep vulnerability, my heart breaks. I think they were in a sense like babies. Adult babies.
We came and embraced them, we gave them essentials, oftentimes some needed emergency health care. In those first few days we were operating in crisis mode.
What made things worse was that the city wasn't willing to help us in our private endeavor. Their plan was to send the refugees to large processing centers, where they would be given food, a mat to sleep on, and medical attention.
We weren't exactly sure what was going on there, though. We felt that it would be heartless to send these people, who had endured a difficult break with life as they knew it, to a refugee factory. They needed care, human contact, and help resettling into some semblance of life. How could we just send them on? Besides, we were working under the dictum of the Lubavitcher Rebbe, from whom we learned, "A Yid doesn't turn away another Yid."
Every day we discovered Jews. There was one family who came from an area that was hardest hit — they'd literally dodged the bullets on their way out of Ukraine. We brought them to our home, and the woman and children were sitting at the table completely stunned — they didn't know what hit them. The next day was Shabbos, and we had them over for the meals, but they were still shell-shocked. As the wine, challah, soup, chicken and zemiros flowed around them, they just sat there, stuck in their trauma. How could we send such people on to impersonal processing warehouses?
We had friends who owned a local hotel, and made a deal with them to put up the Jewish refugees. Whatever the city decided, the Jewish refugees would stay close by. But that meant that it was up to us to provide the refugees with food and essentials. In this, we were assisted by the Vaad Hatzalah and the Federation of Jewish Communities in the CIS, both of whom sent shipments of food.
The Jewish community of Strasbourg had organized a food and essentials drive, and the people responded by donating a plethora of necessities, sending two truckloads full of food and essentials, such as toiletries and paper goods. The chief rabbi of Strasbourg, together with the Chabad shaliach, drove down all the way to Offenbach to bring us the provisions themselves, which was an incredible act of chizuk.
We also received donations of clothing for men, women and children; our shul was literally overrun with bags of clothing. People wanted to help, and we were inundated. But I sensed that what these people needed, most of all, was a modicum of dignity. And so, we made a drive for gift cards to major stores like C&A and H&M. We gave out these gift cards so that the people could go and choose for themselves clothing that they liked and that fit well, letting them experience the simple joy of picking out something new.
There was one woman who had a teenage son and a young daughter, and every time I saw them — when I went over to deliver meals, or when they came to our house — they were wearing the same clothing. I gave her a gift card, and when they came over on Purim, which was about ten days after they arrived, she proudly showed me the new outfits she'd picked out.
One day, my husband turned up at the refugee center, just as a group of refugees were disembarking from their bus. They had arrived directly from Ukraine, and the journey, he found out, had lasted over a week. Getting out of the city was extremely dangerous, as the Russians were shelling the roads. The roads were extremely congested — it took hours just to get from Kiev to the border. Then they spent many hours at the various borders — each border they passed was another massive bureaucratic process. At the Hungarian border, the wait was so long that they went to sleep at the side of the road.
One after another, these people, disheveled and confused, emerged from bus and blinked in the sunlight. One of them, a very old woman, saw my husband with his hat and beard and approached him, crying in Yiddish, "Ich bin oich a Yid!" She then pulled a Magen David necklace from under her sweater. In her situation, seeing a rav was the most heartening thing. For my husband too, it was an emotional moment — he was overwhelmed by her proclamation.
Her name was Rochel, from Kiev, one of the few Jews on the bus that day. She was a 92-year-old Holocaust survivor who decades before had fled the Germans toward Russia, and now, in an ironic twist, she was fleeing the Russians toward Germany. She arrived with her daughter and son-in-law, all of whom survived over a week of that arduous journey. Even at her age, she was completely healthy, and her mind was razor sharp. She was a feisty woman, with spunk and spirit. We immediately fell in love with her and nicknamed her "de Bubbe Rochel."
We took special care of Bubbe Rochel, along with the other Jewish refugees. In those first days when the refugees arrived, we delivered kosher meals to their hotel. One Friday, after a stressful morning of delivering meals and getting down to prepare for a crowd of guests expected for Shabbos, I was busy in the kitchen with my kids. We were frantically preparing for Shabbos, when I got a call from one of the volunteers: Bubbe Rochel didn't like her meal or couldn't eat it (it was a fish meal) and she was requesting meatballs and mashed potatoes. My first instinct was an emphatic no. We'd been busy all morning, we were having guests for Shabbos. How could I do it? On second thought, I took a deep breath and turned to my kids. "Bubbe Rochel is asking for puree and meatballs. Can we do it?" They were in. One kid starting peeling potatoes, another was slicing onions. Within an hour we had that meal ready to go. Afterwards we realized that it was the last favor we were able to do for her. We had the honor of fulfilling her last wish for a kosher meal.
We found out that Bubbe Rochel had a 35-year-old grandson, Armen, still stuck in Ukraine. He could not get out because of the law that men aged 18 to 60 had to stay in the country. This distressed and worried Bubbe Rochel terribly. We worked hard to arrange to help her grandson escape, which eventually he did.
Unfortunately, Bubbe Rochel didn't live to see her grandson again. She developed a cough and was tested positive for Covid. She died within two days of her diagnosis.
We were heartbroken about losing her. But at the same time, we felt grateful to Hashem that we were zocheh to know her, and to have accompanied her and given her peace in the last moments of her life. We arranged a kosher burial for her. We felt it was bashert that we should be a part of her life, and be there for her in her last days on this earth.
After a pre-Shavuos shiur at our shul, Armen, Bubbe Rochel's grandson, shared with me his story of escape.
Conditions all over Ukraine were worsening. Bucha was the place were some of the worst brutality was going on — thousands of people had been killed, hundreds of civilians mercilessly slaughtered. Refugees fled Bucha for Kyiv, and Rabbi Moshe Azman took hundreds of people into the shul and had them stay safe there.
Rabbi Azman arranged for a convoy of 40 people to leave in two buses and five cars. The journey from Kyiv to the border normally takes five hours, but it took them three days. There were thousands of cars on the road, and sometimes they were moving just a meter per hour. There was also a huge problem buying gasoline, there were severe shortages and they were selling a maximum of 20 liters per car.
That first night, they'd made little progress, and found themselves in Uman for the night. Their rabbi contacted the rabbi in Uman who gave them food, blankets, and sleeping accommodations for free. The next day, after another turtle-like day on the road, they hit the town of Mezhibuzh. Again, the rabbi called and arranged places for them to sleep the night.
It was becoming a holy journey — each night they stayed in the city of another great tzaddik. On the third night they got close to the border, in Chernivtsi. This was another holy place; the synagogue of the Sadigura Rebbe was there, and that's where they slept.
"Rivkah," Armen kept repeating to me, "I am not religious but I felt the hand of G-d every step of the way."
In the bus along with them were the sifrei Torah from the shul in Kyiv. This was a holy trip, accompanied by tzaddikim.
"I'm not religious," Armen says, "but something inside me changed. Meeting all these rabbis who accommodated us, stopping in all these holy places. I felt G-d close."
Armen was raised completely secular and his father is a non-Jew. Yet he discovered that a few generations back, his ancestors were frum Yidden.
In Kyiv, Armen was a successful personal trainer and nutritionist, who boasted clients from the city's upper crust. Now in Offenbach, he has no status, no job, no clients, no home. But it's here in his humbled state, that he's starting to connect back to his roots. Destiny had it that his grandmother passed away and was buried here, and he feels that here is the place where he can come back.
He's now become a part of our community and extended family. There's so much for him to learn, and his story is still developing. I look around at Offenbach — it's not a place people know, but it's precisely here in this "loch" that he's returning. Hashem has a time for everything, and also a place for everything. Including us.
(Originally featured in Mishpacha, Issue 920)
Oops! We could not locate your form.
>