| Profiles |
Where Men and Mountains Meet
| March 10, 2020
Marcel Levin gives Torah giants a breather in the alpine air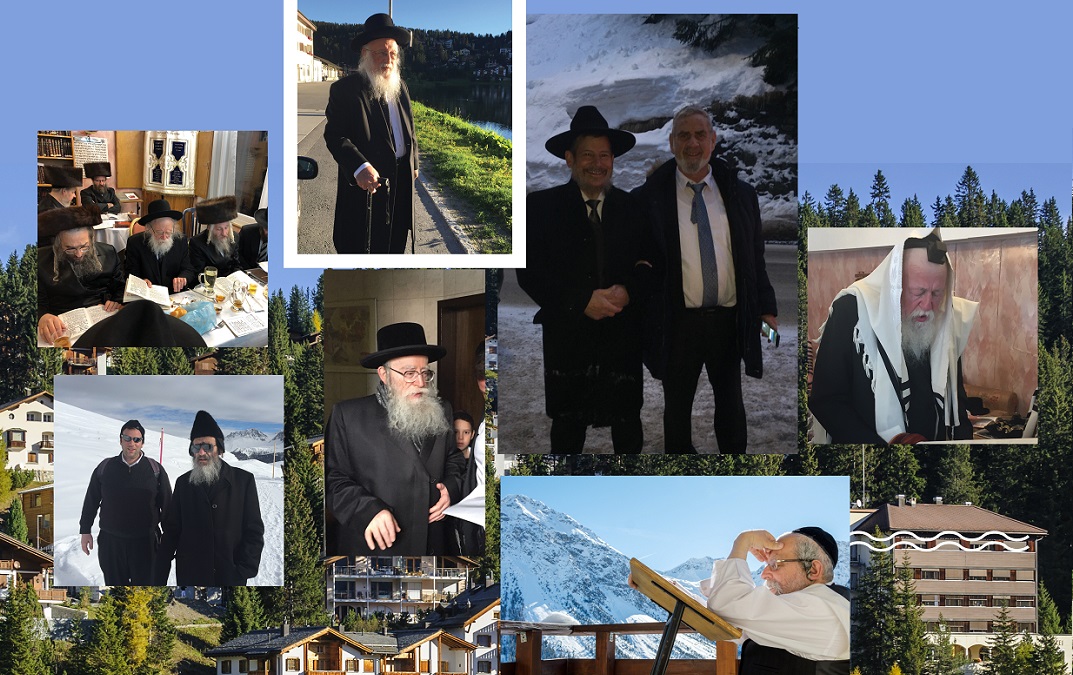 Photos: Family archives
The ride from Chur to Arosa spirals upward through incredible mountain scenery. Forests of tall pines, tiny village stations, flashes of sparkling waterfalls, and bright sun bouncing off the mountains. As we cross the most graceful gray bridge over an alpine gorge, I think of my grandparents traveling through this snowy wonderland in the 1960s and 1970s, as they often vacationed in Arosa, and of all the rabbanim and gedolim who traveled through these parts over the years, on their way for some rest at Levin's hotel. Then I think back to Mr. Levin's father, Benish, founder of the hotel. What did this Swiss Alpine splendor look like to a Lithuanian-born yeshivah bochur, traveling on his own to these parts back in 1927, seeking a cure for tuberculosis? Nechte halt, Arosa.
We're sitting on a sun-drenched porch facing one of the choicest Alpine tableaux in Switzerland, while our kids slurp mango sorbet from sundae cups and munch lekach and chocolate cake at a nearby table.
This is Arosa's historical heimish landmark, the Hotel Metropol, and Marcel and Lea Levin join us. Marcel Levin, busy hotelier that he is, is always happy to talk. In fact, he's brought out a bulging album that chronicles some of the historical highlights of this mainstay of the frum traveler's globe, intertwined, of course, with his own family's story — for this animated balabos in his sixties was born and bred in this idyllic Swiss resort town. Arosa, and the hotel business, are in his bones.
The album shows pictures of joyful Purims and family simchahs in the hotel dining room, alongside letters and pictures from gedolim who conducted tishen in the hotel's beis medrash with a breathtaking mountain view as a backdrop. From the first visit of Rav Yechezkel Abramsky in the 1930s, the hotel became a welcome respite for rebbes and rabbanim for over eight decades. More recently, the rebbes of Belz and Vizhnitz, Rav Avrohom Yehoshua Soloveitchik, Rav Shimon Galai from Bnei Brak, the Toldos Aharon Rebbe, and the Rebbe of Bohush have all come here for a break and some healthy air. (There is a chassidish hotel guest sitting and learning near us right now, behind some potted plants. "You're learning now? I thought you were here to gather strength! Go out and enjoy," Marcel urges playfully.)
He proudly flips pages in his album. "This is a postcard that Rav Yechezkel Sarna ztz"l wrote here on this porch." The rosh yeshivah of Chevron writes that he is enjoying the mountains of Arosa Lenzerheide "which are not unclothed, but warmly covered with trees and grass, and the beautiful lakes."
It has been almost nine decades since Hotel Metropol first earned its place on the frum map. "My father was makir rabbannan — he had an appreciation for Torah scholars," Eli Levin, Marcel's older brother, tells us. "He gave each rebbe and rosh yeshivah great respect, so they continued to vacation here."
Some of them had special requirements, Marcel remembers. "Rav Refoel Soloveitchik (son of the Brisker Rav) once came to stay in Arosa when I was a boy, and he told me, 'Marcel, I need a room with a bath.' Back in those days, most of the rooms didn't have their own private bathrooms. I said to him, 'But, you know, it's the Nine Days…'
"'No, Marcel,' he insisted, 'I need a room with a bath. You'll see why in a few days.'
"So it was arranged. He got one of those rooms, and then after a few days, he called me in and opened the bathroom door. I peeked into the bath tub. Fish! He had gotten them from the Obersee [Upper Lake], brought them back to the hotel in a bucket, and was keeping them in the bathtub for my mother to cook for him. Of course, he didn't eat meat here — he had a lot of Brisker chumras — so he wanted to eat fresh fish l'kavod Shabbos."
Marcel remembers another incident from when he was a child. "The Lev Simchah of Gur was here, long before he was rebbe. He was walking in the hallway outside his room, pacing quickly back and forth. I asked what he was doing, and he said to me, 'The door is locked.' I proudly pulled my key ring out and said 'I'll open it.' He stopped me. 'No, don't touch the door. It will wake the Rebbetzin….' "
A guest in a wheelchair wheels himself out onto the porch. He's a young family man from Eretz Yisrael, clearly very unwell. He finds a table, and Marcel is at his side in a moment, sitting down for a few words, bringing a smile to the pallid face. His charm as a host is well known — it's at the center of the hotel's special brand of hospitality. There is no grand lobby, no marble-tiled ballroom, no state-of-the-art gym in the Metropol, but there's the Levin hospitality, a brand saturated with experience, local knowledge, Yiddishe warmth, and a personal welcome for each guest.
The present in this vacation paradise is enticing, but I prefer to go back to the beginning of the story, to the bochur from Slabodka who came to Switzerland in the 1920s, discovered this fairy-tale like place, and began a legacy that morphed into packed hotel seasons with winter sport and summer fun, but more than that, the host of Torah grandeur.
The doctors in Kovno shook their heads, averted their gaze, and gave 18-year-old Benish Levin just one more year to live. Back in 1927, no antibiotics existed that could fight tuberculosis, the contagious lung disease otherwise known for centuries as the "white plague."
The only hope for sufferers — for those who could afford it — was complete rest in a sanatorium, where they could breathe clean, fresh mountain air.
Bringing along all his possessions, a small amount of money, and letters of recommendation from the Dvar Avraham of Kovno (Lithuania's chief rabbi) and Rav Simcha Zelig Reiger, young, frail Benish Levin left his family, friends, and the beis medrash of the Slabodka yeshivah, and made the journey to Zurich, Switzerland. Once there, he applied to the Etania Jewish sanatorium in Davos. "It was very difficult to get in to that facility, hence the letters of recommendation," explains his son.
The mountain air worked its wonders on Benish's afflicted lungs, and after two years in Davos, he was mostly cured. The sanatorium committee then offered him the post of kashrus supervisor, for which he was paid 100 francs a month and the opportunity to remain in the health-giving air. ("I still have the letter in which they offered him a job," says Eli Levin.)
Although his health had much improved, returning to his family in Lithuania wasn't even a question. Doctors advised Benish to remain at high altitude, and so he packed his bags once again and moved to another small village in the mountains, just 10 kilometers away from Davos as the crow flies, but hours of travel on the mountain trains: Arosa.
There, in a picture-perfect remote village at the end of the enchanting Schanfigg valley, he rented a small chalet and opened his first boarding house. "There were no Jews here at the time. No one. Just my father, who wanted to live, and needed the clean mountain air," says Marcel. "The boarding house was just a small apartment — a kitchen and three or four rooms that he rented out." But people came.
Word of Arosa's outstanding beauty and Levin's rooms for hire got around in the Jewish communities in Europe. With time, Levin expanded his little boarding house into a hotel. In 1935, the non-Jewish owner of an apartment house on Post Strasse, looking out over the lake and mountains, agreed to lease it to him, and the Hotel Metropol was born.
Only the wealthy could afford to take a vacation in Arosa in those days. Levin advertised his hotel in the Israelitischer Wochenblatt, a Jewish newspaper that was distributed all over Germany. By 1936, his hotel was gaining popularity, and it brought his shidduch out to this remote spot too. "My mother was employed in the hotel," Eli Levin explains. "She came from Wiesbaden, near Frankfurt. People had already begun to look for ways to send their children out of Nazi-controlled Germany — and her parents sent her to work in Levin's hotel." The shadchan was Rabbi Zelig Shachnowitz, a well-known German author and writer in Der Israelit, who had covered the hachnassas sefer Torah in Arosa in 1935, when Levin had a sefer Torah written in Lithuania and brought it along for use in his Jewish hotel in the mountain village.
Decades ago, the kosher travel industry looked very different from today. Destinations for frum vacationers were limited: Kosher cruises, heritage tours of Spain and Portugal, and learning retreats on safaris did not yet exist; the handful of kosher l'mehadrin destinations had to suffice all year long. And so the Levins put down their roots in Arosa, and with no other choice, Eli and Marcel and their sisters attended the local village school. They had to attend on Shabbos too, although they were permitted not to write. At home, they learned with a private melamed, whom their parents hired to live in the Hotel Metropol and teach their children. Benish Levin found the rebbi for his children by scouting out the nearby resort town of Davos for a candidate. There he found an older bochur named Moshe Gerstner, who remained with the Levins for three years before moving on to Canada. He was replaced by other melamdim. For the Yamim Noraim each year, they closed the hotel and traveled, first to Montreux, where they could daven in Yeshivas Eitz Chaim, and later, to the yeshivah in Lucerne, where Benish Levin served as a baal tefillah.
The children in the small village school were accepting of the two Jewish boys. "They still invite me for reunions," says Eli. "We were practically the only Jews in Arosa," Eli says. "There was a Russian lady, the daughter of a rav in Russia who was probably the only other Jew living in the village. She worked in the tea room at the hotel, and ended up marrying a non-Jewish musician. I remember going with my father to bring her matzos before Pesach — her eyes filled with tears."
Arosa was an upper-class village, and most of the boys' schoolmates eventually studied professions and moved out. One friend became an engineer, the main designer of a major tunnel through the Alps on the Zurich-Lugano route. Another classmate remained in Arosa and became a ski instructor. Eli, an expert skier himself, says that when he met him on a ski trip recently, "he told me that most of his clients nowadays are from the Hotel Metropol."
While Arosa is a three-hour journey from the nearest Jewish community in Zurich, their unique upbringing in the heart of the Alps also exposed the Levins to undiluted mainstream frum life, because of the caliber of guests the Metropol attracted. There were rebbes and roshei yeshivah and sincere Yidden staying under their roof, so they were not cut off from mainstream Torah life.
"I remember at the end of 1955, a lady from a well-known frum family came to Arosa. She was an invalid, and at one point they summoned Dr. Shloime Adler by plane from London. Dr. Adler came to attend to her. I remember my rebbi pointing out his erliche behavior to us children. 'You see, this is a doctor who is also a talmid chacham. He is either learning, playing chess, or attending to his patients. He never just wastes time.' It made a big impression."
Later, the boys left one at a time to yeshivah in Montreux, and later to Lucerne and Ponevezh. Eli settled in Zurich, while Marcel returned to live in Arosa.
A New Generation 
Today, it seems as if the job of heimish hotelier was tailor-made for Marcel — friendly, unafraid to roll up his sleeves and work, frum yet worldly. This is the milieu in which he grew up. But in fact, this wasn't what he imagined himself doing.
"When I came out of yeshivah and was ready to work, I decided that all my father did was wrong. I had watched how hard my parents worked all my childhood. My mother stood in the kitchen from six in the morning until midnight, barely moving from the stove," he says. Young Marcel imagined it had to be easier to run a non-Jewish hotel, where clients would be low-maintenance. "I thought the non-Jewish clientele would be easier to deal with. All they need is bed and breakfast. They're in and out skiing and can dine at any restaurant in the resort town. I could own such a hotel, and stop by it once a week in my sports car, smoking my pipe."
Marcel leased and ran his own nonkosher establishment for a short time. But it took just one prolonged legal run-in with a single dissatisfied guest to convince him that he preferred to deal with the same crowd his parents catered to — the Orthodox vacationer. And so, he decided to work for his parents — and eventually took over the hotel.
The sprawling, ten-floor Hotel Metropol has undergone extensive renovations under his tenure. But things have changed in other ways too. Around 40 years ago, Marcel and Lea had to take stock of the decreased clientele. Eretz Yisrael had become the Succos destination for the frum crowd ("When I was a kid, the hotel was full over Succos. We had snow on our succah") and it no longer made sense to stay open all year.
"We're now open for the winter season, from Chanukah to Purim, and then for July and August. For Pesach my sons run their own program, a Levin branch in Davos, and they are open there for the summer too." The off-season months are spent in Zurich, where one Levin son lives. Others are raising their families in England. "I guess our lives had ups and downs for the children," Marcel reflects. "During the season, we were very busy, but off-season, we had much more time for them. By now though, I'm pretty much retired. I just ride around on my bike, enjoy nature, and schmooze with the guests. My wife and the staff do the cooking."
Then he turns serious. "My mother passed away 20 years ago. She came from a very bekavodig home in Wiesbaden, and she developed her culinary skills further by going to learn from the best chefs. In her last years, she once said to me 'Marcel, who will take the blame when I'm not here anymore?' Because the buck stopped by her, always. The entire hotel was on her shoulders."
Mrs. Levin senior was indeed known for the excellent haute cuisine she produced, together with her team of chefs. When she passed away, Marcel says, she left the hotel a "yerushah," a chef whom she had tutored in Jewish cooking. "She taught him from alef-beis, and he continues to cook with the perfect Yiddishe taam — cholent, kishke, the works." Now the kitchen runs under the sure hand of Marcel's wife.
Like One of the Family
Marcel is proud to give us a tour of the hotel, and Lea Levin first shows us the playroom, then the beis medrash that has hosted a galaxy of gedolim, rabbanim, and rebbes over the decades. It seems there is nothing like learning with the view of green-capped or snow-blanketed Alps to inspire.
We move on to the dining room, which offers a majestic panorama of the mountains. For some guests, getting a table by the window is a make-it-or-break-it condition of their stay. "I have guests who e-mail 20 times about a one-day stay," Marcel laughs, "and say they're only coming if their table will be next to the window. Then they get here, sit down at their window table — and close the curtains."
This very room hosted the wedding of Rav Aharon Leib Steinman in 1944. Mr. Benish Levin met the young Brisker prodigy during World War II. There was some fear of a Nazi invasion of northern Switzerland, so he had closed up Hotel Metropol and moved to Montreux, in the French canton, where he ran a hotel too. The Eitz Chaim yeshivah was in Montreux, as was Rav Aharon Leib. Decades later, Rav Steinman was already a recognized gadol when Benish Levin wrote him a letter asking about the son of Israeli High Court Judge Yitzchak Kister as a shidduch suggestion for his daughter. Rav Aharon Leib responded warmly with a good report, and the chassan later became a maggid shiur in Yeshivas Yad Aharon in Jerusalem.
Reb Benish also became close to Rav Aharon Leib's friend, Rav Moshe Soloveitchik, and Marcel kept up that relationship. "Rav Moshe came here to Arosa three times a year. When he was here in the hotel, it was like he was a family friend, not a rosh yeshivah. He was our shadchan too, but I argued with him about his proposed shidduch. I told him, 'It's impossible for this idea to work. I come from Arosa and she comes from Bnei Brak — those are two polar opposites!' But he pushed and pushed, and he also sat down to talk to us together — and I'm telling you, there isn't a better marriage. My wife came to this mountain village right after our chasunah, speaking absolutely no German, and now she runs everything. When our children were growing up, she made sure they got a cheder education in Zurich. During the season, she spent all week there with them while I worked here alone, and they came up together every Shabbos."
I'd discussed the food with some Metropol guests in advance of my trip. They were all impressed by the gourmet meals made from scratch right here, and several wanted to tell me about the fragrant bread, rolls, and sourdough that greet them every morning.
"I'm up at 6 a.m. to bake the bread," says the French baker, who is rolling out sheets of pastry at a floury workstation. The guests' favorite pastries are napoleons, known here in Europe as crème-schnitt, says Mrs. Levin, but the baker says that he personally is partial to his opera cake. His black forest cake — gateau Forêt-Noire — is also a kitchen specialty.
Manuel, the Portuguese chef hired and trained by Marcel's mother, is in his own part of the kitchen, gently tossing huge woks full of a stir-fry, as his sous chefs wash and cut vegetables. "I attended culinary school in Zurich 35 years ago, and I'm here 33 years. I like the Shabbos food," he tells us. And then he gets enthusiastic about the soup he'll be serving today. "I start it with olive oil and vegetables. It thickens, and it's pure goodness — there's no need for flour."
In contrast to this long-standing tradition, the salad chef, Mrs. Flohr, is relatively new. She joined the Levin family last Pesach at their sons' hotel program in Davos, and is now at the Metropol upgrading their salads and cold buffets. Every leaf that will make it to the rich salad bar is washed and checked, a job that she says takes roughly two hours each day. The mashgiach, Rabbi Rabinowitz, is circulating too.
Changing Times
The hotel is quiet as the guests have dispersed on day trips. Back on the porch, gesturing at the majesty surrounding us, Marcel explains how things have changed. Whereas once guests would come for weeks, today they will spend a few days, "do Switzerland," and go on to the next thing. "People do not have eyes today," he says, as he gazes at the mountains he himself can never grow bored of.
As we chat, a call comes in from the gabbai of a distinguished rabbi who will be visiting the Levin hotel in Davos. Marcel reassures him that everything will be taken care of there. "They'll treat the Rebbe vi a melech [like a king]," he tells the gabbai. Then he speaks to his sons, confirming details, giving advice. "I believe in genetics," he says. "Children automatically do what you do. They grew up in a hotel, so of course they run hotels."
What's it like to host such choshuve people, I wonder? What are the requirements and stipulations that a rebbe has from a vacation hotel? "Having gedolim here is great," Marcel enthuses. "Rebbes are the most easygoing of guests. But don't worry," he jokes, "the gabbaim make up for it."
Born and raised in the village, Marcel knows every slope of the mountains, every bike trail, playground, and the difficulty of each climb and hike. During the winter, he's an authority on the Arosa Lenzerheide pistes, from gentle beginner runs to expert-only paths. He's a genuine nature enthusiast who goes out alone on his bike regularly to just be in the Alpine glory, and he also has a commentary on the changing pace of life. "Back in the day, guests actually looked around, saw, and appreciated. Today, stuck to their phones, and using the cable cars instead of climbing, they go up and down the Weisshorn, Hoernli, and Brüggerhorn, all on their first day here. But they haven't actually seen anything."
Looking at the ages of my children, he recommends a trip up the nearest mountain, the Weisshorn, one of the dominant summits of the Plessur Alps, by cable car, stopping at the middle station, where there is an activity playground and a breathtaking view. In the summer, the cows graze on these hills, producing famed alpine milk and cheese. In the winter, the cows stay indoors, which means they produce much less milk. The Levins go to three different farms for their supply of fresh chalav Yisrael. It's not easy to make the off-road journey through the snow, however, and supervising the milking and bringing back the milk by sled can take Marcel and his sons three or four hours.
Meanwhile, Marcel Levin has arrived in his car, with two big metal churns to fill. He sets them up under the pipes, then goes into the milking shed to stand at the nearest cow's shoulder and pats her face gently. "We're old friends, I've known them since I was 16," he says about the bovines. Since he was a boy, he's been coming up to watch the milking at least twice a week. Fresh milk flows into his churn, visibly creamy on top. "I still have the letter that the Swiss War Department wrote allowing my father to take off milk for his use from the rationed milk supply, since we take off our chalav Yisrael before the milk gets processed," he says. Yogurt and heavy cream are produced in the hotel kitchen.
As Marcel has lived all his life among non-Jewish Swiss and seems to have an affable relationship with them, I ask him about European attitudes to Jews, including the black-hat tourists who love vacationing in the region.
"The Swiss are like people anywhere," he says. "Half of them are nice, decent people who are fine with us, and the other half don't like us at all. You have to realize what they feel, though. They see a Jewish couple go by, well dressed, with a large family of children dressed like princes, out to enjoy themselves. What do they have already? An empty apartment? Perhaps a dog? While the Jew seems to own the world. So of course there can be jealousy."
There is one phone call Marcel Levin has come to expect at the end of the summer season. "Many people rent their vacation apartments to Jews, year after year, and it goes well. But I'm known around here as the resident Yid, and I get the call from at least one furious Arosa gentile telling me how some of 'my people' left his place a mess, broke something, or otherwise made a terrible impression. Every year there is someone who forgets how we have to behave out in the world." Marcel listens to these diatribes sympathetically, and then "I take a bottle of wine, get on my bike, and go over there. Getting gifted a bottle of wine is a really big deal for non-Jewish people. It always works."
Soon, there will be Minchah and Maariv at the Hotel Metropol, a service for all local vacationers. "Yesterday we had eight minyanim," Marcel says. There is a definite feeling of gratitude to the family who makes this idyllic location Jewish.
As a gourmet supper is served in the dining room and men find their hats for a minyan, Marcel Levin is busy outside. A bochur has hurt his foot and he and his mother are getting into a taxi to the local doctor. Their host is there, bantering with the driver in Swiss-German, calming the patient, and making sure they'll get there in time. All in a day's work for a homey hotel owner in Arosa.
(Originally featured in Mishpacha Issue 802)
Oops! We could not locate your form.
>