| True Account |
When Everest Called | February 26, 2020
As told to Yael Schuster by Pinchus Shnier
I scaled the world's highest mountain tethered to my faith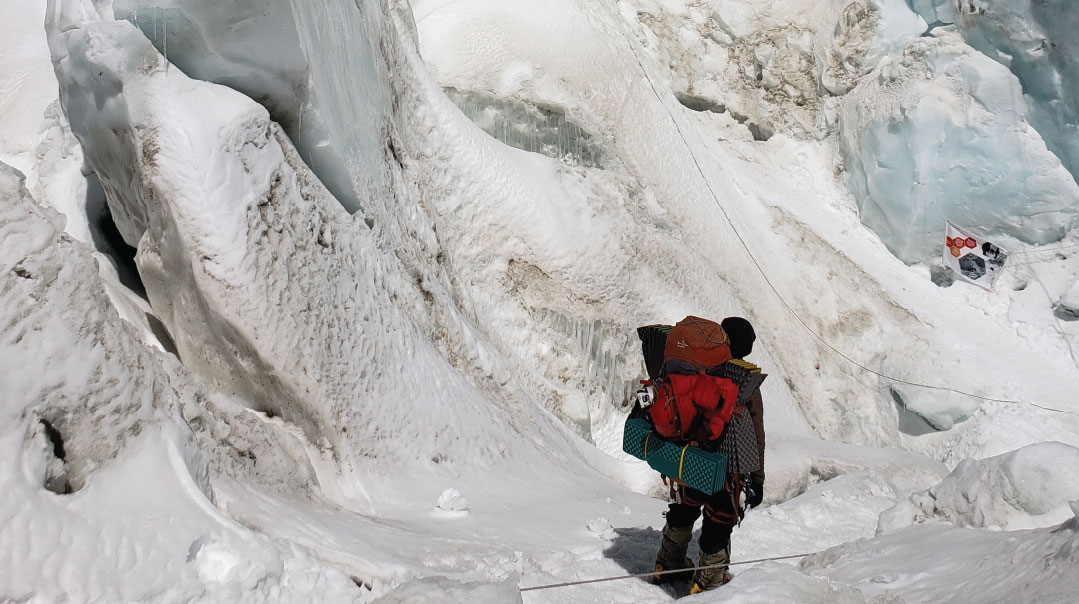 Iwas very excited, but more afraid as I peered out the window of the 19-seat propeller plane. The vast grandeur of the snow-capped Himalayan peaks loomed above the red, blue, and green low-sloped roofs of mountain villages. This was my second trip to Everest, and even though I was in top physical shape, familiar with the terrain and the demands of the climb, I had so many doubts and fears. My immediate fear was the impending landing. Lukla Airport, the gateway to Everest, is considered the most challenging  in the world: The impossibly short, inclined runway abuts a 2,000-foot cliff on one end, and sheer rock wall on the other. The pilot gets no do-overs.
Why was I so determined to climb the world's highest mountain?
Divine Tether
My parents divorced when I was three, and my mother adopted a chassidish lifestyle. But even though we lived in Boro Park, in the community of Skulen, she held on to her love of nature and instilled it in my sister and me. My mother was a true outdoorswoman who grew up in rural Canada. When my classmates spent Chol Hamoed on rides, my mother took my sister and me hiking. She taught us how to read maps and shared her extensive knowledge of trees, plants, herbs, and natural remedies.
Except for those nature trips, my upbringing was typical of a Skulener cheder yingel, with very little exposure to the world beyond my own. But it wasn't idyllic. My childhood was tumultuous on many fronts — my home life was difficult, and I was the victim of ongoing abuse from more than one source. As a bochur I found a haven in the home of the Skulener Rebbe ztz"l, where I spent many hours: davening with the Rebbe's minyan, schmoozing with the Rebbetzin, and helping her cook for Pesach. (In one of the most profoundly holy experiences of my life, I was allowed in to the Rebbe's room during his final moments last spring; the solemnity of Yom Kippur and the joyfulness of Purim blended as the room resonated with uplifting songs composed by the Rebbe himself.)
During a particularly rough patch in high school, I went to speak to one of my rebbeim. "Pinchus," he said, "everyone struggles at some point in life; your struggle has just come a little early. B'ezras Hashem the rest of your life will be smoother."

At 18 I flew off to Israel — an unusual step in my circles — and joined the chassidish chaburah in the Mir, where I learned for three years. I may have fled my troubles back home, but I exchanged them for even darker ones as I descended into a pit of severe depression and anxiety.
As I battled mental illness into my early twenties, I often thought of my high school rebbi's words. According to his logic, the bad years should have been behind me by now, yet my life felt like one big downward spiral. I had always been a good kid; why did I deserve such prolonged misery? The question unmoored me and put me on shaky religious ground.
I was searching for something, and spent a decade traveling the world trying to find it. I spent time in a Sephardic community in the West Bank town of Immanuel, joined a yeshivah for hippie-ish baalei teshuvah in the Old City, and tried to make a life in Baltimore, where my father lived. I traveled to 25 countries around the world — Hong Kong, Dubai, Thailand, Turkey, Spain, Morocco…. But at some point I realized that you can't run away from yourself.
Before heading to the Mir I had spent Rosh Hashanah in Uman. What seemed a whim at the time was actually a G-d-given tether; over the coming years I'd plunge deeply, hover over the abyss, but never crash into the rocks and self-destruct. You see, in Breslov I discovered my soul, and its Source as well. While I didn't "become a Breslover," I learned to do hisbodedus (communing alone with G-d), which has undoubtedly saved my life. Especially at my lowest points, I'd retreat to the woods or an empty field, look up at the starry night sky, and share my pain with Hashem. Because of those conversations, the frayed strands that connected us never altogether gave way. Even when my mitzvah observance lapsed for periods of time, my neshamah continued to pulse.
Everest Calls
I heard of Mount Everest for the first time at age 13, when I came across it in a Yiddish magazine and was fascinated. At 15 I began spending more time with my father in Baltimore; in his home my interest in Everest grew as I read more about it and saw inspiring documentaries on those who've made it to the top.
When I was in my early twenties, I took up hiking and trekking (multi-day hiking) as a serious hobby, and in it discovered a potent antidote to the darkness that stalked me. Setting a challenging goal, working hard to build up my stamina, and then breaking past my limits left no room for negative thoughts. Everest was tucked away in the back of my mind as the ultimate prize, but with fewer than 300 climbers reaching the 29,029-foot summit each year (not including Sherpas, an ethnic group of Himalayan mountain dwellers who are expert mountaineers and serve as climbing guides), it seemed unattainable.
Until I read about a trek to Everest's base camp. Base camp is a rudimentary campsite used by climbers ascending and descending the mountain; its altitude is 17,598 feet. I can do this, I thought. All the paths I'd tried to fulfillment had ended in impasses. Maybe this climb would unveil that sense of spiritual purpose I was so desperately seeking. Almost everyone thought the idea was crazy, and I likely would have believed them if not for my father's lone voice of confidence in me.
"Pinchus, if this is your dream, then go for it," he said many times.
I booked a trip to Nepal for April 2015, and in the interim pushed myself harder than ever before. I began mountain biking and hiking with increasingly heavy loads on my back. Then, two months before my trip, I fell off my bike and injured my foot. The main climbing season at Everest is very short, just April and May, and it was clear I wouldn't heal in time. I was devastated.
On April 25, 2015, as I stewed in Baltimore about where I should be but wasn't, catastrophe hit that very place. A massive 7.8 earthquake hit Nepal, killing nearly 9,000 people, including many foreigners there for the climbing season. The earthquake triggered a major avalanche at Everest, killing at least 22 people at base camp. Climbers were stuck for days, some for weeks, before being rescued. I perceived in this a message: Hashem wants me to live, my life must have value.
Everest waited patiently for me, and in 2018 I registered for another base camp expedition. This trip was so compelling, on multiple levels. Focus, drive, exertion, and achievement were the best medicine for me, but even more importantly, I wanted to broadcast a message: We can all achieve great things, no matter how beaten down we might be. I had inspired myself, and was bursting to pay it forward.
I flew from Kathmandu to Lukla Airport and met up with my team — two Brits, four Americans, and two Sherpas. It was time to choose what to wear and what to stow in my backpack; layering properly is key on Everest, as weather changes can be extreme and rapid. The ensemble includes a base layer shirt; pants of merino wool, made special for climbing to trap body heat; down climbing pants; a comfortable hiking shirt; a light down jacket, a heavy down coat; waterproof pants; layers of hats; and waterproof down mittens (frostbite can happen in seconds). Most people climbing above base camp also have an "Everest suit," a one-piece down snowsuit that looks like it was designed by NASA.
We set off toward base camp, entering an enchanted world where we shared switchback trails with donkeys loaded with climbers' equipment, and then yaks with tinkling bells as we gained elevation (the bells alert climbers to their presence — people have been pushed over cliffs after colliding with yaks). Lush forests and fields stippled with colorful flowers slowly gave way to rocky, desert-like terrain; the silence echoed off the snowy peaks all around us. As we climbed higher, we were completely surrounded by towering white mountains, rippling out in every direction.
On the third day of our trek I was surprised to come across a monument to the Dead Sea, with a sea stone embedded in it. A matching monument with a stone from Everest stands near the Dead Sea. These monuments link the earth's highest point to its lowest, and also mark the friendship between Israel and Nepal. On day six we passed a cemetery-like area of stone memorials to climbers and Sherpas who never made it off the mountain — a sobering reminder of the risk we were taking.
We hiked all day, and spent the nights at tea houses in local villages. There is no hot water and the bathrooms are out of biblical times, but at least we had beds to collapse onto at the end of the day. Later in the evenings, after recovering from the day's rigors, we'd sit around and play cards and talk about life. With no diversions, people bond quickly on the mountain. A Sherpa checked my pulse and oxygen levels every evening (tea houses are supplied with oxygen), because altitude sickness can turn deadly very fast.
I had climbed some of the highest peaks on the East Coast in preparation for this trip, but no one is exempt from altitude sickness at Everest. Throughout the climb I experienced a severe hammering on my head, and I completely lost my appetite, ironic considering that my caloric needs were so much greater than usual. I forced myself to eat tuna, rice, vegetables, beef jerky, and protein bars despite suffering from a lingering upset stomach.
When climbing Everest, mental stamina is at least as crucial as physical ability, and with my eye on reaching the summit one day, I knew that if I didn't make it to base camp this time around, I'd lose the confidence to aim for higher. It took mental gymnastics to keep going, and I drew inspiration from the words of Edmund Hillary, the first to reach Everest's summit in 1953: "It is not the mountain we conquer, but ourselves."
During the final stretch before base camp, our alarm grew as it became clear that the lives of two of our teammates were in danger — they became extremely dizzy, vomited, and were unable to walk without assistance. They'd need to be medevacked off the mountain shortly after we'd arrive at base camp.
After nine grueling days, we set foot in base camp. Overcome with emotion at realizing a dream I'd harbored for years, I pulled out a beer I bought in one of the villages along the way.
"I want to toast our amazing team, our amazing guides for getting us to base camp, and most of all, I want to thank G-d for getting us here safely. Next year — the top." Everyone laughed. I took only a tiny sip, because alcohol is dangerous at high altitudes.

Aborted Hope                                            
Base camp is less grand than it sounds. It's simply a rocky area where each registered expedition (made up of smaller climbing teams) has its own spot to set up individual sleeping tents and one dining tent. There is also a medical tent with a small staff.
As was planned, my teammate Adam, one Sherpa, and I headed from base camp straight to a neighboring mountain called Island Peak. This would be my first technical climb (other than during training), with a glacier crossing and a steep ice wall, and I was pumped. I had taken a mountaineering course prior to the trip, where I learned how to use harnesses, ropes, ladders, and crampons (spikes attached to the bottom of your army boots for walking on ice).
We set out at 10 p.m., and with special headlamps attached to helmets, we climbed through the night, anticipating reaching the peak by morning. Technical climbs are almost always done at night — the sun's heat can cause dangerous cracks in the ice, and you want to be back at camp before the storms hit, late in the day.
Climbing at night, you get to know the moon for the first time. It's just doing its job reflecting bright light onto earth, yet it's rarely experienced in the artificial world we live in. And then you notice the sky lighten, and the sun suddenly pops over the horizon, casting shades of gold onto the snowy peaks.
Just a few hours from the summit, Adam began walking like a drunk.
"Don't forget to feed the cat, Dora. The car is on fire. Whatever you say," he mumbled.
Adam was hallucinating, a sign that he'd entered the final, deadly stage of altitude sickness. He needed to get to lower ground immediately, so we turned around and guided him down, thus ending our climb.
In the climbing world, you have to be ready to abort even 100 feet from the summit. And there would be no second chance for me: once down, logistics make it very difficult to go back up. I was dispirited, since I saw Island Peak as my trial for a future attempt to climb above base camp. But I knew we'd made the only right decision.
It was sunny and calm as we made our way down, when the stillness was suddenly consumed by a rumble that sounded like the roaring of all the world's lions. Perhaps 100 feet away from us, a most beautiful, powerful, terrifying avalanche rolled right by, enfolding within it anything in its path. We had just managed to evade death, and I'd also learned something that people die from not knowing: The mountain is stronger than you, and you'd better respect that.
Surpassing your limits is an incredibly potent drug, and I craved more. Two months after returning home to the US, I summited Mount Rainier in Washington as training for a higher climb on Everest. There are four camps on Everest between base camp and the summit, and shortly thereafter I booked a trip to Camp 3, which is 24,000 feet high and about halfway between base camp and the summit. The trek to base camp is child's play in comparison to this challenging and dangerous climb, but I felt ready.
Back in Nepal, approaching the mountain, watching the pilot take careful aim at the miniscule landing strip wedged between a mountain wall and a cliff, I grew emotional. My difficult home life, the abuse I suffered, the years of severe mental challenges — I'd seen some of the worst that life has to offer. I wanted to grow, I wanted to heal, I needed to conquer this beast.
We started out to base camp with a team of four climbers and two Sherpas. Outside Pangboche village, we met a friendly, hilarious British climber. My teammate whispered to me that this was the world-famous mountaineer Phil Crampton.
"Hey, mates, I have a very strict personal rule," he told us. "From the minute I step foot on a mountain until I'm off, there are no showers." The tea houses leading to base camp have outhouse-like showers, but sanitation isn't their strong suit, and going straight from the shower into the icy outdoors doesn't help. If you catch a germ at high altitude, where oxygen levels are low, your body won't be able to fight it off, and you'd have to abort your trip. Then and there I adopted Phil's rule for myself, and went the rest of my trip without a shower. (I found baby wipes to be wondrous.)
After reaching base camp, we spent a week regaining our strength and waiting for a good weather window to continue our ascent. The two Shabbosim I spent on Everest were both scheduled resting days, not climbing days. I did my best with no resources — davened, sang Shalom Aleichem, and ate a seudah of tuna fish. Heavy on the shamor, lighter on the zachor.
Honestly, spending a week at base camp can put you out of your mind. At night it's below freezing, and you lie in a sleeping bag on a thin mat, layered to the max, alone in your tent, shivering, with a hammer banging on your head as you listen to the thundering of a nearby avalanche. By day, it's the boredom — no Internet, no phone service, just endless card games and conversation with your expedition-mates as you wait, wait, wait.
But there is a certain peace and beauty in that simple life. There's no judgment on Everest, and politics are left behind. In base camp I met people from all over the world, each one friendly and warm toward me, including Arabs and Iranians. Head into nature on a shared mission and suddenly there is world peace.
If you took a helicopter to the summit of Everest and stepped outside, you'd be dead within minutes. In order to build up our tolerance to the thin air, we took a few acclimatizing hikes while at base camp. We'd climb to higher altitudes, and then return to camp to give our bodies time to adjust.
One day at base camp, a guide came into the dining tent holding a body bag. He had found a body and was going to try to recover it. There are many such bodies scattered over the mountain, very often perfectly preserved for years due to the cold. Most people who die at Everest die near the summit, in what's called the death zone; the air is so thin and inadequate there that the body simply shuts down. Back in Kathmandu I heard that a guy I got to know well at base camp collapsed 100 feet from the summit and the Sherpas couldn't revive him.
Finally we got the signal: time to move!
I put on my glacier glasses, designed to protect the eyes from sunrays reflected off the snow beneath and around you. In Kathmandu I met two frum guys from L.A. who climbed part of Everest without glacier glasses. One of them went blind for two days, his retinas burned, and had to be guided off the mountain. Above base camp, sunscreen needs to be applied every hour as well. Yaks can't go higher than base camp, so we became our own pack animals.
Getting to Camp 1 requires crossing the Khumbu Icefall, one of the most treacherous spots on Everest. An icefall is a moving part of a glacier, and large towers of ice often come tumbling off of it. Large crevasses open in the ice with little warning. Our team of five set out at night, and we were soon surrounded by huge frozen walls, the silence punctuated by the sound of ice crashing onto ice. We crossed large crevasses by walking across horizontal ladders while harnessed to a rope system. The system isn't foolproof — if a hiker trips off the ladder, his rope can snap and he'll lose his only link to life. Icefall crevasses are the final resting spot for many lost hikers, all of whom were attached to harnesses just like mine. At one point my foot got stuck between the ladder rungs. It was a terrifying moment, especially when I unwisely glanced down into the abyss, but I managed to stay calm and keep my balance while working my foot out.
At this elevation, it takes every ounce of energy to just breathe, to slowly put one foot in front of the other; the background fades away as each climber retreats into a universe of nothing but body and mind. At times I needed a half-minute rest after each step. I got this, I got this, my mind kept telling me, and I listened. The triumph of mind over body was exhilarating.
During the less taxing stretches, I engaged in the most intense hisbodedus in my life, sharing with Hashem all that was on my mind. It was just me, Hashem, and His exquisite world, the connection between us so strong it felt physical.
Twelve hours after leaving base camp we stumbled into Camp 1, a frigid, windswept flat area that is a landing spot for frequent avalanches. I was drained to the core and dropped like a dead man into my tent. I was out of water and waiting for my Sherpa to collect the right kind of ice to boil for us to drink, but fell asleep within minutes.
About an hour later I was awakened by a massive roar. I opened my door to investigate and was slapped in the face with 100 mph winds. The super-sturdy tent walls billowed in and out as if they were crepe paper, and the floor of the tent kept lifting up to fly away, only body weight keeping it aground. Lighter objects flew around the tent like disoriented mosquitoes.
My tentmate Dan and I listened to strange booms and crashes all night long. I always believed I wasn't afraid to die, but now that it seemed I actually might, I felt pure terror — my body wouldn't stop shaking. I'm going to become an Everest statistic, I thought, probably an avalanche one.
"I think we should go find Jangbu Sherpa," Dan said at one point. He really looked panicked.
"Do you remember where his tent is?" I asked. Neither of us was sure, so we unzipped the door an inch or two and peeked out. The air was a violent, swirling blur of white, and our tent was almost completely covered in snow. We were effectively imprisoned inside.
Hashem, please save me! I cried over and over. I want to have children one day. I want to realize my goal, to get back and show struggling people that they too can achieve great things. I must have said Shema hundreds of times that night, as well as whatever Tehillim I knew by heart. My irreligious tentmate spent the night praying in his own personal foxhole. I thought of my family trying to come to terms with my death and cried.
I emerged the next morning into a serene, picture-perfect day; the only signs of the night's furies were massive piles of snow and uprooted tents. Hashem had turned the world upside down and then right-side up again — His absolute mastery over everything was never clearer to me.

Climbing Lessons
The seven-hour climb to Camp 2 was wretched, and by the time we arrived I was at the end of my rope. I was wholly depleted, having climbed close to 20 hours in two days, with a sleepless night in between. There was a severe pounding on my skull, and I was wracked with a dizziness that frightened me. The deadly phase of altitude sickness seemed just a heartbeat away.
"Wangchh Sherpa," I gasped, "I'm not sure I can continue. I feel terrible."
He checked my oxygen level, pulse, and mental state. "I think you can push on," he declared. "You're not in danger."
Your mind plays tricks on you on the mountain. I was scared I would die if I pushed any further. Maybe I really was okay, but I had no strength left to fight the fear. This was as far as I could go, I decided.
After a night back at base camp, I made the three- to four-day trek back to Lukla Airport in just two days. My legs and feet were in agony, but I practically ran, desperate to get off the mountain I had lived on the past 20 days.
I had tried, I had achieved, and I hadn't vanquished Everest. The failure hurt — quite a bit. But somehow, I wasn't crushed as the snowy peaks receded into the distance.
On my first trip up Everest, when I'd been forced to turn around just before summiting Island Peak, I'd gotten an early lesson in my own mortality and vulnerability. On Everest, the macho-types who say, "I'm getting to the top no matter what," are often the ones who don't make it home.
I planned my second trip with that lesson in mind, and set a mini-goal for myself of crossing the Khumbu Icefall. Even if I didn't reach Camp 3, I could still meet one of my goals. It was a smart move. I also broke my record for altitude, another accomplishment I'm proud of. Scaling the summit is still my dream. Am I capable? I hope to one day find out. I know I'll need to train harder than ever before to reach this monumental, lifelong goal as responsibly and safely as possible. But the truth, I learned, is that success isn't about reaching an arbitrary landmark. It's about finding the courage to experience your dream. To that end, this trip was a triumph.
And there in the thin air, facing my limitations and tapping strength I didn't even know I had, I learned so much. From the wilds of nature I learned about Hashem: His awesome power, His vastness, His closeness to me, so close I could touch Him. From the Sherpas, the happiest people I've ever met, I learned that simplicity breeds contentment. From my fellow travelers I learned that struggle is universal, and that when people are removed from the rat race of life, they are generally very nice. From the extreme challenge I learned that the mind is the most powerful tool we have, that focus and grit are the best medicine, and that defying our preconceived limits is so empowering. At Everest School, I think I earned an A-plus.
We all have our Everests, as diverse as the world is wide. Large or small, black, white, or fuchsia, all they demand is that we keep on climbing.
Pinchus Shnier can be reached through Mishpacha.
Rabbinical Board: It should be stressed that unnecessary risk-taking is prohibited. Before engaging in risky endeavors, one must consult with a halachic authority.
(Originally featured in Mishpacha, Issue 800)
Oops! We could not locate your form.
>