| Metro & Beyond |
Wheeling and Dealing in Boro Park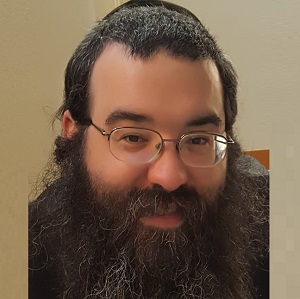 | January 6, 2021
For Brooklyn's disabled, too much is off-limits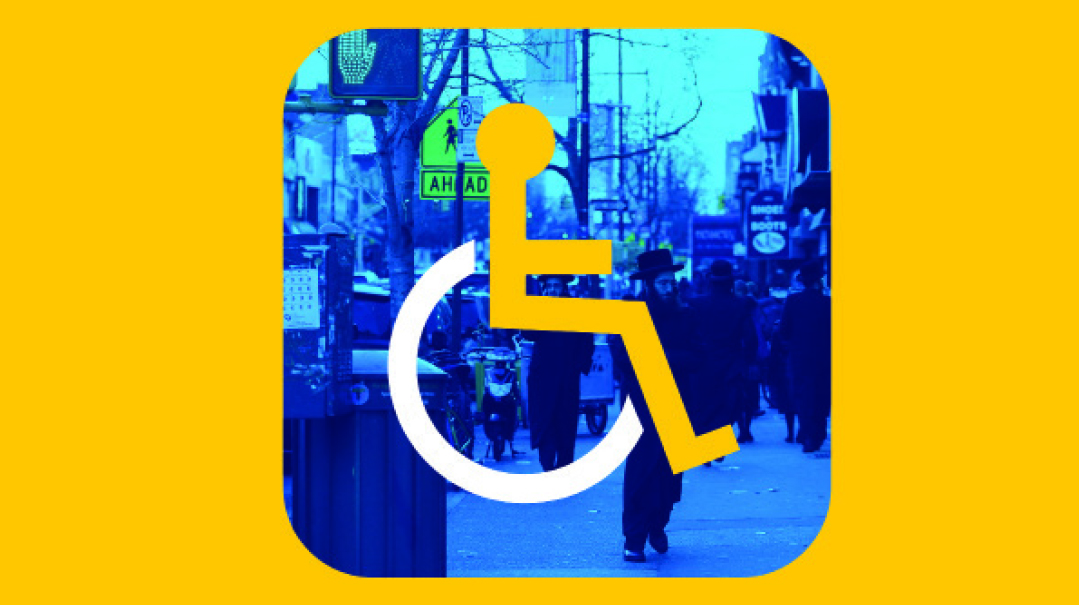 A woman in a wheelchair pulls up to a clothing store in a frum neighborhood and peers closely. This one-inch-high step is shallower than most steps, which rise two or three inches.
She considers going in, but then she sees that the entryway is not configured for her to open the door, pull back, and enter. A glimpse inside shows her that the aisles are too narrow for her to navigate, anyway.
"I don't even think of shopping in most places anymore," says Ayala (not her real name). "We are a nation of chesed, but long-term needs are not being met."
I had a feeling of disenchantment on a recent afternoon as I watched Ayala, 45, ply the streets of her Brooklyn neighborhood. She was a vibrant and healthy person just three years ago, until a neuromuscular illness struck. She lost her job and was confined to a wheelchair, and must use a ventilator most of the day and night.
"Something needs to be done," Ayala reiterates several times in our conversations. "Not only for me, but for the whole disabled population."
By "something," she means raising awareness in a generally unsympathetic society, examples of which I witness several times during the outing.
"Where's your mask?" huffs a passing woman, who apparently does not notice the thick ventilator tube rising prominently from the wheelchair's right flank, from which Ayala takes frequent gulps. She has a medical exemption from wearing a mask, and even a face shield could get in the way of her machine. She also has a hard time talking since it affects her breathing.
Our hourlong journey through the heart of the heimishe area takes us by a plethora of shops, businesses, and service providers for every conceivable need, but few of them are easily accessible to a wheelchair. Even getting into her bank, Santandar — which has made its other branches more wheelchair accessible — is a chore.
"I called the main office and they said they will get someone to open for me if I call ahead," Ayala says, sighing.
The landmark Americans with Disabilities Act, 30 years old this year, stipulates that an entranceway must proceed seamlessly from the street to a store's interior, and must include a ramp if there's an elevation. Stores must provide a minimum of 32 inches of "clean space" between the face of the door and the stop on the other side when open.
Our tour shows that most stores facing the avenues, at least, furnish smooth entries for wheelchairs; those facing the streets mostly do not. However, even stores that have compliant entryways present other obstacles, such as aisles blocked by displays or racks.
The website for the US Justice Department's Civil Rights Division includes a page listing "disability rights," which clearly specifies: "Customers with disabilities will not be able to shop in a store if the route through an entry plaza is too narrow because of a display of snow blowers, if the maneuvering clearance alongside the entrance door is blocked by a sale book rack, or if a route contains scattered trip hazards from impulse items displayed on cloth-covered tables or in baskets on the floor."
But there has been little government enforcement on this. Repeated emails to Victor Calise, the ADA compliance commissioner in New York City mayor Bill de Blasio's administration, went unanswered.
City councilman Rafael Salamanca, chairman of the powerful Land Use Committee, which oversees the city's process of approving building plans, says the issue has not come before his panel in the three years he has headed it. Salamanca says his staff will look at it, but suggests speaking to Calise — "He's in a wheelchair himself, so he lives the reality," he notes.
Salamanca points out that the law, although crafted with good intentions, was targeted at new construction, so it hardly affects New York's middle-class neighborhoods, predominantly stocked with older structures and few new buildings.
"There are many stores, including what I know of in my district in the South Bronx, that have been around for many years, even before I was born, that were grandfathered in when the Americans with Disabilities Act was signed into law," Salamanca says. "And let me tell you, the ADA compliance of 30 or 40 years ago was much different than the way it is today."
If there were consequences for noncompliance with the statute, the biggest loser would be the Metropolitan Transit Authority, which runs the city's subways. The station near Ayala's home, for example, has 68 steps to reach the platform.
"The biggest violator is unquestionably the MTA," Salamanca agrees.
The agency says it has taken steps to rectify this, such as providing wheelchair-accessible Access-A-Ride vehicles, and elevators in some stations.
Advocates for the disabled say that both fixes fall significantly short. The elevators, they say, are few and far between and break down frequently, and repairs are often long delayed. And the Access-A-Ride option requires reserving a spot 24 hours in advance, taking away the flexibility needed for so many outdoor excursions or appointments.
The frum community, meanwhile, provides a ride service called Rodef Chessed; but while the volunteers don't charge, the service is not free. It can cost as much as $70 for a round trip from home to a chasunah a few blocks away, Ayala says. The best cheap and easy option for disabled people is Uber, which offers many vehicles that are wheelchair accessible.
Ayala has already had to give up her primary care physician, whose office is located on a second floor. But now, joyous family celebrations — graduations, simchahs, birthday parties — have become a nightmare to navigate.
She recalls going to a cousin's chasunah over the summer, in a third-floor event hall accessible by elevator. When it came time to leave, the elevator broke down — a relatively frequent mishap, she was told — leaving her and the chassan's elderly great-aunt stranded. Eventually Chaveirim volunteers arrived to carry the two of them down the three flights of stairs.
"Luckily, I was not in my new wheels," Ayala says, indicating her new motorized wheelchair. "This weighs 400 pounds."
Simchah attendance is a sore topic, she says. The bathrooms are usually accessible, but women bring chairs in to care for their babies and then forget to remove them, which blocks Ayala's wheelchair from getting in. Many halls' elevators are only reachable via stairs; and they are usually locked, meaning Ayala must wait for a manager who has the key. Schools host events for parents in auditoriums that are usually located in basements.
There are also the more prosaic inconveniences: the abled people who park in spots designated for the disabled, people who don't shovel their walks — or those who do shovel, but don't allow wide enough space for wheelchairs to pass. All of these issues, Ayala says, have led to missed simchahs, missed children's plays, missed social life.
"I couldn't go to my nephew's vort because there was no elevator in the hall," she recounts. "I missed my daughter's play because there was no elevator in the school. I'm not saying 'poor me.' I don't think the world needs to bend over backwards for me. But when the frum world spends so much on different things, then there should be some thought given for the disabled. Which there isn't."
One bright spot for Ayala has been the close friendship she developed with Shani (also a pseudonym), who has a son who was born legally impaired. The two women enjoyed a close professional relationship for years; Shani works for an agency that dealt with Ayala's employment. They would meet every few months for coffee or breakfast to discuss business, and a friendship began.
But then Ayala became ill, and Shani married off a daughter and her father passed away. Six months passed before Shani suggested meeting Ayala again. She was shocked by the response.
"Shani," Ayala texted her, "I haven't been out of the house in six months, except for hospital or doctor visits."
Shani had known that Ayala was ill but hadn't realized the extent of the physical toll the disease had taken. It had become extraordinarily challenging for Ayala to walk, so she was now confined to a wheelchair, and recreational outings were no longer on the agenda.
"I got very angry," Shani recalls. "I said, 'Well, I had a child with a hand splint and foot splints and eye patches and glasses. I was not ashamed of him, I was not going to hide him in a closet. I don't understand you, Ayala, if you have a wheelchair, why can't you get out? I'm coming to pick you up."
The first trip they took was the following week, to the Brooklyn Botanical Gardens. Shani acknowledged it was difficult adjusting to the abrupt change in their relationship — from the peer rapport she had enjoyed with Ayala to suddenly pushing her in a wheelchair.
"When we went to the Botanical Gardens," Shani says, "I was, like, should we go look at the roses, or should we go look at the tulips? Unless I proactively asked her, it was whatever I wanted, because I was pushing the wheelchair. But that's not how you go out with friends. There was always a hyper-awareness to take a little extra time to make sure that the playing field was even."
The fact that Shani had gone through her own battles with her son's accessibility gave her a heightened awareness of what Ayala was going through. But it's still different from her son's situation, she says.
"He doesn't realize his limitation as much because he's never had anything different," she said. "For Ayala, it's very different. She went from being perfectly healthy, vibrant, active, to having a serious limitation."
There is much that Ayala can talk about. And much that she can't. She says she heard once that life's tests can be compared to bags. People look at another person's life and think it's clear plastic, and they understand the challenges. But in fact it's a brown paper bag with unknown contents.
"This disease has dramatically altered my life in so many ways," Ayala explains. "Hashem has thrown many challenges my way, but He also opened my eyes to the many blessings that I have in the form of amazing people in my life, both family and friends, who have been incredibly supportive. So, I want people to understand that every nisayon is multifaceted. In addition to the sadness and pain, there are also moments of joy."
"Anyway," she says, wheeling up the ramp to her house, "the handicapped people need a voice. And you should be that voice."
(Originally featured in Mishpacha, Issue 843)
Oops! We could not locate your form.
>