| Magazine Feature |
We Can't Fail Our Kids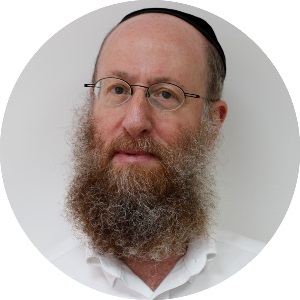 | June 14, 2022
School choice champion Betsy Devos fights for America's children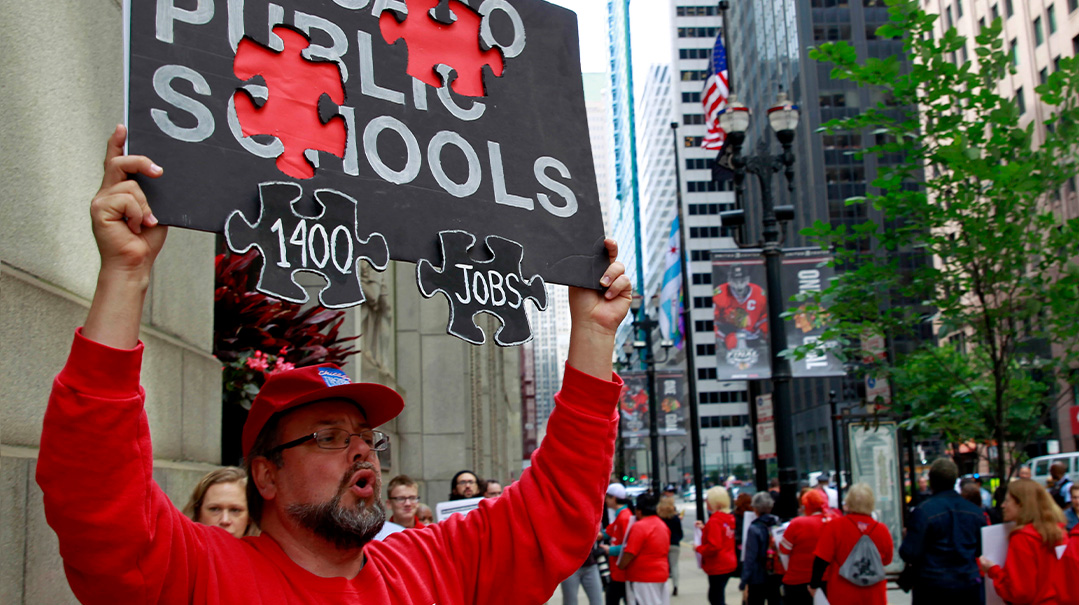 "The federal teachers' union and all of their aligned allies have really centralized their power…everything that flowed from that has ultimately been to the detriment of the student." DeVos is an outspoken critic of union control of education
Photos: Mishpacha archives, AP Images
America's Orthodox Jewish community may not send its children to public schools, but we do have an interest in the system responsible for educating and molding the nation's future leaders from an early age. Few people understand that system — and its many flaws — better than Betsy DeVos, who served as America's 11th secretary of education in the Trump administration. DeVos has devoted her career to advocating reform of what she terms a "failing system" that's dominated by teachers' unions who care more about adults than kids.
In advance of next week's release of her new book, Hostages No More: The Fight for Education Freedom and the Future of the American Child, DeVos spoke with Mishpacha editor-at-large Binyamin Rose about her book and a wide range of educational issues. She expressed both her admiration for yeshivah education and optimism that her signature measure to provide tax credits for scholarships will one day become law of the land. She also clarified why she is certain she made the right move leaving the Trump administration in the wake of the January 6 Capitol Hill riots
The ink was barely dry on Betsy DeVos's confirmation as secretary of education in February 2017, when she scheduled a visit to the Jefferson Middle School — a public school in Washington, D.C., whose students are primarily African-American and hail from low-income families. A small cadre of protesters, including parents, activists from Black Lives Matter, and teachers' union members, carried placards and blocked her path, chanting "Shame, Shame" at DeVos. To them, she was public enemy number one due to her longstanding support for education reforms, including charter schools, which unions view as a threat.
DeVos looked stoic as a security officer provided by her department quickly escorted her into the backseat of a waiting black SUV, which drove off, but not before another protester laid his hand on her car and continued to shout at her.
It's a visit she called a "debacle" and a "close call." From that point on, federal marshals were called in to escort her to many of the school she visited as part of her job.
Contrast that with the reception she received in May 2018, when she arrived at two Orthodox Jewish schools. Both Yeshiva Darchei Torah in Far Rockaway and the Manhattan High School for Girls welcomed Betsy DeVos with open arms.
"Her visit — the first by a sitting secretary, to the best of our knowledge — gave the community chizuk, especially as it came at a time when many felt we were under attack," said Rabbi A.D. Motzen, national director of state relations at Agudath Israel of America.
Maury Litwack, founder and executive director of the TEACH Coalition, said DeVos was unique among education secretaries in that she viewed her job as being a champion within the executive branch representing public and parochial schools alike.
"She was instrumental in implementing the record amount of funding and critical aid the yeshivos received for Covid relief," Litwack said. "This was predictably attacked, but again she spoke up and fought for all children."
For thirty years, Betsy DeVos has made a career out of continually challenging the might of the unions, and the politicians who feed at the trough of their bounteous campaign contributions. The opposition can be fierce, but she has learned to stand up for what she believes in.
DeVos also showed no fear in contending with her mercurial boss, President Trump. In her book, she recalls one of their earliest conversations. The president insisted on sticking with the better-known term "school choice" instead of the term "education freedom" that DeVos advocated. Acknowledging that Donald Trump is an "instinctual communicator" who knows how to get his point across, DeVos wrote that if "Americans weren't sure what education freedom was, then it was up to us to put in the hard work to explain it."
In our phone interview late last week, DeVos explained that "education freedom" implies something much broader.
"School choice has a tendency to bring buildings to mind, and not necessarily the notion that education can and should happen for young people in a multitude of ways," she said.
To DeVos, school choice means that public school parents should have the right and be given the resources they need to decide how and where to educate their children. She has advocated for school vouchers that parents can use to pay for tuition at the school of their choice; for corporate tax credits that would give companies a tax reduction to facilitate academic scholarships; and for the development of charter schools that are taxpayer-funded, tuition-free, and open to anyone who wants to attend, and magnet schools that are constructed around a theme, such as STEM fields or even the performing arts.
DeVos writes that all of these options have one common goal: "The parents have choice, the money follows the child, and the local community figures out what educational options to provide.
"Great schools pay attention to individual children," she adds. "The current model of American education was created not just to treat all children the same, but to make all children the same."
While DeVos's term in office ended without passage of her hallmark education tax credit, which would have provided more welcome tuition relief, as many as 18 states either passed or strengthened their education freedom or school choice legislation during her term, or in the months after she left office.
"Most of her accomplishments in policy were in the details of regulations that only policy wonks read, but will have ramifications for students and schools for years to come," Rabbi Motzen said.
She devotes chapters in her book to her travels to innovative schools that could serve as national models for other communities. These included a magnet school in Casper, Wyoming, at which children learned half a day in English and half a day in Mandarin Chinese; another school in Casper with flexible hours for children who lived on faraway ranches and farms; and a public school in Colorado for students on the autism spectrum.
A graduate of Calvin College in Grand Rapids, Michigan, with a degree in business economics, she has chaired the board of the Alliance for School Choice, founded in 2004 to promote school vouchers and corporate tax credits, and was a board member of the Foundation for Excellence in Education, a think tank founded by former Florida governor Jeb Bush in 2007.
The Dick and Betsy DeVos Family Foundation, which she founded with her husband, a former president of Amway International, has contributed several million dollars to parochial and charter schools. Betsy DeVos also served a stint as chair of the Michigan Republican Party from 1996 to 2000.
History Lesson for a Lifetime
Born Elisabeth Dee Prince on January 8, 1958, Betsy DeVos's maternal grandparents and paternal great-grandparents were Dutch immigrants, who immigrated from Holland, to (ironically) the town of Holland, Michigan.
Neither side of the family knew each other in the Netherlands, even though they lived on farms less than ten miles from each other.
Her mom, Elsa Zwiep, and her father, Edgar Prince, were born in the Michigan version of Holland. She writes that her hometown has been described as a "city of churches," adding that "its citizens' strong faiths have literally shaped the community."
Betsy's mother became a kindergarten teacher for a short while after her graduation from college, where she tended to 36 kids in the morning class and 37 in the afternoon, providing Betsy with her first exposure to providing education.
She writes at great length about her father, who started a die-cast machinery business that served the automobile industry in Detroit. His work took a tremendous toll on his health. He suffered a heart attack at age 41 and passed away from a second heart attack at age 64, in 1995.
One of her fondest memories was a family vacation they took in the mid-'70s, when Betsy was a teenager. Her family went back to the "old country," where they visited her great-aunt and great-uncle in Holland, who revealed an old family secret.
"They showed us the little room at the back of their bakery under their home in Haarlem where they had hidden Jewish refugees during World War II," DeVos writes. "It was something I had never known about our family."
I began our interview asking her to elaborate on that visit.
"They showed me in the back of their bakery where they had used bags of flour to form a hiding place," she recalls.
DeVos, who now has four children of her own (and ten grandchildren), has since taken her children to meet these family members in what she called "a history lesson that came to life."
What lasting impression did that visit make going forward, in terms of your career?
"It was really important to me to hear that members of my family had taken a difficult position for people to take at that time, and to put themselves at risk. And I can say I've certainly taken the incoming arrows — in a very different way than individuals who lived through World War II would have experienced. But it was something that added to my resolve to go and fight for kids who don't have the power or the strength to fight for themselves, and I would say my relatives modeled a very good example for me."
During your tenure as secretary of education, you made two well-publicized visits to Orthodox Jewish schools, including Yeshiva Darchei Torah in Far Rockaway and at Manhattan High School for Girls. What takeaways from those visits would be relevant to improving education in other schools nationwide?
"First of all, I enjoyed visiting both of those schools very much, and visiting with students and with some of the teachers. I got a firsthand impression and look at an environment where parents have chosen to send their children to learn. It was an affirmation to me that all families should be able to have those choices and make those decisions to have their children learn in environments that are consistent with their values, and focused on the children and their development, rather than on adult issues and the system. They were both just really great experiences. It was really surprising to me that no previous secretary of education had ever visited a Jewish day school."
You got a lot of criticism for those visits. The media wrote it up and said, "Betsy de Vos came to New York and all she did was see parochial schools and she didn't visit public schools."
"I visited public schools all across the country, but the reality is my focus as secretary of education was on students, not on specific school buildings or the name that comes before the kind of school that it is. I tried to make a point of visiting different kinds of schools to highlight the range of choices and to try to help people have a broader view of what K-12 education should really be. And that included lots of traditional public schools that were doing things differently than their counterparts, and that included parochial schools, charter schools, virtual schools and home schools."
The New York State Education Department is proposing new regulations on independent and parochial schools to provide education that is "substantially equivalent" to what is offered in the public school sector. Both yeshivos and other private and parochial schools contend this is unacceptable interference in their independence, and as far as yeshivos are concerned, the regulations fail to make explicit mention of the value of a religious education. More than 220,000 people signed letters of protest to the education department, but what else would you recommend these schools do to ward off excessive government regulation?
"Well, first of all, I would affirm your position that it is government interference that shouldn't happen, and I'm thrilled and impressed to hear that you've been able to generate that many parental notices of discontent over this move. That kind of activity needs to continue. And of course, there's also the legal route, which I'm sure you're exploring, if you haven't already.
"I am actually very hopeful that there would be some relevance to an upcoming Supreme Court decision that I hope is going to take a big swipe at the Blaine Amendment [constitutional restrictions on government funding for religious education], which has been an impediment to the ability of so many faith-based schools to accept all of the students that want to attend there. But for you, the best move is parents banding together and using their voices in unison to really demand that there be the ability to direct their own children's education and do so in a way that works for them."
In your book, you criticize the control that unions have over public school education. Yet teachers' unions have been around in some form or another since the mid-19th century. Can you pinpoint one or two periods in history when the unions began to deviate from their core mission of protecting the rights of their workers, and what exactly went wrong that led us to where we are today?
"This started in earnest well before the founding of the US Department of Education [in 1980], which was [then president] Jimmy Carter's payoff to the teachers' unions for their endorsement in that race. Its founding centralized and therefore accelerated the union stranglehold and control that has infected every state in some way. Individual states have stronger or less strong teachers' unions, depending on the culture and political dynamic of the state, but the reality is that the federal teachers' union and all of their aligned allies have really centralized that power in Washington, D.C. Everything that has flowed from that has ultimately been to the detriment of the student."
Is there way to change the trend? If so what method would be most effective? Some states have passed laws restricting the power and influence that unions have, but is there any possibility of winning over the rank and file and weaning them from the union's viewpoint?
"The ultimate resolution there is really the full-on implementation of education freedom, because right now the teachers' unions and the government-run public education systems essentially have a monopoly over the provision of education. It's only those [parents] with extraordinary resources who can make a decision and a choice to go elsewhere. But once you disrupt that dynamic and empower all of the customers of education — the students — a different behavior will by definition result."
The incidence of mass shootings in schools is perhaps one of the most terrifying developments in recent history. In the last two decades, funding from the Department of Homeland Security provided better security at many at-risk educational institutions. Yeshivos and other Orthodox Jewish institutions have been major beneficiaries. Does the Department of Education have a constructive role to play in protecting children?
"After the Parkland tragedy occurred in 2018, it was President Trump who asked me to head up a school safety commission that was tasked with looking at ways to help state and local communities address these issues. We had a very extensive list of resources and suggestions and best practices that were being implemented in different locations, but not with any degree of unanimity.
"We encouraged all those involved with education, at whatever level, to examine these and implement the ones that were going to be the right thing for their particular situation. That included recommendations on red flag laws [which enable people to petition a state court to temporarily confiscate a firearm from someone who may be dangerous]; on ensuring that there were very frictionless ways for both teachers and students to be able to raise concerns about a particular student in a school; and hardening measures to make schools safer themselves.
"I'm very hopeful that schools and leaders will be looking back at some of those, if they haven't already done so, and do an audit of their current situation, because the requirements in one particular geography are going to be quite different from the requirements in another geography."
If Republicans recapture both the House and the Senate in the fall, would this represent an opportunity to revitalize your agenda, including the national tax credit bill? Or will we have to wait until 2024 to see if a Republican also wins the White House?
"Well, I absolutely think there would be an opportunity to continue to build support and advance the tax credit legislation. I think the likelihood of a President Biden signing a bill like that is fairly low. But then again, one doesn't know exactly what the political dynamics will be and what a President Biden might want to get done in exchange for giving on a bill like that. So absolutely, there should be continued work to build support for a tax credit program."
If a Republican won the White House in 2024 and offered you the chance to come back as secretary of education, would you accept the job?
"I don't do hypotheticals, and I never say absolutely no to something, but I think it's highly unlikely."
What would you do instead to continue to foster and advocate for the education policies that you've worked on throughout your career?
"Well, I'm continuing to do that right now, and it really has been a pretty seamless transition from before I went to Washington to after. I'm continuing to work with governors and state legislators as well as members of Congress on advancing education freedom, and that's happening on a number of fronts on the state level.
"Support is continuing to build at the federal level to acknowledge that we simply have to do something different. And the results of the last two years are only further exacerbating the problems that many of us saw well before the pandemic. We won't know for several years yet the full extent of how badly children have been harmed across the country over the shutdowns, and the lack of meaningful progress in their learning these last two years. And so my passion for and my commitment to continuing to advocate for students and their families is not waning. I will continue to look for every way I can to help continue that fight."
You were the second cabinet member to resign in protest in the wake of the January 6 Capitol Hill riots. In retrospect, do you still feel this was the right move, especially since there were only two weeks left in your term?
"I came to Washington with the goal of focusing on and helping students. I was honored to serve my country in that way and I continue to want to do the job that that I was there to do. It was difficult — really difficult — to see the images on TV the day of January 6, knowing that's what children across the country were seeing, and what were they taking in from that. The fact that the president did not do what he could have, forcefully enough or quickly enough, to stop what happened was very disappointing, and I just felt that I had to take that step. My job was done. I couldn't accomplish any more in the time we had left."
Did you find that your decision improved or harmed your standing with your supporters and fellow conservatives? Did you get backlash?
"Not a lot, no. People understood that what we were seeing there was going to have a lasting impact on kids, and that's not the image that we want kids to take away from how their country should operate. I am a constitutionalist first and foremost, and I was there to serve my country. My continued commitment is to focus on the service to my country and I was grateful for the opportunity that President Trump gave me to do that."
What do you consider to be your biggest accomplishments in office, as well as your biggest regret?
"I would say the biggest accomplishment was to reorient everything at the Department of Education to being focused on students, and on devolving as much of the power and control from Washington to the most local unit — the family, states and local districts. That was a massive task, because that department is oriented on everything but the students themselves. So everything we did was with the students in mind, and their best interests. That flowed out to a lot of policy and regulatory areas — just the normal stuff of getting the job done at the department in a different way than it had been implemented before under previous administrations.
"My biggest regret is that we didn't get the education freedom scholarships bill passed. But I am an eternal optimist. I think we're still going to get that accomplished in the not-too-distant future. There's also been the attack on expansion of charter schools, and there's a new effort to overturn or roll back much of the progress that we made on the Title IX [anti-discrimination] regulations. We have to remain vigilant and speak up.
"I continue to be convinced that we will ultimately prevail on a lot of these issues, but it requires constant vigilance and constant pushing back." —
(Originally featured in Mishpacha, Issue 915)
Oops! We could not locate your form.
>