| Tribute |
Warrior for the Jewish People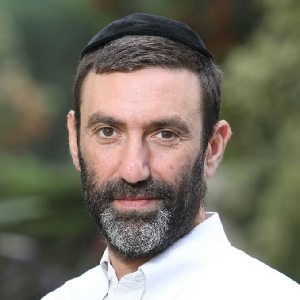 | October 3, 2018
He never backed down from a fight.
In online videos, in speeches across the United States, on the streets of Jerusalem, Ari Fuld, 45, was a verbal warrior, loudly proclaiming his truth: Hashem gave Eretz Yisrael to the Jewish People, there was never a Palestinian state, the lies spread about Jews and Israel are a blood libel that should be vigorously fought at each and every moment, and whenever the opportunity arises.
In his final days, before he was brutally stabbed in the back by a 17-year-old Palestinian terrorist at an Efrat mall, Fuld, married and the father of four, was living his truth. On the day of his murder, he had visited the Western Wall and taken a video of thousands of Jews chanting Selichos. On the Shabbos before his murder, in an online parshah video on parshas Vayelech, Fuld explained Moshe Rabbeinu's parting words to Klal Yisrael. Moshe could no longer "go and come" and he could not enter the land, he explained, not because he was old and enfeebled and not because he was no longer capable, but because HaKadosh Baruch Hu had proclaimed it as such; he had fulfilled his mission. Moshe's time was over. And sadly, so was Ari's.
Fuld's murder touched the Anglo community in Israel deeply, as evidenced by the thousands of people who stayed up to the wee hours of the morning to pay their last respects in Kfar Etzion. As the family made its way to the cemetery, winding their way through the huge crowds of well-wishers from every stripe of Israeli society, mourners sang songs of comfort — "Avinu Malkeinu," "Acheinu," "Chamol al Maasecha." At the shivah house, a stream of well-wishers visited a stricken family as rabbanim and friends offered words of sympathy and support.
As Ari lived, he died. Fuld, who was a third-degree black belt in karate and had taught others how to defend themselves against knife attacks, furiously attacked his stabber, landing a right cross and then running after his killer and shooting him before collapsing in a pool of blood.
In the two weeks since his murder, there has been an outpouring of grief and sadness for a man who many describe as a warrior for the Jewish People.
Josh Hasten, who met Fuld about eight years ago in Efrat, described Ari as a gentle giant, someone who was most in his element when he was defending the nation he loved. Hasten, who is the international spokesperson for Gush Etzion, remembered that a few months ago, when rockets were raining down on Sderot and the surrounding communities, Fuld drove there to aid the residents. "The normal reaction would be to run away, but he went down there davka to show support," Hasten said.
Fuld, who made aliyah in 1994 and served in the Second Lebanon War, was the assistant director of Standing Together, a nonprofit group that delivers food, clothes, and other necessities to soldiers. About three weeks ago, Hasten got a call from Ari. He was on his way to Chevron to deliver ice packs to soldiers on a sweltering summer day. Other times, Fuld would show up at a base with pizzas and a smile.
Avi Abelow, who grew up with Fuld and attended elementary school with him at SAR Academy in Riverdale, the Bronx, remembers Ari as a spirited kid who would sometimes end up in the principal's office — an office occupied by his father, well-known educator Rabbi Yonah Fuld. The pair later made aliyah at around the same time, and ended up settling in Efrat. For the past 15 years, Abelow has been Fuld's neighbor, and the person he sat next to at shul.
"Ari, like his name, was a lion," said Abelow, CEO of 12 Tribes Films, a company that makes Jewish-themed films and videos. "He was a fighter for truth in the online battle for Israel — very strong, very in your face, very emesdig. That was Ari the fighter. And you saw that in his last moments, even after he was stabbed and was supposed to be dead, his neshamah gave him the strength to [chase after his attacker]. Normal people don't do that."
Abelow believes that the huge outpouring of support for Fuld since his death is a recognition that his friend's words and deeds reached further than many had suspected. "Ari had an inner truth that he stuck to — not just telling the truth but living the truth. Whatever cause he was working on, [he had] that overarching persona of emes that really came through no matter where he was or who he was with. Everyone was treated equally with respect and everyone felt that."
Los Angeles attorney Baruch Cohen, who was featured in Mishpacha in July about his new book, Grieving and Healing, said Fuld first contacted him a few years ago out of the blue. Cohen maintains a website, American Trial Attorneys in Defense of Israel, and Fuld wrote to tell him how impressed he was that a chareidi Jew was expressing such pro-Israel views.
"He was not surprised but fascinated to find a soul brother in L.A.," Cohen explained in a telephone interview. "Someone who has not made aliyah, but whose heart is in Israel."
After Cohen got to know Fuld, he said he felt as if the two were like "twins separated at birth." Whenever Fuld visited Los Angeles, the two would meet, and Cohen would walk away with "great chizuk."
Cohen was especially impressed with Fuld's bitachon, his sense of trust in HaKadosh Baruch Hu. Cohen retells a now well-known story about Fuld: that he carried in his tallis bag a piece of shrapnel that hit him in the Second Lebanon War. As the story goes, Fuld and his comrades were on the front lines. A couple of soldiers from his platoon were hit by fire and the commander told Fuld and others to bring them to safety before the enemy could take them as prisoners of war. Fuld leaped into the line of fire and brought back the bloodied soldiers. In the intervening minutes, the position that Fuld had been occupying was hit by missiles. If he had remained at his post, Fuld would have been mortally wounded. And not only that, a piece of shrapnel had penetrated his vest while he was on his rescue mission, but miraculously had gone no further.
"He would run toward tragedy to save lives, when the natural tendency is to run away," Cohen said. "He had unconditional love for every chayal, and he [considered it an] honor to sacrifice [his] life to support his brothers and sisters in Israel."
Cohen said Fuld's bitachon and sense of service to Klal Yisrael was so strong that he "felt like a monkey" in his presence. "It wasn't lip service," he said. "This guy resonated this message; it was in his bones. It was the greatest mussar shmuess talking to this guy. [He was] a foundation of chizuk, a flow of ahavas Yisrael. When you encounter greatness like this, it charges your battery. He was a profoundly religious person."
Cohen said Fuld's legacy, in a sense, is summed up in the video of his last moments. "Even at great personal expense, even bleeding from wounds, his sole goal was to save Yidden."
Hillel Fuld, Ari's younger brother (there were five boys in the family), said he has been absolutely inundated with messages since Ari's passing. Hillel, who was profiled in Moe Mernick's 5 to 9 Mishpacha column in July, is a well-known start-up advisor and vlogger with thousands of followers on social media. Out of the Internet ether have come hundreds of stories about Ari's kindness to people near and far. Fuld, who fully appreciates the power of the Internet, has been floored by his brother's reach.
"We haven't even begun to comprehend the ripples that Ari made in the universe," Fuld said in a telephone interview on Erev Yom Kippur. "We'll be hearing about his impact and charity for the next decade."
In a Facebook post, Fuld marveled that Ari and his life had been the subject of so many Yom Tov discourses in synagogues around the world. As we go to print, a fundraising campaign has raised $700,000 for Fuld's bereaved family.
What was it about Ari that touched so many people deeply?
"He had incredibly sensitivity for other human beings," Fuld said. Over the past few days, he's heard many stories about his big-hearted brother. One person recounted how Ari had made sure he had a seat at shul on four separate occasions — no small thing for a newcomer feeling out of place. Another person told him that Ari had made his son feel welcome in his karate class, even though they were new olim and his son did not speak a word of Hebrew. A number of other kids told him that Ari had allowed them to train in his karate class free of charge — though that was his livelihood. "I don't think people understood how superhuman he was," Fuld said.
On the day of his murder, the terrorist had asked a woman at a falafel stand at the Efrat mall where he carried out his act if she spoke English, apparently looking for an American target. She said no and he moved on to Ari. That woman was later saved by Ari when he pursued the killer after he had been fatally wounded.
Hillel said his brother lived passionately until the very end. "Everything was for Israel and the Jews," he said, "full intensity, full flame for 45 years."
(Originally featured in Mishpacha, Issue 729)
Oops! We could not locate your form.
>