| Recipes |
Warm Chocolate Pear Soufflé
| March 14, 2023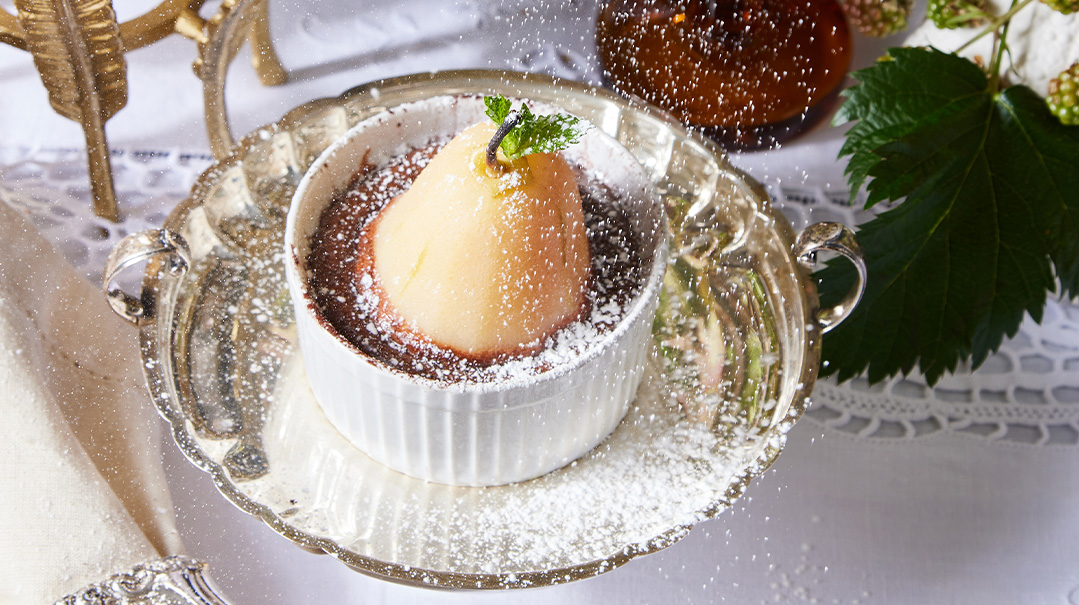 I've always loved the sophisticated flavor combo of pears and dark chocolate, so when I tasted this divine soufflé, my taste buds couldn't be happier! A special shout-out to Shaindy for her idea to add some praline chocolate beneath the pear for a hidden fudgy surprise!
YIELDS 6 SOUFFLÉS
8 cups water
2½ cups sugar
2 Gefen Cinnamon Sticks
1 medium orange, sliced
6 whole ripe but firm Bartlett pears, peeled but with stem intact
Soufflé
6 Tbsp oil
3 oz (85 g) good-quality bittersweet chocolate, broken into pieces
1 Tbsp kosher for Pesach brandy
3 eggs, separated
⅓ cup + 1 Tbsp sugar, divided
⅓ cup almond flour
pinch of salt
6 squares pareve praline-filled chocolate (I used Torino)
cocoa, for dusting
confectioners' sugar, for dusting
In a large pot, heat water and sugar until sugar is dissolved. Add cinnamon sticks and orange slices. Slice off the bottoms of the pears so they can stand upright and place them into the water. Cut a circle of parchment paper large enough to fit in the pot over the pears. Cut a hole in the center to vent the steam and place it on top of the pears in the water. Simmer pears gently for about 20 minutes or until soft.
Allow pears to cool in their liquid. At this point, the pears can be refrigerated in the liquid for several days.
When you're ready to make the soufflés, drain the pears and place them on several layers of paper towel. Allow to sit on paper towels for at least an hour to absorb any additional liquid.
Grease six 4-inch (10-cm) ramekins lightly with oil. Dust with cocoa and shake out any excess. Set aside. Preheat oven to 325°F (160°C).
Melt the oil and chocolate in a double boiler or over a pan of hot water. Remove from the heat, stir in the brandy, and set aside to cool. Whisk the egg yolks with 1⁄3 cup sugar in a large bowl until pale and thick; fold into the chocolate along with the almond flour and salt, mixing well.
Using your mixer, beat the egg whites until they reach a soft peak. Add remaining 1 Tbsp sugar and continue beating until stiff. Slowly fold the egg whites into the chocolate mixture, mixing gently to combine. Spoon into the prepared ramekins, dividing evenly. Place one square of pareve chocolate into the center of each ramekin and place a pear on top of it, standing it upright. Bake for 30–35 minutes, just until set. Dust with confectioners' sugar and serve immediately, while still warm.
Serve with vanilla ice cream, if desired.
(Originally featured in Family Table, Issue 835)
Oops! We could not locate your form.
>