| Recipes |
Vegetable Tian
| September 18, 2019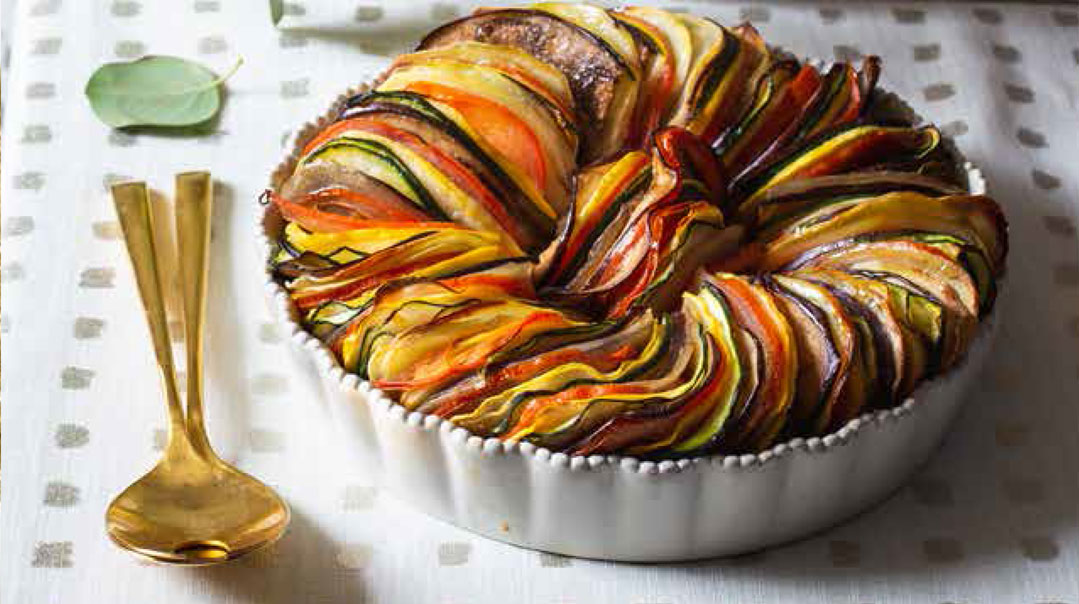 VEGETABLE TIAN
Here's a different take on the classic vegetable kugel. This tasty side makes for an unusual and pretty presentation that will soon become your new Yom Tov favorite! Make sure to select vegetables that are roughly the same size in diameter for a uniform look.
SERVES 6–8
2 Tbsp oil, divided
1 large Spanish onion, diced
3–4 garlic cloves, minced
1 yellow squash
1 medium zucchini
1 Japanese eggplant (long and thin)
2 ripe plum tomatoes
1 large Idaho potato
salt and pepper, to taste
1 tsp oregano
Sauce
3 Tbsp margarine
3 Tbsp flour
1 cup boiling water
2 tsp MSG-free chicken soup mix
In a medium saucepan, sautי onion in oil until golden. Add minced garlic and saute another few minutes. Pour onion into a 9-inch (20-cm) round oven-to-tableware dish, and spread to coat the bottom of the dish.
Using a mandoline, slice all vegetables thinly into rounds (slice the potato last to prevent it from turning brown) and place each one in a separate bowl. Drizzle about 1–2 teaspoons of oil in each bowl, and sprinkle generously with salt and pepper, to taste. Toss to coat.
Preheat oven to 350°F (175°C).
To assemble the tian: Layer all the vegetables, placing them standing vertically around the baking dish, in the following order: yellow squash, potato, zucchini, eggplant, tomato. Keep on layering until an inner and outer ring is formed, taking care to pack very tightly.
Sprinkle the pie with oregano and additional salt and pepper.
To make the sauce: In a small pot, melt margarine. Add flour and stir quickly. Add boiling water and chicken soup mix, whisking to break up any lumps. Cook on medium heat until thickened, hot, and bubbly. Pour sauce over vegetables in the pan and bake for 1½ hours.
Allow to cool and set for about 1 hour before serving warm or at room temperature.
(Originally featured in FamilyTable, Issue 660)
Oops! We could not locate your form.
>