| Recipes |
Vegetable Bean Soup | November 17, 2022
This is a real stick-to-your-ribs soup, but not overly thick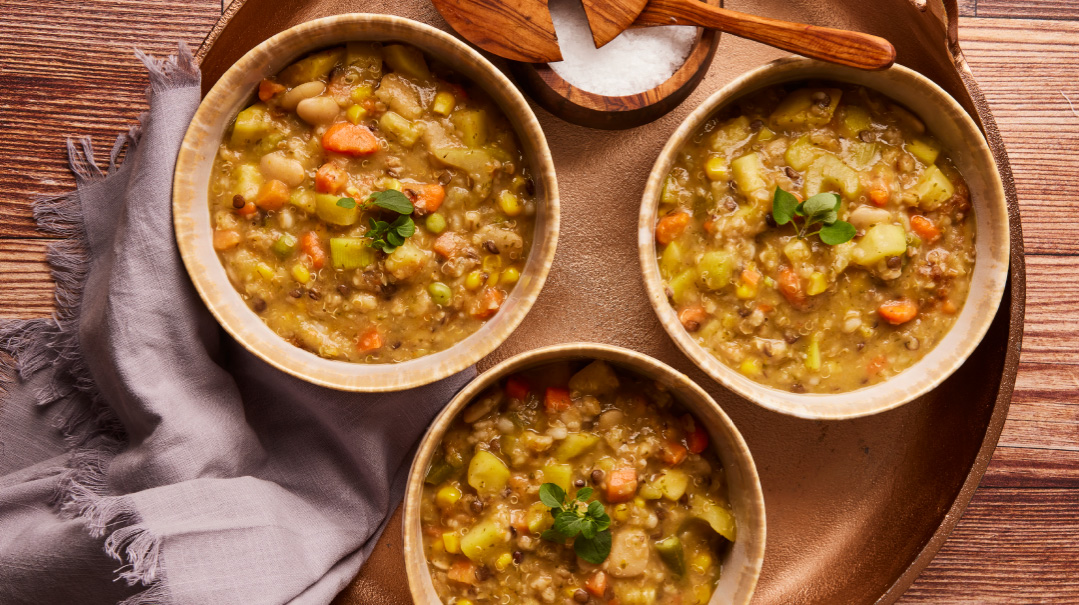 Food and prop styling: Shiri Feldman 
Photography: Felicia Perretti
Chock-full of fresh veggies and a fabulous assortment of beans and grains, this is a real stick-to-your-ribs soup, but not overly thick. Feel free to personalize it by changing up the veggies and/or the grains. You can use fresh parsley or dill instead of frozen cubes, and you can swap split peas for the green lentils or use orange lentils instead of green. You get the idea! Thanks to Rochel K. for the inspiration.
Serves 12
2–3 Tbsp olive oil
1 large leek, sliced
3 stalks celery, sliced
3 carrots, sliced in half-moons
3 zucchini, peeled, sliced lengthwise in four and then sliced crosswise
⅓ cup baby lima beans
⅓ cup barley
⅓ cup green lentils
¼ cup quinoa (I mix red and white together)
¼ cup bulgur
boiling water, to cover
3 handfuls of frozen veggies (I used a combo of peas, string beans, and broccoli; see note)
kosher salt and black pepper, to taste (be generous)
3 cubes frozen parsley
2–3 cubes frozen dill
2 Tbsp onion soup mix
Pour oil into a 6-quart Crock-Pot. Add the leeks. Turn Crock-Pot to high and cook for 15 minutes. (You can't really sauté in a Crock-Pot, but leaving it for 15 minutes encourages the leeks to start wilting and releasing some liquid.)
Add the celery, carrots, and zucchini, mixing after each addition. Add the grains and beans. Pour boiling water to cover all, plus a little more. (You don't want the soup to be too thick or too thin.) Add the frozen veggies.
Turn the Crock-Pot to low and cook for 10 hours. Add the seasoning. Mix everything together. Taste and adjust seasoning if necessary.
Note: Frozen string beans add a distinct flavor to soup. If you prefer the standard carrots/peas/corn or any other combo of mixed veggies, feel free to swap. I don't recommend using too much frozen cauliflower or broccoli, as they will dominate the flavor.
Tip: This can be frozen.
(Originally featured in Family First, Issue 818)
Oops! We could not locate your form.
>