| Washington Wrap |
US Could Offer Saudis Overflights-for-Air Defense  
| July 12, 2022
How Biden can help along Saudi-Israel normalization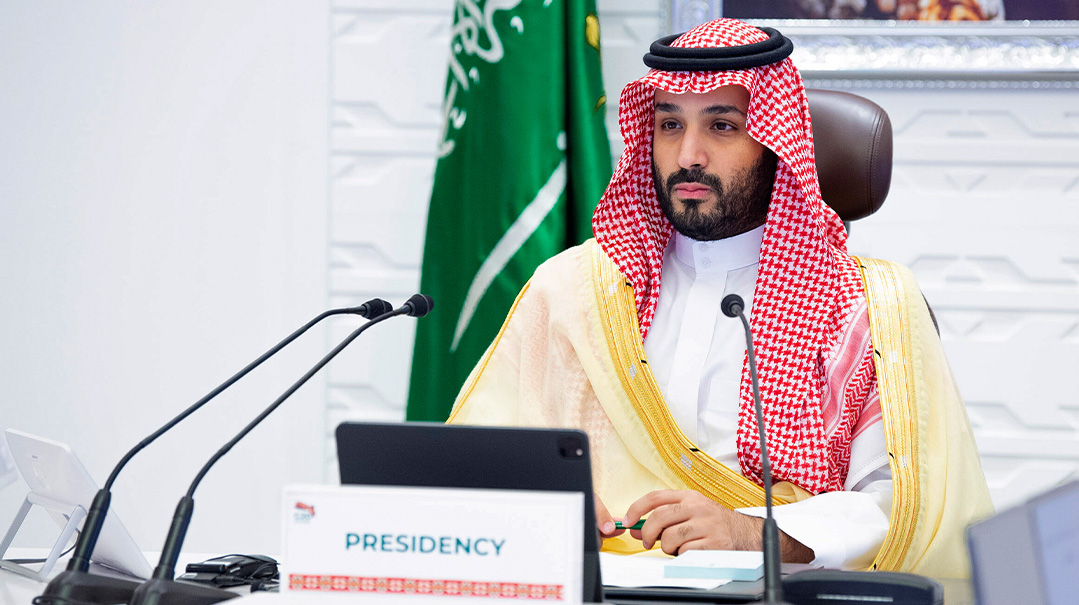 BY
the time you hold this issue in your hands, President Biden will probably have landed at Ben-Gurion Airport, or perhaps even departed Israel altogether on the first-ever direct flight from Israel to Saudi Arabia. As to Biden's meetings with the Saudi royal family in Riyadh, it's a safe bet that the outcomes of those conversations will only be announced or revealed in the weeks and months ahead.
In order to better understand the significance of this presidential visit, we reached out to three people knowledgeable about the region: Dan Shapiro, former US ambassador to Israel; and two former Israeli ambassadors to the US, Danny Ayalon and Michael Oren.
What is President Biden's main objective on this trip?
Danny Ayalon: "The main objective of this trip is to reduce the price at the pump ahead of the midterms. However, the president can't say, 'I am going to become friends with MBS to reduce gas prices.' He needs to build a real agenda with actual content. Unlike Obama, who skipped Israel when he visited the Middle East.
"Having said that, every visit of an American president is extremely important: it strengthens the ties between the countries and improves Israel's regional position, because when the world knows that the US stands by Israel, and that the bond is unbreakable, then Israel has much greater deterrence."
Michael Oren: "Gasoline. It's a major thing before the midterm elections in the United States —the Democrats could lose the House and the Senate. It's important for the president to try to do his best to get the gas prices reduced."
Biden is also scheduled to make a stop in Ramallah to visit Palestinian Authority chairman Mahmoud Abbas. Should Israel brace itself for renewed pressure to make concessions in peace negotiations?
Dan Shapiro: "Biden still believes that there's only one potential solution to the Israeli-Palestinian conflict that maintains Israel's character as a Jewish and democratic state, which is critical for Israel's future and also for the US-Israel partnership, and one solution that delivers on the legitimate rights of the Palestinians to independence and a state of their own — and that's a two-state solution.
"Now, he understands that it's not viable right now, given the leadership dynamics in Israel during an election, and with the Palestinian leadership preparing for a transition. So he's looking for ways to help keep that possibility alive by talking about it, by expressing his support for it, by visiting with Palestinian leaders, by supporting Palestinian institutions like the East Jerusalem Hospital, which he'll visit and direct additional funds to.
"And these are all ways of both keeping a two-state solution alive for some later opportunity to negotiate it when there's a different leadership dynamic, and to improve conditions on the ground in the meantime for both Palestinians and Israelis, in terms of both economic conditions and security conditions. So [Biden's visit to Ramallah is] necessary, with all due caution about what's possible in the current environment, and the knowledge that some things are not possible. But it is still necessary and important enough to warrant time on this visit."
Danny Ayalon: "The Palestinian visit is more to check a box than to announce a policy. The president can't visit Israel without going to the PA — even Trump went there. Also, it is very important to the progressive camp. The Israeli interest is to make sure that the PA is getting stronger versus Hamas, and to increase security cooperation. Israel might participate in some economic gesture to the PA.
"From a diplomatic perspective, Biden won't give the Palestinians anything. Not even reopening the US consulate in East Jerusalem. It is true that Biden will visit a Palestinian hospital in Jerusalem, which is a gesture to the Palestinians, but it won't lead to any diplomatic process."
Given the leadership dynamic in Israel and Biden's weak political position, how important is this meeting, really? What should Israel have on the agenda?
Michael Oren: "It's always important. America is our most important ally. We share common values. And common interests. One hopes that the United States will be able to broker the beginning of a more formal relationship between Israel and Saudi Arabia. And there is a hope that the president will come with concrete proposals for how the United States can better help Israel and other states in the Middle East to defend themselves against Iran — a range of capabilities from conventional to cyber that they probably don't have, and a set of understandings with the United States about, for example, what the American position would be if Iran breaks out a bomb."
Danny Ayalon: "The most important thing for Israel is the Iranian issue. When Biden was a candidate, the idea was to sign a longer and stronger agreement with Iran. For Israel, the main objective is to convince the President not to sign the old and weaker agreement. Israel has made this position public."
"If Israel's position will be accepted, and the JCPOA is officially dead, then the next stage for Israel would be to put a credible military option on the table. I expect the president to give some kind of declaration about the US commitment to Israel's security."
Biden will round out the trip with a visit to Riyadh. Should we expect any dramatic announcements regarding Saudi-Israeli ties, on the scale of the Abraham Accords?
Dan Shapiro: "I think we should not expect full normalization between Saudi Arabia and Israel on this visit. But I think some specific steps, like allowing over-flights of civilian aircraft to and from Israel and other airlines over Saudi territory is possible. I think a deal on the Red Sea islands in the straits that would restore Saudi sovereignty and protect Israeli freedom of navigation is possible. I think direct flights for Muslim Israelis traveling to Saudi Arabia for religious pilgrimages is possible. Those are the kinds of things I think could be announced during this visit.
"But I also think there will be some other further indications. This is Saudi Arabia's intention, ultimately to move toward full normalization. It will take longer. The Saudis may seek some steps on the Palestinian issue, and there may not be a specific timetable attached to it, but the trajectory will be made very clear that this is the ultimate intention of the current and rising Saudi leadership.
Michael Oren:  "I would not be surprised [if an air defense pact between Israel and the Gulf countries is announced], because I know certainly some of the discussions on the Iranian issue, and I would not be surprised at all if there were some objective analysis, further ideas, contributions to the notion of regional air and missile defense."  —
(Originally featured in Mishpacha, Issue 919)
Oops! We could not locate your form.
>