| Lifestyle |
Up to Date | July 31, 2019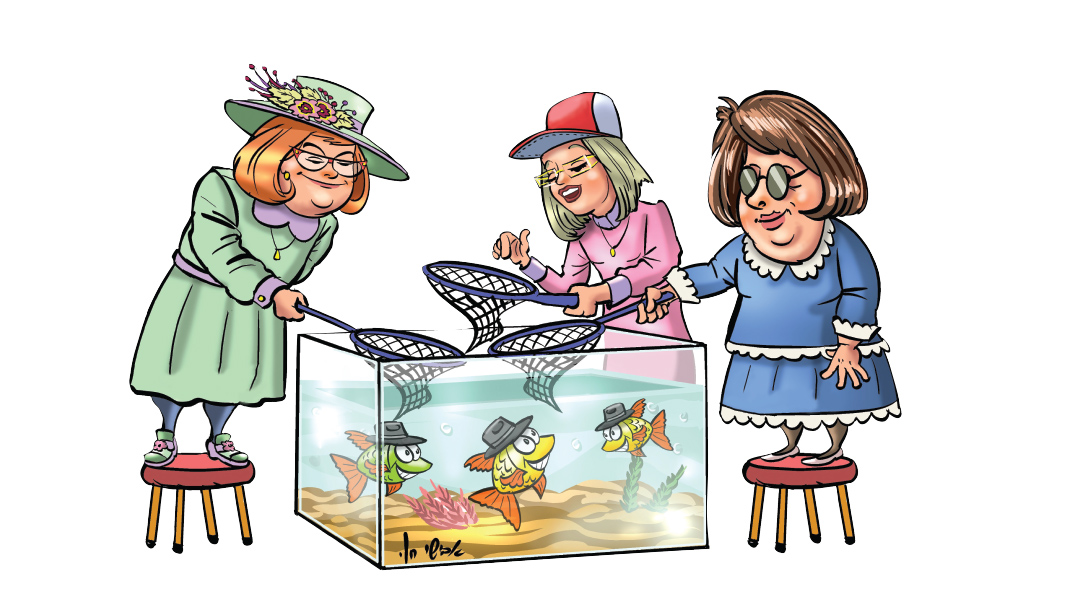 Illustration: Avishai Chen
R
ikki has just landed after her seminary year in Israel and she's got plenty to do. Out goes the washed-out wardrobe, her job hunt goes into full swing, and college registration starts within the month. And about starting shidduchim? Well, part of Rikki's branding will include the ubiquitous term "Out-of-Town," and it's a label that may not serve to her advantage. The bulk of eligible, American yeshivah boys are based in New York and New Jersey, and the prospect of time-consuming and costly inter-state travel to bring off a date often discourages them — or at least, their mothers.
Luckily, Rikki lives in a city where she'll have access to some strong resources. The Jewish community in her hometown, like many kehillos across the country, is addressing the challenge head-on and actively advocating for its singles. Community initiatives have been formed to run educational programs, bring in high-profile shadchanim, and organize evenings dedicated to chizuk and tefillah. And according to the numbers, it looks like these initiatives are paying off. While "out of town" used to mean "off the map" with regard to shidduchim, as more girls from across the country are meeting their basherts by way of their community's efforts, single young women from other cities no longer have to rent a basement in Brooklyn in order to build a home.
T
he first official community initiative to help local single women was started in Baltimore in 2005, just around the time the term "shidduch crisis" made its way to the headlines. It was a nonprofit organization named Kol Simcha, whose primary objective was to raise awareness and get out the word that a problem existed, and that something needed to be done about it. Shortly thereafter, Kol Simcha hired a salaried shadchan who succeeded in making two dozen Baltimore shidduchim in less than three years, and became an important resource to the community for all shidduch-related matters. But as the community broadened, and as that particular shadchan moved on to a different line of work, the organization needed to innovate and find another way to support its singles.
With the help of a staff of volunteers, the organization spent a few years organizing multiple events that connected hundreds of singles of various ages with scores of shadchanim. And a year or so later, together with NASI, they began offering financial incentives to anyone who set up a date for single women living in Baltimore. It was a winning idea, and the commencement of a novel way to increase opportunities for the community's singles. The young women were exposed to a broader dating pool, they felt supported emotionally, and had the satisfaction of feeling like they were moving forward with a community that truly cared for them.
A review of the data after a few years of single women adhering to this model, however, revealed several key challenges. First, the "engagement per date" ratio was low. Second, there were very few shadchanim who set up more than one or two single women as a result of the financial incentive being offered, which simply did not appear to cultivate sustained and repeated effort from reliable sources. And third, it was still not reaching enough of the ever-expanding community.
"The initiative came to a point where it realized it had two options. To shut down, or to build itself into something larger and more comprehensive. Until that point, effective as the organization was, it was still a small shop, and the community was burgeoning. We weren't serving the community in a broad enough way. We needed to be firmly established with a more robust and lasting infrastructure like a Tomchei Shabbos, Hatzolah, or a Bikur Cholim," says Rabbi Shlomo Goldberger, executive director of today's Shidduch Center of Baltimore, which was created when the community's rabbanim and some dedicated volunteers nixed the idea of shutting down Kol Simcha.
K
ol Simcha had cast a very wide net, even as it might not have attained all of its lofty goals. The organization restructured in 2015 by electing an executive board with a chairman, a general board, and a rabbinical board, Rabbi Goldberger was hired as the full-time executive director, and three shadchanim were brought on board who receive compensation entirely based on their tangible results and output — primarily number of dates set up — rather than any set salary. "There must be clear accountability from specific shadchanim dedicated to the task," says Rabbi Goldberger, "and results must always precede payment in order for the model to work at its best and most effective for our singles."
The Shidduch Center of Baltimore tightened up operations and concentrated on addressing the system at hand. "Shidduchim are made using a system," Rabbi Goldberger explains, "and the Shidduch Center is supplementing and augmenting that natural system. We aren't solving the crisis. We're providing the means for our community to work within the system to see greater success."
Today, with an annual budget of $200,000 of community-generated funds, its five on-staff shadchanim dedicated to serving Baltimore's singles comprise the brunt of the organization's work. Additionally, as the primary shidduch resource for the Baltimore community, the organization focuses strongly on connecting shadchanim nationwide with Baltimore's single women through organized "Meet the Shadchan" events; arranging for Baltimore shadchanim to meet young men in learning in both local yeshivos and in the Tristate area; holding educational events for singles and parents; and meeting one-on-one with singles and parents to provide personal guidance, assistance, and referrals. "Above all, though, getting dates for our singles will always be our number-one priority," Rabbi Goldberger says.
The numbers speak for themselves. In the last three-and-a-half years, the Shidduch Center has set up over 600 couples, which has resulted in 62 marriages — and about 35% of those shidduchim were for singles 24 years old and above.
Yet it's not always about points for the organization. Rabbi Goldberger recalls how two young ladies who didn't know each other attended a Shidduch Center event and got into a conversation while they waited their turns to speak to a shadchan. They parted ways, but not before one of them decided that the other was perfect for her brother. Six months later, that shidduch was successful — even though it didn't make it into the Center's statistics.
"We know that Hashem makes all shidduchim," Rabbi Goldberger affirms. "But we have a responsibility to do hishtadlus, and when we put in our efforts,  we have full trust and hope in Hashem's brachah."
Incentives that Work
The Shidduch Center's success in Baltimore has caught the attention of other communities for which Rabbi Goldberger networks, meets with singles, and fields calls. "Today," he says, "I get more calls from New York and New Jersey than I get from other 'out of town' cities."
One of those communities was Detroit, which sought Rabbi Goldberger's guidance in establishing the Detroit Shidduch Initiative, modeling it after Baltimore's winning program. Established last year, the Detroit initiative is run by a committee led by rabbinic advisor, Rabbi Yisroel Menachem Levin, and directors, Mrs. Malky Joffe and Mrs. Racheli Krakauer. It has a local full-time staff, which coordinates and works closely with local and out-of-state shadchanim and Detroit singles. Like Baltimore, it focuses primarily on connecting shadchanim and singles, and also provides mentoring and coaching to singles and their parents as they navigate the shidduch process.
In the Windy City, the Chicago Chesed Fund — started over 30 years ago by Dayan Rav Shmuel Fuerst and providing the Chicago community with a plethora of services — has a service called the Simcha Link, created to help find shidduchim for the city's current count of approximately 300 single girls. "We have nine shadchanim on payroll," says Rabbi Yosef Fuerst, who today leads the Chicago Chesed Fund. "Two are based in Lakewood and seven in Chicago. With the help of salaried shadchanim, many young women who had no one to help them are now getting the attention, and the dates, that they could not access alone." The Simcha Link flies its shadchanim to the East Coast to meet boys in various yeshivos in order to facilitate shidduchim for the Chicago girls. Like its counterparts, the Simcha Link is available to coach girls and their parents through the process, and in select circumstances, may subsidize travel expenses in order to facilitate the process.
The Simcha Link tried incentives of all kinds — some worked and some didn't. Making an open offer to anyone setting up a shidduch proved to be too much of a drain on its resources. Today the Simcha Link is very innovative in creating incentives for shadchanim.
Every "out of town" city has its unique set of challenges on the shidduch map, and Toronto is no exception. Despite its assortment of established and robust Jewish communities, in the shidduch world it's still got the "out of town" label, bearing the disadvantages of both distance and foreign citizenship. That prompted Mrs. Goldie Hauer, who has been involved in shidduchim on a voluntary basis for many years, to team up with two other community members who shared her strong conviction that Toronto girls needed a fair shot in the tangled world of shidduchim. With Mr. Benzion Berkovits and Mr. Moshe Sigler on board, the Toronto Shidduch Initiative (TSI) was created. Its mission statement, "To help Toronto singles and their families navigate the shidduch system efficiently and successfully," meant setting up an office and hiring staff.
The first step was to interview the young women in the community and create a database of who was out there and what they were seeking. That information would serve an entire network of shadchanim by providing new horizons and monetary incentives. Both girls and shadchanim are requested to register on TSI's website and shadchanim are paid an incentive when a couple gets to a third date, a benchmark that indicates a more serious commitment. Toronto's database includes about 300 girls and 90 registered shadchanim.
"We are not shadchanim, we are facilitators," says Mrs. Hauer. This means that TSI works to provide whatever services a single may need to access shidduchim and be adequately prepared for the process, such as informational meetings for parents and their just-returning seminary daughters, r?sum?-writing assistance, photo shoots for r?sum? pictures, and mentoring sessions. It subsidizes transportation costs for a boy coming to Toronto to date and will supplement the shadchanus payment so that shadchanim are assured they'll earn a base fee when a shidduch gets to the finish line. In a little over a year since TSI has been in operation, they've set up about 300 girls, 155 of whom went past a third date, and they've had 31 engagements.
TSI's goal is to bring numerous shadchanim from other cities to Toronto every year, and it works to create a personal connection between a girl and the appropriate big-name shadchan that will treat her as an individual and in a respectful way, using TSI as mediator. "We leverage our influence with the shadchan to get the girls the attention they need to push a shidduch through," says Benzion Berkovitz.
Because Toronto's efforts have seen results, they're taken seriously by top-tier shadchanim, who know their time and efforts will be rewarded. And on the local scene, incentives have been one way to encourage the local community to be more proactive and get involved. And TSI tries to quietly convey the message that no monetary snafu will stop a shidduch from happening.
"The message is clear," says Mr. Berkovitz. "If you're dating a girl from Toronto, the community will take care of you."
Angelinos are known to be laid back, but shadchan Mrs. Faigie Gruman of Los Angeles says she rarely gets a chance to rest. Funded by a community askan, Mrs. Gruman is employed to find shidduchim for the singles of Los Angeles. The askan who sponsors her efforts doesn't have marriageable-aged children himself, but he has a vision. That vision includes a time when all cities and communities organize to help Jewish girls find their zivugim. As the shadchan spearheading this pilot L.A. initiative, Mrs. Gruman represents a set list of L.A. young women. Through shidduch WhatsApp groups, her own personal connections, and a network of like-minded shadchanim across the country, a good part of Mrs. Gruman's daily schedule is spent contacting, connecting, and coupling L.A. singles. This past 12 months saw many engagements from the girls on her list.
Hard work and perseverance aside, Mrs. Gruman says that whenever she redts a shidduch, she takes the names of the singles and davens for them. "Clearly, it's all m'Shamayim. I tell everyone in shidduchim that that's what to focus on. Don't get nervous — it's all from Hashem."
Broadest Base
Because no two cities are alike, each community has to fine-tune its efforts to best suit its needs. In Baltimore, that means being shadchan-centric. "Initially we looked at the data and found that most people earning recompense for setting up our single women were one-time shadchanim, friends, or acquaintances who just gave it a shot and fairly called in for the cash reward that we had explicitly promised," says Rabbi Goldberger of the Shidduch Center of Baltimore. "But we wanted more than catch-as-catch-can. We wanted to encourage shadchanim who could do more to maximize their potential, so we changed course."
As part of the Shidduch Center's reorganization, instead of simply offering incentives to any registered and approved shadchan for arranging a date, the Center's official shadchan team created its own personalized arrangement involving quotas and compensation. One thing this arrangement does is to encourage those who were previously just dabbling in shidduchim to push a little harder, and prevent those shadchanim who were on the verge of burnout from stepping away completely.
"Incentives to shadchanim produce more results for our singles, and allow the shadchanim to feel properly appreciated — as they absolutely ought to be," says Rabbi Goldberger. "Supporting as many shadchanim as we are financially able who stand ready to advocate for Baltimore's single women remains the principle focus of our resources."
Like the Shidduch Center of Baltimore, the Detroit Shidduch Initiative focuses on girls connecting to shadchanim, and also offers courses that qualify individuals as mentors and dating coaches. Though they strive to address the needs of the community on an organizational level, Mrs. Racheli Krakauer explains that, "it doesn't always need to come from an organization. Each and every one of us can participate by making a call for a single in our community."
Chicago recently ran a day of "Shas for Shidduchim" comprised of a community day of learning and a kinnus dedicated to resolving Chicago's shidduch needs. It provided much needed chizuk to singles, and also afforded an avenue for the average community member, who may not have a proclivity for shidduchim, to pitch in and help the cause.
In Los Angeles, askanim have set up the pilot program with a two-pronged approach: implementing a team of salaried shadchanim, with Mrs. Gruman as the first shadchan; and making a list of every girl seeking a shidduch, breaking down that list, and matching each individual to a handpicked shadchan. "The vision is for every shadchan to have his or her list of girls," explains the askan. "Each of these girls would be their responsibility to care for — like daughters — and to focus on, no matter how challenging. It's natural to focus on what's easy. If a girl is wealthy or has other outstanding attributes, it's a normal go-to for a shadchan." Paying the shadchan a monthly salary for the work and effort, he says, "evens out the playing field and opens it up for collaboration without the pressure or competition to take credit or 'own' a shidduch. Instead, the focus is on getting the job done."
There's another advantage to this system, she explains. "When I network with other shadchanim, I'm not limited. I can let them close the shidduch and they can earn shadchanus. This makes them more inclined to work openly with me." This optimizes Mrs. Gruman's relationships with other shadchanim and her reach is broadened.
"I'm always working," said Mrs. Gruman. "At home, when I travel. I'm always meeting with people and speaking to people about L.A. shidduchim." To get an idea of just how much shidduchim are on her mind, she relayed how she once received a text that said, "I'm looking for a boy who plays guitar and can run a kumzitz." Mrs. Gruman's first thought was, "this mother has gone too far." Only a few minutes later, she realized the text came from a friend who deals in kiruv and was trying to organize a Melaveh Malkah.
Ultimately, the L.A. initiative hopes to differentiate further by assembling and assigning shadchanim with specialized lists, including those who are searching for longer than their peers, older singles, or perhaps those with handicaps.
For L.A. girls, living at the opposite end of the country from the East Coast, distance is admittedly an inhibiting factor. It's a given that girls will go into New York for the first round of dates with a prospective shidduch. After that the boy comes into L.A. and, like in Toronto, he may get community support, at times helping him fly in, rent a car, and putting him up appropriately. But Mrs. Gruman finds that harder than the distance is getting the "yes" from a boy's mother. "They're inundated. It's a challenge for everyone."
Rabbi Yosef Fuerst of Chicago concedes that distance is a greatest challenge to these shidduchim. "People feel that dating out of town is like a blind investment. Why go the trouble of traveling for a shidduch? Even if the shidduch is successful, why go through the trouble of traveling for a simchah, and eventually, having to pay travel expenses if you want your young couple over for Yamim Tovim?"
While distance is a big impediment, Benzion Berkovitz of Toronto feels there's another major issue, and that is the treatment of shadchanim, most of whom feel they're underpaid. They genuinely want to help, but are often overwhelmed with requests, information, and panic-stricken parents. They aren't duly compensated for the many hours they put in and most people are unaware of what they do behind the scenes.
"Remember that when a shadchan doesn't respond to your call, he or she may still be working quietly on your behalf," says Mr. Berkovitz. "Often, much hard work is expended — only to get a 'no.' You tip your waiter, you tip your Uber driver. You need to know that you have to properly acknowledge the shadchan, even if he never manages to get a 'yes' for you. We do that on behalf of Toronto girls."
Crossing the border to date isn't usually a complicated issue, but Mrs. Hauer remembers one young man she bumped into when he dated a Toronto girl. Things were going well and he was traveling into Canada a few times a month. One time a growly Canadian customs official grew suspicious of the young man's frequent trips and pulled him over to grill him. The boy explained that he was dating a girl from Toronto and was coming to meet her. He was in trouble when the pugnacious official countered with, "Oh yeah? What's her phone number?" The rattled young man blurted out, "I have no idea!" It took some time to educate that particular Canadian Immigration officer on the rules of shidduch dating.
Moshe Sigler says he recently had a meeting with border agents regarding a different community issue, when one agent pulled him aside and told him, "Can you please tell the boys and girls that they don't have to make up reasons why they're traveling from Canada or the US? We know why they're coming. They're allowed to go on 'shidook dates.'"
 In the Clouds
One would think that with today's myriad travel options, dating someone from a different city wouldn't be a big issue, but in actuality the challenges are real. Picture this scenario: A shadchan finally gets a "yes" from a boy for an out-of-town girl. The family goes online and sees that a last-minute flight will cost $300–$500. Plus a car. And they may not know anyone there who their son can stay with. It makes no sense to fly in for less than two dates so the boy had to miss yeshivah or school or work for three days. The family may have second thoughts. Aren't there just as many nice girls more easily accessible?
"We are honest with the girls who come to us for guidance," Benzion Berkovitz of Toronto acknowledges. "We believe strongly that a girl, as painful as it may be, has to make herself available in the tristate area when that 'yes' comes." Where does a community initiative come in? When shadchanim know that the girl is as good as there if they get a "yes," they can do their work more easily. A boy's family will be more amendable to the date and will see the girl as more of an "in-towner." Then, if that first meeting goes well, the inconvenience of the boy's out-of-town trip will look less daunting.
In Toronto, if a shadchan calls to say he has a shidduch in progress but travel is an issue, depending on the circumstances, TSI will often take care of it. When shadchanim see a community backing their efforts, it really drives them to make things work. Yes, at a certain stage the boy will have to make the trip in. But it's all a matter of perspective, Moshe Sigler says, and what wouldn't someone do for the right shidduch?
"The investment of time and money expended by a boy for dating the right out-of-town girl," he reminds those reluctant daters, "pales in comparison to searching for one's bashert for the rest of one's life."
(Originally featured in Mishpacha, Issue 771)
Oops! We could not locate your form.
>