| Profiles |
Uncommon Threads | October 10, 2019
With her custom-designed tashmishei kedushah, Aliza Blizinsky helps Jews the world over serve Hashem with their own color and flair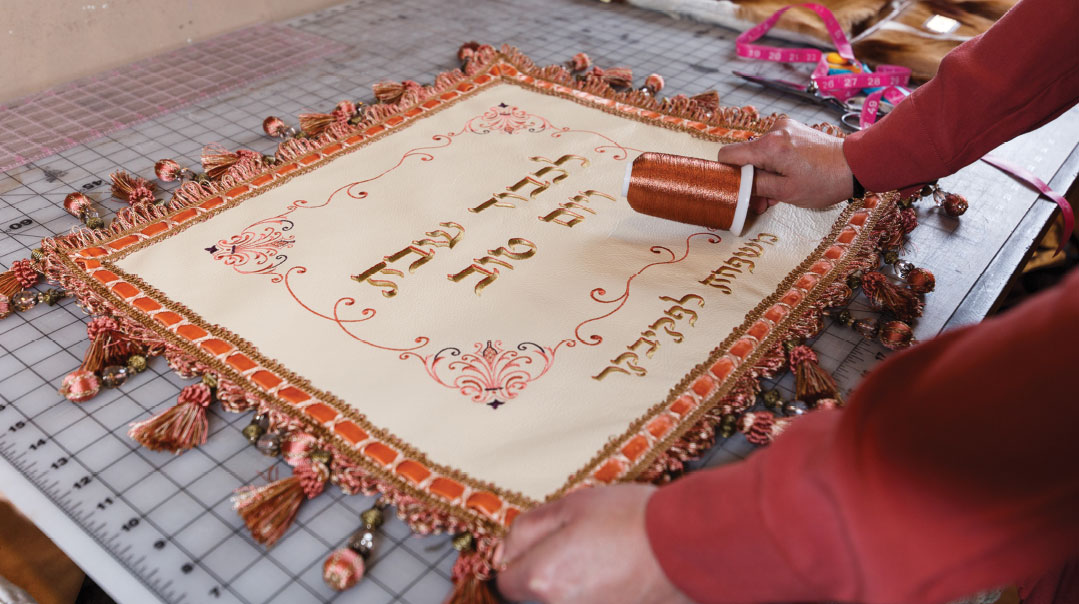 Best Job in the World
I
always tell people that I have the best job in the word: I custom-make items used for kedushah, which is unbelievable. I make people happy, I make G-d happy, and I help support my family. I've got all my bases covered.
There's something very special about a bar mitzvah boy putting on tefillin for the first time. His tefillin will obviously be special to him, but when he's designed the tefillin bag, when he got to choose every part of it, they become extra special.
People tell me the craziest stories about their tallis and tefillin. My bags are made with love, and everyone who's ordered from me tells me that they feel it. I feel very privileged to do what I do. I get to see G-d working through me every day.

Sew On
My parents are creative people: my father's a chemist, my mother used to sew. My husband and I are Chabad, and when we were newlywed, we went on shlichus. The place we were living was hit by a very bad recession, and when I needed maternity clothing, I couldn't afford to buy them. G-d put the idea into my head to start sewing my own clothes. They were horrible.
But I kept at it, and after a while, the clothing I sewed started to look really nice. When we returned to New York, I started sewing clothing for my children.

Twenty-three years ago, the first home embroidery machine was rolled out. I told my husband, "I don't care what it takes, I'll do whatever I need to do to get it." It cost $7,000, and I did alterations and other small jobs until I'd earned enough to buy it.
After a while, I said, "Hey, why not make my son a tefillin bag?" I made him a leather tefillin bag, then his friends started asking for them. As more people saw my bags, more and more people started asking for them — first from the neighborhood, then shluchim from other places, and eventually people from all over started calling with requests.
At that point, I had nine kids, and I was working, teaching, baking, and sewing, and doing my custom work in my "free" time. It was getting busier and busier, and I wanted to do this full-time, but it was hard to give up a sure thing. I had no idea if the business would take off, but eventually I realized I'd never know unless I tried.
I opened an official workspace in the garage; within the year, we had to take over the whole first floor of my house, that's how fast we were growing. We went from one tiny sewing machine to having three large, commercial embroidery machines.
Now we have four full-time employees, and we make items for people from all over the world. I've made a tallis bag for Rav Lau, and a challah cover for Bibi Netanyahu. Why was I zocheh to such success? I'm a mother of nine living in Crown Heights! I know where all that brachah comes from — everything is from G-d, and I thank Him every day.
(Excerpted from Family First, Issue 663)
>