| Shul with a View |
Turn of Events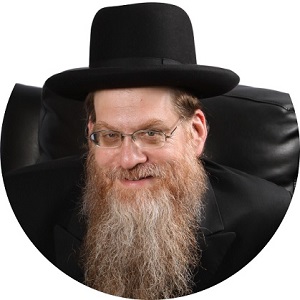 | August 12, 2020
 Mixed in with her joy and gratitude was one question that kept gnawing at her
I
t was August 2007, Kayla and Mordechai Leebenthal (names changed) were spending bein hazmanim in Eretz Yisrael. The stated reason was to visit family and friends and to attend Mordechai's nephew's bar mitzvah. However, there was another reason Kayla and Mordechai were in Eretz Yisrael.
The Leebenthals had been married for six years and were not yet parents.
None of the known medical interventions had been successful, and they desperately wanted to receive brachos from tzaddikim.
They were scheduled to return to the States the night of Rosh Chodesh Elul. That afternoon, their married friends and relatives made them a surprise seudas preidah. Everyone came with their children, and it was a joyous send-off.
The Leebenthals returned to their home in Lakewood. Mordechai went back to kollel. Kayla went back to her job as a sales assistant at a local store.
It was on Erev Rosh Hashanah when Kayla's suspicions were confirmed.
Their tefillos had been answered! Kayla was expecting!
As Kayla arrived in shul the next day for Rosh Hashanah, she could not stop the tears from soaking her machzor as she heard the leining, "v'Hashem pakad es Sarah." However, mixed in with her joy and gratitude was one question that kept gnawing at her.
It had been so painful for Kayla at the seudas preidah, to see all of her friends and relatives surrounded by their children. If only she had known then that she, too, was to become a mother, her pain would have alleviated. Couldn't Hashem have given her the brachah just one month earlier?
Nine months later, in Sivan, Kayla gave birth to a healthy boy, whom they named Yehoshua.
Fast-forward many years. As one can imagine, Kayla began planning for Yehoshua's bar mitzvah over a year before the event. He was born the Shabbos of parshas Shelach, and Yehoshua began learning the leining as soon as he turned 12. The bar mitzvah would be a grand affair; after all, this would be her only bar mitzvah. All of her family would be there, and there would be a beautiful seudas mitzvah. Kayla relished the thought that this time she would be the baalas simchah and not a guest.
Everything was falling into place, when suddenly, after Purim, the coronavirus attacked the world.
Suddenly all shuls were closed, and all simchahs forbidden.
Kayla had waited 13 years for this day, and now, as shuls remained closed, she would be denied the privilege of seeing her son become bar mitzvah.
The bar mitzvah was scheduled for parshas Shelach, June 13. Rumors circulated that minyanim might soon be permitted but restricted to ten people. At the beginning of June, outdoor minyanim were allowed.
And then it happened.
The rabbanim of her town announced that beginning with the Shabbos of parshas Shelach, the shuls could reopen.
Suddenly, the bar mitzvah was back on.
The seudah could take place outdoors under a tent.
And most importantly, Yehoshua would have his day leining his parshah in his shul.
As parshas Shelach arrived, once again, Kayla saturated her siddur with tears as she heard the leining.
She cried for the privilege of being present on this day.
And she cried for something else as well.
She now understood very well why Hashem held off the brachah for one month back in 2007. If Yehoshua had been born a month earlier, she would not be sitting here in the women's section listening to his leining, as there would be no shul to host it!
She cried as she realized that the Master Planner knew what He was doing all along.
She just had to be patient and watch it play out.
(Originally featured in Mishpacha, Issue 823)
Oops! We could not locate your form.
>