| This Way That Way |
Tuna
| June 29, 2021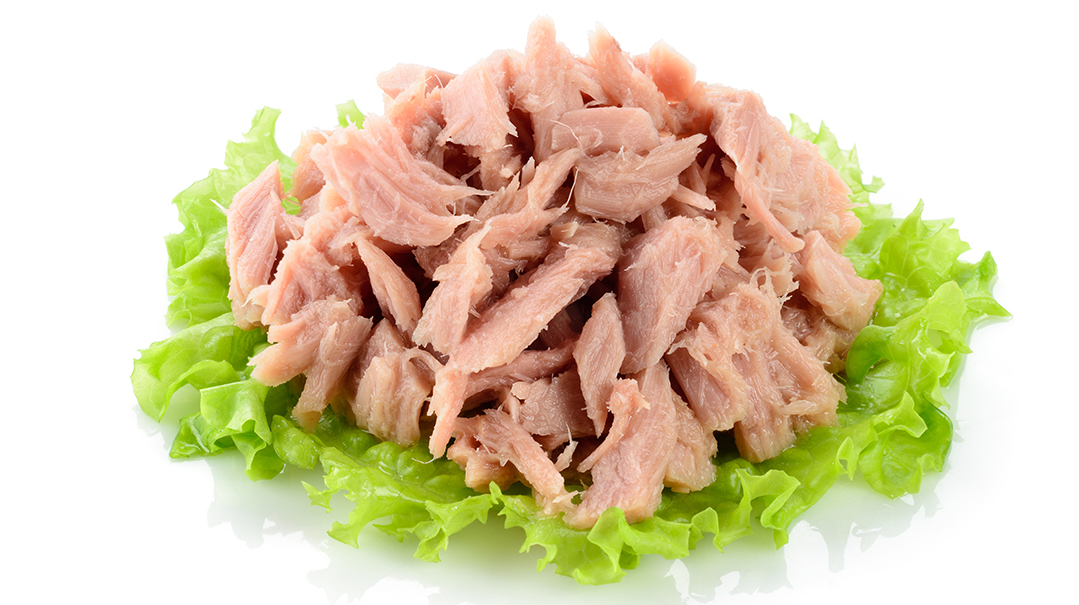 Tuna is one of the most consumed species of fish around the world. Of late, we've been seeing a resurgence of recipes that include seared or raw preparations, while tuna salad remains a household staple. Here are some of the ways we enjoy preparing it!
Fishy Facts

Matter of Size
Largest ever recorded specimen of tuna was 21 feet long, weighing 1,600 pounds.
Camouflaged
A tuna's dorsal (back) side is dark blue, blending with the ocean when seen from above. Its belly is silver-white, blending with the ocean's surface when seen from below.
Overfished
Tunas are overfished in parts of the world, especially Japan and Australia. As a result, their numbers have decreased over 90 percent since the early 20th century.
Take-Out Tuna Salad
Recipe by Rorie Weisberg
I know it doesn't sound glamorous, but this is my favorite way to eat tuna. It's packed with crunchy veggies and has a fantastic taste and texture. Making it in a food processor gives it that real restaurant feel. I never make just one can; it's always three to four cans at a time.
SERVES 2–3
2–3 stalks celery
⅓ cup purple cabbage
⅓ cup shredded carrots
4 6-oz (170-g) cans solid white albacore tuna
¼ cup Full 'n Free Creamy Dressing (or mayonnaise, to taste)
Shred the celery in the food processor. Add the cabbage and carrots, and process for a few more seconds. Add the tuna to the food processor, then process for a few more seconds, pausing to scrape down the sides. Finally, add the creamy dressing, then process until desired texture is reached.
Tuna-Melt Calzone
Recipe by Brynie Greisman
This is an absolutely delicious all-in-one light meal.
SERVES 6
1 store-bought pizza dough, defrosted
egg, for glaze
sesame seeds, for sprinkling
Filling
2 7-oz (200-g) cans tuna
2–3 Tbsp mayonnaise, or to taste
chopped fresh parsley
1 stalk celery, finely diced
1 scallion, chopped
1 carrot, grated
2 squirts mustard
salt and pepper, to taste
1–2 cubes frozen basil
shredded cheese of choice
egg, for glaze
sesame seeds, for sprinkling
In a medium-sized bowl, mix together filling ingredients, aside from shredded cheese. Taste and adjust seasoning.
Preheat oven to 400°F (200°C).
Divide pizza dough into 6 parts. Roll each part into a square. Generously sprinkle shredded cheese on one triangular half of the dough, leaving a 1-inch (2½-cm) border. Spread the opposite half with the tuna mixture. Gently fold the tuna side over the cheese side. Press to close, using a fork to seal the dough.
Continue until all dough/filling is finished. Brush calzones with egg and sprinkle with sesame seeds. Bake for 12–15 minutes, or until tops are golden and dough is baked through. Serve hot.
Tip: For a cheesier calzone, spread the entire surface of dough with shredded cheese before adding the tuna. You can also add thinly sliced onions, finely chopped red peppers, diced tomatoes, olives, etc.
Tuna-Melt Pizza
Recipe by Chavi Feldman
Adding a layer of tuna salad not only makes this pizza delicious but also creates a truly nutritious meal.
YIELDS 1 LARGE PIZZA PIE; 8 SLICES
1 store-bought pizza dough, defrosted (or use homemade)
Tuna Salad
2 7-oz (200-g) cans tuna
6 Tbsp light mayonnaise
1 tsp Dijon mustard
1 Tbsp milk
2 tsp lemon juice
¼ tsp salt
pinch black pepper
¼ cup finely diced celery
1 Tbsp sliced scallions
Toppings
1½ cups shredded pizza cheese
1 cup diced colored peppers
sliced mushrooms
¼ red onion, sliced into thin rings
salt, for sprinkling
Mash tuna well with a fork. Add remaining ingredients and mix until combined. Set aside.
Preheat oven to 400°F (200°C). Spray a 16-inch (40-cm) pizza pan with cooking spray or line with parchment paper.
Spread dough over the pan, leaving a lip of dough a bit higher to form the crust. Spread tuna salad over the dough up until the raised edge. Sprinkle with cheese and top with diced peppers, mushrooms, and onion. Sprinkle with salt and lightly spray with cooking spray. Place in the center of the oven and bake for 25 minutes. Remove from oven and let cool for 5 minutes. Slice into wedges.
(Originally featured in Family Table, Issue 749)
Oops! We could not locate your form.
>