| Washington Wrap |
Trump's Mideast Peace Juggernaut
| December 16, 2020
It makes sense for Morocco to grasp the present opportunity rather than wait for the new administration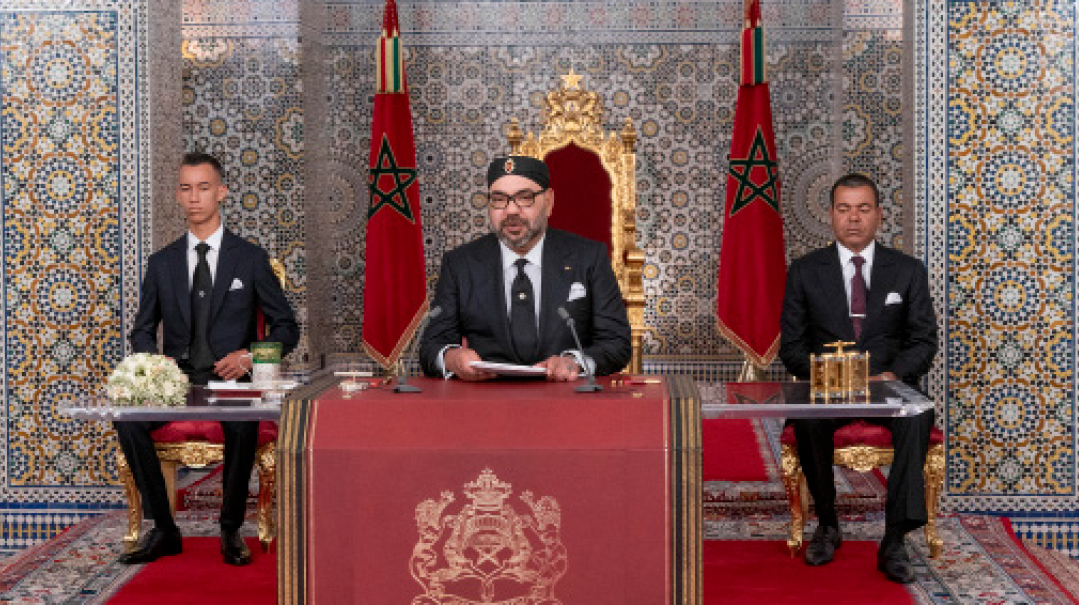 Photo: AP Images
Even at the eleventh hour, the Trump Administration is catching pundits flat-footed, notching up successes that aren't supposed to be the lot of lame ducks.
The Israel-Morocco peace agreement announced last week comes as a real surprise, not because it's Morocco — which has a history of cooperating with Israel — but because of the timing. Despite there being only a month until the Biden administration takes power, the king of Morocco chose to clinch a deal with the outgoing president rather than wait for the new president to be inaugurated to normalize ties with Israel.
The logic is clear, though. Trump's offer, which included American recognition of Morocco's sovereignty over the Western Sahara, is a far sweeter deal than any prior administration was willing to make — or than Biden would have offered. Under the circumstances, it makes sense for Morocco to grasp the present opportunity rather than wait for the new administration.

In reality, neither Morocco nor Israel had to make any concessions — the only concession was made by the United States. The credit goes to Jared Kushner and his team, which continues to work diligently on this deal and others, some of which may bear fruit even before January 20.
"This agreement is the product of years of work by the president, Jared, myself, and the team," Avi Berkowitz, special representative for international negotiations, told Mishpacha. "It creates a direct line from northwest Africa to the eastern edge of the Gulf of countries that recognize Israel. Considering the history of the two countries, it certainly has a personal component to it. The enthusiasm spans generations."
With the hourglass running out on this administration, should we expect any more surprises on the diplomatic front?
"We are still hard at work with numerous countries," says Berkowitz. "It is hard to say if we will see another deal come to fruition — these deals are complex negotiations that can span years. But I intend to spend the rest of my time in the White House working to advance the Abraham Accords."
Morocco is the fourth state netted in Trump's Middle East peace sweep, but there's one thing that sets this peace deal apart from those with the UAE, Sudan, and Bahrain. The first state visit by an Israeli prime minister to Morocco took place in 1986, when King Hassan II hosted Shimon Peres, but ties between the two countries actually began developing as far back as the 1950s.
For years, there was a dual element to Israeli-Moroccan relations. One the one hand, Morocco sent forces to fight against Israel in the Six Day War and the Yom Kippur War. On the other hand, it was considered one of the more moderate Muslim countries, and over the years it developed both formal and informal ties with Israel.
In 1956, for example, King Mohammed V expelled Jewish Agency representatives from the country and limited emigration to Israel. But in 1961, King Hassan II clinched a secret deal under which Israel would pay $250 for every Jew that Morocco permitted to make aliyah. In addition, security ties began developing between the two countries. In 1963, the two sides signed their first arms deal, and agricultural ties were also built up; one of Israel's most effective tools in building its world standing has been lending agricultural help to third world countries, with an emphasis on Africa.
And while in 2020 Israel and Morocco need the United States to mediate between them, there was a time when Morocco served as Israel's envoy to the Arab world. First and foremost, the Moroccans played a part in the peace deal between Israel and Egypt. King Hassan of Morocco was the one who brought Moshe Dayan in contact with Hassan Tuhami, Anwar Sadat's advisor, in 1977.
Against that background, in 1995 the two countries established formal relations — or what we know as "normalization of ties" — including direct flights. Israel opened an economic mission in Rabat, and Morocco opened offices in Tel Aviv. But these ties didn't last long. Under pressure from the Arab League after the second intifada broke out in 2000, King Mohammed VI cut off the formal ties with Israel. But relations continued behind the scenes, despite the public tension.
At the height of the intifada in 2003, for example, Israel's foreign minister was invited to Morocco for an official meeting with the king. Then-prime minister Arik Sharon was quite close to US president George Bush. During the visit, the king asked the Israeli minister to advocate Morocco's claim over the Western Sahara to the Americans — déjà vu, anyone?
State visits continued over the years. In 2006, Foreign Minister Tzipi Livni met her Moroccan counterpart in Paris, while Amir Peretz, chairman of the Labor Party and himself of Moroccan descent, was granted an opportunity to meet the king himself. Jews continued visiting the country even during periods of official hostility, but weapons were the only articles of trade between the two countries. Trade dropped from hundreds of millions of dollars to tens of millions, and the "Made in Israel" label was removed from Israeli products.
In the meantime, security ties between the two countries continued. In February 2020, according to the French site Intelligence Online, Morocco purchased three Heron UAVs, manufactured by Israel's aerospace industry, at a value of $50 million. According to the report, the deal had been inked in 2014, and the espionage drones were intended for use against terrorist organizations as well as separatist forces in the Western Sahara.
The new peace deal has changed all of that, taking relations out if the realm of shadowy defense ties and into a shared cultural heritage. For Israel, the deal with Morocco is certainly a positive development, especially for the hundreds of thousands of Israelis of Moroccan descent. Unlike the UAE or Bahrain, Morocco was home to a large and vibrant Jewish community, which retains its distinctive culture even in Israel. And while visits to Morocco have been possible for some years now (my mother was born there, and my parents visited the country in 2006), what's on the agenda now are direct flights and a much warmer peace, one that will step up cooperation in the fields of agriculture, trade, and tourism.
Four Down — Who's Next?
Oman
Israel already has unofficial ties with Oman. As with Morocco, prominent Israeli politicians such as Shimon Peres and Yitzhak Rabin visited Oman in the past; and ties were cut off in 2000 with the outbreak of the second intifada. Relations have improved in recent years, and Netanyahu even visited the country in 2018. Oman has signaled in recent months that it supports the Abraham Accords, and Foreign Minister Gabi Ashkenazi recently spoke with his Omani counterpart by phone. The probability of a normalization deal with Israel is high, and the only question is whether it will take place before or after Trump leaves office.
Saudi Arabia
This is the most important Arab country that has yet to normalize ties with Israel. Aside from internal Saudi divisions over whether such a move is advisable at all, there's also the political question of what's the right timing. The Obama-Biden administration was highly critical of human rights conditions in Saudi Arabia, and there have been reports over the past few weeks that the Saudis would prefer to wait until Biden is sworn in in order to open relations with his administration on the right foot.
Indonesia
The two countries have had unofficial ties for many years. In fact, Israel voted for Indonesia's acceptance to the UN in 1950, and in 1980 even sold the country Skyhawk warplanes. Later, in 2006, Israel sold them UAVs as well. The president of Indonesia has visited Israel twice, in 1994 and 1997. The largest Muslim country in the world has yet to open formal ties with the world's only Jewish nation. Israelis can technically visit Indonesia, but only through a complicated bureaucratic process. Given the warming relations between Israel and the Arab world, however, Indonesia may well be the next in line.
Mauritania
The two countries maintained ties from 1999 to 2010, when they were cut off in the wake of Operation Cast Lead in Gaza. In August Mauritania declared its support for the Abraham Accords, and it could well also join the list of countries recognizing Israel.
Qatar
It's interesting to note that Jared Kushner and Avi Berkowitz visited Riyadh last week in an effort to improve ties between Saudi Arabia and Qatar. It's possible this will defuse regional tensions and contribute to improved ties between Israel and Qatar, as well. In 1996 Israel opened an economic mission in Qatar as a sign of improving relations, which included delegations of businesspeople and discussions of oil sales. But those ties were cut off after Israel's Operation Cast Lead in Gaza, which caused serious concern in Qatar, given its ties with Hamas.
(Originally featured in Mishpacha, Issue 840)
Oops! We could not locate your form.
>