| Washington Wrap |
Trumping the GOP
| May 10, 2022
Some old and new faces emerging as the future of the Republican Party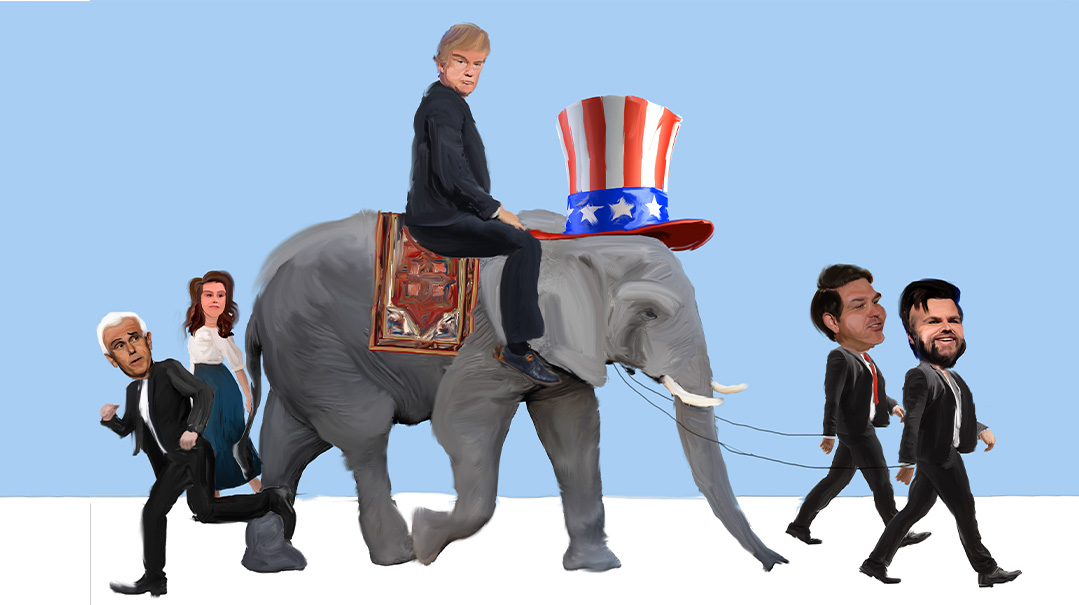 Illustration: Stav Golan
Changing of the Guard
The story of Liz Cheney and Elise Stefanik is in many ways symbolic of how the Republican Party has changed in the past six years, with Donald Trump remaking the party in his own image. The vast majority of Never Trump Republicans were forced to retire in 2018 and 2020 to avoid primary defeats, and aside from a few stubborn holdouts such as Mitt Romney and Liz Cheney, the movement has effectively ceased to exist. And even if a small core of Trump critics remains, it's clearly a vanishing minority and not the future of the party.
Elise Stefanik
When one considers the changes the Republican Party has been undergoing for the past two years, one of the first names that comes to mind is that of Elise Stefanik. She was the youngest woman ever elected to Congress in 2014, and last year, she replaced Liz Cheney as the House Republicans' number three after the latter voted to impeach Trump.
Stefanik, a 37-year-old former Bush administration official and Harvard graduate representing upstate New York, earned a high score for bipartisan cooperation in her first years in Congress, and only an average rating from the American Conservative Union. In other words, she preferred finding common ground to partisan combat. For example, she criticized Trump's decision to withdraw from the Paris Climate Accord, calling it a mistake, and joined the bipartisan climate solutions caucus. Yet after the 2020 election, she came to Trump's defense and claimed that he lost due to voter fraud.
She's considered a rising star in the party, and with polls predicting that Republicans will win the midterm elections and take control of the House of Representatives, she's poised to hold a position of real influence. If Kevin McCarthy becomes House Speaker and Steve Scalise becomes majority leader, Stefanik will be the Republican whip.
Liz Cheney
Liz Cheney is in many ways a mirror opposite of Stefanik. She was removed from her leadership position after voting for Trump's second impeachment. And despite being seen as a prominent conservative figure with decades of public service under her belt, she's found herself the target of a fierce campaign to unseat her in the 2022 primaries.
Party insiders explain that the Never Trump movement is far from being on the rise, and that populism and "America First" are ascendant. And precisely for this reason, they say, a Cheney victory would show that Never-Trumpers still have some say in the party.
For now, Cheney is struggling in a primary campaign that it's not clear she can win. She's hoping that the inconceivable will happen and that Democratic voters will come to her aid in the Republican primary. Will that really happen? We'll find out in August.
Which leading Republicans will become committee chairs after the midterms?
Mike McCaul has been representing Texas's 10th District between Houston and Austin since 2005. He's the senior Republican on the House Foreign Affairs Committee, and is considered especially hawkish on Iran. If Republicans do win the midterms and take control of the House, he's expected to replace Gregory Meeks as chairman of the Foreign Affairs Committee.
"Having him there will be very big news for Israel," one Republican source told me.
Cathy McMorris Rodgers is not a political newcomer by any means — she's been representing the eastern third of the state of Washington in the House since January 2005. But she's gained national prominence over the past two years due to one of America's most sensitive political issues — rising gas prices. Rodgers, the senior Republican member of the Energy and Commerce Committee, has been leading the fight for energy independence against Democratic proposals such as the Green New Deal. She's considered the party's leading proponent of reducing America's dependence on foreign oil and generating energy in America instead.
She first gained attention in 2014, when she was chosen to provide the Republican response to Obama's State of the Union address. Later, when Trump was elected president, Rodgers was the vice-chair of his transition team, and was reportedly on his shortlist for secretary of the interior, a position that went to Ryan Zinke instead.
Republicans Seek to Expand Their Base
Young Kim 
Congresswoman Young Kim was elected to represent California's 39th district in Western Los Angeles in 2020, unseating a Democratic incumbent. It was a shocking upset and one of just three races in which a Republican unseated a Democratic incumbent in California since 1994. Election forecasters gave her a mere 26% chance of winning. Despite this, she outraised her Democratic opponent by millions of dollars.
Kim, 59, was born in South Korea and moved with her family first to Guam and later to Hawaii.
Over the past few years, she has shown a nuanced approach to the issues convulsing America. On the one hand, she voted to confirm Biden's election, unlike many Republicans. At the same time, she voted against Trump's impeachment, opining that a censure by Congress would suffice. Later, she was one of just ten Republicans in favor of expelling Marjorie Taylor Greene from the committees she sits on.
She's positioned herself in the party's center as a member of the Problem Solvers Caucus, and has voted with Joe Biden 26 percent of the time.
Michelle Eunjoo Steel
Like Young Kim, Michelle Steel unseated a Democratic incumbent to be elected to Congress from Orange County, California, in 2020; and like Kim, Steel is one of three Korean-American women in the House of Representatives. Her positions include opposition to mask mandates, support for abortion bans, and opposition to same-gender marriage. In a clip from 2014 taken at a Tea Party event she's heard saying that she pulled her daughter out of her college after she was "brain-washed" and expressed support for Obama and same-gender marriage.
"People like to say that we're a party of old white men, but women such as Young Kim and Michelle Steel are the proof that our party is more diverse than ever before and that our coalition spans women and minorities," one party insider told me.
The Florida Hispanic Vote
The GOP hopes its appeal to new audiences will bring more votes in places like Florida. Our party insider named Carlos Gimenez and Maria Salazar as two prominent examples.
Gimenez, born in Havana, Cuba, is a striking illustration of the changes in Florida's Cuban population. As mayor of Miami Dade from 2011 to 2020, he endorsed Clinton in 2016, but in 2020 he backed Trump and said his endorsement of Clinton was a big mistake. Due to municipal term limits, he ran for Congress in 2020 and defeated incumbent Democrat Debbie Mucarsel-Powell.
The same applies to Maria Salazar, a TV presenter from the Telemundo network who ran with Trump's backing in 2020 and unseated Democrat Donna Shalala. It was an intriguing race because it provided another indication to the political revolution occurring in the Hispanic community in Florida.
In 2018, Salazar had challenged Shalala and lost. In 2020 she won, evidence of Hispanic voters' weariness with the Democratic Party. Republicans admitted that they were shocked by how many Hispanics had abandoned the Democrats, especially in Florida.
Trump's Endorsements
Trump continues pulling the strings and has made his views known about dozens of candidates in upcoming primaries. Control of the Senate could be determined in the races in Georgia, Ohio, and Pennsylvania. Others, such as the Georgia gubernatorial race, look more like score-settling with those who failed to back up his claims of voter fraud in the 2020 election. Here are a few candidates Trump has involved himself with:
Herschel Walker
The former football star's campaign for the Georgia US Senate seat is unusual in that it's supported by both Trump and the Republican establishment. Walker was a speaker at the 2020 GOP national convention, and Trump appointed him to the President's Council on Sports, Fitness, and Nutrition.
Walker is set to face Democrat Raphael Warnock in a closely watched general election race in which the latter has already raised $25 million. This is a critical race that may well determine which party controls the Senate. Trump's support could be vital for Walker, who's running on the "outsider" ticket.
David Perdue
David Perdue's run for governor of Georgia will be another test of Trump's influence. Perdue, a former senator backed by Trump, is challenging incumbent governor Brian Kemp — who rejected Trump's claims of voter fraud in Georgia in 2020 — in the GOP primary. Since the 2020 election, Kemp has been a persona non grata in Trump circles, and the former president would be delighted to see him gone.
But it's not that simple. Unlike Ohio, Georgia is split roughly evenly split between Republicans and Democrats. For this reason, Trump's influence there could be much more limited, and Kemp could very well triumph. It's worth noting that Perdue has said that as governor, he would not have confirmed the 2020 election results. He has also promised to establish an Election Law Enforcement Division to monitor claims of voter fraud.
J.D. Vance
Unlike Perdue in Georgia, J.D. Vance's run in the Republican Senate primary in Ohio proved just how influential Trump still is in the Buckeye State. Ohio was considered a swing state in 2016, but is now seen as safely Republican after Trump carried it twice by 8 percent.
Vance, an investment banker with a history of fiercely anti-Trump statements, managed to earn the former president's endorsement in his run to succeed retiring incumbent Rob Portman, despite the presence of another candidate, Josh Mandel, considered more aligned with Trumpism.
Many saw the GOP primary on May 3 as a test of Trump's strength, and Vance surprised observers by defeating six candidates by a wide margin, demonstrating the former president's grip on the Ohio GOP.
Dr. Oz
Another Trump endorsement that has caused a stir in Republican circles is his backing of TV personality Dr. Mehmet Oz in the Pennsylvania Senate primary. Unlike other Trump endorsements, this one has received a chilly response from Republican voters, many of whom question Oz's conservative credentials and prefer his opponent David McCormick.
Among Oz's critics can be found a number Trump's closest allies, including Mike Pompeo, Laura Ingraham, and Roger Stone. It's an interesting case, because it highlights how even the closest of allies can disagree on some issues and clash publicly in the primary. Thus, although Trump's endorsements no doubt carry more weight than those of any other single figure, not everyone perceives them as binding, and some feel more than comfortable backing their own pick.
Two Governors Aiming to Be President
Larry Hogan
Maryland's popular governor won't be able to run for reelection in 2022 due to term limits, a fact that has only intensified speculation about his political future, specifically the possibility that he'll run for the presidency in 2024, regardless of whether Trump decides to run.
He's considered a harsh and vocal critic of the former president, and has built up his image as a moderate pro-business governor trying to find common ground. He has spared no criticism of his Republican colleagues, and has said that the party won't win in 2024 if it puts Trump on the ticket again.
And while he has yet to make his intentions public, recent speeches in which he had called the Trump era a terrible time for Republicans and calls on the party to appeal to broader audiences are certainly suggestive. He has condemned the January 2021 Capitol riot, saying that it was provoked by "the losing candidate's inflammatory, false rhetoric."
Hogan may have yet to make it official, but many already see him as a 2024 presidential candidate.
Ron DeSantis
The Florida governor's aura in the Republican Party is second only to Trump's. In fact, DeSantis's face has appeared alongside Trump's on the campaign posters of some Republican primary contenders eager to be associated with both.
DeSantis has shown marked political acumen in his years as Florida governor. He appeals to the Trumpist base without explicitly calling out Trump, leaving himself in a position that keeps all his options open.
As governor, he has pressed the right buttons with regard to the culture wars between the left and right in America. Preserving an ambivalent stance on vaccines — including refusing to reveal whether he's been boosted; steadfast opposition to mask mandates; and of course the highly publicized clash with Disney over the new law to limit discussion of gender identity and alternative lifestyles in Florida classrooms from kindergarten through third grade.
DeSantis has thus won over Trump's base by showing them that he's made of the same stuff, but has refrained from challenging him directly as long as it's unclear whether he'll run again in 2024. If one thing is clear, it's that if he decides to join the race in 2024, his chances are not bad at all.
(Originally featured in Mishpacha, Issue 910)
Oops! We could not locate your form.
>